When I started my weight loss journey with the 21 Day Fix I had to learn to meal plan on a budget. Fresh, whole foods meant a radical change in what I was eating. But I still had a Hubby to cook for and we help to cook for his mother and stepdad some days too. Older people don't adjust well to food changes so I had to take the "All-American diet" that they were used to eating. I just had to give it a remake, that way I wouldn't have to cook 2 separate meals every day.
How did I start making a meal plan on a budget?
First, I started by "fixing" my regular recipes. The ones they were used to eating.
"Fixed" my cheeseburgers with ground round and whole wheat buns for me or I eat them salad style. I have even invented a "Bigger Big Mac in a Bowl" that they all love now.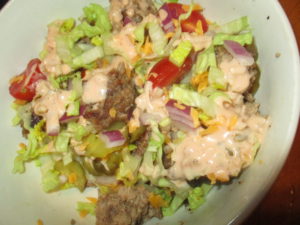 I "fixed" my spaghetti sauce by finding a store-bought option they like and is "approved" for me and serve zoodles or whole wheat noodles to me. Find out how to find 21 Day Fix approved jar of sauce here:
There is a great little Pizza Pepper Bite recipe in that post!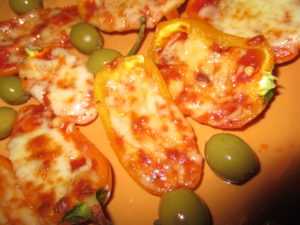 I "fixed" my chili/soups/stews. Here is my "fixed" chili recipe
A favorite way I use my chili is to make a copycat version of a Wendy's Taco Salad!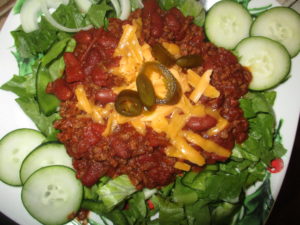 I "fixed" my taco meat by using spices instead of those salty packets and I serve them with lots of veggies and light on the cheese for me on either corn tortillas or just as a salad. Here is a great way to cook corn tortillas so they don't fall apart as easy.
If I fry my Hubby's chicken, I just bake mine. Investing in a big assortment of spices keeps me from getting bored with baked chicken! I love my Flavor God spice assortment because they are all low in sodium.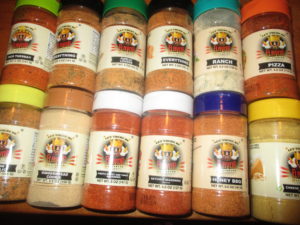 What are other ways I save money while meal planning?
I also only try 1 new recipe a week, so that I don't blow our food budget on new things they might not eat. Often I cook a new recipe for me for lunches to try it out first before I try it on them.
I try to keep taco meat on hand 24/7. I prep big batches and freeze it into 3/4 cup serving sizes.  Just in case they want something that I just can NOT "fix", cuz I can eat tacos every day!!
The 21 Day Fix encourages "planning and prepping" so that you will have good choices ready when it is time to eat. I cook supper almost daily so I don't precook a bunch of stuff but I do prep. Prepping veggies for my salads or stirfrys is a must! I make my starch/yellows ahead most of the time for example: baking some sweet potatoes, making mashed potatoes, or maybe making some pasta/brown rice. Just pick 1 or 2 per week to base your meals around.
Sometimes I might make a soup or chili to last for lunches all week and just have a different supper every night. I use Thursday as my "leftovers" night and that helps me clean out the fridge and see what needs to be used upon the weekend or before I go back to the grocery store.
Going to the Farmer's Market on Saturday morning is a way we get fresh local stuff at a decent price. I really depend on it to make my meal plan on a budget work!
There is nothing like fresh pico de gallo check out the recipe for it in that post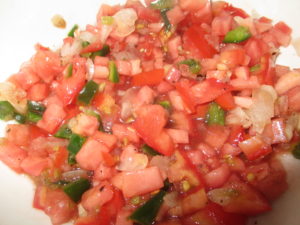 How do I plan for my containers?
Actually PLANNING is the most important thing I do. Planning has REALLY helped bring our food budget down and that is always a good thing!
When I am planning my meals for the day I tend to plan supper 1st because it uses the most containers, and then I plan lunch. Last I plan breakfast and a snack if I need to.
I have been meal planning on a budget for years!
As a mother/housewife, I have had to meal plan for YEARS. I had to at the very least know in the morning what we were going to have for supper that night. So I just think of it as doing it on a weekly scale.
I make a grocery list of sale items on Thursday usually because my sales papers come out on Wednesday each week. I have 2 freezers so that I can shop sale prices and get multiple servings of something when it is at a good price. That makes it easier to plan because I am not limited to what the stores have on sale that week. For example, if I can get chicken breasts on sale for .99 a pound, I might buy 10 lbs worth!
On Sunday, I might make a Mon-Wed meal plan for suppers. I make my breakfast and lunch very simple, soup/salad/sandwich being heavy on the greens and reds for the Fix. After I take stock my fridge and pantry on Thursday (leftovers night), I will make a plan for Friday, Saturday, and Sunday.
Having something like surf and turf with a baked potato and a side salad, "steakhouse" style, feels like a real treat too. We grill everything…meat, veggies, fish, and even fruit. I love grilled pineapple and peaches, it just makes it feel more special.
I love the new way Hubby cuts them when he grills them now! Find out how in that post!
We don't eat boring food…
I might plan a Mexican night or Italian night, just for fun!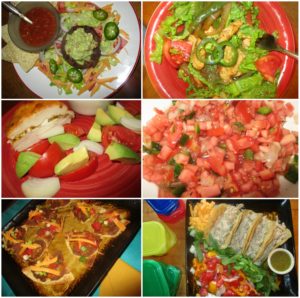 Meal planning helps me afford better quality foods!
By eating at home more than eating out, we have saved a tremendous amount of money (and sodium bloat). I like to invest some of that money we save back into quality ingredients!
LOOK at the size of these shrimp!!
Instead of going out for sushi I just make a huge sushi platter with those great quality ingredients!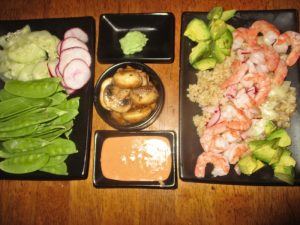 My main message is to always have a plan.
There are times I plan 5 suppers and just pick each day which one I want. But sometimes I am so BUSY that I can only plan for 2 days at a time. Today and tomorrow, but I still have a plan!
Here are some full meal plans that might give you some ideas on how to make it work for you!
Can you meal plan on a budget too? Yes. Yes, you can but have to put in the work 🙂
Cuz a goal without a plan, is just a wish…