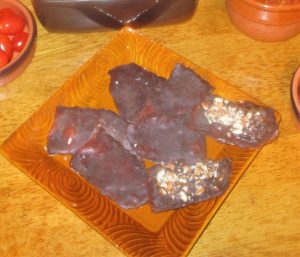 I have lost 55 lbs. doing the 21 Day Fix! BUT here it is Valentine's Day and I need some kind of "treat"! Chocolate Covered Bacon ought to do the trick!!
One of the reasons I have been so successful with my weight loss is because I have incorporated my "diet" into my everyday life.
I love real food but I need it to be healthy now. Turkey bacon and homemade chocolate coating fit into my new lifestyle. I made the transition from pork bacon to turkey bacon for a few recipes that require it. I do not eat it alone… it's not my favorite way. But when I recently saw a recipe that included bacon with chocolate and "knew" that this was a "match made in heaven"……………sweet and salty….variations according to YOUR container counts. 21 Day Fixable!
What ingredients do I need to make Chocolate Covered Bacon?
Let's start with the bacon. I tested a few different brands and I found this really clean bacon at Kroger. THIS IS JUST AN EXAMPLE…I have not a clue about what you have at your local store.
What I was looking for were wide thick slices. 1 slice of the bacon the size I bought would be 1/2 red and that is why I bought WIDE bacon, to begin with.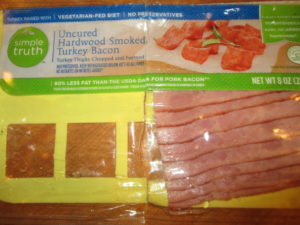 The best way I have found to cook the bacon is to cook it in the oven on parchment paper sprayed with olive oil spray. I baked it at 400 degrees for about 12 minutes…..after that I watched it and took it out at the 14-minute mark. Some thinner bacon may not need that much time. I was looking for "crisp", after cooling to room temperature it needs to be stiff. So I removed it and put it on a plate and stuck it in the freezer while I completed the next steps.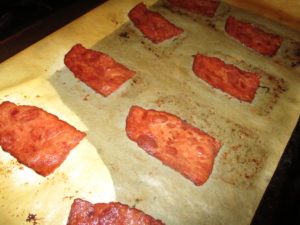 I chose to use 1/2 slices or about 2 bites worth. Unlike M&M's this chocolate DOES melt in your hands, full-length slices would melt before you could eat them.
While we are on the subject of melting, I suggest leaving these in the freezer till the moment you want to eat them. The chocolate coating is going to melt pretty quickly. So I plan on taking them out of the freezer as a "surprise"! A one-time eating opportunity.
Now on to the chocolate sauce… I use this basic Chocolate Shell recipe , from Confessions of a Fit Foodie (and I highly recommend the entire recipe, because the banana ice cream filling is awesome).
I make the sauce and put it in the fridge to chill just a few minutes. The frozen bacon isn't very thick so if the chocolate mix is too warm it just won't stick to the bacon very well, it will just run off.
On another batch I tried I double dipped them in chocolate, putting them in the freezer to harden between dips! Again I placed them on parchment paper. I also tried putting a few chopped almonds on a few slices. (1B of chopped almonds on 2 slices). Then I put them back into the freezer to harden.
How do I count Chocolate Covered Bacon in my containers?
I count these sized slices as 2 pieces for 1/2R and 1tsp sweetener and 1tsp oil. If I ate the one with nuts I counted those too!
Because I was pressed for time I took some banana slices I had in the freezer to use in smoothies and chocolate shell covered them. I decided at the last minute to throw some coarse sea salt on top of them for that same sweet and salty combo! I count 5 banana slices as 1P and 1tsp sweetener and 1tsp oil.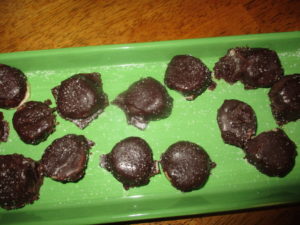 More chocolate anyone??
HEY, let's stay on this chocolate-covered theme and check out my friend Nancylynn's chocolate covered strawberry recipe. She uses her Instant Pot as a double boiler and gets a great chocolate shell on them.
Cuz Valentine's Day screams for chocolate-covered EVERYTHING!! I am thinking raisins, pretzels, peanut/nut clusters, crackers…………my list goes on and on!! As long as I have containers and I want to chocolate coat them I suppose I could…
Your main take away from this post should be… find a way to make the Fix your lifestyle. It is not as hard as it sounds.
Enjoy life!!