Why did I write "How to find approved tomato products"?
Because I love beautiful tomatoes! My new healthy lifestyle, the 21 Day Fix, encourages eating clean, healthy, "fresh" foods. So I eat fresh tomatoes as often as I can. My farmer's market is brimming full of them in the summer months. BUT here it is the dead of winter and the ones in the grocery store just are not the same. Red and round are about all they have in common with their homegrown cousins! So I have to resort to using the canned variety more often in the winter.
Can you use canned tomatoes while on the 21 Day Fix?
Yes and a variety of tomato-based sauces too. They just have to fit certain criteria. You just need to learn how to find them.
One of the first things you have to know is what kind of tomato products are on our food list.
Our food list has:
Salsa, fresh, 1 cup = 1G
Salsa, store-bought, 1 cup = 1P
Pico de Gallo, fresh, 1 cup = 1G
Tomato sauce/marinara, <8g of added sugar per serving, 1 cup = 1P
Tomato sauce/marinara, no added sugar, 1 cup = 1G
How to find approved tomato products in the produce department
"Fresh salsa and Pico" are found in the produce department. I love to use it as a salad dressing for my taco salads and if you add Greek yogurt with it then you have a creamy salsa dressing. We can have tortilla chips as a yellow treat swap 3 times a week so sometimes I use 2Y and just pig out on chips and salsa!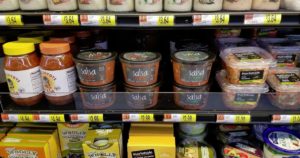 On to spaghetti/marinara sauce in the jar. The video update from Autumn can be found here https://www.youtube.com/watch?v=AR_nHMSZF04 if the sauce has NO added sugar it can be counted as a green container. When you turn your jar over and read the label you are looking for the number of sugars. Tomatoes have naturally occurring sugar but we are looking for the words "added sugar" or the word "sugar" or any other sweetener in the ingredients. If there are none it is a Green!
If it does have sugar make sure it is no more than 8 grams per serving and count it as a Purple.
This carries over into tomato products like canned whole/diced tomatoes, crushed tomatoes, tomato sauces.
The exception to the "rule" is tomato paste. It is very concentrated. The nutritional information leads me to believe that 1/2 a can of tomato paste would fit the criteria as 1Green. I also try to buy no salt added tomato products when they are available, again being in charge of my sodium intake is important to me. Being organic is a plus!!
How to find what else are you looking at on a label?
Back to that label though, looking at the sodium level decide if it fits your plan. I try to get no more than 200mg of sodium in any one serving of food, so if the sodium is a little high I try to account for that in the rest of my meal or my day. I talk about sodium in this post.
Now on to the oil, some sauces have oil. I prefer to find one that uses olive oil. 5 grams of oil = 1tsp so do the math and figure out how many teaspoons of oil need to be counted in your daily total.
Here is a "picture list" of sauces that I found that fit counted as a green container. I have found that a picture is worth a thousand words like the old saying… especially when grocery shopping.
**Here I want to put a disclaimer: I tried to investigate every sauce pictured and attempted to get it "right" if I made any mistake be sure to let me know, HOWEVER sometimes the food industry changes recipes or formulas and they do NOT have to inform us, so ALWAYS check your own labels as a precaution.
Green Container Jarred Sauces: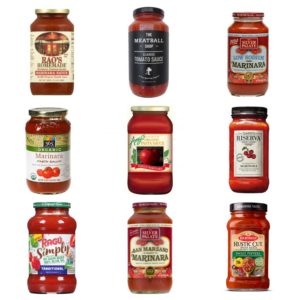 Green Container Canned Tomato Products:
******Update******
From the calorie count of fresh tomatoes, we can determine how we can count canned tomato products. One cup of chopped fresh tomatoes has 3o calories. I use 30-70 calories as a "range" for tomato products in my Green container because of the easy math.
1 cup of fresh diced tomatoes = 32 calories
1 cup of cherry tomatoes = 25 calories
1/2 cup of diced canned tomatoes = 25 calories
1 cup of tomato sauce = 70 calories
1/2 cup of crushed tomatoes = 40 calories
2 Tablespoons of tomato paste = 40 calories
***NOTE***  The creator of the 21 Day Fix has been quoted to say that 2 Tablespoons of tomato paste can count as 1/2 Purple container.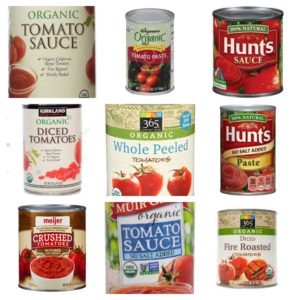 The only other tomato product that I use that is NOT on our list is sun-dried tomatoes. I buy the dry ones not packed in oil. Because the Fix takes some foods like raisins, dried cranberries, dried apples and turns them into a "treat swap" because the drying process shrinks and concentrates the foods natural sugars. So I just applied that principle to tomatoes. I count 1/2 cup of sun-dried tomatoes at a full green container. Kind of do them as a green treat swap, even tho that is NOT a real thing…. but what I mean is I only use them once in a while. I would not use them every day as a green.
I like this brand because it is not in oil and low in sodium. 1/2 cup = 1G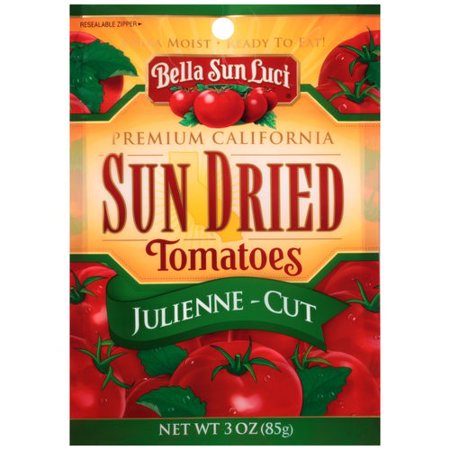 Now how to find the other kinds of approved tomato products that are mentioned on our list.
Tomato products that fit onto the Purple/Fruit food list:
Salsa, store-bought
Tomato sauce, plain or marinara
That is it. That is all the information our list gives us. We know from that video of Autumn I mentioned earlier, that the reason these products were placed on the Purple/Fruit list is that she expected us to pick ones with "sugar added". I have searched through many of the sauces as I did for the green list, but I personally found VERY  few that I would use. There are just SO many options out there without sugar added now and I get fewer purple containers than I do green ones, so it is a no-brainer for me.
What are my favorite approved tomato products?
I do shop at Aldi's and I do like the flavor of this sauce for some of my recipes like lasagna, this sauce is just right in it. 1 cup = 1P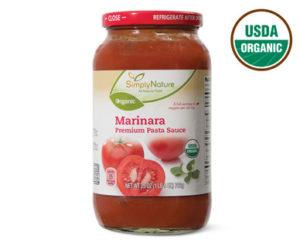 The other sugar added product I like to use is a pizza sauce. There are a few brands. Again I pick one by sodium and fat grams that are important to my goals. This one is a little high in sodium, so I DO adjust for that with my all veggie toppings and being careful with the rest of my meal or day if I use it. Read those labels and decide that for yourself.  1 Cup = 1P (I never use a full cup)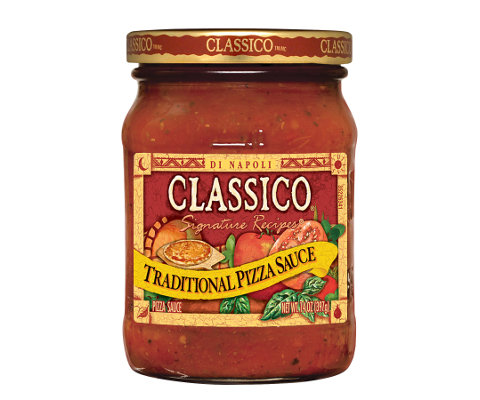 I made these WONDERFUL little Pizza Pepper Bites by filling mini bell pepper halves with this pizza sauce and then topped them with shredded mozzarella cheese. Broiling them in my toaster oven for 12 minutes or till the cheese started browning. I only used about 1/2 cup of this sauce so I just counted it as 1/2P. I counted 1G for my peppers and 1B for my cheese. They would make a perfect side dish to a plate of pasta. But I like them as an evening snack.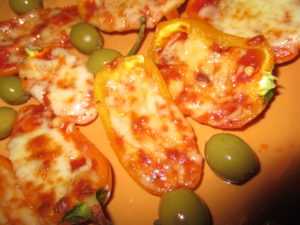 Pizza Pepper Bites
These make a great stand alone snack or even a side dish to a pasta main-dish.
Ingredients
1

cup

halved and seeded peppers

½

cup

pizza sauce

⅓

cup

mozzarella
Instructions
Fill pepper halves with pizza sauce. Top with cheese.

Broil 12 minutes or till bubbly and browning to your taste.
Learn how to find approved jarred salsa.
Last but not least. Jarred salsa. Once again we don't have much to go on. They may or may not contain sugar that is not specified. But we know it is different than the "fresh" salsa we already discussed. Again the number of different things in the salsa may determine what YOU are looking for in a product. The sodium or how much sugar it has. But here are the ones I personally would use if I wanted to.
And YES, I did add Tabasco sauce to this list.  It is not counted as a purple container. But we often reach for things with "heat" like salsa and hot sauce together. Since I have been pointing out things like SODIUM in products, I thought a little advice about hot sauce would fit in here nicely. In my research, I found out that many of the brands I have been using are really super high in sodium. My favorite brand has 200mg of sodium per teaspoon…UGH! If I want to make a recipe that includes tablespoons of it I am WAY up there!! But I found out that regular Tabasco Sauce only has 35mg of sodium per teaspoon. That is more like it!! It is going to be my go to from now on…
How to find Purple Container jarred salsas: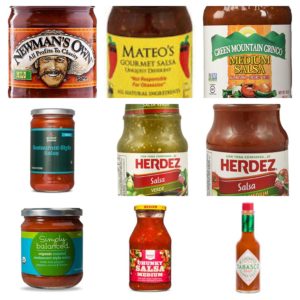 Now is the time I want to remind you that these are EXAMPLES of how to find approved tomato products. There is no possible way for me to list every single product that will fit on to our list. I am hoping that the visual aid of pictures and the numbers will help you learn to read YOUR labels. On the products, YOU have on YOUR grocery shelves.
I am going to try to continue this series of topics for each container where there are so many store-bought options to wade thru. Here is my Orange container one.
Please, leave me a comment about which one you would like to see next.