How did I decide to remake my 7 Layer Party Dip recipe? Well, you have been there when someone says "We are having a party, bring a dish!!" and it sounds fun!!!! Plus ALWAYS host a party and it is coming up!!! The dread has set in…" What can I make that will keep me on "plan" AND that other people will eat??"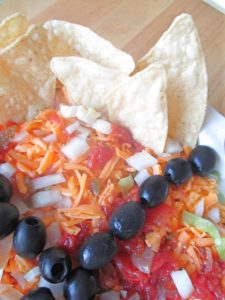 Because let's face it we have all had bad "diet" party food… some dry veggies sticks, a few strawberries, and a few cold shrimp, who wants to be the person who only eats that??
I have often made or taken deviled eggs because they are an easy protein to make "Fixed", but the recent discovery of an egg sensitivity stopped that!
Who doesn't love the big basic veggie tray and/or fruit tray! I just have to make sure the dips I use are fix approved, but they are as I said… BASIC. 
WE WANT SPECIAL!
So, I took a recipe I have made 1,000 times in my life and remade it.  A classic 7 layer party dip always goes over real good with my guests. I cleaned up my ingredients to 21 Day Fix standards and gave it some container counts. For example, the biggest recipe change I made was leaving out the sour cream layer.  We serve it on the side for my "non-diet" friends or offer greek yogurt and they never know the difference. I use my mayo-based ranch dressing if I want something creamy added to the top because I can't eat many "white" dairy products.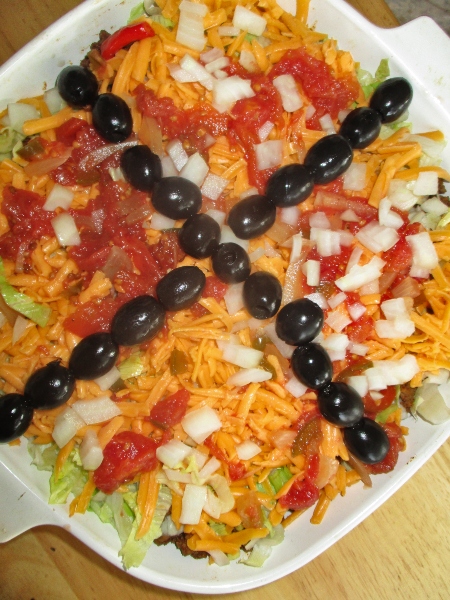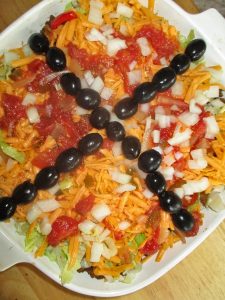 I used a square pyrex dish to build it in but a 9×13 casserole dish will work also.  It serves 8 but because it is a "dip", not a meal it might stretch farther than that.   At a party, I wanted to be able to walk up to it and just by looking at the dish I would know what a serving size was. So creatively, I put my olives on as a guide so that one square is 2 servings and it is easy to "see: what 1 serving is!
On to dip making…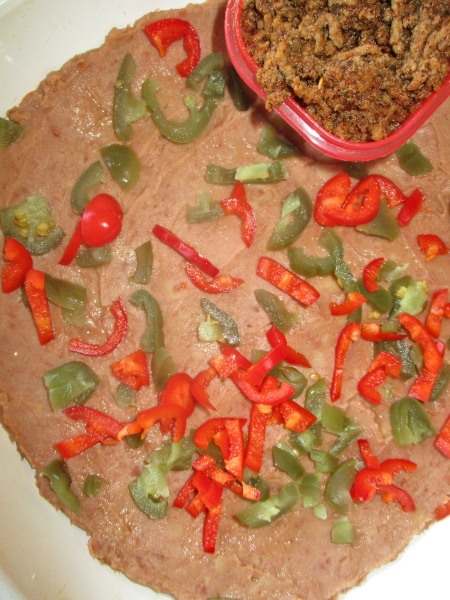 Going to start my layers off with refried beans(1). First I mix the juice from a jar of jalapenos into the beans to thin it down just a little to make it more spreadable.  Smooth even into the bottom of your dish and start adding layers. I used those jarred mild jalapenos and fresh red bell peppers from my garden as a layer(2). The party I was going to was including kids who would probably eat it so I didn't overdo the heat, but you could add as much as you want!
Next layer the taco meat(3). I made a huge batch for my freezer this day so I just measured 4 of my red containers for this layer. Just spread it evenly over the other layers.
I am including my taco seasoning mix recipe. It has taken me two years to find a combo that I like and so I am glad to share it with you!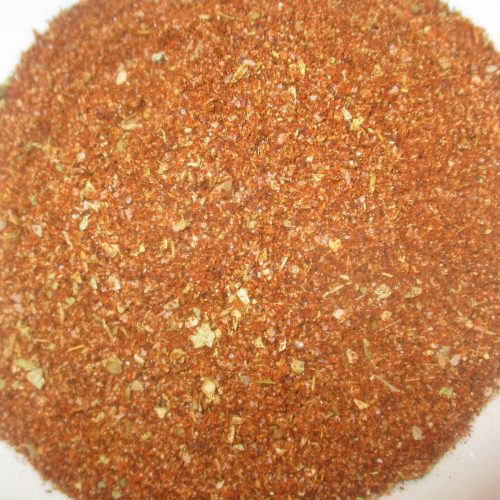 Ultimate Portion Fix/21 Day Fix: Taco Meat Seasoning
A mix of spices makes taco meat seasoning healthy! Make it in bulk, so you will always have some on hand.
Ingredients
½

cup

chili powder

¼

cup

cumin

¼

cup

paprika

¼

cup

dried oregano

2

tablespoons

onion powder

2

tablespoons

garlic powder

2-3

teaspoons

kosher salt, to taste

2

teaspoons

black pepper

½-1

teaspoon

cayenne pepper, to taste

2

teaspoons

raw sugar
Instructions
Mix all ingredients together. Store in an airtight jar.

Add 3 tablespoons of mixture and 2/3 cup of water to 1 lb of browned and drained ground beef. Cook on low till the water is evaporated.
I top the meat layer with chopped iceberg lettuce(4). The crispness of the lettuce is important and so I don't use any leaf lettuce for this.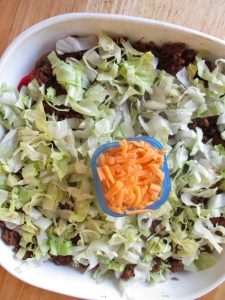 2 cups of chopped should cover it. I only had 1 cup on hand this day so it looks a little less full. Shredded cheese was my next layer(5).  Again I measured it in my blue container. I used 4 of them for the sake of easy math. If I keep the blue container count at 1/2B per serving I can have some other kind of cheesy treat on my plate too!!
More layers in this 7 Layer Party Dip!!
The next layer I do is a sort of salsa layer(6). When I say "sort of" I mean that I use about a 1/2 cup of fresh tomatoes and fresh onions mixed with a 1/2 cup of jarred salsa. Hubby doesn't like very much raw onion so I tried to make some "light on onion" sections.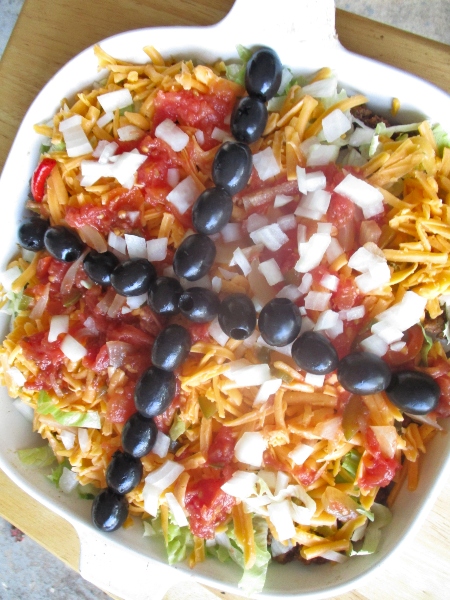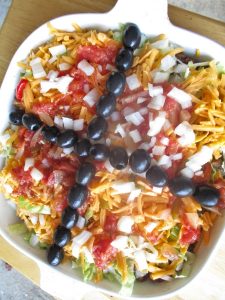 On to the last layer of olives(7). I explained earlier why I placed them in the way that I did. But you could certainly slice them and sprinkle them over the top. 10 olives = 1 orange container.  Save some room for other orange container foods at the party by leaving them off your serving or only having 5 for 1/2 of that orange!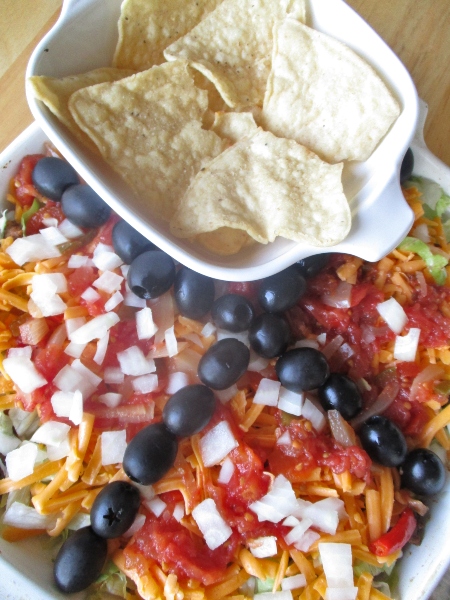 I save a treat swap yellow for store-bought tortilla chips. Six large chips are just 1 yellow treat swap, which is plenty to "dip" with. But I often use the smaller "rounds" because I can get 23 of them for the same Y!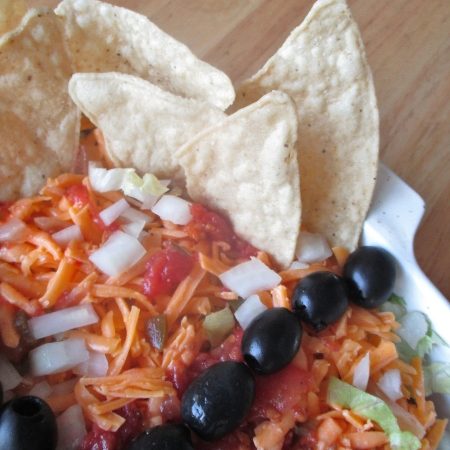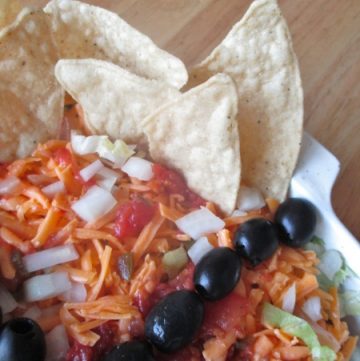 Ultimate Portion Fix/21 Day Fix: 7 Layer Party Dip
A classic party dip with a healthier spin.
Ingredients
1

can

fat-free refried beans

2

tablespoons

juice from jarred jalapenos (or water)

½

cup

diced peppers, a mix of fresh bell peppers and jarred jalapenos to taste ,

add as much heat as you like in this layer

3

cups

taco meat

*see recipe below for taco seasoning blend

2

cups

chopped lettuce, kind of small

⅔

cups

cheddar cheese, shredded

1½

cups

chopped tomatoes, chopped onion, and jarred salsa mixed

1

can

medium olives
Instructions
Mix beans and jalapeno juice together and spread into about 9x9 casserole dish.

Sprinkle the mix of peppers over beans.

Layer on the taco meat, spreading evenly.

Sprinkle all the cheese on evenly.

Add salsa mixture around on cheese. (You can always add more salsa to taste)

Add olives to the top, whole or chopped, your preference.
Ultimate Portion Fix/21 Day Fix Container counts DIP ONLY
I love a good party!! What can you serve with this 7 Layer Party Dip?  Pizza Pepper Bites or Buffalo Cauliflower Bites are perfect to serve alongside some of your family favorites too!!