Why did I decide to make a Mayonnaise Ranch Dressing? Well, since the success of my "Bigger" Big Mac in a Bowl recipe, I have been thinking about what my next "dressing' recipe would be.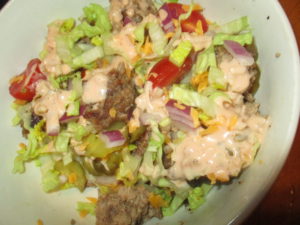 I do believe I have come up with the perfect one…..
What makes my ranch different than any other one on the UPF/21 Day Fix that I have seen?? Mayonnaise. Most recipes are heavily dairy-based and WONDERFUL! ( here is an amazing one that counts as a Red container  ), but I just can't handle much "white or soft dairy" like cottage cheese, ricotta cheese or Greek yogurt. A little bit of parmesan cheese and some extra sharp cheddar is about it for me.
I can't do regular mayonnaise (eggs are an issue too) …. so I use vegan mayonnaise. I've been working on a homemade vegan mayo. But, for now, I use a store-bought one.  In these pictures, I used regular mayo because my Hubby is my main taste tester 🙂  and I wanted a "real" opinion.
Let's start with the "wet" ingredients mayo, lemon juice and milk (almond for me)  but any milk in a few tablespoons won't count towards any container.
I was not looking for "sauce" this time…..because this is not a "dip" like some ranch recipes. This one is thinned down into a dressing and flavor-packed because of it.
The next ingredients are one I LOVE…. but you? Not a fan of dill….leave it out. Don't have dried parsley (but the rest) leave it out. Have some 'fresh" ingredients like garlic, add it in! Make this recipe your OWN…. because that is what real "cooking" is…making it your own!!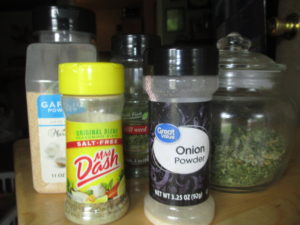 a stick blender and a wide-mouthed jar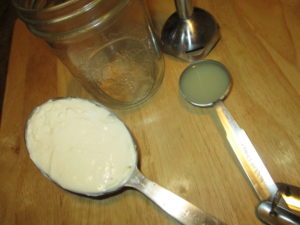 After that it is patience…I make it in the morning and don't serve it till evening or even better make it one day and then use it the next so that the spices have a chance to mix together better.
What is the container count for this Mayonnaise Ranch Dressing?
Container count? Just count it as an orange container, it is Ranch Salad Dressing the same as any other dressing would be 🙂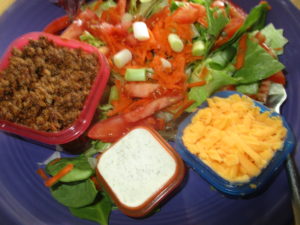 I LOVE ranch dressing on a taco salad sometimes and Cinco De Mayo this year is one of those times!!
Mayonnaise Ranch Dressing
This simple ranch dressing can be made with ingredients you usually have on hand.
Ingredients
½

cup

mayonnaise or veganaise

1

tsp

lemon juice

3

Tbsp

almond milk or any milk

1

tsp

dried parsley

1½

tsp

garlic powder

½

tsp

onion powder

½

tsp

Mrs. Dash seasoning

¼

tsp

dried dill

¼

tsp

salt and pepper or to taste
Instructions
Mix all ingredients well. Let stand in the fridge at least 1 hour or overnight.
Container count/ Serving size
1 Orange container or 2 tablespoons.
I love salad. But unless I can change the ingredients and dressings up enough to make them feel different every time, I just can't do them.
2G salad greens, 1R taco meat, 1B cheese and 1 O of ranch dressing was a real meal 🙂
I enjoy my "diet" food… having lost 55lbs is the "proof".  Not very often have I felt deprived because cleaning up my diet was all I needed. Started buying better greens, extra-lean ground beef, sharp cheddar cheese, vine-ripened tomatoes, it all made me feel more healthy!
Making the "FIX" your own is how it is going to work for you…it is how it has worked for me 🙂