A stacked sushi salad?? Yes!! I love sushi. I love all the fresh flavors.
But I live in a small southern town where we only have one tiny place to get it and then only on Tue-Sun after 5 pm. My Hubby won't touch it with a "10ft pole" so my supper time sushi-fix just doesn't happen very often!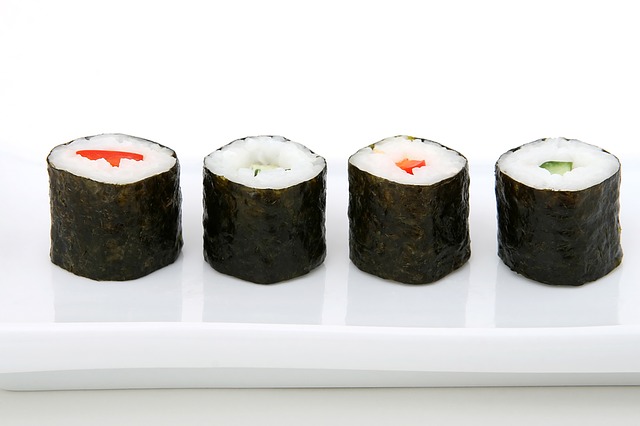 To take myself out to lunch for sushi I have to go about 30 miles, but my favorite 2 places are 50 miles away though. So I needed to figure out a way to have it more often at home. I have not yet tried to make a true sushi roll. Keep telling myself "one of these days". And I may just have to do it to make a post about that too!
But back to the plan at hand
I was on Pinterest the other night (for too many hours) and was searching "sushi making", as I have done often (remember…" one of these days")but I found some cool un-sushi ideas. Sushi bowls. Sushi appetizers. The one that caught my eye the most was a stacked sushi salad.
I was intrigued by the variety of ingredients a salad had to offer but the beauty of it all being stacked up really caught my eye. I knew I was going to have to make that happen.
So I started shopping for ingredients.
First up: The sauce
I know from experience that making a sauce 1st gives it the most time "meld" the flavors together, so I started there. I use a vegan mayonnaise, but any brand of mayonnaise you want to use will work. Next comes the heat, this is a chili paste made by the same company as sriracha and I actually like the taste of it better! Then comes the salt, you can use lite soy sauce or lite coconut aminos or lite tamari, your pick.
Next up: The rice
After investigating which rice would be the best for my way of eating and sushi-making and decided on short-grain brown rice. I read a bunch of recipes and came up with my best version. I personally used my Instant Pot for my rice, but you can follow the instructions on the back of the package for great results too.
2 3/4 cups water and 2 cups short-grain brown rice for 20 minutes on manual and 20 minutes on natural release gave me sticky nutty rice. Sushi rice is "seasoned" so for 2cups of cooked rice I used 3T seasoned rice vinegar and 1T agave syrup, I like it because to me it doesn't have a "flavor", but any natural sweetener will do. I let the rice cool down a little before I added the seasonings and then I put it in a gallon freezer bag and patted it down flat and put it in the fridge to cool completely.
When I made it again the next day with day-old seasoned rice it was "stickier". So I might make it in the morning and then do the rest of the dish that evening for supper so the rice can get cold. Or better yet, make the rice and sauce one day and serve it the next.
And then: Your fresh ingredients
While I was letting my rice cool off, I set about getting the rest of my ingredients ready. These ingredients can vary according to your taste. If you are a fan of sushi then you know how varied different rolls can be. For example, I used cucumber and radish sliced super, super, super thin but you could use carrots (grated) or some green onions, maybe use crab meat instead of shrimp or just make a veggie roll. You could even to a sushi-grade tuna if you are into raw fish. Whatever you like!  I even added a layer of Aldis plain goat cheese in one like the cream cheese in a Philidelphia roll. Use your imagination and just count the containers you use.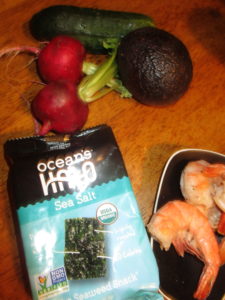 What utensil can you use to make the cute stacked sushi salad?
I used a handled biscuit cutter I had here around the house for the 1st one I made, but a tuna can with both ends cut out would work too. I used a 1 cup measuring cup for the next one I built so that I could see if it would work…loading it in the open-topped cutter I put the rice in first. For the measuring cup one, I had to end with the rice so that when I flipped it over and tapped it out on a plate the rice was on the plate 1st.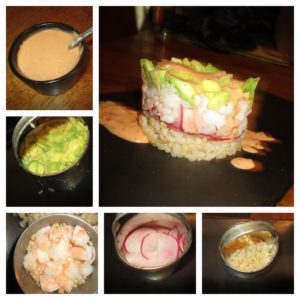 I topped it all off with my spicy mayonnaise. The size difference was that in the biscuit cutter one I used 1/4 cup of rice. And in the 1 cup one, I used 1/2 cup of rice. I used 1T of my sauce on my smaller one and counted it as 1/2 orange container. I will probably make 2 at a time of this size and use a whole orange container for them. For the bigger one, I used 1/2 of an orange container for my picture. But when I busted my stack down, I used the other half so 1 orange for it.
(Full disclosure I used the wrong kind of seaweed…YUCK…I will be buying sushi wraps of nori next time!)
Is there an easier way to make a stacked sushi salad?
I know that "pretty stacks" are just NOT going to happen very many times. Maybe to show them off or to serve to guests. So I wanted to show it "bowl style" which is what I am going to eat TOMORROW! YES, 3 days in a row 🙂 Cuz I have some sauce left to use…
I also serve it in a de-constructed version too!
Add a few more veggies for a complete meal!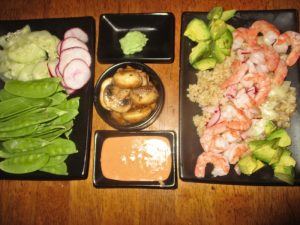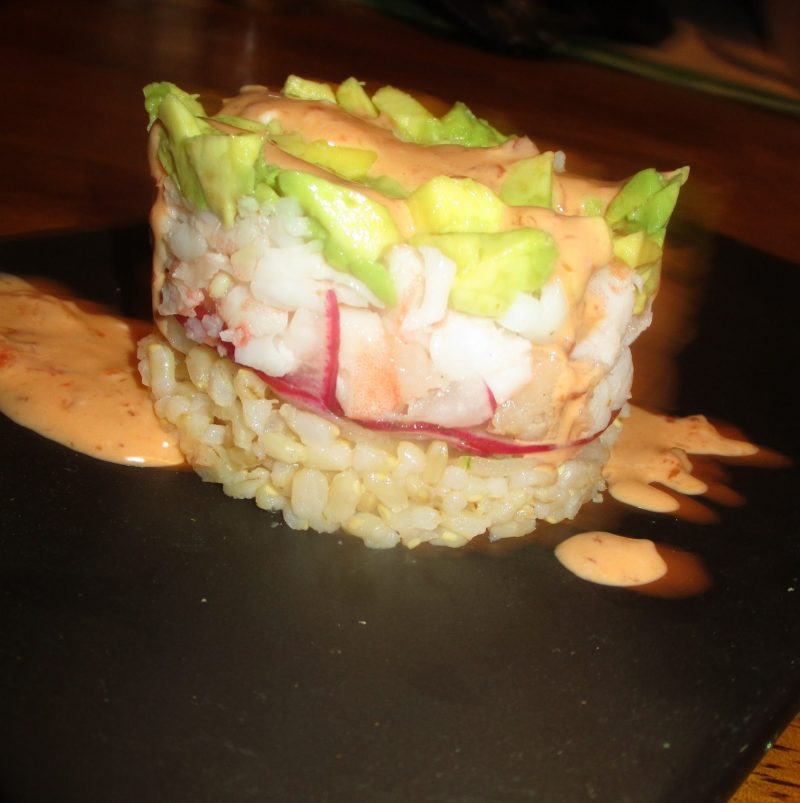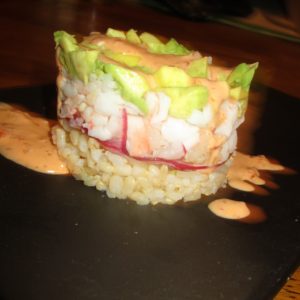 Stacked Sushi Salad
All the flavors of sushi without having to roll it!
Equipment
Instant Pot, but not needed
Ingredients
Spicy Asian Mayonnaise
4

tbsp

mayonnaise

2

tsp

Asian chili paste or to taste

1

tsp

lite soy sauce or to taste
Short-grained Brown Rice
2 ¾

cups

water

2

cups

short grain brown rice

(this makes more rice than needed for this recipe, but I use it in different recipes or freeze it for later)

3

tbsp

seasoned rice vinegar

1

tbsp

agave syrup or any natural sweetener

1

tsp

salt
Favorite Sushi Ingredients
cucumber, radish, shrimp, goat cheese, avocado or your favorite sushi ingredients
Instructions
Spicy Asian Mayonnaise
Mix all ingredients well and set aside. I often make it the day before.
Short grained Brown Rice
If using the Instant Pot: put rice, water and salt into pot. Set on manual for 20 minutes and then let it natural release for 20 minutes. Fluff with fork and let cool down for 20 minutes then add the rice vinegar and agave. Put it in a plastic bag and lay it flat or spread it out on a plate, cover and place it in the refrigerator till cold. I often do this the day before, at the same time as the spicy mayo.

If you are NOT using the Instant Pot: follow the directions on the bag and then follow the rest of the recipe.
Favorite Sushi Ingredients
Slice your veggies extra thin (I grate some hard ingredients like carrots or radish). Chop shrimp and avocado in uniform sizes.
Making the Stack
Into a container with both ends open: place rice in first and pack down. Then layer your favorite ingredients in the order you want them....I use avocado last when I use it so I don't have to mash it up..

Into a container with one end open: load the avocado end 1st.... all of your favorite ingredients next and then END with the rice on top ( so when you "flip it" the rice is on the bottom.

Add sauce when flipped.

CONTAINER COUNTS: Measure your rice base to determine your yellow containers worth ...mine is usually 1Y ...... count all of your ingredients in their containers as you use them..... mine looks like 1Y ½G ½R ½B with 1Orange of the sauce.
Count your containers as you use them. That is all I did. You could add some sesame seeds to the top of this if you have some, just count that container too!
You could pair this with Egg Roll in a Bowl and some of these to keep the Asian theme going!
Have fun with this recipe and remember… DON'T EAT BORING FOOD!!