Egg Roll in a Bowl is a REAL thing! I have had some unhealthy versions down through the years. S0 since I have started my weight loss journey I have tried the same recipe over and over but I have never found a recipe for Egg Roll in a Bowl that I love. And trust me, I have tried them all, LOL. I decided to make up my own. The 21 Day Fix or the 2B Mindset both stress getting a large number of vegetables. Being able to get as many veggies into one dish as you can is a plus!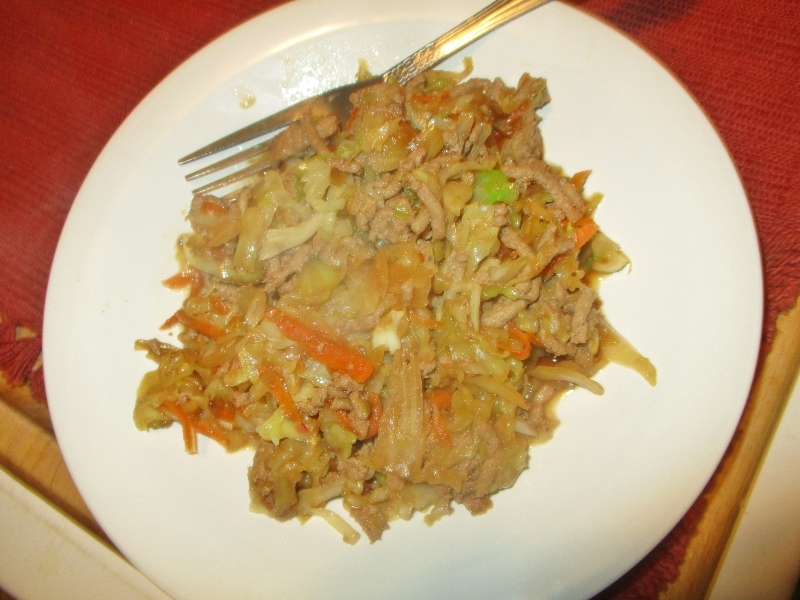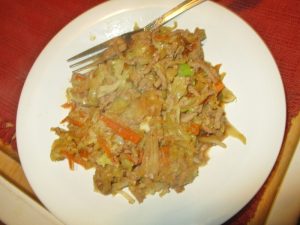 Plus I really like this dish because it doesn't involve any of my precious yellow containers. As a matter of fact, it only uses red and green containers and a few teaspoons.
What goes into Egg Roll in a Bowl?
One of the reasons I wanted to perfect this recipe is because it is so versatile. I can use fresh ingredients or just a large bag of premade slaw mix. About 8 cups of shredded veggies. Cabbage, carrot, onions, and garlic is what I have here. But I have added bell peppers and cauliflower rice to it sometimes to make a full 8 cups.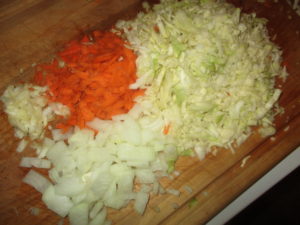 You can use your choice of meats too. Lean ground beef, turkey, or chicken all work fine. I have even cubed up my chicken or turkey and made it chunky. Today I used ground turkey.  I found it on sale the other day for 99 cents an lb, so I bought 10 pounds!! I never turn away from a bargain like that.
While I was batch cooking it, I browned the meat in an olive oil sprayed skillet till done and then drain it. Set it aside, then wipe out the skillet then add sesame oil, and heat it. Add the veggies and toss stirfry style until the veggies start to turn soft and are translucent.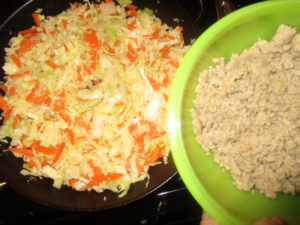 Then I added 5-6 Red containers of the meat back into the pan, gave it a stir, and added my sauce. I cooked it till the liquid was gone and served it HOT!
About that sauce…
The sauce is again a matter of personal choice like more pepper flakes or less ginger sure that is up to you… I just put in what I liked most of the time but heat is the thing I add more of sometimes. To serve it I just divide my pan full into 4ths and have 1/4 as a serving size.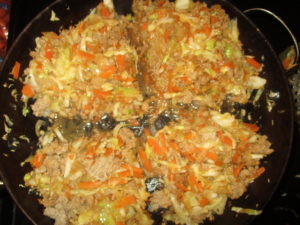 21 Day Fix Egg Roll in a Bowl
Ground meat, fresh veggies, and an Asian flavored sauce that will take care of any craving for Chinese food!
Ingredients
Sauce
2

teaspoons

ground ginger

½

cup

coconut aminos or low sodium soy sauce

½

teaspoons

crushed red pepper flakes

1

teaspoons

honey

cracked black pepper to taste
Stir fry
olive oil spray

1 ½

pounds

ground beef, turkey, or chicken will work, cooked, crumbled, drained

4

teaspoons

toasted sesame oil

8

cups

shredded cabbage, carrots, onions

store-bought slaw mix works great
Instructions
Sauce
Add all ingredients in a small bowl and set aside.
Stir fry
Cook, crumble and drain ground meat. Set aside.

Wipe out the skillet. Add sesame oil heat, then add shredded vegetables. Cook till soft and translucent.

Add ground meat back to the pan. Heat back up.

Add sauce to the pan and stir constantly till the liquid evaporates.
Ultimate Portion Fix/21 Day Fix Container Counts
¼ of the pan = 2G, 1½R, 1teaspoon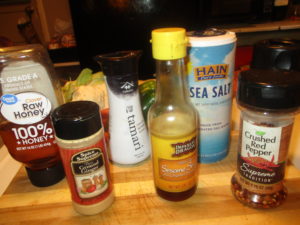 I count 1/4 of the whole recipe as 2G, 1/2R, 1t
What different ways can you use it?
One of the ways I like to reheat this for a quick lunch is to stuff it into a bell pepper and put it in my steamer and cook the pepper as the filling heats up…YUMMY and mostly veggies for any of the 2B readers that might be reading!
3 minutes under pressure in my Instant Pot and the pepper is tender-crisp just how I like it. You can adjust the cooking time for just how you like it! Fast release and enjoy!
I have even stuffed it into a pita half with some sliced cucumber and it was delish!
I hope you enjoy it!
You might want to find another Asian-style recipe to make it Chinese night at your house. There may be some in here that you might enjoy!
*I updated this recipe from tamari sauce to coconut aminos. I have done further research into sodium content and feel like the aminos will be a better fit for my 21 Day Fix goals. This brand is the lowest sodium I have found. 25mg per teaspoon.
You might enjoy another one of my "…. in a Bowl" recipes with my Bigger Big Mac in a Bowl!