Empanada Bowls, YUM! I love Latin flavored foods.
My love affair with tacos has a story of its own. I have been known to drive 45 miles one direction to get authentic tamales.
Enter empanadas or "a hand-held meat pie".  Again, I have to travel about 30 miles to get a real Cuban picadillo filled empanada. Deep-fried and served with a sriracha/chili mayo sauce that I could drink!
I got my Hubby to try them and he liked the flavors so I decided I needed to try to copy-cat them.
How was I going to be able to "Fix" them?
After extensive research and a few test batches, I began to realize I was not going to be able to "Fix" the dough and deep-frying part of the recipes. So I decided to venture off into the world of "bowls" again.
The success of my "Bigger Big Mac in a Bowl"  and "Eggroll in a Bowl" recipes inspired me to give the "Empanada Bowls" a whirl.
A good basic base for a bowl is brown rice. I often add it to my Eggroll in a Bowl when I have a carb to spare for it, so it seemed the perfect base for this bowl too. If you wanted to do cauliflower rice instead I am sure it would be just fine!
The meat filling for empanadas varies from region to region in Latin America. Each region has its own "flavors" cilantro and jalapeno for one region or potatoes and raisins (savory) for another. There are even sweet fillings for dessert empanadas.
What flavor did I pick for my Empanada Bowl?
My favorite flavor profile is a Cuban picadillo beef mixture with sliced green olives and a little diced tomatoes. The briny tang of the olives is perfect in this recipe!
Getting the right spice mix for my meat was the next task. It proved tricky to try to imitate the food truck lady's meat exactly but I finally did it! You can adjust the flavors to suit your taste….heavier on the cumin or less chili powder.
The Spicy Mayo is simply mayo and sriracha in equal amounts. Nothing more special than that.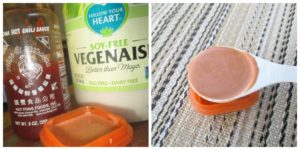 Ultimate Portion Fix/21 Day Fix Empanada in a Bowl
Green olive studded picadillo beef over a bed of brown rice with a spicy mayo sauce for the win!
Ingredients
1

pound

lean ground beef

½

cup

onion, minced

2

cloves

garlic, minced

1

cup

diced tomatoes, fresh or canned

¼

cup

tomato sauce or juice from canned tomatoes

¼

cup

green olives, sliced

2

tablespoons

olive brine

2

tablespoons

water

1½

teaspoon

cumin

1

teaspoon

chili powder

salt and pepper, to taste

4

½ cup servings

cooked brown rice
Sriacha Mayo
1

tablespoon

mayonnaise or veganaise

1

tablespoon

sriracha
Instructions
Brown meat, scrambling till done and drain all the grease away. Add onion and garlic and sautee an extra minute or two.

Add all the rest of the ingredients except the salt and cook down till all the liquid is gone. Taste for salt and adjust.

Serve 3/4 cup meat mixture over 1/2 cup brown rice. Top with 1 tablespoon of sauce.
Ultimate Portion Fix/21 Day Fix Container Counts
What else could you serve with these Empanada Bowls?
Because some regions have potatoes and some add cheese to their picadillo recipes I decided that I would try it over a baked potato and add a layer of Monterey Jack cheese to the top!
I love having a margarita with one of my Empanada Bowls!!
I hope you enjoy these bowls as much as I do.