I love a good berry crisp!! I have been looking back thru some of my food pictures and realized that I have been celebrating berry "season" since Spring and it is now Fall.
What Kinds of Berries?
Starting with strawberries in the early spring all the way to down to the elderberries of fall seasonal berries and fruit become a big part of my diet! From tucking them into a glass of tea with some fresh mint from my garden…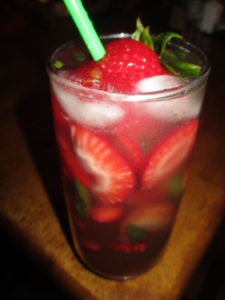 …to putting them with some other fruit in a salad. This one features honey goat cheese with a drizzle of more honey for that tart-sweet taste! Strawberries start the season out strong in about April here. We have a few "pick your own" strawberry fields in our area. And plenty of vendors at our farmer's markets that have them too, so they are plentiful. Here is another great strawberry recipe.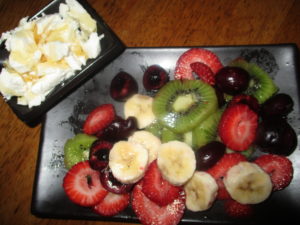 When they are SO plentiful I make sure to put plenty of them in the freezer! A strawberry crisp on a cold winter day can't be beaten!!
Then before you know it, here come the blueberries! Fresh plump and sweet ones are sooooo good! I stuff them in almost everything…..blueberry-studded chicken salad with crunchy celery beside it is mouth-watering stuff or into a hot bowl of oatmeal. Again I make sure to pack plenty of them in the freezer so that I can enjoy them all year round.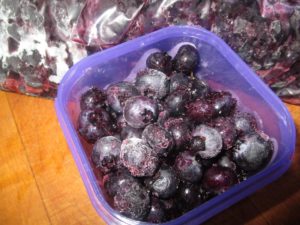 I love to make a blueberry-banana milkshake with frozen berries and bananas and almond milk! My featured picture above is a tiny Blueberry Crisps…I made them in 6-inch iron skillets as individual desserts. They are so cute!! (recipe below)
Last but not least is the BLACKBERRY!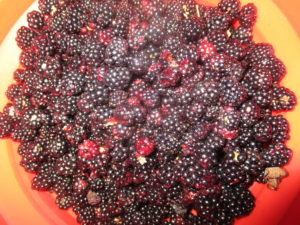 Here in the South, they grow wild. There are tame ones but most have seeds that I just don't care for, so I would just as soon go blackberry picking in the wild. Of course, a really terrible batch of CHIGGERS will make you appreciate tame ones! (Google chigger if you don't know what it is….and I dare you not to scratch!) But packing a picnic lunch and going swimming in the lake near where we pick can be fun!!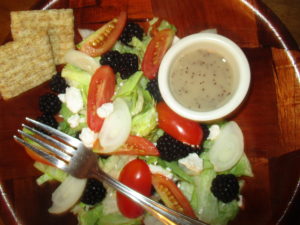 Added to a salad they are a burst of summer flavor in one bite. 
I love a fresh one smashed on a Triscuit with a smash of honey goat cheese…… awesomeness in one bite!! Throw a bag of them in the freezer and enjoy Blackberry Syrup on waffles in the dead of winter!! I mix 1 part blackberries to 2 parts maple syrup and add  1/2 part water and then cook the water out of it……nice and thick juice………take it off the heat for about 10 minutes and whoohoo….syrup!!
Back to that berry crisp….
I will give you a double serving size and you can multiply it if you need too. An iron pan isn't necessary for this recipe, any single-serve casserole dish would work.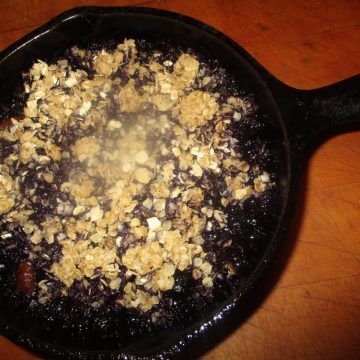 Blueberry Crisp
ANY berry will be great in this! Blueberries are the star of the show today!!
Ingredients
2

cups

fresh or frozen blueberries

2

teaspoons

corn starch

2½-3

Tablespoons

raw sugar

1

teaspoon

lemon juice

3-4

sprays

olive oil cooking spray or enough to cover
Crumble Topping
½

cup

raw oatmeal

2

teaspoons

raw sugar

4

teaspoons

soft butter

1

teaspoon

cinnamon
Instructions
Toss the first 4 ingredients and place in a small sprayed casserole dish.
Crisp Topping
Mix all 4 ingredients till crumbly. Sprinkle on top of berry mixture.

Bake at 350° for 20 minutes or until browning and bubbly.
Ultimate Portion Fix/21 Day Fix Container Counts
1/2 the pan 1 Yellow Treat Swap, because of the extra sugar.
Sometimes when it is hot out of the oven I love to add a couple of tablespoons of cream from the can of coconut milk and still just count it as a treat swap…. cuz I can LOL
You can use any berry that is in "season" to make a berry crisp. You may want to adjust the amount of sugar you add. Determined by "how "sweet" the berries are.