When someone is struggling to lose weight on the 21 Day Fix/ Ultimate Portion Fix in our Facebook group, we try to help figure out what is going on. What we do is try to pinpoint some reasons why they are struggling. We ask things like,e are they drinking all of their water? Are they getting enough sleep? Are they eating all of their containers? Finding places where they can improve. Drink 1/2 of your body weight in ounces of pure water and get plenty of sleep is advice we repeat often.  We give people some "Eat from the Top Half of the Food List Advice".
Why "Eat from the top half of the food list" advice?
The color-coded food lists of the 21 Day Fix/ Ultimate Portion Fix are arranged in a certain order. The 1st food on every list is the most nutrient-dense food for the amount of our container. For example, Kale is the very 1st food on the Green/Vegetable list. So of all 44 different vegetables on the list, kale has the most nutrients in 1 cup than all the others. Whereas, pickles are the very last food on that list and so have the least amount of any nutrients. 
I have an entire post about eating from the top of the Green container list. You can find it HERE. There are a bunch of great recipes in there. Including how to prepare collard greens!! Because there is an art to cooking them right.
Now for the rest of the top of the food lists advice!
There are 6 basic food lists we are talking about. Green/Veggies, Purple/Fruit, Red/Protein, Yellow/Carbs, Blue/Healthy Fats, and Orange/ Seeds and Dressings. You could include your oil teaspoons with those lists, but I don't usually. 
As I have already talked about that Green container, I continue on!
Purple/Fruit List
There are 39 foods on the Purple list, so I count the top 20 as the top half. And the top 4 of those are all berries! I love to snack on them but I really like to find ways to add them to a meal.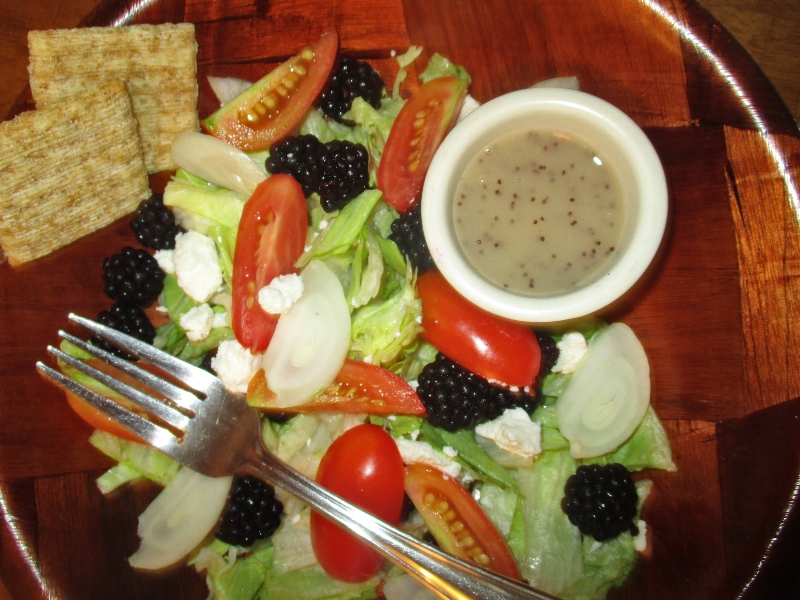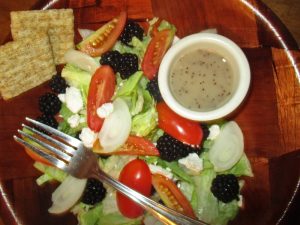 Tossed into a salad is by far my favorite way!! Mashing a few into a vinegarette is a great way to make the dressing go further. 
I have a Berry Crumble recipe I make when I am in the mood for a warm dessert. I have used blackberries and strawberries and love them both! 
This Berry-Almond Salad with Strawberry-Goat Cheese Vinaigrette and Basil even adds a top half of the list food of almonds too!!
Maybe you would like some Caramel Apple Dip to eat with some apple slices! 
Top of the Red/Protein Food List Advice
The top food out of 34 on the Red list is sardines. "To each his own" but I am not going to eat them, so I just cross those off and start my list with chicken breasts!!
There are 10 million healthy chicken breast recipes out there. But what I like to do is find a "top half of the food list" recipe that includes a few different containers. Like this Apple Walnut Brie Chicken recipe that uses Purple/Blue/Red containers that are at the tops of their lists too. 
The same thing with this Hibachi Chicken recipe. It uses more than 1 top ingredient. 
Ground chicken can be great to use in some recipes because ground beef is more than 1/2 way down the Red list. I love anything "Buffalo'd". I just add some blue cheese dressing with celery to a plate of these little Buffalo Chicken Meatballs and enjoy them just like wings!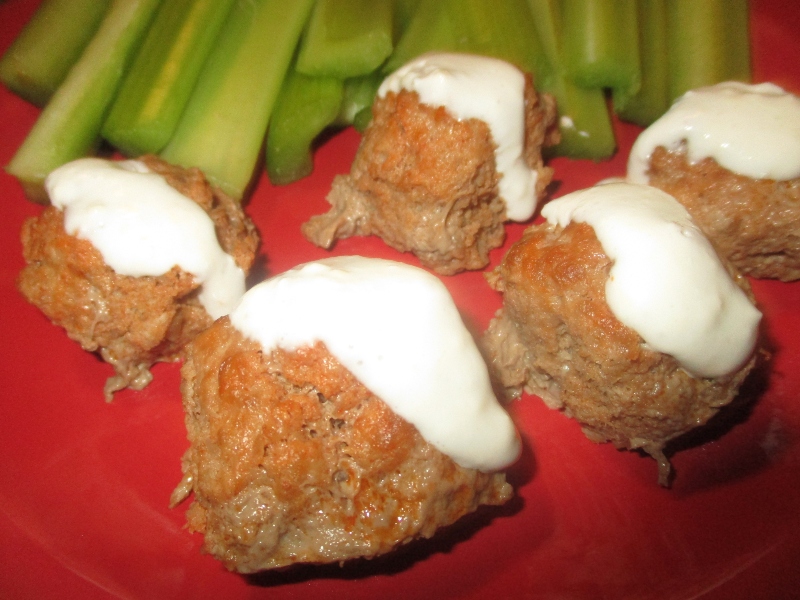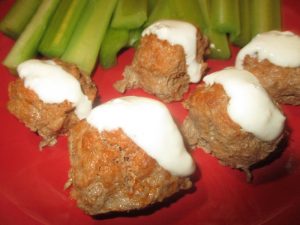 Another great Red container recipe option would be these Chipotle Fish Tacos with Mango Salsa. 
Advice for the top half of the list Yellow container foods
Out of 38 foods on the Yellow list, sweet potatoes are the #1 food for a reason. They are bursting with vitamins and will keep you full for a long time!! I love to dress a sweet potato with savory flavors for supper and with sweet flavors for dessert. These were pork loin tossed with green salsa and honey butter walnuts coconut flavored ones!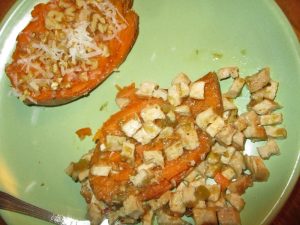 These Sloppy Joe Stuffed Sweet Potatoes are terrific too!! 
Like for the other containers, I like to combine a couple of top half of the list foods. My White Chicken Chili does just that!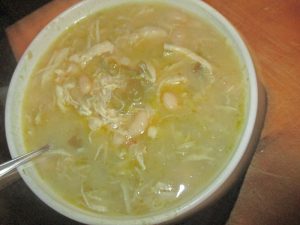 Sticking with the Mexican theme you can make some Black Bean Hummus to enjoy.
The top half of the food list Blue container advice
When you eat from the top of the Blue container lists you are basically leaving all the cheese off the list. Stopping down the list at coconut milk.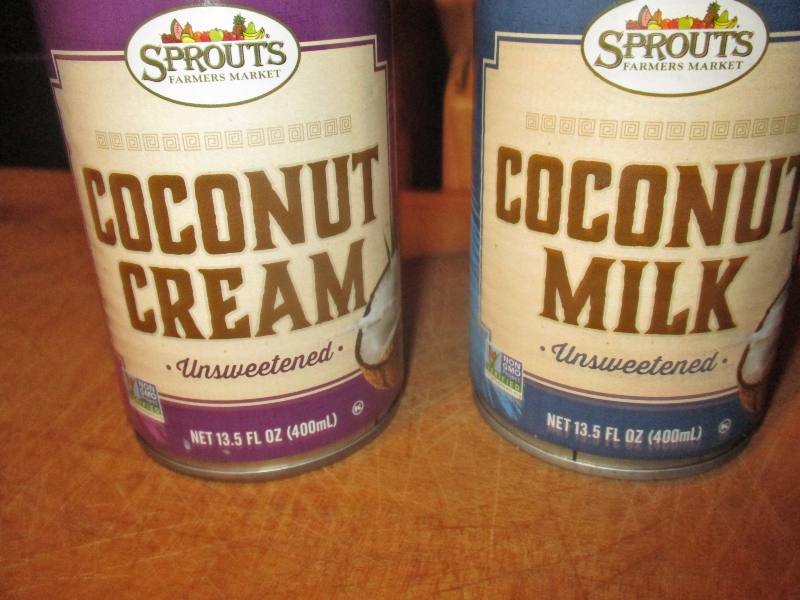 Canned coconut milk is the one that is on the blue list and you use your blue full of it. The coconut milk in the refrigerator section has a different container count. I cover dairy and non-dairy milk options HERE.
Again we can combine some top half of the list containers for a dessert using coconut milk like this Brown Rice Pudding. 
Another great dessert is the Pumpkin Creme Brulee, it uses coconut milk too. 
My favorite Blue container food is avocado! So I had to find a way to combine this #1 food with another one too. (Do you see a "theme" here?) I just love this Honey Lime Chicken Bowl. Use brown rice on the side and the avocado dressing or just some sliced avocado and you have used 3 top of the list foods on one plate again.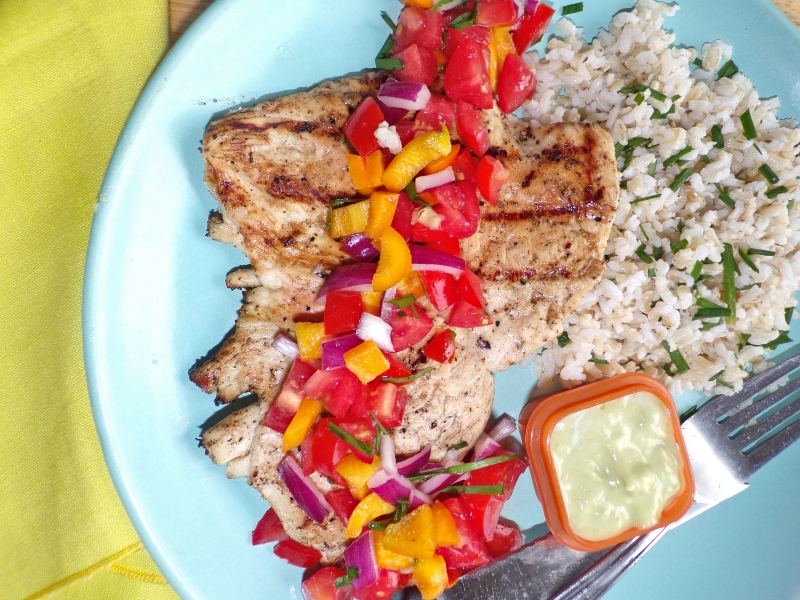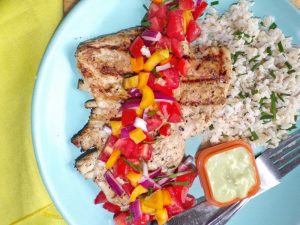 Here is another Avocado Chicken Salad recipe that combines a few "top half of the food list".
The last of the container food lists is the little Orange one.
The top 5 of 10 are all seeds. Chia seeds are really popular to make "pudding" out of right now! Here is a Strawberry Cheesecake Chia Seed Pudding that gets rave reviews. And here is a Chocolate Chia Pudding you might like. 
I just don't use seeds in a real recipe but use them as more of a salad topping usually. 
This brings me to my salad today… I rocked a "top of the food lists" salad"!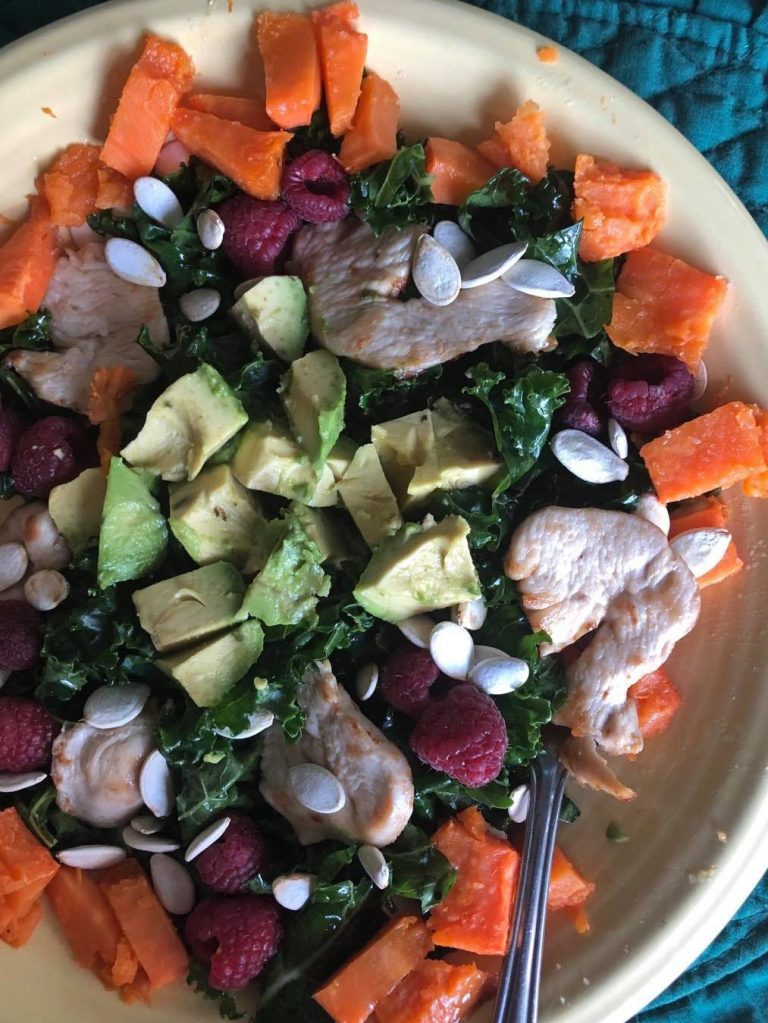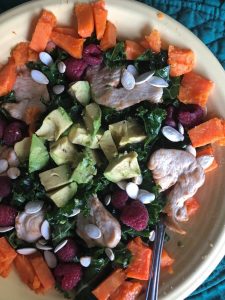 Massage sliced kale with olive oil, and add a little balsamic vinegar with salt n pepper to make a base that is already "dressed". Add raspberries, roasted sweet potato cubes, pumpkin seeds, and avocado and you have 5 #1 foods. And because sardines wouldn't fit this salad at all (and I won't eat them anyway), I opted for the #2  protein of chicken breast. I consider this a kind of SUPER salad!!
I hope I have given you some ideas on how to eat higher up on the food lists. And I hope that this knowledge helps you go forward with your weight loss journey.