Dairy and Non-dairy Products on the 21 Day Fix all have different container counts and are on different food lists. I cover the basics of milk and cheese in all their varieties.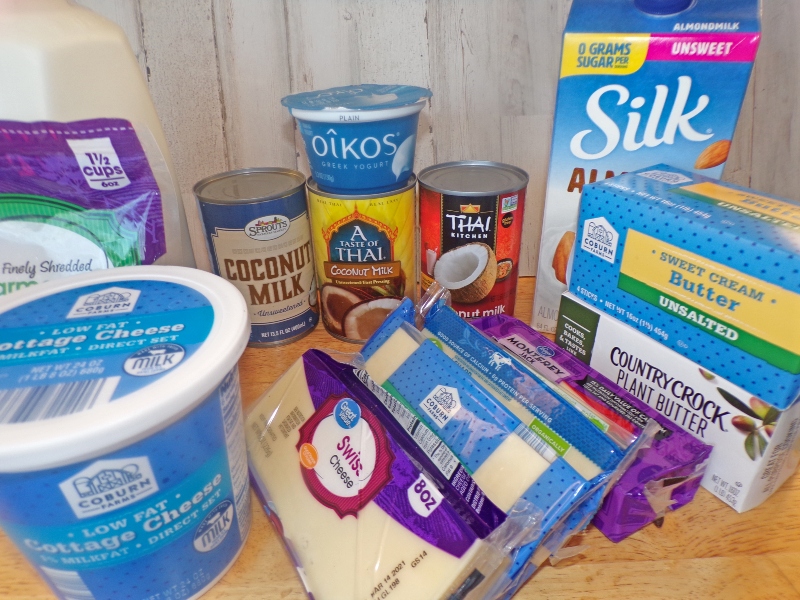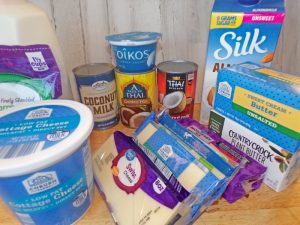 Let's start with milk
Thru the years more and more milk products are making their way into our grocery stores. Many of them healthy but some are sugar-laden and are far from healthy! We are always looking for unsweetened versions for the 21 Day Fix. When you are looking at dairy and non-dairy milk there are 2 kinds of it. One is the kind you pour over cereal or drink. The other kind is canned milk that is used in recipes and to cook with.
The reason they all have different container counts is that they are all made from different things. Cow's milk, almond milk, and soy milk all go into a different food container category.
Canned milk
The only kind of canned milk on the 21 Day Fix food lists is canned coconut milk. It is considered a "healthy fat" or a Blue container on the 21 Day Fix.
It can be used in so many recipes both savory and sweet. Many of the recipes call for you to put the can in the fridge overnight to harden the cream part and you use it separately from the watery part. Or you can buy the can of cream only and you get almost a whole can of the hardened cream.
Different brands vary in flavor. Some brands have a strong coconut flavor and lend themselves best to sweet dishes. But other brands have no coconut taste at all and are great in savory dishes to turn them creamy.
I am going to do a short review of these 3 brands. Two of them I bought at Walmart in the Asian food section and the third at my Sprout's Health Food store.
The blue can from Sprout's is very creamy with zero coconut flavor. Perfect for savory dishes. Like my new White Chicken Chili recipe HERE.
The yellow can from Walmart has a hint of sweet coconut flavor. I would only use this for sweet dishes. Like this recipe for creme brulee HERE.
The red can from Walmart has a hint of coconut flavor but no sweetness. I would use this in a coconut savory dish like coconut curry. Like this recipe for a butternut squash curry HERE.
Cream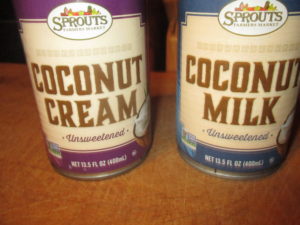 Coconut milk has a sister! Coconut cream. Basically, as I said earlier if you put a can of coconut milk in the fridge overnight and then open it. The hard part will be coconut cream. The canned coconut cream is almost all the "hard" part. The coconut milk is usually going to be 1/2 watery part but coconut cream is only going to have an inch or 2 of that water. This Sprout's brand is the only brand I have ever tried and it doesn't taste like coconut at all.
Dairy cream is not approved for the 21 Day Fix because it has too much fat content, as our cow's milk can only be 1-2% fat. But the coconut cream can take the place of it in many recipes.
The only other cream replacement option I have ever used is 2 tablespoons of corn starch added to 1 cup of 2% milk. Stir it until it thickens a little bit and then add it to your recipe.
Dairy and Non-dairy Products: Refrigerated Milk
The rest of the kinds of milk on our list are the cold kind that you drink or on cereal. It can be used in some cooking too. They count differently depending on what the milk is made from. Fat grams, calories, and protein numbers all factor in too.
For example, Oat Milk is going to count as a Yellow because oats are on our Yellow List. They make oat milk by soaking oats in water and then discarding the solids.  That is how they are all made.  These are the most common products on the market but there are new ones coming out every day.
1 cup-8oz cows milk 1%-2%- 1Y
8oz-1 cup unsweet almond milk- 1 oil tsp
1 cup-8oz unsweet organic soy milk- 1/2R
8oz-1 cup unsweet coconut milk- 1 oil tsp
1 cup-8oz unsweet rice milk- 1Y
8oz-1 cup unsweet coconut water- 1/2Y
1 cup-8oz unsweet oat milk- 1Y
80z unsweet cashew milk- 1 oil tsp
8oz oat milk- 1Y
There is one more milk that needs to be mentioned, chocolate milk. The pre-sweetened variety is just not going to be approved for the 21 Day Fix because of the sugar content. There is a shelf-stable version of almond milk that is approved! I make hot chocolate of it all winter long!
Dairy and non-dairy products: Cheese
There are many different kinds of cheese!! And I love them all…well most of them!
A frequently asked question is "How much does a Blue of cheese weigh?" The honest answer is "NO 2 kinds of cheese weigh the same!"
I have shoved cheddar cheese as tightly as I possibly can in my Blue container (with the lid still going on) and it weighed 2.3 ounces.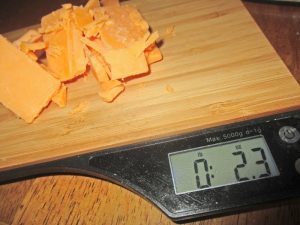 Then I packed shredded Parmesan cheese into it and only got 1.7 ounces.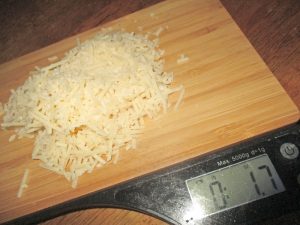 I always suggest that you to get that container out and use it because it is never wrong!
Make a cheat sheet of cheese weights if you need to. That way you can at least weigh each of them accurately. Don't try to give all kinds of cheese 1 single weight. You will be cheating yourself!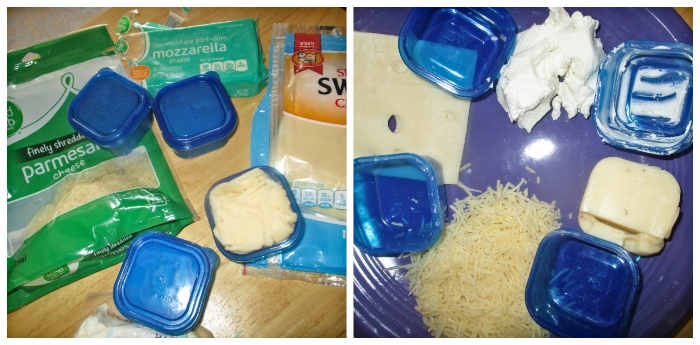 2 average slices of cheese, broken up, fit into a blue perfectly. Thinly sliced cheese has a completely different count. I just folded them square and 5 1/2 slices fit!!
For some cheese, we are going to refer to the "numbers" of our Blue container. A fellow blogger researched every food on our lists and came up with averages and parameters for our containers. You can find this handy downloadable chart HERE.
Using those numbers we know that 2 Babybel and 2 string cheese sticks both counts as 1B.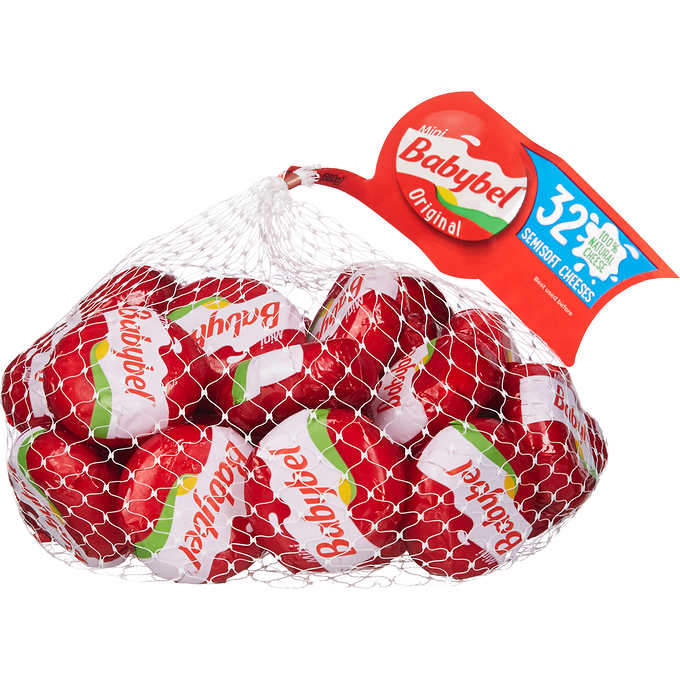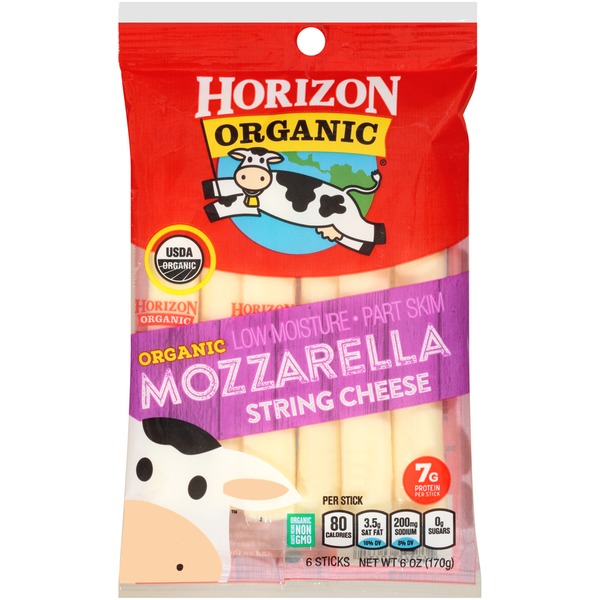 Laughing cow wedges nutrition information tells us that 3, yes 3 wedges can be counted at 1B! I have a great Philly Cheesesteak recipe that uses them HERE.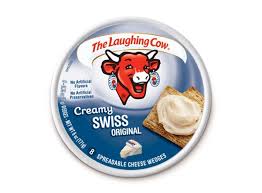 The flavored Laughing Cow wedges work out to 3 for 1/2 Blue container. But the sodium in them will make you want to limit them to 3 and have 1/2 blue container of something else! Read about sodium numbers HERE.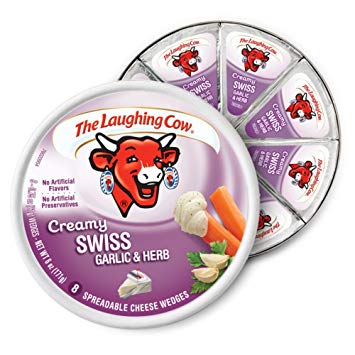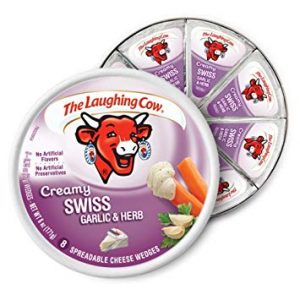 Then there are non-dairy cheese products. I have to limit my dairy consumption so non-dairy cheese is a really important option for me. I count non- dairy cheese exactly like real cheese, just measure it in my Blue. Even sliced measure it in that container just 1 time and you will know how many to count as 1 Blue.
Other Dairy and Non-dairy Products
There are plenty of other products that fit these categories.
Mozzarella Pearls/Balls fit nicely in our blue! The small-sized ones are my favorite. I love to marinate them in different flavors. I got 25 of them in my blue with the lid on! Whatever size you use just push them tight in that container and snap that lid down.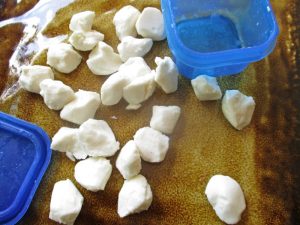 The recipe for marinated balls is HERE.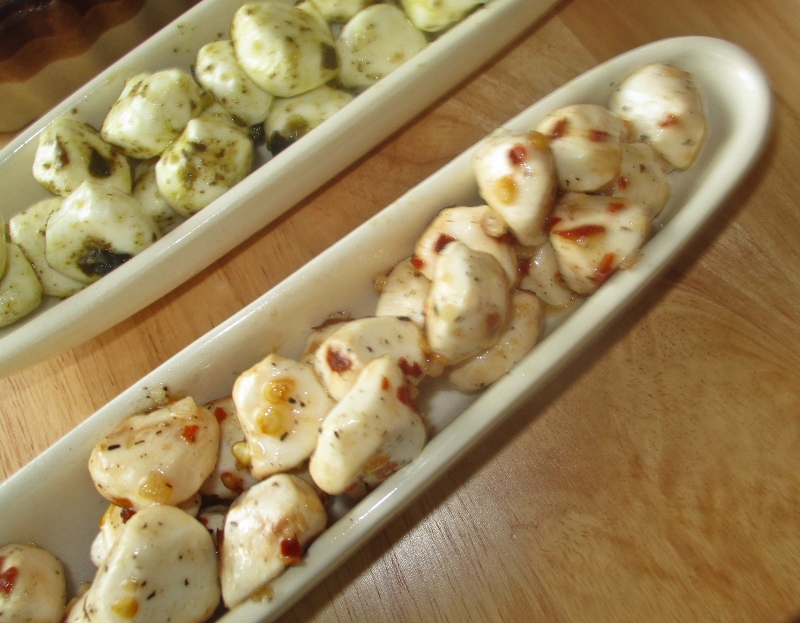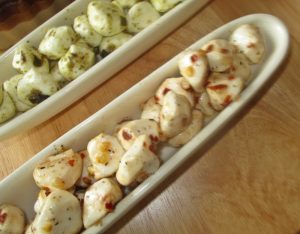 Goat cheese is one of them. I had never tried it before the 21 Day Fix and now it is a staple in my kitchen. The very 1st recipe I ever tried with it was a turkey burger. Recipe HERE.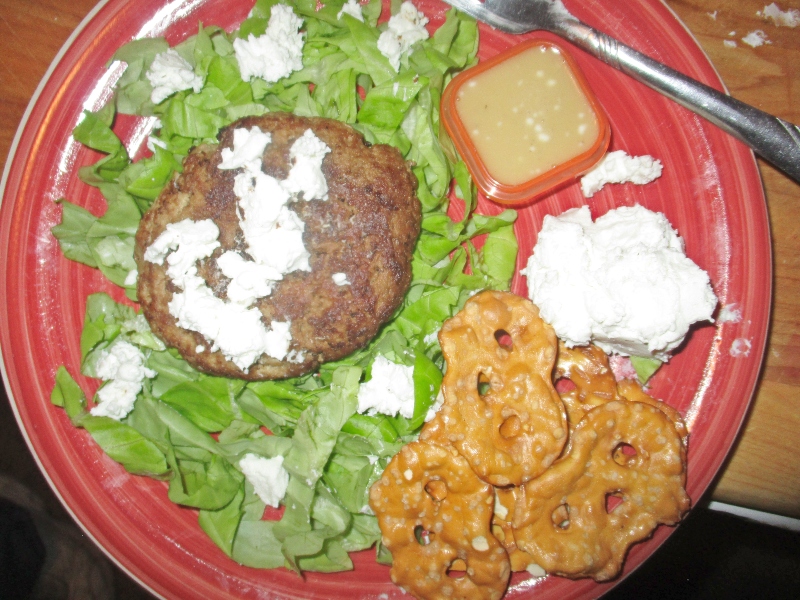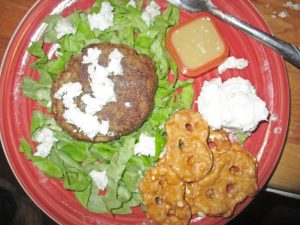 I personally love the brand that Aldi's carries, it comes in 3 varieties. Plain, which reminds me of cream cheese. Honey, which is like sweet cream cheese and yummy with fruit. And Garlic Herb, which is "ok" but I have to add some salt to it to make it better.
Bleu and Feta cheese are some of my favorites too. Because they are so strongly flavored, I can use less. I have a bleu cheese dressing recipe HERE.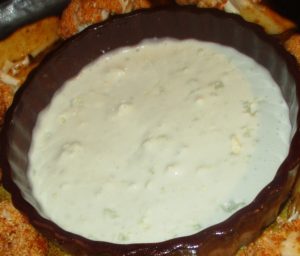 I like to split my blue container up during the day. Five tablespoons equal 1 Blue. So if I want 2 tablespoons of cheese and 3 tablespoons of avocado on a taco salad I can have the best of both worlds!
Dairy products on other food lists
Some other dairy products that are included in our food lists can be found on our Protein/Red container lists. Yogurts, cottage cheese, and ricotta are all included. I cover them extensively in this post HERE.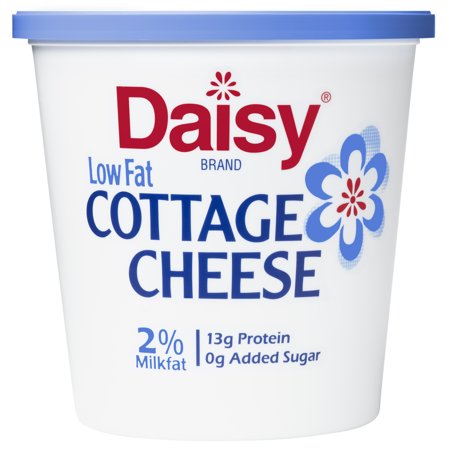 Butter is another dairy product we can use. Unsalted butter counts as an oil teaspoon. Any brand will do!
There are some non-dairy cheese options in stores now but I am not well versed in any of them. There are brands that fit the Blue containers "numbers".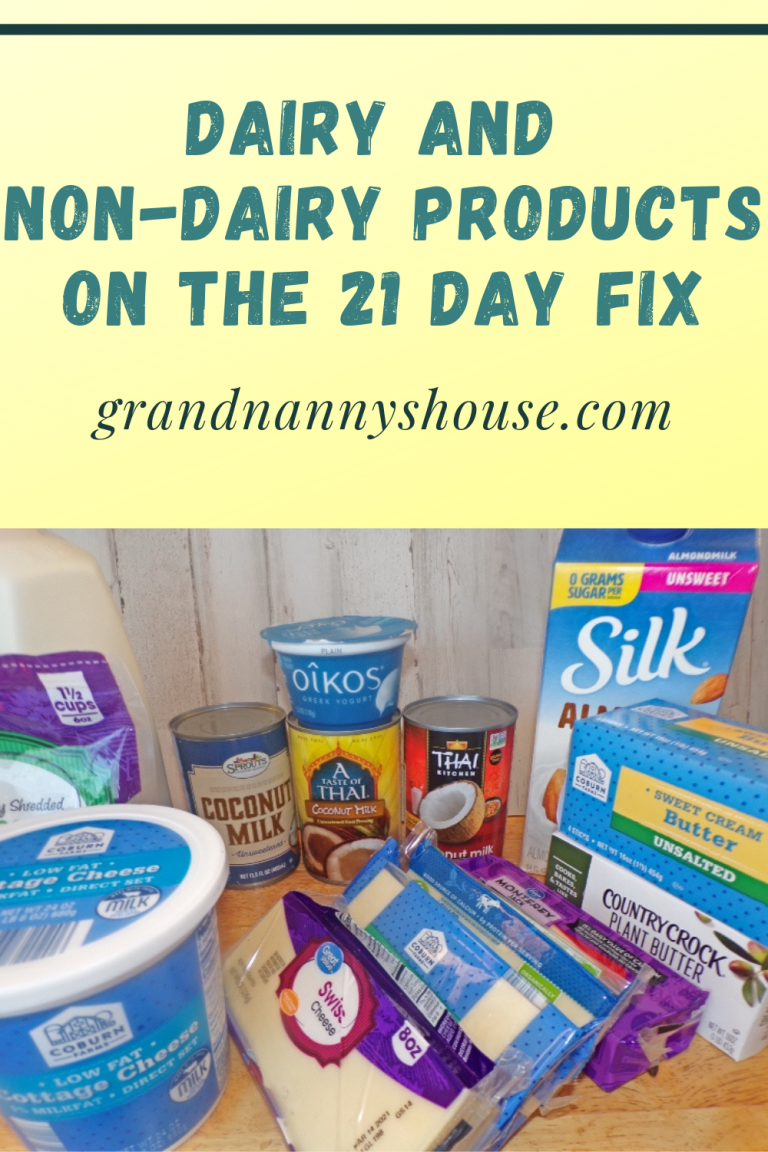 Look for me on Pinterest!!
I hope this information is helpful. If you have any suggestions to add to Diary and Non-dairy Products on the 21 Day Fix, please feel free to drop me a comment!