I have done a series of posts that help people learn how to more closely follow the 21 Day Fix. Grocery shopping tips for many of our containers. They have covered bread products, salad dressings, tomato products, and many more! So I decided to make one that would cover the Red Container Foods with all kinds of "products".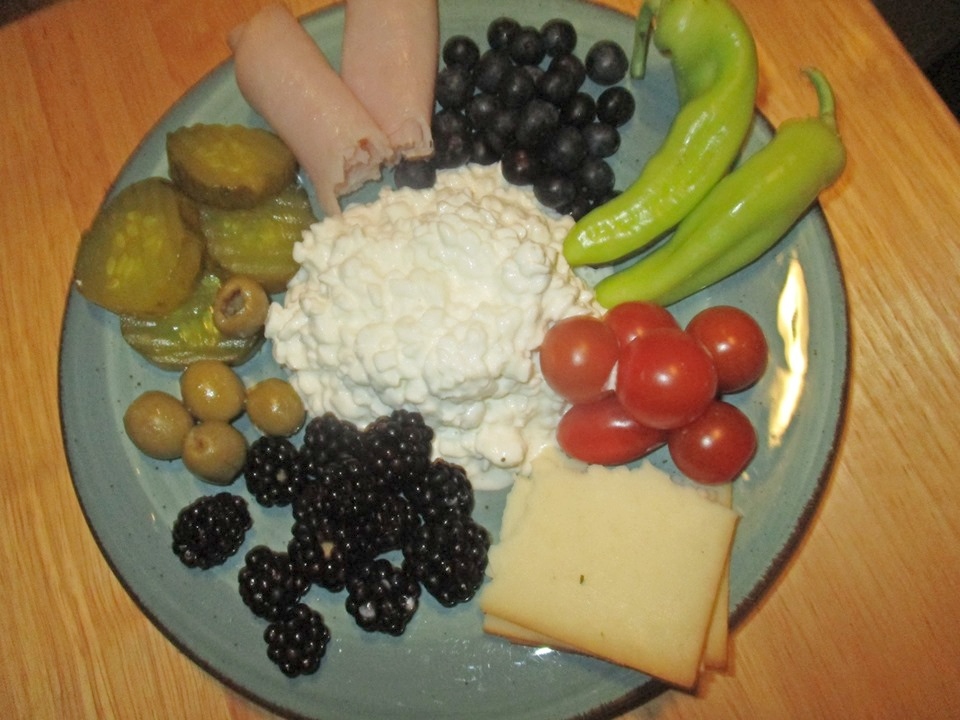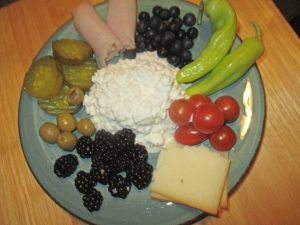 I don't need to worry about showing you a chicken breast or pork loin. Instead, I am going to help you learn how to shop for things like bacon, deli meat, yogurt, and the likes.  All with the picture examples that help you SEE what you are looking for along with the why and what makes them approved.  
Let's examine the "Red Container Foods" list
When one of my blogger friends did some deep research into each of our containers she found that our Red container foods fell into a certain calorie and protein range. A serving of any protein needs to be between 100-200 calories and needs to have between 15 and 25 grams of protein in it. (The rest of her research is right HERE.)
There are 34 different proteins listed on our Red Container Foods List. I am going to touch on each "category" but concentrate the bulk of my research on 12 of the more "man-made" ones.
The "real meats" like chicken, pork, and seafood I kind of cover in this post about "how to" fill the containers. I take a deeper dive into cuts of beef that we can use on the 21 Day Fix. You can find that information HERE . Basically, for me, it means SHOVING it as full as it will go and the lid still stays on.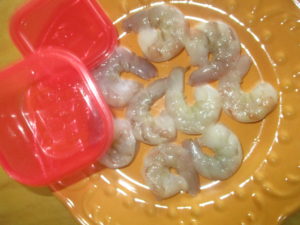 Beef or Chicken-based broth, 4 cups, 1/2R–use low sodium because regular broth can be extremely high in it. I have some information about sodium numbers HERE .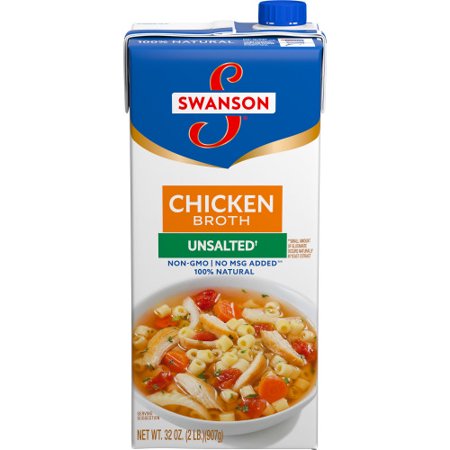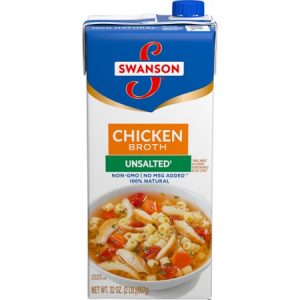 There are exceptions to the "seafood" list. 
Sardines, (fresh or canned in water), 7 medium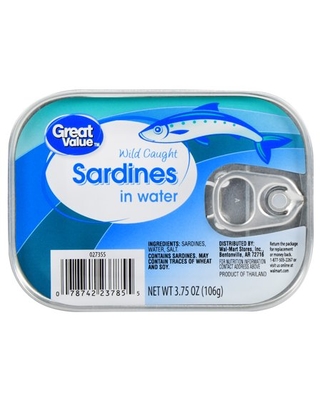 Tuna, canned light, in water — fill your Red container with it. Most cans are not a full Red container but the sodium count is a little high for me so I stop there. Add some extra protein to that meal or by the end of the day.  I can find low sodium tuna sometimes but not very often.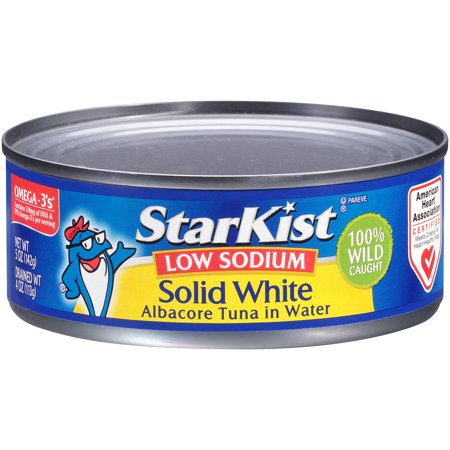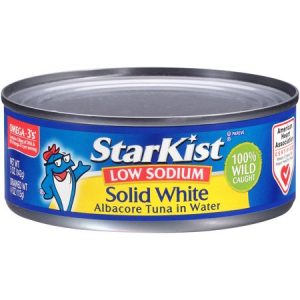 Tuna "packets" are popular and convenient. They average about 1/2 Red container per pouch and about the same amount of sodium as the canned versions. The ingredient list is 4 or 5 ingredients long.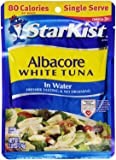 I would CAUTION about using the flavored versions though. The ingredients in some of them have artificial ingredients and have an ingredient list of 10-15 ingredients long! I picked a flavored one at random and sure enough, it has an overly processed ingredient that should be avoided.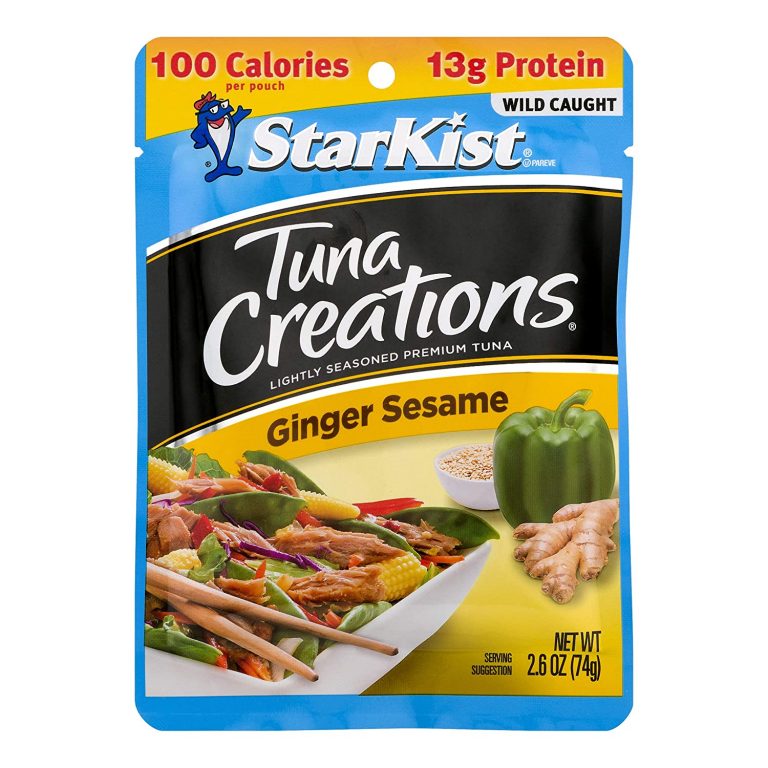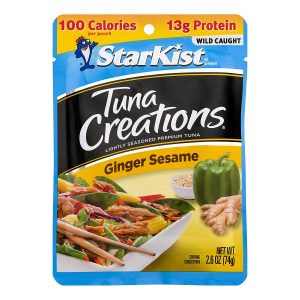 HERE is some information about artificial sweeteners that need to be avoided. The other issue with these flavored packets is the sodium. Inspecting the sodium of a regular pack vs a flavored pack was eye-opening!! The regular pack has 240 mg for 1/2 Red container. The flavored pack pictured above has 500 mg of sodium for the same 1/2 Red. WOW! 2Packets of that would be 1/2 of the sodium you need for your whole day!! I have some information about sodium HERE. 
Lox, smoked salmon, 4 oz — or 1/2 cup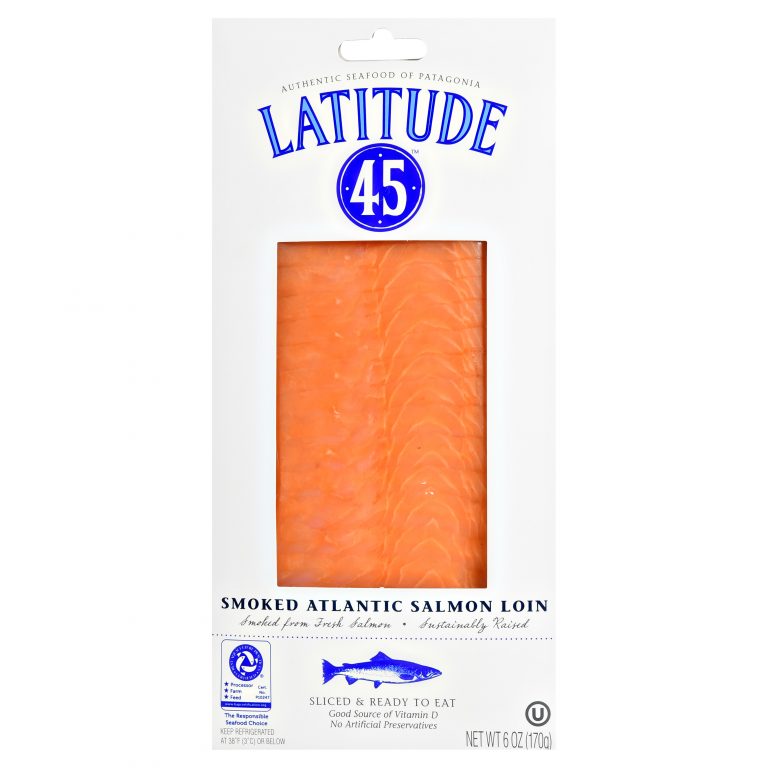 The other "Red Container Foods" on the list
These other foods are ones that usually have a bit of information tagged on to them. For example …Eggs, 2 large or 8 whites. That is not measured in our Red container but counted instead. It's not that hard to figure out! Sometimes though people buy cartons of egg whites. In that case, you have to follow the directions on the back of the carton and measure out 8 egg whites worth. That is usually 1 cup = 8 whites.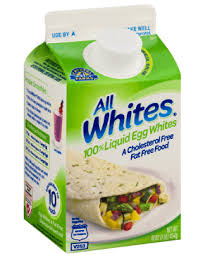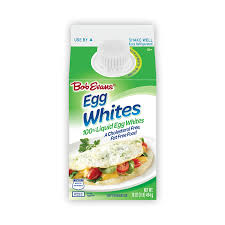 Make sure to get the kind that is ONLY egg whites because some brands have a LONG ingredient list and the list is specific about "egg whites" not other stuff too. 
Dairy Products
Again these products are tagged with a little bit of information.
Greek yogurt, plain, 2% — sometimes called low fat.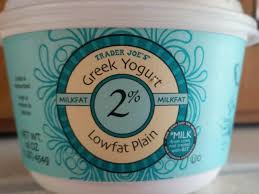 Yogurt, plain, 2%— sometimes just called low fat.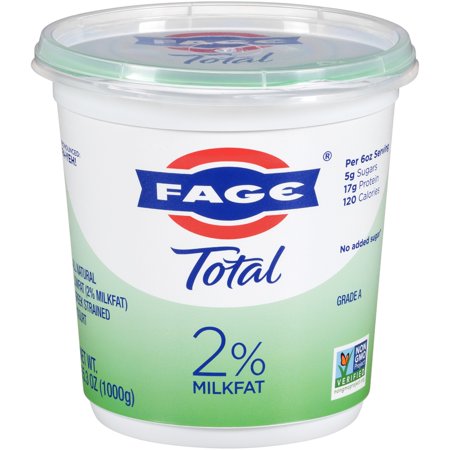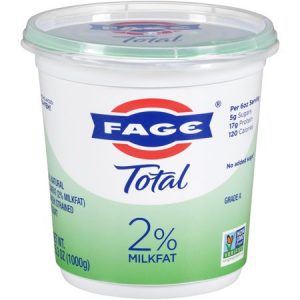 Manufacturers have figured out that more people are demanding natural sweeteners in their products. As a result, a couple of them are using stevia leaf extract to sweeten yogurt. I talk more about sweeteners HERE .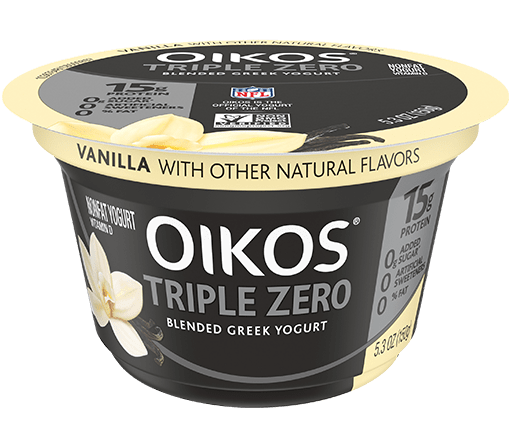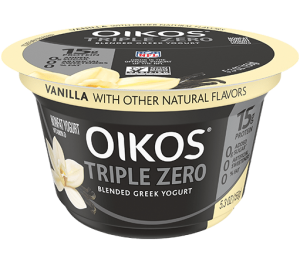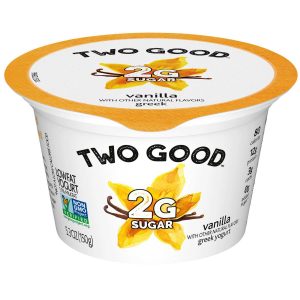 I would pick the Two Good brand (2% fat) over the Oikos brand (0% fat) myself, simply because it does have some fat in it and our Red container is a source of healthy fats. But if you limit your Oikos brand to once a week or so it won't mess with your results. Always double check your labels because they do not have to inform us if they change their formula! 
Ricotta cheese, light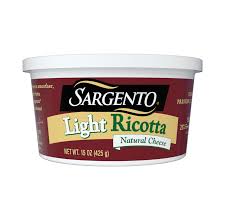 Cottage cheese, 2%–sometimes called low fat.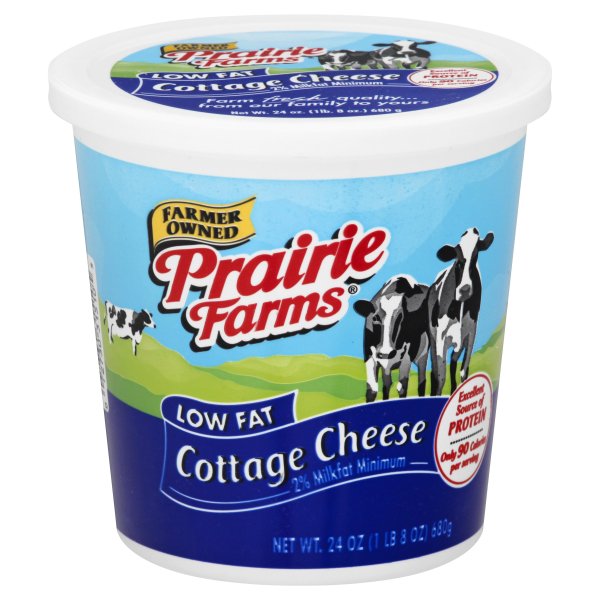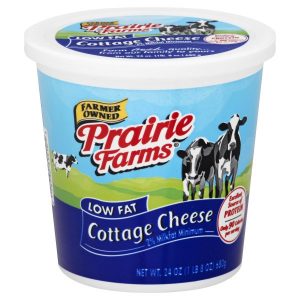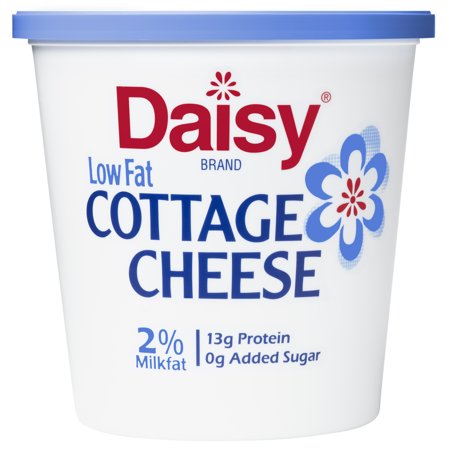 Veggie based proteins
A couple of other things on our list are protein shakes and veggie burgers. I don't have much of an opinion about shakes because I just don't use them. There is some great information out there about different brands other than Shakeology. You can find some HERE . 
I do have a post about veggie burgers and exactly what you are looking for on the package. You can find that information HERE . 
Organic Tempeh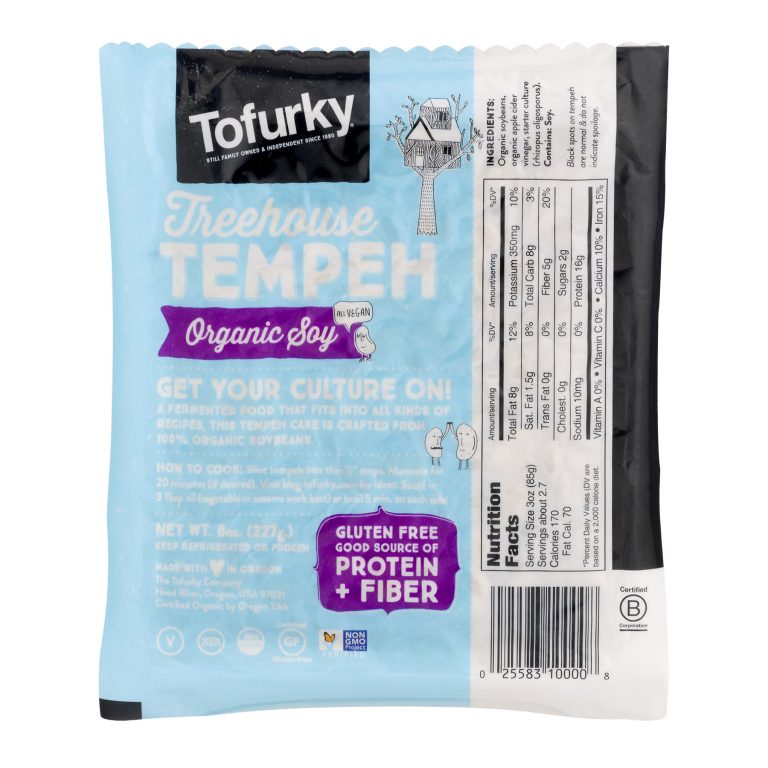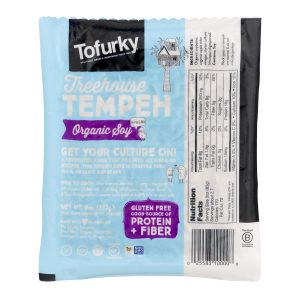 Organic tofu, firm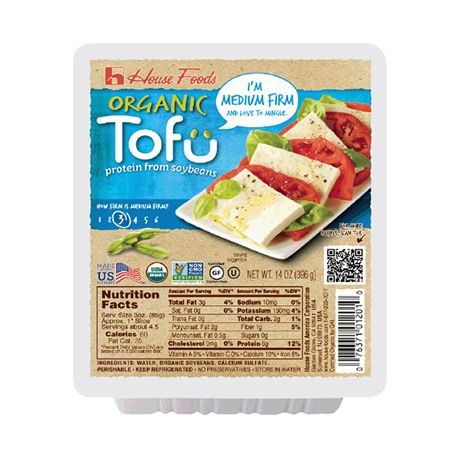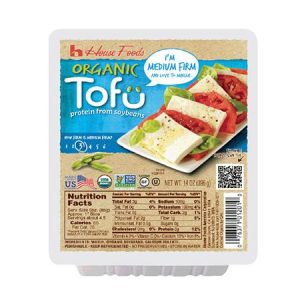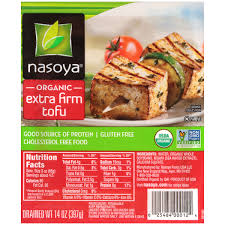 The last few things left on the Red Container Foods list
These are some of the most processed foods on our entire food lists. Deli-meats, bacon, and sausages can be approved but need to be Nitrate/Nitrite Free. Nitrate/Nitrite Free means NO Nitrates or No Nitrites have ever been added to the products.
Sausages? Yes, but technically they are not ON the Red Container Foods list.  Why do we use them and find approved ones? Well, for 1 thing, Beachbody uses them in some of their approved recipes.
But I also have a different way of looking at it. For example– Ketchup, Beachbody has a recipe for ketchup. So if I can find store-bought ketchup that uses the same kinds of clean ingredients as in the recipe, then I can buy that ketchup instead of making some.
The same goes for sausages for me. There are recipes that use ground turkey and ground chicken to make "sausage" on Beachbody… so if I can find a clean sausage made of chicken or turkey I can use it without it being a "cheat". Notice there is no ground pork on the list so no pork sausage is approved. 
For sausages to be "approved" they need to be as clean as the bacon and the deli meat is. They can't have any nitrates/nitrites in them either. Those words should be easy to find. They also need to fit the criteria for the basic Red container– 100-200 calories and 15-25 grams of protein in 1 serving. Sometimes with the small breakfast sausages that can be 3 of them. The only thing that is troublesome with most store-bought sausages is the SODIUM!! I limit sausages, bacon, and deli meat because of that sodium. I mentioned it in a link above.  If I do use a whole serving I just watch my sodium the rest of the day to make up for it. Another thing to watch for is artificial sweeteners they sneak them in anywhere they can!!  These are the words you need to avoid.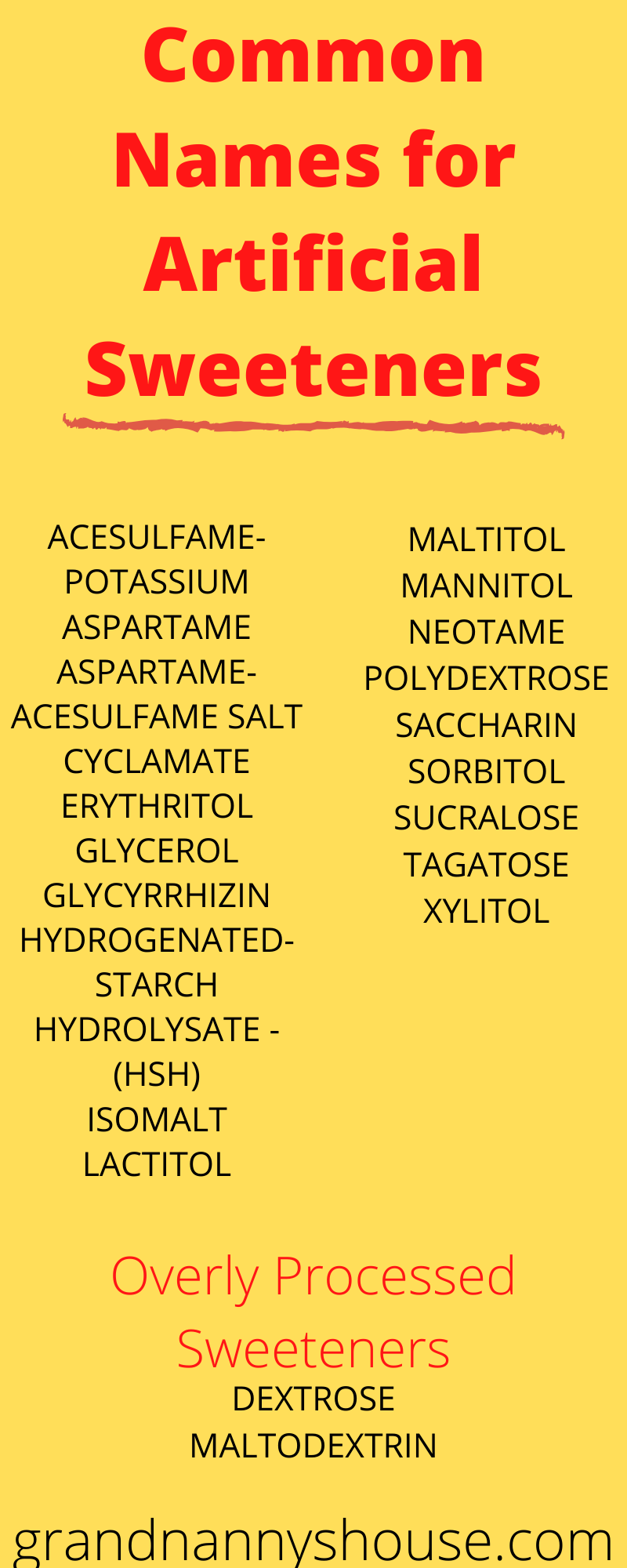 Here are some that are easy to find: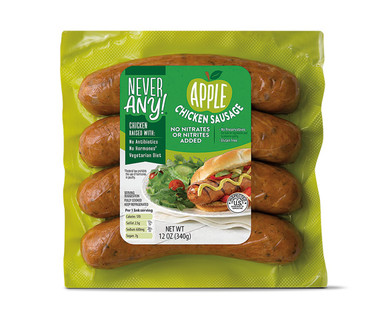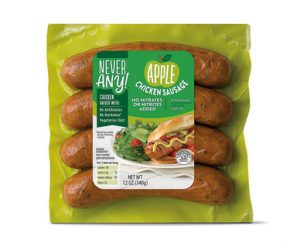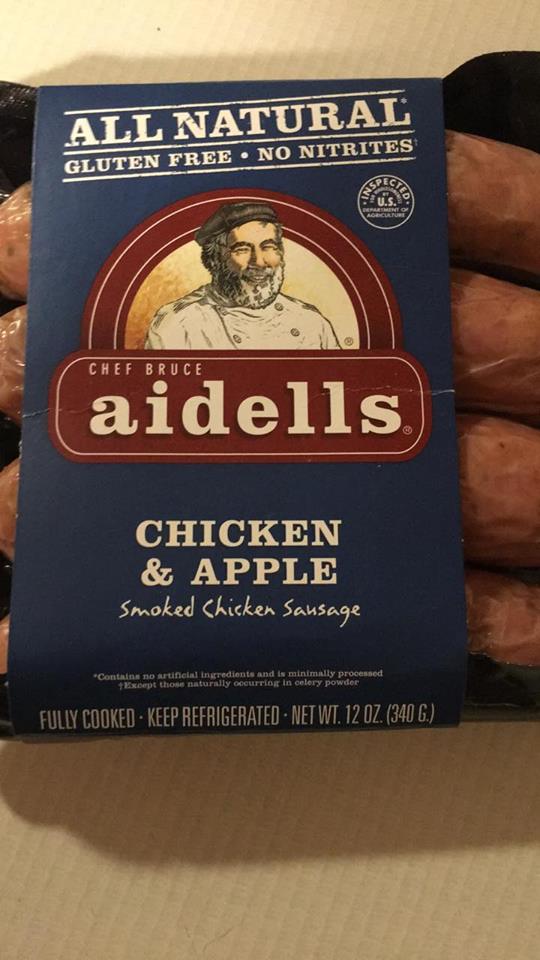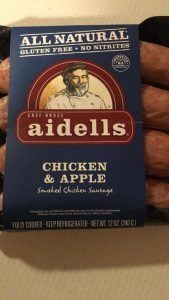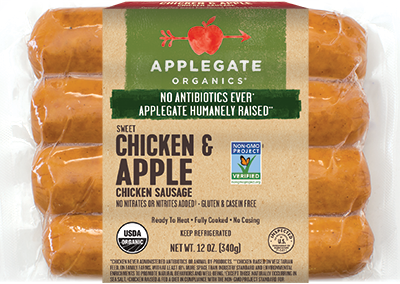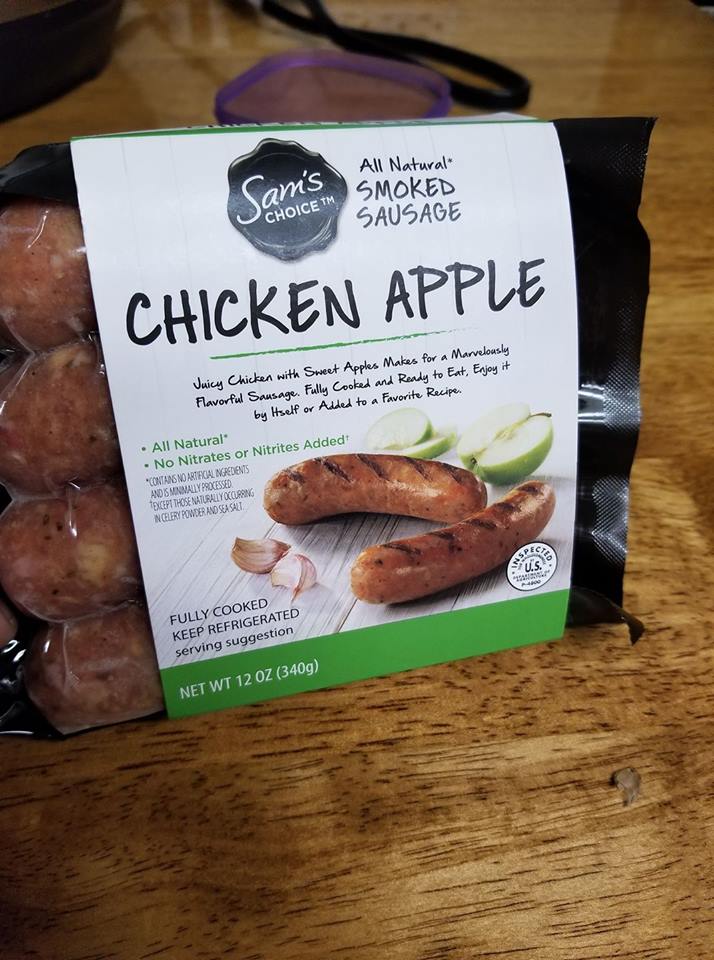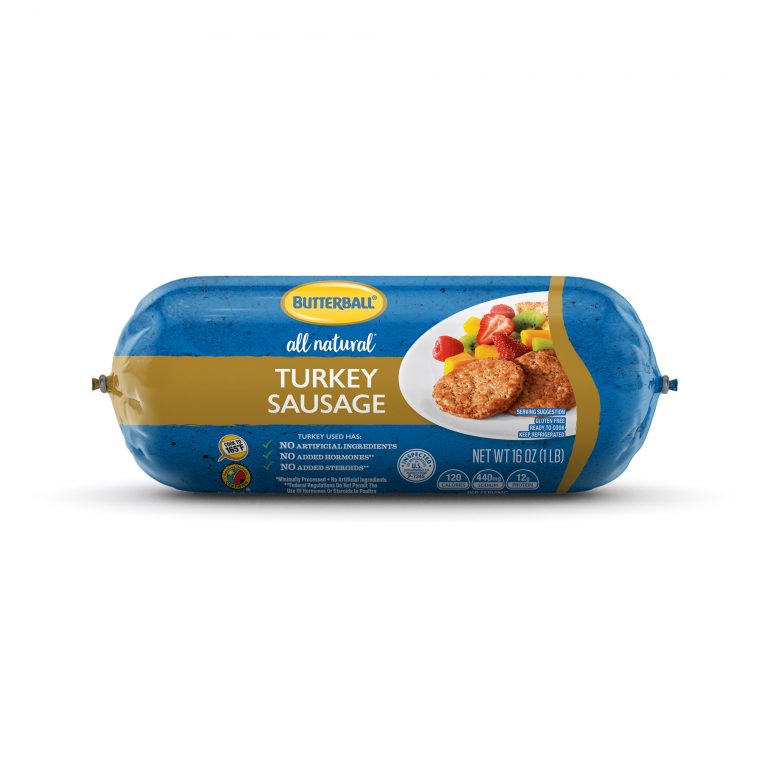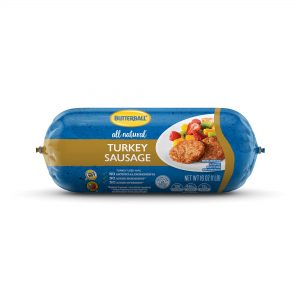 Aldi's has a Never Any brand that has quite a few different flavors. The Italian flavored one is great on pizza!! I even found an Andoulli flavored one that is going to star in my gumbo recipe sometime soon.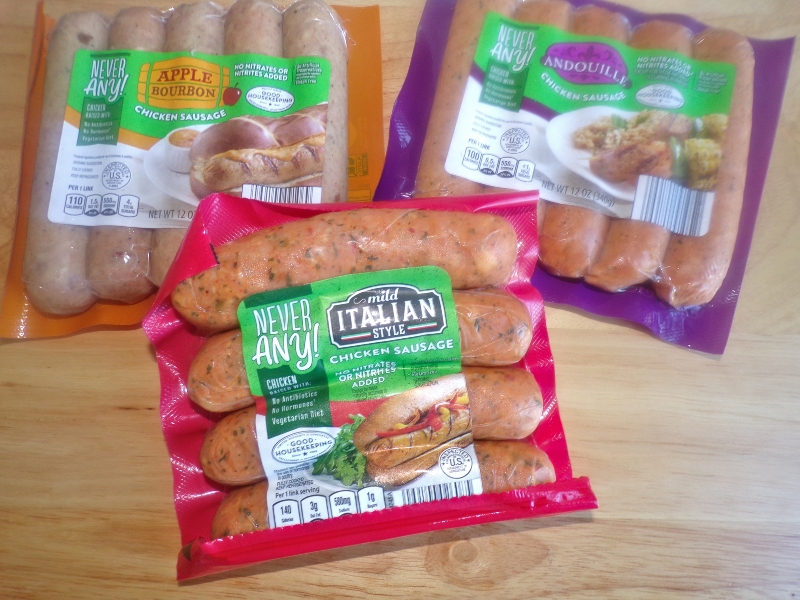 I have figured out that if I go ahead and break the packages down into single-serve sizes and throw them in the freezer I am not as tempted to eat very many of them. Even put some away sliced so that I am half prepped for some quick weeknight meals! Slip the label in the bag with them so you don't lose track of which ones you have…trust me on this one!!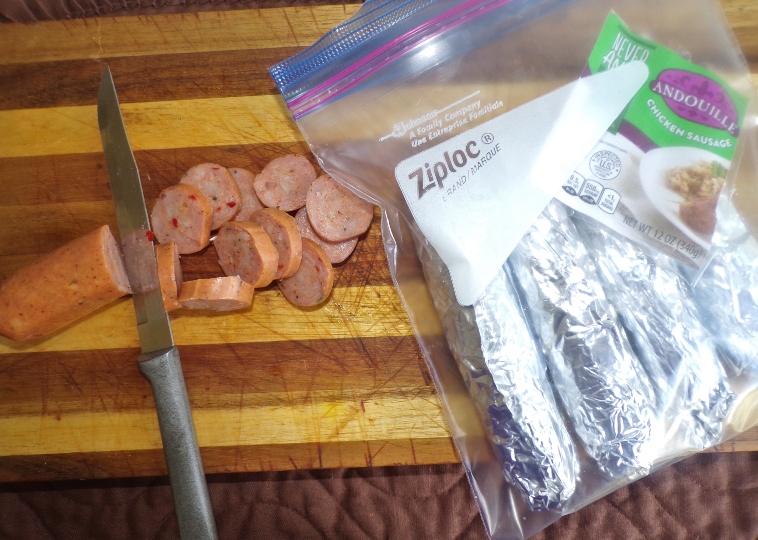 Turkey Bacon, nitrate/nitrite-free, 4 slices 
There are a few brands out there. The words "No Nitrates or Nitrites added" should be on the packaging.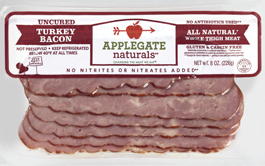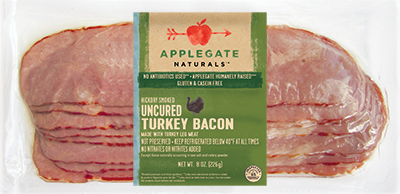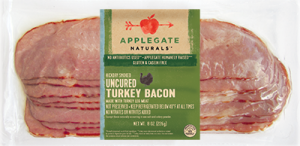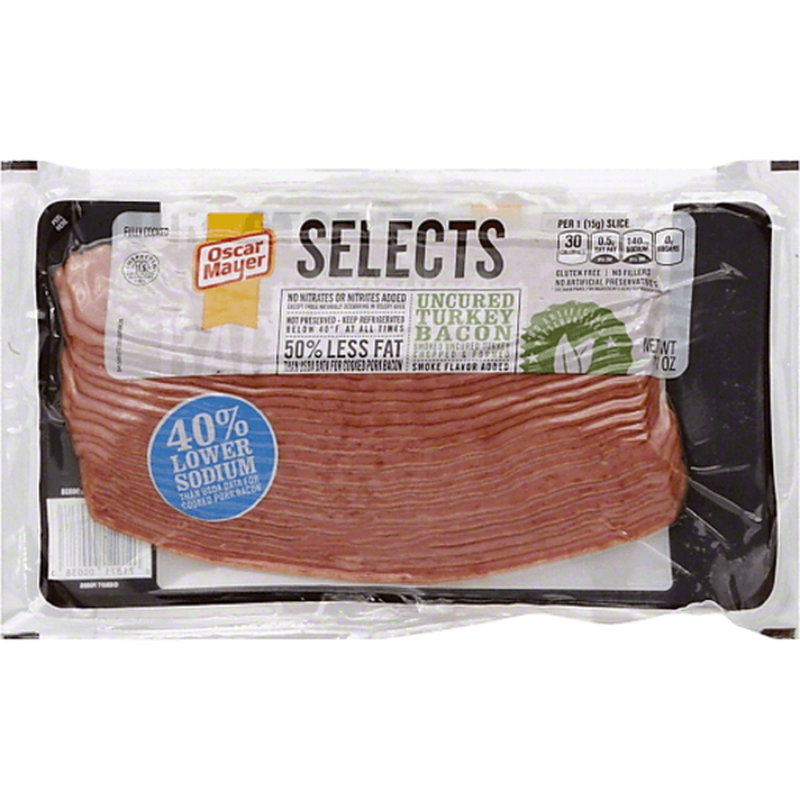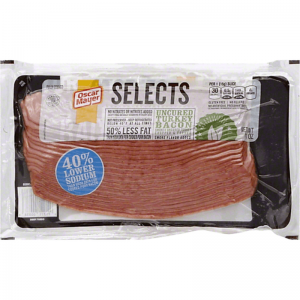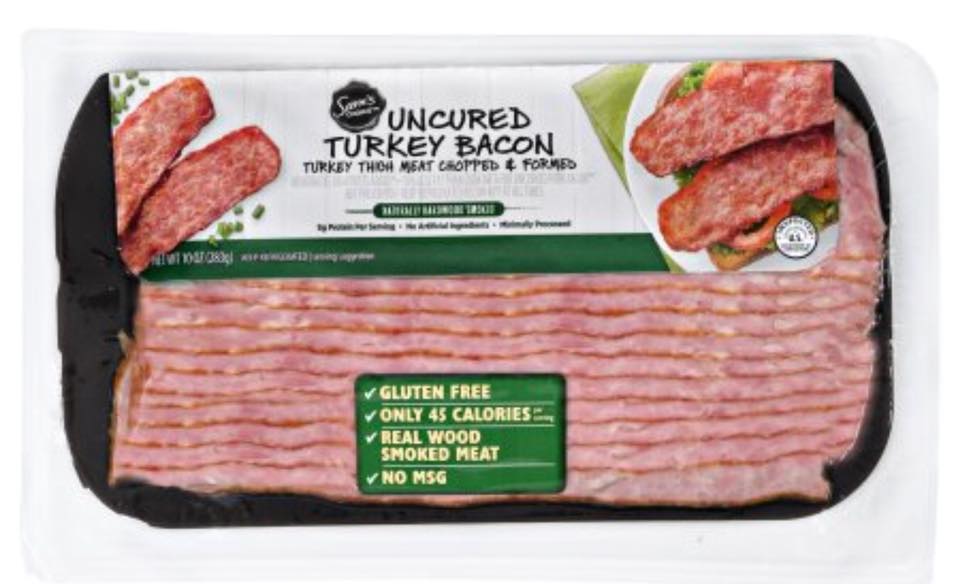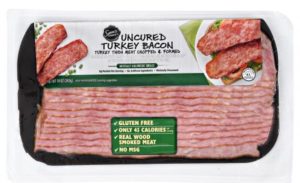 Turkey or Ham slices, nitrate/nitrite-free, 6 slices
Ham slices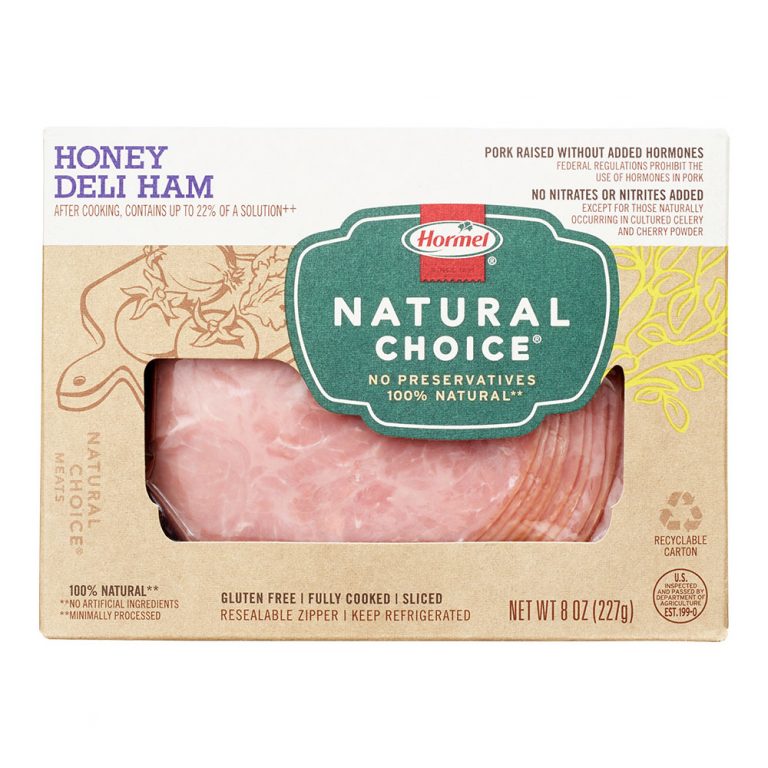 I have taken the brand of approved ham that is easiest to find for me and folded it up and put it IN my container. I could just get the lid to stay on. Why did I do that? So that I could use different thicknesses of ham or chunks of ham and know that I was getting the RIGHT amount for a Red container. It makes it where you can even get some approved shaved ham at a deli counter too!!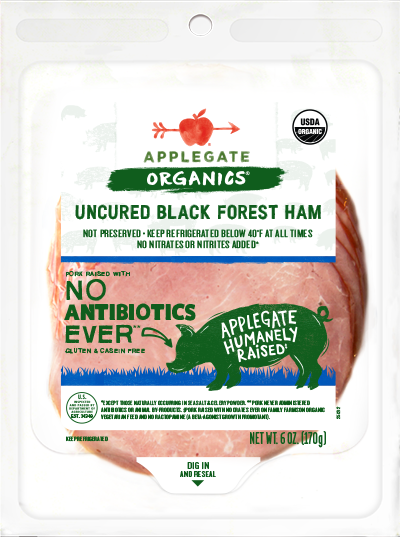 The large hams or thick slices are perfect for me for the holidays!!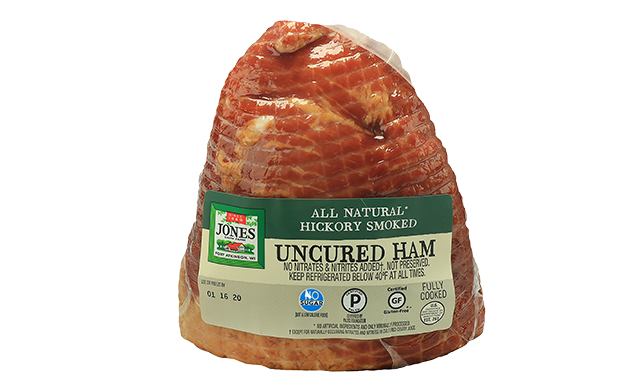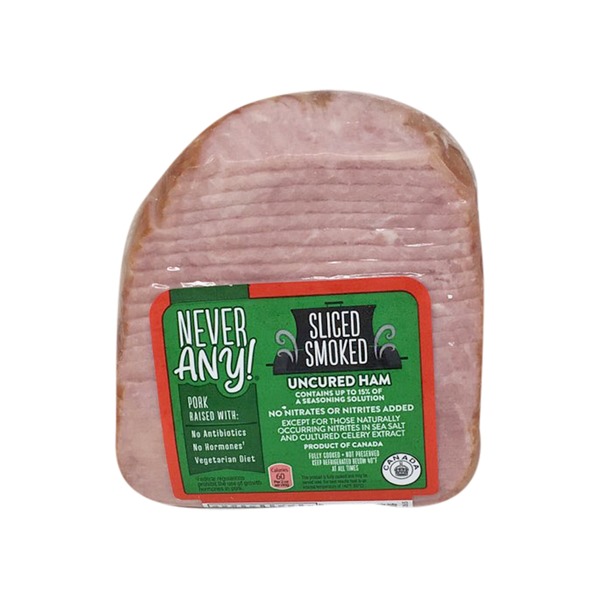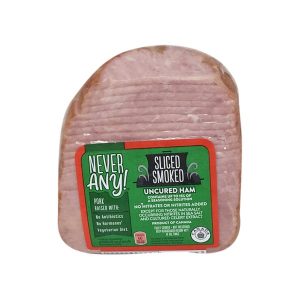 Turkey slices
Again just like the ham I just checked what it looked like in my Red container. To me, an average-sized slice is the size that fits neatly on a slice of bread.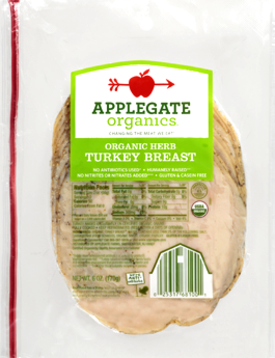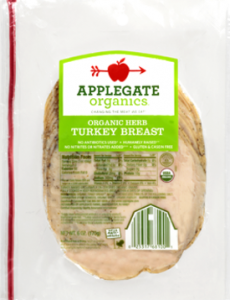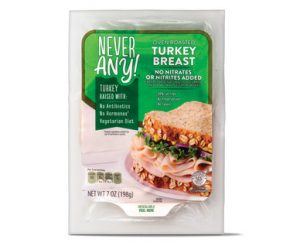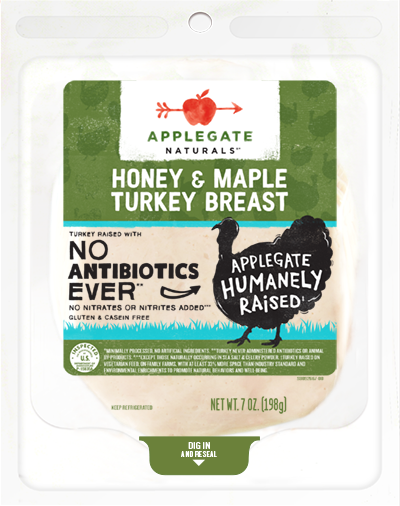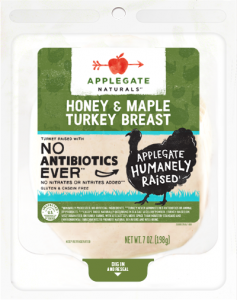 Because whole turkey meat is approved for the 21 Day Fix, I don't stress too much over finding "chunks" of deli turkey. When I want a whole turkey breast I just roast one!
That covers all I know about our Red container! But I am always trying to learn. 
So PLEASE let me know if you have any suggestions to UPDATE this post! 
***UPDATE***
Nutritional yeast is not on the food list. But in a question session with the creator of the list when was asked about it said "1/3 cup counts as 1/2 Red, but a small amount is free"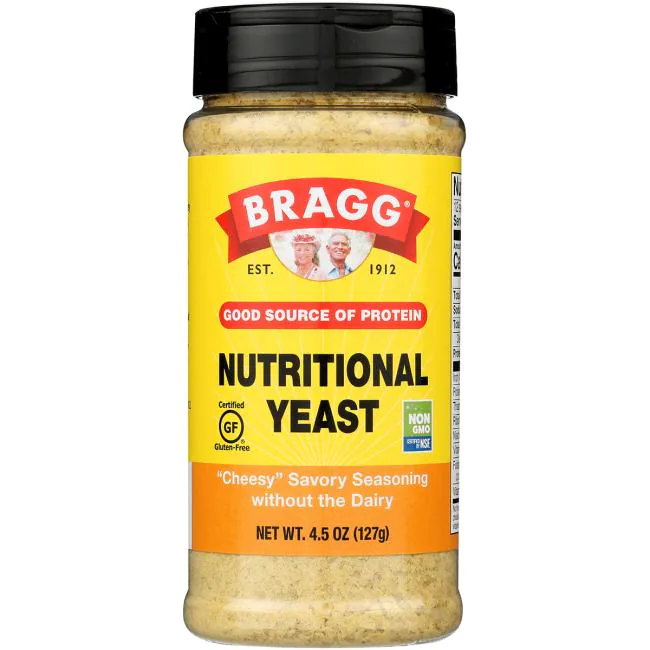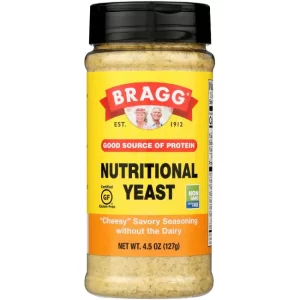 It is good to use on popcorn to give it a cheesy taste. It can also be a breading for meats that can be baked or air fried! I like to mix it with parmesan cheese to make a good cheesy breading.