Most of the time when we talk about the "holidays" we are referring to Thanksgiving, Christmas, and New Year's Eve.  In reality, it is usually more like from Halloween till Easter for most of us. Add in a few birthdays, weddings, anniversaries, or baby showers and you have quite a few days where clean eating is harder to do. I decided to put down some tips for help in handling a holiday meal.
The reality of a lifestyle change…
We are all supposed to be making a lifestyle out of eating healthy. Doing so has meant usually cooking our own meals and being careful to use clean ingredients. But the reality of it is that most of us are going to attend some kind of holiday event and will end up having a meal that we are not in charge of making ourselves. That does NOT have to derail our weight loss results.
There are different ways to approach handling a holiday meal
There are a couple of ways to approach eating a holiday meal. I am not really talking about a Christmas party where the main foods are appetizers and cocktails. For that, I would suggest a good meal before going and not drinking all of your calories with alcohol (instead switch back and forth between a drink and water!) But today I am talking about that "holiday meal" that most of us share with friends and family. I know this year is weird but most of us will eat the same kinds of foods no matter who is around the table. 
One way to handle a holiday meal is to just make it a "cheat/treat meal".  On the 21 Day Fix, there is some information about having a "cheat" meal sometimes. I kind of like to call it a "treat meal". The founder of the program only suggests that a person who has been doing the program for a while will be the best equipped to handle ONE-holiday meal. Knowing portion sizes and having a basic knowledge of approved/unapproved foods is really important!  Because ONE meal in 21 days might not affect your results. 
BUT…
If you spend an entire weekend indulging in every unapproved food you can think of it can destroy your resolve!! The water weight from too much sodium is what stops me from over-doing it. Here is some information about SODIUM. 
But on the other hand, I have sometimes found that a treat meal with a few more calories in it than usual can shake up my body enough for it to turn loose of a few pounds in a WHOOSH of sorts. A pound "whoosh" can happen when you have been being very strict for a long time and then for one meal you eat in calorie excess instead of a calorie deficit for a change!  Your body thinks it has PLENTY of food to eat for a change and can turn loose of some "expendable" pounds! 
My favorite way of handling a holiday meal
Help in handling a holiday meal can come in different ways. More often than not I realize that there is usually always something on a "holiday" table that I can eat. 
From appetizers all the way to desserts, there are options on most tables that can be better than others.  A large percentage of families all "bring a dish" or don't mind if you offer to bring one with you. That gives you an opportunity to bring a dish or 2 that can be 100% approved!   
REMEMBER…
We only have to worry about this ONE holiday meal because we have no business having Thanksgiving Breakfast, Thanksgiving Lunch, and Thanksgiving Supper if we are trying to be healthier. (Insert the holiday of your choice… but Thanksgiving is around the corner.)  My family usually has a lunch meal or late lunch at about 2 pm, so I am going to talk about MY meal. You can translate the information to fit your family. If you have to attend more than 1 holiday meal event (think the in-laws and your moms) then you are going to have to be EXTRA diligent in your efforts to not undo all the hard work of the past in one weekend. Your choices will have to be stricter for both meals. 
We do a simple Thanksgiving meal with my in-laws usually and then I have a different meal with my adult children on Friday… but all Mexican food cuz who wants leftover turkey?!?!. I save up my containers for meals these days. I know to keep 1-2 Red containers, ALL of my Yellow containers, 2 Green containers, some teaspoons 0il/sweet, and maybe an Orange/Blue/Purple too! The rest of my containers I will eat for breakfast or a late evening snack if I need one. 
The very 1st piece of advice is going to be DON'T drink your calories. Take a big glass of water to go with that plate of food. 
Summertime brings BBQ's and picnics, they too can be a healthy meal with a little planning! There is nothing like a good burger off the grill. Check out these 10 ways to top a burger HERE.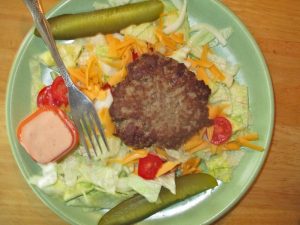 How I start filling my containers at a holiday meal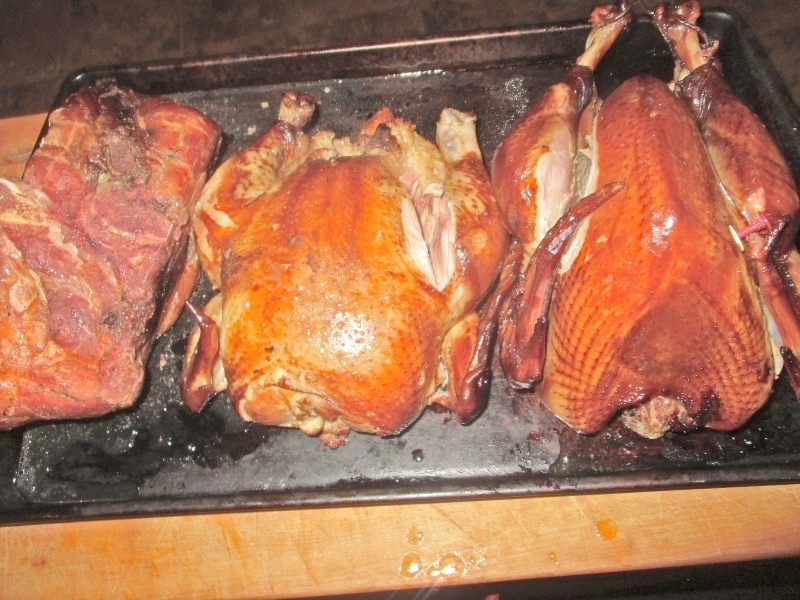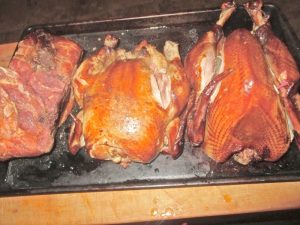 RED
I will take care of my Red containers 1st. Because one of us cooks a turkey that is approved. Just take the skin off  Usually someone else cooks a ham that is not approved, so sometimes I bring a slice of my approved ham. I cover how to find an approved ham HERE. Sometimes there are stuffed/deviled eggs that can be a Red too.  Try taking a plate of these delicious stuffed eggs!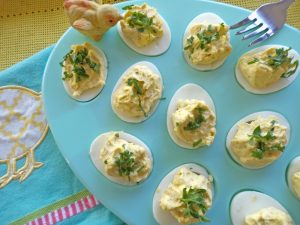 GREEN
The next thing I am going to put on my plate is something for my Green containers. Many times we have a veggie/fruit tray to pick from and I load that Green container onto that plate! I will use 2 Tablespoons of some kind of ranch dip for an orange container. Due to an allergy to eggs, I use a vegan mayonnaise-based ranch dressing recipe of mine. Usually some kind of fresh green beans or turnip greens w/turnips maybe glazed carrots will be there to pick from. While they might not be fixed perfectly they probably a better option than other things around. I just count a few little things for example if I pick glazed carrots I count a butter teaspoon and a sweetener spoon or 2 along with the carrots.  Hopefully, now my plate will be pretty full of fairly healthy options.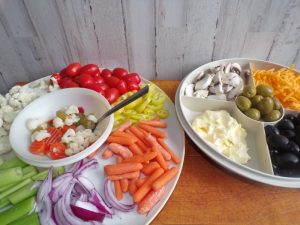 A classic carrot salad is a great way to get veggies on the table that everyone will like! I have a great recipe HERE.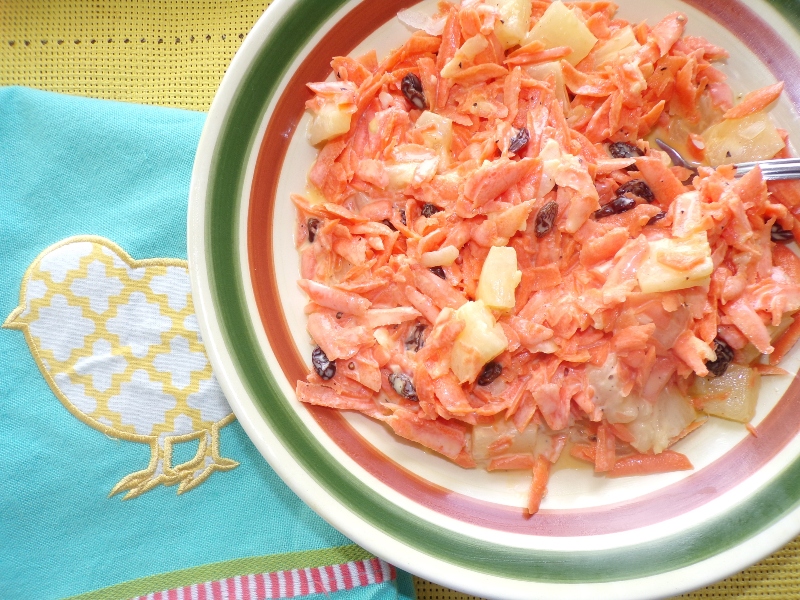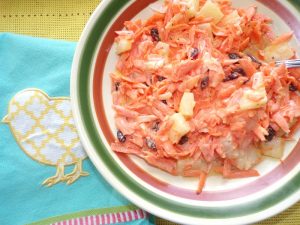 YELLOW
Last I am going to try to find room on my FULL plate for a Yellow container or 2. Here in the South cornbread dressing is served with a turkey meal. Other parts of the States that I have lived in have things like stuffing inside the bird and some strange things like oysters or sausage in it.  But our cornbread dressing is a simple dish consisting of cornbread, breadcrumbs, onions, celery, eggs, and broth all approved ingredients in the right proportions. Here is an approved cornbread recipe. I keep it to a 1/2 cup serving.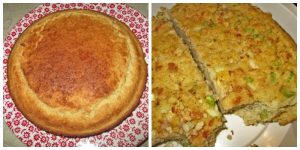 I eat 3 Yellow containers per day so right here I have to decide if I want all 3 of them on this plate or if I want to save room for dessert! Potatoes usually win… I would opt for mashed potatoes or maybe sweet potato casserole, keeping that 1/2 cup size in mind. There are going to be some oil teaspoons or sweet spoons in some of these. This is usually where I am going to eat my Blue container with some kind of cheese-y casserole. If I am lucky I will have broccoli and cheese casserole or au gratin potatoes to pick from. I try to stay away from rolls and butter those calories add up fast.
To dessert or not to dessert?
I don't always eat dessert because sweets are not that important to me. (I know I am strange, but give me a potato any day!) Most of the time we have some kind of fruit tray or at the very least a fruit salad and I will choose from that. In fact, a veggie/fruit tray is something I almost always bring and no one guesses that the dips I serve with them are healthy. This pumpkin ricotta dip is great with fruit! 
Picking a "sweet" dessert can be tricky to pick if you have used up all of your oil spoons, sweet spoons, and yellow containers on your main plate of food. For example, I would not pick glazed carrots or sweet potatoes casserole earlier if I wanted pumpkin pie for dessert.  If I choose a sweet it will usually be pie I can cut a SMALL wedge and be satisfied. I try to pick something that has a healthy base ingredient so pumpkin, apple, or sweet potato pie are my 1st picks. 
I hope this has been a real help in handling a holiday meal!
The holidays present temptations for all of us but with a little training of your willpower, it gets easier to make wise choices!
Having a plan and sticking to it is one of the most important things to help in handling a holiday meal! 
If you are going to have a treat meal and not try to account for containers just remember to keep some smaller portions in mind have a few things that you know are not approved and call it a day. 
If you are going to try to account for containers look for the foods that have the least amount of ingredients in them. The more simple the food the more you can have of it! I often go back for seconds of something like turkey breast! 
And always remember SODIUM is an enemy after eating off-plan. Make sure to drink plenty of water to keep flushing it out of your system for the next couple of days! 
The very most IMPORTANT thing to remember is to get right back on your eating plan the very next meal. Bingeing for days on leftovers isn't the way to go. All the help in handling a holiday meal can't stop a binge! But maybe a nice hot pot of turkey soup would be a perfect way to use some of them up in a healthy way! Here is a healthy recipe for turkey broth. 
Most of all remember to have FUN with your family and friends! Enjoy the meal but come away from it being happier with your choices this year!