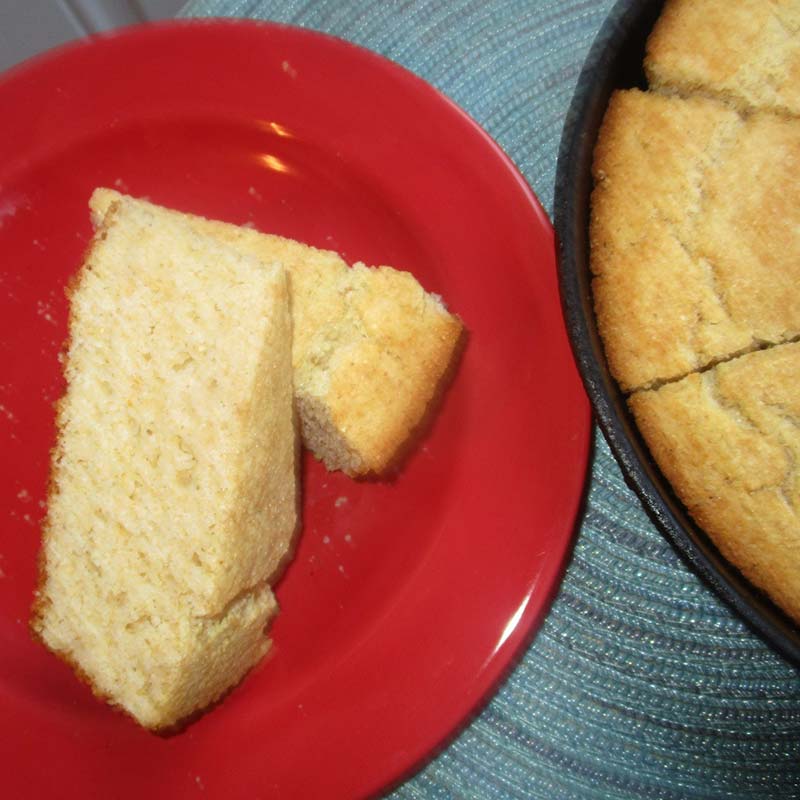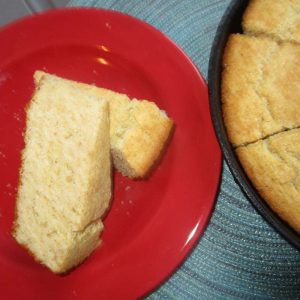 Once again I am going to dig into Sothern cooking. Here in the South, turnip greens are getting thick in the garden and pinto beans can spend the day in the crockpot to help make things simple. We LOVE simple! Nothing is as simple as a pan of classic southern-style cornbread.
The words "greens and beans" are almost always uttered in the same sentence with cornbread. That light and fluffy kind that rises up tall with a crispy golden crust.
Are there any flavor variations for this southern-style cornbread?
I do like to add some flavors to it sometimes. Onion added to it tastes like a hushpuppy, another southern staple if you are eating fish.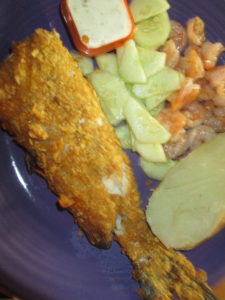 I like making jalapeno cornbread in my mini muffin tins for more crust. They are great with a good warm bowl of chili. I have a fantastic and "Fixed" chili recipe they pair well with.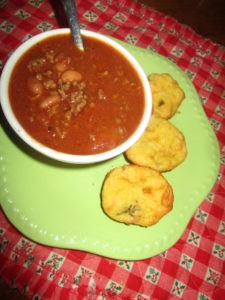 How do you "portion" this recipe?
Because I live the 21 Day Fix lifestyle now, I have to talk about portion size. My recipe uses 1 3/4 cups of cornmeal, by 21 Day Fix measurements that is 7 Yellow containers. The addition of other ingredients puts the count up to 8Y (I explain further down)  So if I cut my cornbread pie style I could cut 8 slices and 1 slice would = 1Y  plus the rest of my ingredients I base many of my recipes on 1Y servings because some people only get 2 per day as it is and don't want to use a second yellow for something like this. In this picture, I had 1Y of cornbread and 1Y of butter beans (lima beans).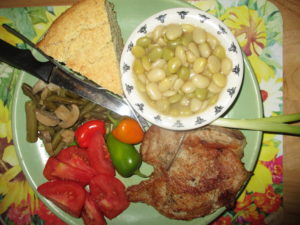 If I am being stingy with my yellow container that day I just adjust the serving size from 1/8th to 1/16th, count that at 1/2Y and still have plenty of cornbread to go around!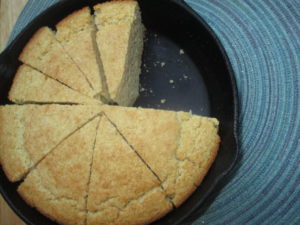 When counting up all of my containers for a 1/8th slice. I have to count cornmeal, milk, oil, and egg.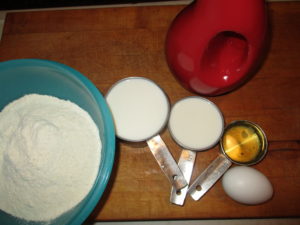 1Y slice it breaks down to the 1Y and 2 teaspoons of oil total. 7Y of cornmeal and 1 and 1/4 Y  and 1 teaspoon oil for the 2% milk I use. I also use 1/4 cup of olive oil also so my teaspoon count is 2 teaspoons total. I do use an egg but only 1 divided 8 servings so I just don't count it at all.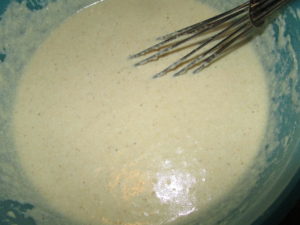 How do you make sure to get a crisp crust?
The secret to the crispy crust is from 2 sources. The first being a screaming hot oven, preheat to 450 degrees. The second my cast iron skillet. I like to use my 10-inch skillet most of the time but will use my 12-inch one too depending on how high I want my cornbread to rise.
The trick is to use the oven temp and the skillet together. I put my empty skillet in my oven while it is preheating. After the oven is heated and my skillet is hot. I give it a light spray of olive oil and add my batter.  That makes the bottom crust crisp up to a crunch. The 450 oven temp is what it going to make the top golden and yet keep the middle moist enough!
Baked for about 25-30 minutes it should be done. My true test is to take the skillet out of the oven and turn it upside down on a plate. If done it should just FLIP out onto the plate. If it doesn't I put it back in the oven for a few more minutes. Sometimes the pan or not enough spray can be the culprit, so a knife around the edge might be needed to dislodge it.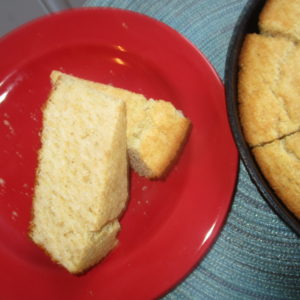 Ultimate Portion Fix/21 Day Fix: Southern Style Cornbread
4 simple ingredients, a hot oven and 30 minutes will give you a crispy pan of cornbread fit for a Southern table!
Ingredients
1¾

cups

self-rising cornmeal

1

large

egg

1¼

cups

2% milk

¼

cup

light tasting olive oil
Instructions
Preheat oven to 450°

Place the castiron skillet in the oven while it is preheating.

Mix all the ingredients in a bowl and mix well.

Take the skillet out of the oven and spray lightly with olive oil spray.

Add mixture to hot skillet and put back in the oven.

Bake for 25-30 minutes or until the top is golden brown.
Hushpuppy Cornbread
Add 1/4 cup chopped onion and 1/4 teaspoon cracked black pepper for "hushpuppy" flavored cornbread. Cook as directed.


Jalapeno Cornbread
Add 1/4 cup fresh jalapeno to the mix for a "hot" version. Cook as directed.


Ultimate Portion Fix/21 Day Fix Container Counts
Notes
You can make these into 8 large muffins-cook for 13-15 minutes (1 per serving), 16 medium muffins-cook for 11-13 minutes (2 per serving) or 24 mini muffins cook for 10-12 minutes (3 per serving). 
A big batch of Red Beans and Rice with a side of Creamy Coleslaw would go perfect with a pan of classic southern-style cornbread! Maybe a bowl of this chicken soup could use a muffin or two!!