Living near Memphis, the mid-south, has its advantages when it comes to "styles" of food to enjoy! Close enough to the deep-south to be able to enjoy those foods BUT close enough to the Mason-Dixon line to enjoy some northern dishes with equal gusto. Today I am going to go into Lousiana with my taste buds. Creole/Cajun cooking is an absolute favorite way to set my tongue and my tummy into a dance party! This Creole/Cajun Red Beans and Rice recipe is no exception!!
My obsession with crawdads has been passed down to my offspring even!
Hubby even tried them for the very 1st time in 59 years of life! Yes, I almost fainted… but they were fresh from Louisana and my neighbor had 50 lbs of them at the ready and everyone around him was enjoying them so he decided "why not?" He likes shrimp and other kinds of seafood so crawdads weren't too much of a stretch and they were especially good that day.
I have a really good gumbo recipe with its own potato salad.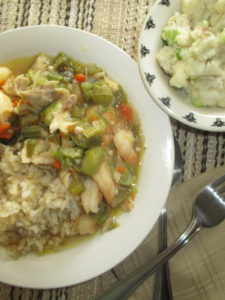 Today's fare is red beans and rice!
I have used the same recipe for years. It is about time I put it down on paper…well internet.
I had a paper recipe for it 30 years ago but I changed it so much over the years and made it often enough that just don't use it anymore.
What ingredients go into a good Creole/Cajun Red Beans and Rice recipe?
I put my "holy trinity" veggies in the freezer in small batches. This usually saves me money because I have grown some of them and it also makes it easier to pull out something already prepped and ready to go in the pot!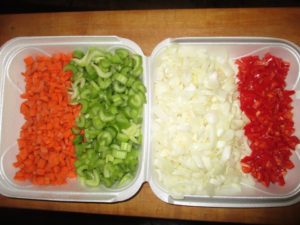 I used to use smoked sausages in my recipe but since I have changed up how I eat, I have begun to use cubed ham and a little liquid smoke to achieve the flavor I crave.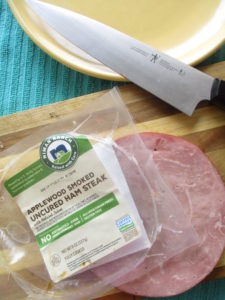 What kind of beans do you use?
When it comes to the "beans" part of the recipe there are a few ways to do it. I personally like using canned beans. Low sodium if I can find those but drained and rinsed and then soaked for a little while and then drained again is my usual way. The sodium in canned beans can be pretty high!  You can, of course, cook your own beans from scratch if you have the time to and that puts you in charge of how much sodium is in them, to begin with.
Which beans? Well, red ones. That can mean dark red kidney beans, light red kidney beans or actual red beans (that is a real variety), you can exercise your free will here and choose any of the above. The origins of the recipe were to use up bits of different leftover foods so leftover beans are always a good place to start if you have them.
A few spices in the right proportions and some liquid simmered down and thickened is all that is left to do.
The "liquid' I mentioned has evolved a little too. It used to be beef broth but years and years ago on public television, an old Cajun cook by the name of Justin Wilson had a tv show and I watched him use strong black coffee as his liquid…OMG, it was a game-changer. It gave the dish a deeper flavor and has been my secret ingredient for years…shhh! "I guarantee!" to quote Justin Wilson.
How do you thicken the "soup"?
When it comes to thickening this dish, I use the natural starches found in the beans. I take a 1/2 cup of beans out of the pot and mash them. Then I add them back in and give a good stir. I cook them down for about 5 min and see if they are thick enough. If they are not thick enough, I might mash another 1/4 cup or so and cook down some more. Till I get them to a gravy consistency.
After all the making of the beans, then there comes the serving of it over rice. I prefer brown rice now and wonder why I hadn't been using it all my life. (If you are short on carbs you could always use cauliflower rice instead!)
You can always add more heat in the form of hot sauce if you want to, I recommend Tabasco!
When I serve it, I serve a 3/4 cup of the beans over 1/2 cup of rice. The container counts for that on the 21 Day Fix would be 2Y, 1/2G, 1/2R, and 1/2 teaspoon oil.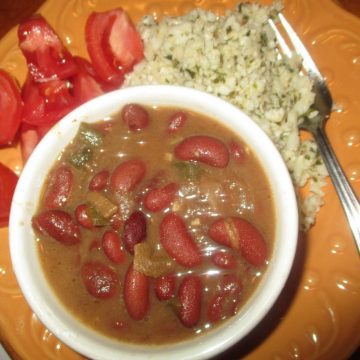 Ultimate Portion Fix/21 Day Fix Red Beans and Rice
A simple dish full of real Cajun flavors
Ingredients
olive oil cooking spray

1½

cups

cubed, nitrate/nitrite-free ham

1

clove

garlic, minced

2

cups

"holy trinity"-celery, bell pepper, onions

2

cans

light red kidney beans, drained and rinsed

1½

cups

strong black coffee

¼

teaspoon

liquid smoke

1

tablespoon

Worcestershire sauce

½

teaspoon

salt

½

teaspoon

cracked pepper

¼-½

teaspoon

cayenne pepper

1

teaspoon

garlic powder

½

teaspoon

onion powder

2

cups

cooked brown rice

2

teaspoons

olive oil
Instructions
Heat a large iron skillet or any pan over medium heat and spray with olive oil spray. Add ham, and cook, stirring frequently, until lightly browned, about 3-4 minutes. Take out of the pan and set aside.



Add 2 teaspoons olive oil, garlic and "holy trinity" of veggies and cook till translucent.

Add all the rest of the ingredients. Simmer for about 15 minutes and then take out about 1/2 cup of beans, mash them and add them back into the pan.

Serve ¾ cup bean mix over ½ cup brown rice.
Ultimate Portion Fix/21 Day Fix Container Counts
This cauliflower rice recipe goes great with it!!