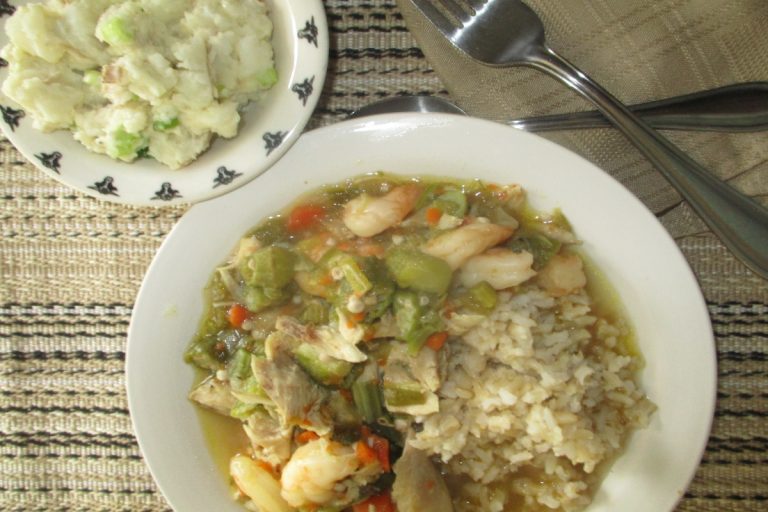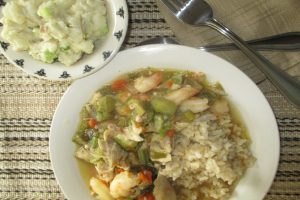 Cajun Gumbo! I just love it. Was I raised on it? No. I was raised in California and then Tennessee, neither are very famous for their gumbos.  I never tried authentic gumbo until I was an adult, about 12 years ago. But I have made up for lost time! I make it a couple of times a year now and order it off the menu when I can find it.
I have even found a regular spot to get it… a winery.  They have "Gumbo Sunday" on the last Sunday of the month for 4 months at the 1st of the year. The Cajun guy that owns it has a great version of sausage and chicken gumbo.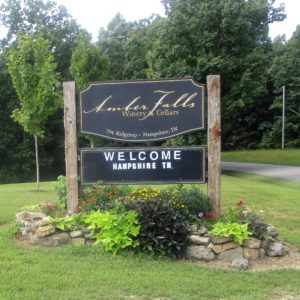 You can read a little more about the winery in my post about the Tennessee Wine Country.
How is this Cajun Gumbo served?
Gumbo is almost always served with rice, but it was at the winery that I learned that some Cajuns serve potato salad with it. Some even put the potato salad in the bowl WITH the gumbo. Sounds weird but trust me it is DELISH!!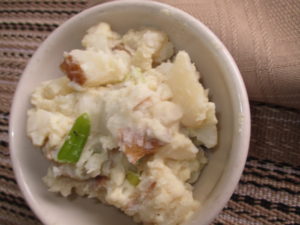 The potato salad is not a normal Southern style one. This one doesn't have any eggs or pickles in it. Not bland but softer flavors than a normal potato salad. It isn't super mayonnaise creamy either, it's more of a dry salad. Onions and celery are a must in it.
Speaking of onions and celery they are some of the main ingredients in my gumbo. The Cajun "holy trinity" is onions, celery, and bell peppers and is the base of many recipes. When I get a good buy on these I always spend a prep session making some freezer packages so that I can just pull one out and get going on whatever recipe I am making that day.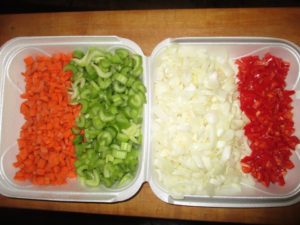 Yes, there are carrots in my picture. The French use a triple veggie mix they call "mirepoix" that is onions, celery, and carrots, so I make a few bags of that too. On the 21 Day Fix, the extra veggies are an extra bonus!
There are 2 types of gumbo that are the most common. The first is made with a roux for thickening it and for the second style, okra is used to thicken the broth naturally. The okra version is my favorite style.
What meat can I use for this gumbo?
I am going to be making shrimp and chicken gumbo today.  You can use any white meat or seafood you have on hand.
I used some dark meat chicken I had left from a whole chicken I had cooked this week. (gumbo is famous for using up odd bits of meat) I added the cooked chicken to the pan. I could have easily added raw chunks and let them cook in the broth for  few minutes.
The chicken was cooked.  My shrimp were going to cook very fast. I waited till I got my "soup" tasting exactly how I wanted, then I added them in. Chicken broth and various spices round out the ingredients. Adjusting the "heat" in gumbo is a purely personal choice. I don't like anything too spicy, but I put a bottle of Tabasco Sauce on the table when I serve it.
I am careful to add my salt in at the end after everything is in the pan. Sometimes the shrimp and precooked chicken has salt in it or maybe some in the chicken broth.
Cajun Gumbo with Potato Salad
This okra based gumbo is full of flavor. The accompanying potato salad is simple but just perfect beside the gumbo.
Ingredients
2

cups

"holy trinity"-celery, bell pepper, onions

3

cups

low sodium chicken broth

1-2

teaspoons

salt-free Tony Chachere's Cajun Spice

or to taste

½

teaspoon

garlic powder

2

cups

chopped okra

2

cups

raw shrimp, cut in bite sized pieces

2

cups

cooked chicken, cut into bite sized pieces

salt and pepper to taste

2

cups

cooked brown rice
Potato Salad
3

cups

cubed potatoes , boiled, drained and lightly mashed but with chunks left in it.

½

cup

mayonnaise

2

tablespoons

creole mustard or dijon mustard

¼

teaspoon

garlic powder

¼

cup

green onions, minced

¼

cup

celery, minced

salt and pepper to taste
Instructions
Saute the "holy trinity" in a large pot sprayed with olive oil cooking spray, till soft.

Add chicken broth, okra, and seasonings. Boil for about 20 minutes.

Taste for seasoning and adjust with the Cajun spice or salt and pepper.

Add the meat and cook until the shrimp are pink about 10 minutes.

Serve beside/over brown rice and potato salad.
Potato Salad
Mix potatoes, onions and celery in a bowl.

Mix the dressing ingredients in a small bowl and then lightly mix it into the potato mixture. Serve warm or cold.
Serve 1 cup gumbo over 1/2 cup rice and 1/2 cup of potato salad on the side.
CONTAINER COUNTS
2Y 1R 1G 1O
You might enjoy this version of Southern Style Potato Salad too!