One of our favorite places to "staycation" is in our Middle Tennessee Wine Country. Trust me, that sounds strange to my ears. Never in my wildest imagination did I ever think that Tennessee would have wine trails! Whiskey trails yes, Wine no. But here we are in 2018 and each of the regions here, West, Middle, and East Tennessee all have at least 1 now!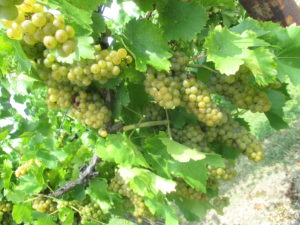 The grapes were hanging heavy on the vines! Such a beautiful site.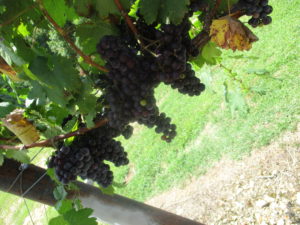 The Natchez Trace Wine Trail is where we spent our day. We live about 2 hours away from the Natchez Trace, a beautiful National Parkway reaching from Nashville, Tn all the way to Natchez, Ms. It is 444miles of scenic roadway. Zero businesses, homes, power lines… only beautiful scenery that includes waterfalls, rivers, creeks and plenty of places to stop and soak it all in.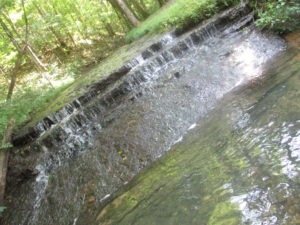 (Some wading may or may not have been involved in the taking of this picture.  No humans were harmed by being blinded by my bright white legs tho…)
This trip, we found a place where we can bring the Grandarling's to on a Sunday afternoon. Some shallows and rapids with a swimming hole. Even a picnic area with a grill…oh the plans I am going to make!
On to Wine Country!
After we spent the morning playing on the Trace it was time to get down to the REAL reason we were in the area: WINE! We got off of the Trace at Hampshire, Tn. 3 wineries are within 5 miles of each other in this one town. The 4th one on the trail is about 30 miles north of these 3 and tends to be a trip all on its own, so that will be a post of its own!
Our first stop on the tour of wine country
 Amber Falls Winery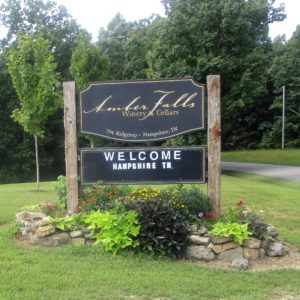 They have one of the best peach wines I have ever tasted!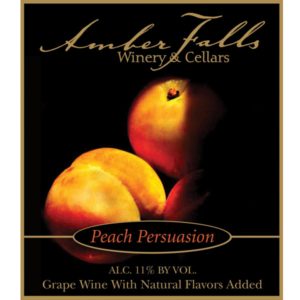 The beautiful grape pictures above were taken this day. The rest of their grounds are gorgeous! They host events like "Gumbo Sunday" and Cajunfest! At the holiday season, they have the most amazing Christmas Village you have ever seen!  They even have a Guest Cottage for rent, with amazing views of the vineyard and surrounding hills. Plan a trip here if you are ever in the area! https://amberfallswinery.com/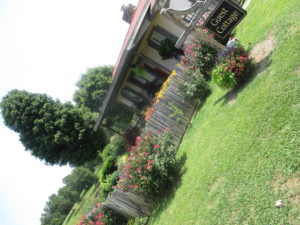 The next stop on our tour was a little winery up a big hill!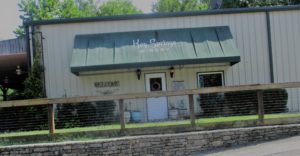 Keg Springs might be little but has it ever won some big awards.

In this picture, you can see my FAVORITE part of the Keg Springs experience…the slushie machine! This day was a Cherry Wine-Cosmo Slushie! This was the 1 winery where Hubby bought his favorite flavor of wine, Muscadine. For those of you not familiar with muscadines they are a wild grape that grows here in Tennessee. They taste a lot like concord grapes but they have a distinctive "whang". I can't describe it, you just have to experience it!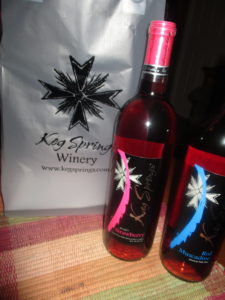 I fell in love with the strawberry wine this year, so light and fresh and so good with dark chocolate too! The view here is a really nice one too… https://www.kegspringswinery.net/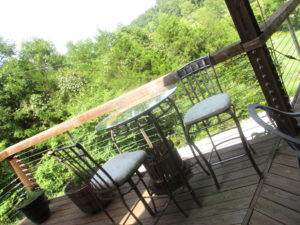 Winding down a long day in wine country
To end our tour we went to a winery that we had never visited before, Natchez Hills Winery  https://www.natchezhills.com/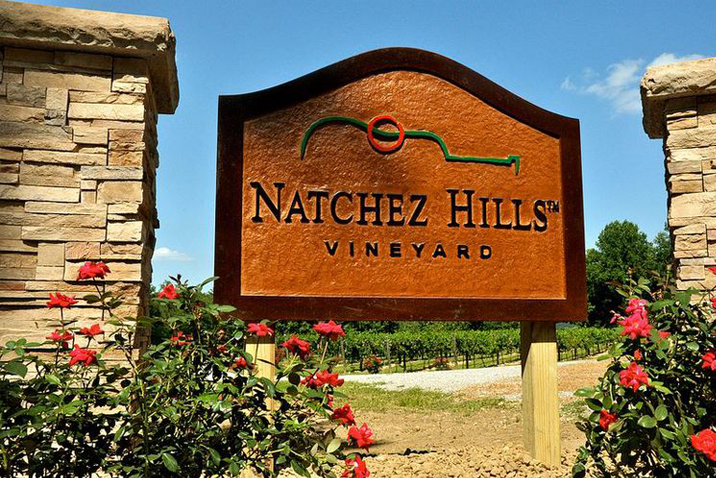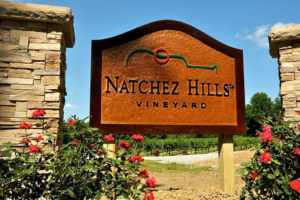 They host weddings at this winery, so the scenery is stunning. Butterfly gardens everywhere you looked.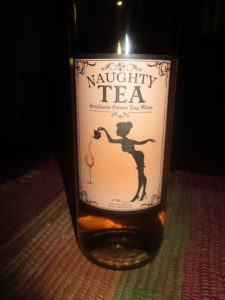 The outstanding wine to me here was one of the oddest wines I have ever fallen in love with… Sweet Tea Wine. Yes, you heard me right, wine made from sweet tea. "We put sweet tea through the winemaking process." was the most interesting sentence I had heard all day. You have to like old fashioned southern sweet tea to be a fan of it, but I LOVE sweet tea and so I loved it!! Naughty Tea is in a class all its own!
Headed home!
After all, that wine tasting I was ready to sit back and let hubby drive the 2 hours back home…with wine chilling in the cooler because …WINE!
I had the perfect meal planned to go with all this wine 🙂 Shrimp and Naughty Tea for this night!!
This fall we will be heading out to the 4th winery on this trail. When the weather cools down, they have firepits and music!!
Until then "Save water, drink wine!"