I shared a picture of my Jalapeno Popper Chicken on Facebook the other day and the consensus was that I needed to make a blog post about it. I LOVE THAT!! Since starting the 21 Day Fix, I have been more adventurous in my cooking. I have decided that food that is good for you, can taste good too!!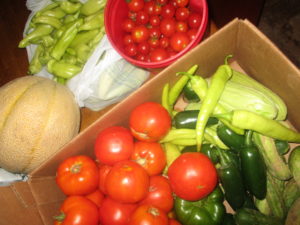 I had been given a box of wonderful goodness fresh from the garden! The tomatoes were still warm from the sunshine… AWESOMENESS!!
So I began searching for something new to do with the jalapenos. Finding new recipes is a favorite pass time of mine!  I used to collect recipe books, but with the internet options we have now, I just don't anymore. There are SO many to pick from on the "web" I get lost sometimes, but this time I was on a mission.  I was searching for a healthy jalapeno popper recipe and a light bulb went off in my head…. shove those ingredients into a chicken breast "pocket" and bake till golden!
Jalapeno Popper Chicken was born!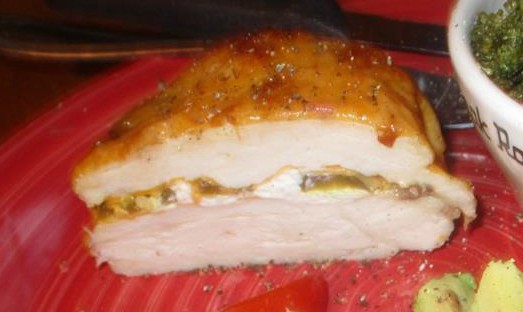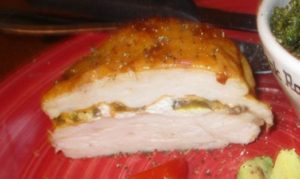 I started out by cutting in half and pounding out a chicken breast. so that both sides are about the same thickness.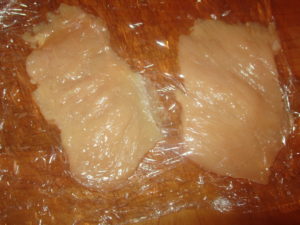 To that, I added a couple of tablespoons of Aldis goat cheese that I had softened. Now I know that jalapenos were the star of the box of goodies but the goat cheese is the star of the recipe. I only use the goat cheese you can find at Aldis. I have tried some other brands (much to my disgust)… but the little log at Aldis comes in 3 flavors: Plain, which tastes a lot like cream cheese. Honey, which is slightly sweet and great with fruit. And a Garlic Herb blend, that I think needs a little salt to bring the flavors out in it. I use the plain for this usually.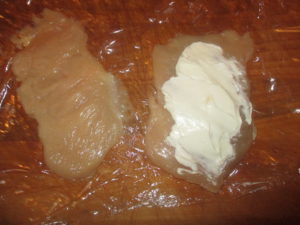 Now is when I start layering on some flavor. I sprinkle a little sea salt on the goat cheese and then add sliced jalapenos and a tablespoon of your favorite cheddar cheese, or even a Monterey Jack.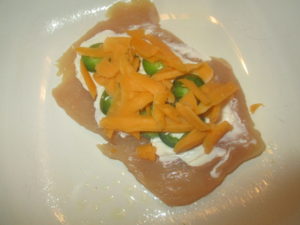 Top with the other piece of chicken and then the other 2 tablespoons of cheddar cheese. On the 21 Day Fix our blue container is 1/3 cup of healthy fats. That breaks down to 5 tablespoons and that is why I measure this recipe in "tablespoons' per 1 serving. I almost always make these in single-serve portions. You could make as many as you wanted to and freeze them individually or serve them to your family!
Are there any variations to this Jalapeno Popper Chicken?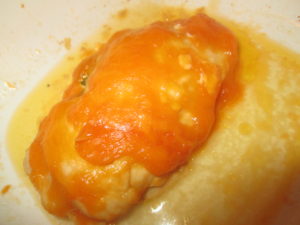 Recently I wanted to make it but I didn't have any plain goat cheese, but I DID have some honey goat cheese and so I played that up. I added a little more honey to the red jalapeno layer I had that day and then just cooked it normally. I served it with a honey-chipotle sauce poured over the top of it. (3 parts honey to 1 part adobo sauce) It had the real sweet heat flavor I was looking for! Almost too much heat but the goat cheese helped tame it down thank goodness. For those of you who don't like heat, skip the jalapenos and just use green bell pepper.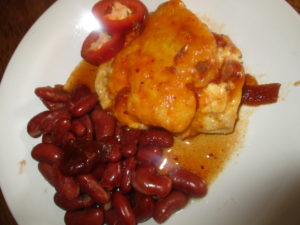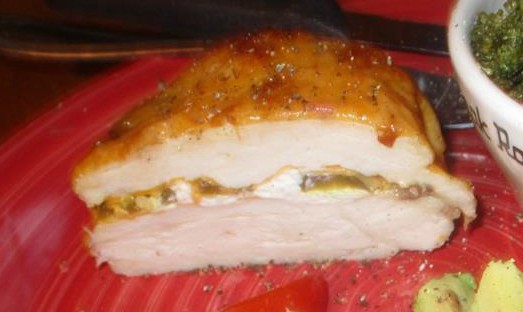 Jalapeno Popper Chicken
This is a healthy way to get a junk food fix!
Ingredients
1

thick

chicken breast, cut in half.

Pound the 2 halves out to a uniform thickness

2

tablespoons

Aldi's plain goat cheese, softened

1

small or to taste

jalapeno, sliced

or pickled jalapeno slices

3

tablespoons

cheddar cheese, grated

divide into 2 tablespoons and 1 tablespoon

olive oil spray

salt and pepper
Instructions
Place 1 half of breast on a baking sheet lined with foil and sprayed with olive oil spray.

Add goat cheese, cheddar cheese and jalapeno slices to that half and then top with the other half.

Top the chicken with the last tablespoon of cheddar cheese.

Bake at 350° for 20 minutes or until the chicken is done.

Broil for 3-5 min. or until the top cheese is as browned as you like it.
Container Counts for the 21 Day Fix/Ultimate Portion Fix
1-2 Red, depending on the size of your chicken breast, 1B
Notes
AIR FRYER/NUWAVE OVEN FRIENDLY: Cook at 350 degrees or High for 15-20 minutes or till chicken is done. 
Maybe some cauliflower rice that would compliment it 🙂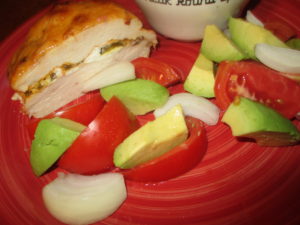 Learn how to take advantage of every bit of your Blue container…….I have some tips and tricks here.