Yummy Honey Sriracha Shrimp are on my menu today! Until recently I had never really delved into the flavor of sriracha. I had barely even heard of it in fact. Here in Tennessee, it is not on every grocery list, trust me! I like some sweet with my heat so honey was going to make it into this recipe too. Combine those flavors with shrimp and you in for a treat!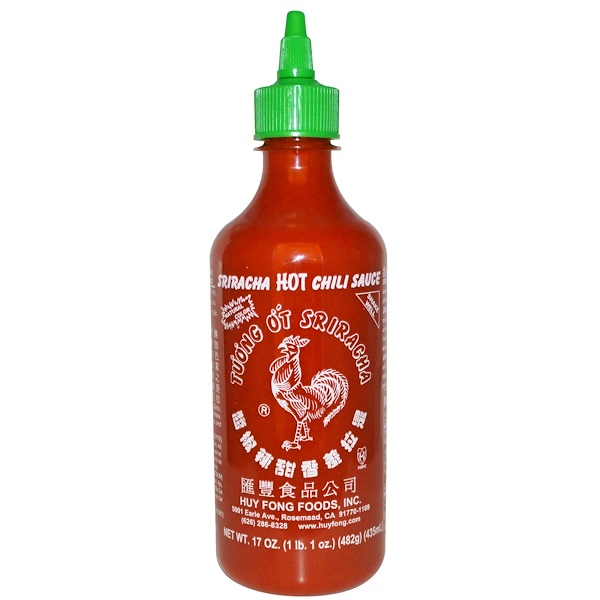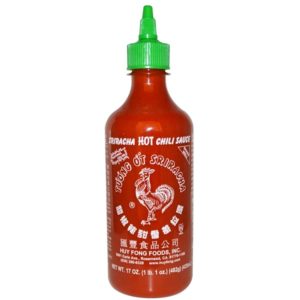 But I heard the outcry of people who were having to give up their addiction to the super sauce when they started on the 21DF. THEN and only then, I started to wonder just exactly it was that I was missing.
But the popular hot Asian chili sauce had the word "sugar" in the ingredients list and that put it out of reach for people who were trying their best to follow the food list provided by Beachbody. There were all kinds of natural sugar/sweeteners including "raw sugar" on the list but NOT plain old sugar.
Why can we have it on the 21 Day Fix now?
That was in 2017 but here in 2019, Beachbody has loosened its stance on that word. Now, if the word sugar is on the list along with the other sweeteners and the word "raw" is gone!
If the word sugar is in the ingredient list all you have to do is determine that there are less than 8 grams of added sugar in 1 serving size of that product and it is approved. Since sriracha has only 1g of added sugar it is well within the limits of that.
I made this little snack plate the other day and had put honey and sriracha on the top of some Aldis goat cheese and knew I had to expand upon that sweet heat flavor!!
I have another sweet heat recipe in my Jalapeno Popper Chicken post.
How did I decide on shrimp?
Because of allergies, I can't get any of my protein into my diet through eggs or very much cow's dairy. And I try to only eat red meat one time per week if I can.  That leaves my white meats… chicken, pork and fish/seafood for the rest of the time.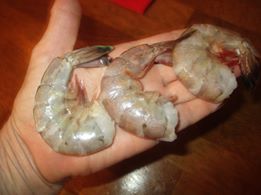 Between those 3 types of meat, shrimp has to be my favorite. So some Honey Sriracha Shrimp came into vision!
First things first, I started to concoct my honey sriracha sauce. I started very simply, 1 part honey to 1 part sriracha. But the flavor was just a little flat. I bumped it up with little garlic powder, soy sauce, and lime juice. Getting a zippy little heated tang on my tongue finally. The lime juice is just right with the shrimp.
I only fix one serving of these at a time because Hubby won't eat any of them at all. He grilled steak for himself this day and never missed these at all! You can multiply the ingredients by the number of servings you want.
I take the shell off so that all of the flavors can cling to them. I found that if I let the naked shrimp marinate in just sriracha for a little bit I get a bit more "bite" in the flavor.
If you use the entire amount of the sauce on the shrimp or save some for dipping then you can count it as an Orange container. But if you only use enough to coat the shrimp lightly, then you could count it as 1 or 2 sweet teaspoons.
Are there different ways to cook Honey Sriracha Shrimp?
You could put these shrimp on skewers and grill them for sure. I put them in my air fryer and did them inside on a steaming hot day.
I spray the rack of my air fryer so they won't be tempted to stick. After I get them all lined up I add the sauce to the marinated shrimp.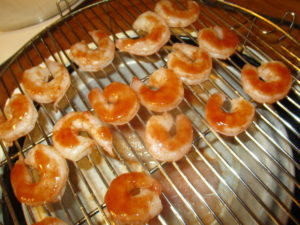 Shrimp cooks fast no matter how you cook it. On the grill, no longer than 8 or 9 minutes total would do it. But in the air fryer is was more like 3 minutes on each side. I technically didn't have to turn them but I wanted to put a layer of the sauce on the second side of the shrimp. 6 mins total did the job in my NuWave Oven, but you might have to adjust the cooking time to your device. You can even cook them in the regular oven on a rack for about 10 minutes!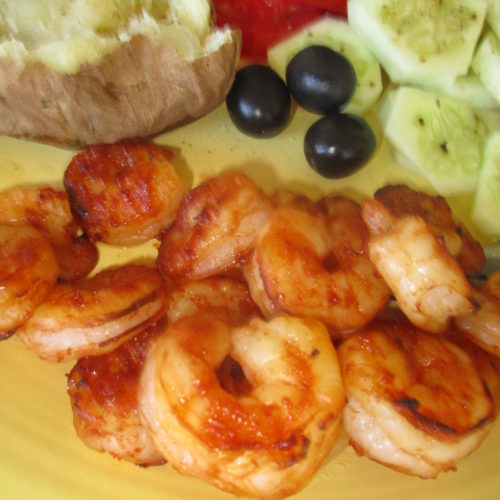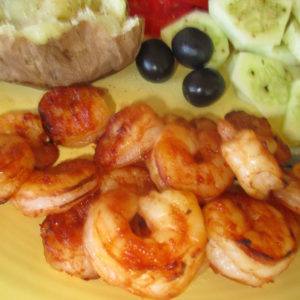 Ultimate Portion Fix/21 Day Fix: Honey Sriracha Shrimp
Sweet heat and shrimp are married in a perfect union. Great alone or in a shrimp taco even!
Ingredients
Marinated Shrimp
¾

cup

shelled raw shrimp

1

teaspoon

sriracha sauce
Honey Sriracha Sauce
1

tablespoon

honey

1

tablespoon

sriracha sauce

1

teaspoon

lime juice

1

teaspoon

low sodium soy sauce

½

teaspoon

garlic powder
Instructions
Marinated Shrimp
Add shrimp and sriracha to a small bag to marinate while you are assembling the rest of the sauce.
Honey Sriracha Sauce
Stir all ingredients for the sauce together.
Cooking the Shrimp
Add marinated shrimp to air fryer or skewers for the grill.

Add sauce to each shrimp.

Cook for 3 minutes in the air fryer or 4 minutes on a hot grill.

Turn shrimp and add sauce to the other side.

Cook for the same amount of time on that side.
Ultimate Portion Fix/21 Day Fix Container Counts
1R- 1Orange container and 2 sweetener teaspoons- depending on how much sauce you use
What ways can you use Honey Sriracha Shrimp?
I really liked them just plain, but I have even eaten them atop of everything!
On top of a salad of course…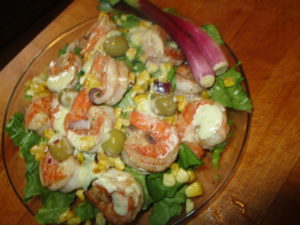 It will also work great as a filling for shrimp tacos. My method of cooking corn tortillas makes them so much better than using just "raw" ones!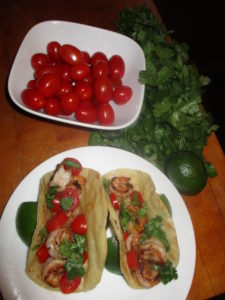 They are even great on nachos!