Nothing goes as good with a big plate of grilled food than a side of creamy mayo coleslaw!
Cabbage is a staple in the Southern cook's kitchen.  One particular side dish/salad I enjoy making with it is coleslaw. Most of the time here in the South it shortened to just "slaw".
There are a few different versions of slaw to pick from here in Tennessee. We have an oil and vinegar version where the dressing gets cooked and pour warm on to the cabbage. It makes for a sweet and sour taste that goes great with a plate of beans and cornbread.
But that is a recipe for another day…today's recipe is for a creamy version.
What makes this a creamy slaw?
This one has a mayonnaise-based dressing with the bite of mustard and vinegar in it. A little sweetness from carrots and a touch of onion. I am getting hungry just writing about it…
But first things first, let's start with cabbage. If I can, I get it at my Farmer's Market where they have left it as natural as possible.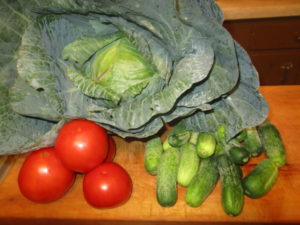 More often than not tho, I settle for a nice big head from the grocery store. I like a "heavy" head of cabbage. I think of it as being full of juice and so full of flavor when it feels heavy for its size.
A big head can give me 3 or 4 meals.
I have 2 different ways that I cut/grate cabbage for slaw. If I want a fine cut slaw I grate it either on a box grater or with the grater blade on my food processor. If I am going to use my slaw on a BBQ pork sandwich I would want it smaller and with fewer ingredients. Cabbage, onion, and dressing only. I think of it as more of a condiment than a salad when I make it that way. A chicken sausage on a whole wheat bun smothered in slaw is a delicacy, called a "slaw dog" here…they do use hot dogs tho.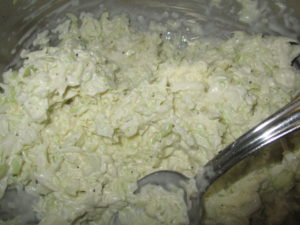 How do you prep the veggies for this Cream Mayo Coleslaw?
If I am going to serve it as a side dish/salad I use a bigger "cut". I either cut it by hand by cutting the head in half and then shaving with a large knife into strands or I use my food processor with the "slice" blade. I may run my knife blade across the strands with a "rough chop".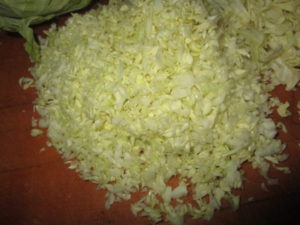 Carrots will tinge the slaw orange a little bit once it sits overnight. For that reason, if I am making this for company or as a "take a dish" I wait and add the carrots in before I serve it.
I add shredded carrots to my recipe and have even added bell pepper, radish, and diced cucumber to different batches just depending on what mood I am in or what I have to use up in the fridge.
For my dressing, I use my Mayonnaise Based Ranch Dressing recipe with 1/2 teaspoon of yellow mustard added to it.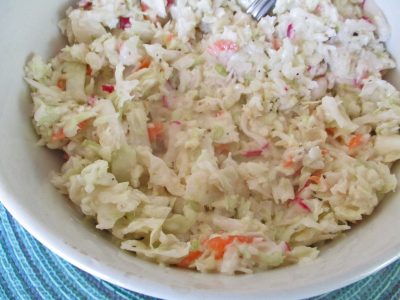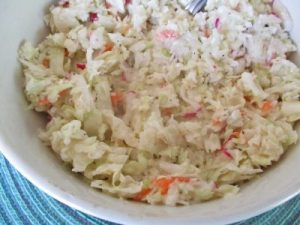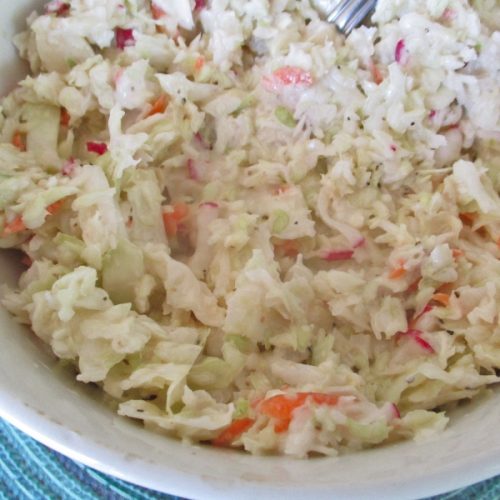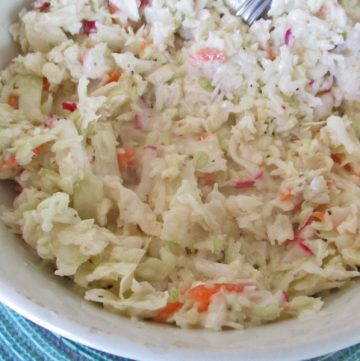 Ultimate Portion Fix/21 Day Fix: Creamy Southern Coleslaw
This simple Southern side dish is a great accompaniment to any meal.
Ingredients
5

cups

cabbage, shredded

¾

cup

carrots, peeled and shredded

¼

cup

onion, minced

1

recipe

ranch dressing, see note below

½

teaspoon

yellow mustard
Instructions
Mix 1st 3 ingredients in a bowl.

Add 1 recipe of ranch dressing and 2 teaspoons of mustard to the mix and stir thoroughly.
Ultimate Portion Fix/21 Day Fix Container Counts
Can you use a bagged coleslaw mix instead of doing all the chopping?
YES! I do it all the time. I like to chop it a little more because sometimes there are bigger pieces than I care for in them. Just use the same amounts as the recipe.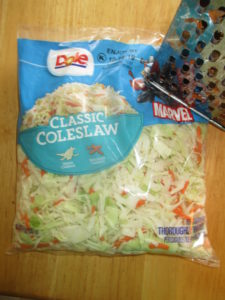 Is the count correct?
Yes. After you add the dressing to the slaw mix it will begin to wilt down a little, so the 1 cup serving size is accurate, altho I often just have 1/2 a serving because it is plenty.
I have a few more "Down South" recipes here. A creamy potato salad
Even a crispy catfish to go with your Creamy Mayo Coleslaw!
Creamy Mayo Coleslaw goes perfect with BBQ Pork too!!