Why "Southern Style Potato Salad?? Well, West Tennessee is home for me, right outside of Memphis, and that is about as "Southern" as you can get!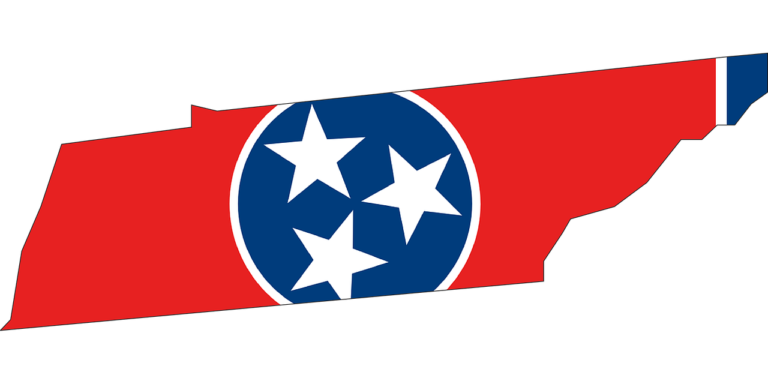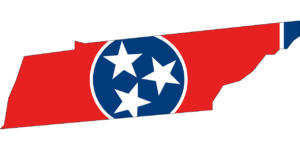 A staple found in the Southern kitchen is a creamy cold potato salad. A big stack of grilled burgers?? Potato salad goes great! Going to a party and need to bring a dish?? Potato salad to the rescue!
Because of my new eating lifestyle, I have taken my old recipe and started measuring the ingredients (instead of the old "eyeball" method) so that I can assure that it fits inside of my 21 Day Fix guidelines.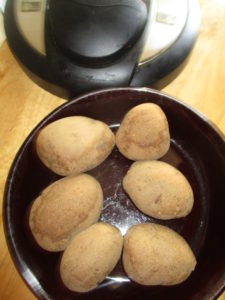 I used to boil my potatoes whole till done and then chill in the jacket… BUT with my new Instant Pot, I don't have to heat my house up with a big pan of boiling water!
I like to cook my potatoes and eggs early in the day, or even the day before, and chill them before I peel them. I personally do not use eggs in my serving of this because of an egg allergy but traditional recipes all have boiled eggs in them.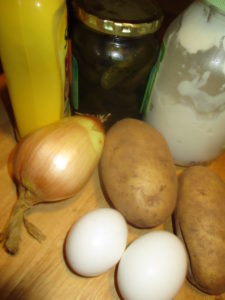 Because we have left the skin/jacket on the potato we now have to peel it. It isn't like peeling a raw potato… all you basically have to do is scrape the skin off.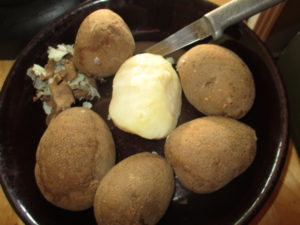 I am making 6 servings. I started with 6 small potatoes or about 3 cups of cubed cooked potatoes.  That is going to be 6 1/2 cup/yellow containers for my 21 Day Fix followers, I use 3 orange containers of dressing.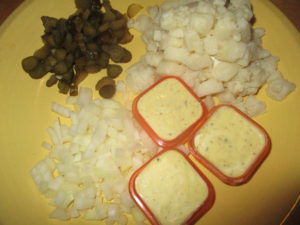 What else is going into this Southern Style Potato Salad?
The amount and types of onion and pickles depend on your personal tastes. I prefer yellow onion and sweet pickles but some people use red onion and dill pickles.  Any combo you like is perfectly fine. I chose a 1/2 cup of pickles and onions for this bowl.
If you are going to add eggs I usually do 1 egg per cup of potato so 3 eggs would go in here too. Sometimes I add extra veggies into my servings, celery, bell pepper, cucumber, radishes any crunchy veggie works for me.
A simple mayo, mustard, and pickle juice dressing is all I use for this salad. If you use dill pickle juice you might have to add 1/4 to 1/2 teaspoon of raw sugar to the dressing. Just to tame down the vinegar taste a little bit.
Sometimes my potatoes may soak up more of the dressing than I expect, such is the nature of a potato. So I mix up a second batch of the dressing and add it to the salad.
I measure this in my yellow container or 1/2 cup plus a couple of tablespoons. I just love to see my square food!
My Gumbo w/Potato Salad recipe has a different style of potato salad with it.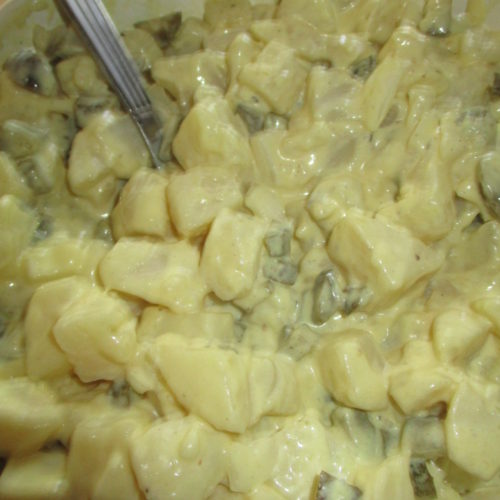 Southern Style Potato Salad
A good basic potato salad worthy of any Southern table.
Equipment
Instant Pot, but not needed
Ingredients
6

small

white potatoes, about 3 cups cubed, cooked

Cook potatoes whole in 1 cup of water for 15 minutes on manual with natural release in the Instant Pot or boil covered in water about 20-30 min or till fork tender. Cool in fridge till cold, 3-4 hours or overnight. Peel and cube.

½

cup

onion, diced

any variety you prefer

½

cup

pickle, chopped

sweet or dill

3

large

eggs, boiled, chopped
Dressing
¼

cup

+ 1 tablespoon mayonnaise

2

teaspoons

mustard

yellow or spicy brown

1

teaspoon

pickle juice

from the pickles you use

¼

teaspoon

garlic powder

¼

teaspoon

Mrs. Dash

salt & pepper, to taste
Instructions
Mix potatoes, onion, pickles, and eggs in a bowl. Stir in dressing. Chill for a few hours for flavors to set. Stir and serve cold.
Dressing
Mix all ingredients. Pour over salad. (if you like more dressing on your salad you can double the dressing)
Ultimate Portion Fix/21 Day Fix Containers
serving size ½-⅔ cup - 1 Yellow, 1/2 Orange OR 1 Orange if you double the dressing, not enough Green or Red containers to count
Find a great BBQ recipe to serve it with, then……..
Enjoy this cold salad on a hot day with a big ol' jug of iced tea.  And pretend you are in the south with me!