Let's talk about whole potatoes and the 21 Day Fix. I wanted to figure out how to leave one whole… for a baked potato one day.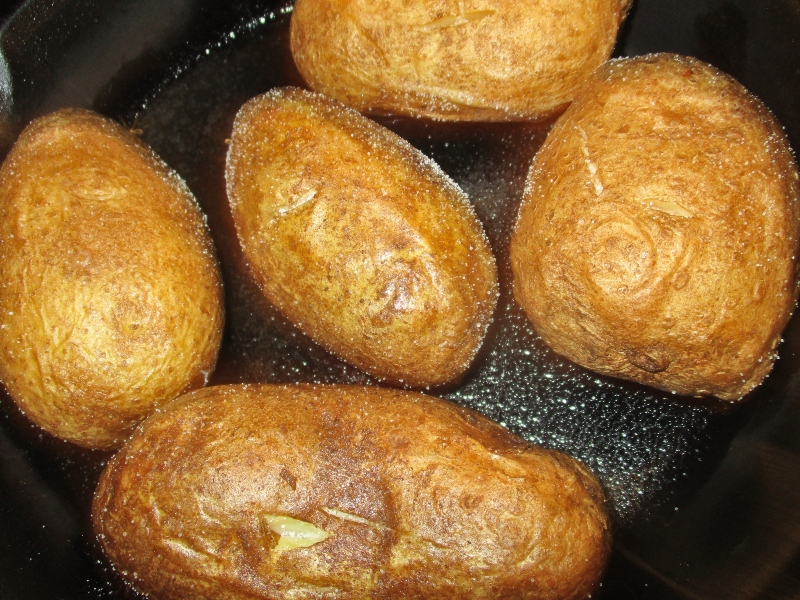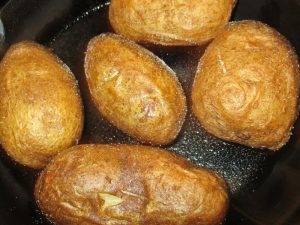 So I did some research into "potato-ology".  (I may have invented a word.) I use potatoes as my yellow container pretty often. Yes, I am a potato addict and happy that the 21 Day Fix lets me enjoy them! Recipes like potato salad, mashed potatoes, potato-green bean salad are some of my favorites!  I have even perfected a crispy french fry recipe too!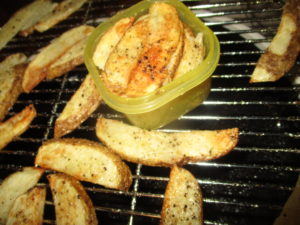 Or sometimes I use a vegetable with potatoes to make those yellows stretch further. Like this cauliflower and potato soup does.
What kind of potatoes can be used on the 21 Day Fix?
I like to use russet potatoes for almost everything. We don't buy 2 or 3 different kinds of potatoes at a time. Unless I buy the baby yellow potatoes for my Garlic Smashed ones.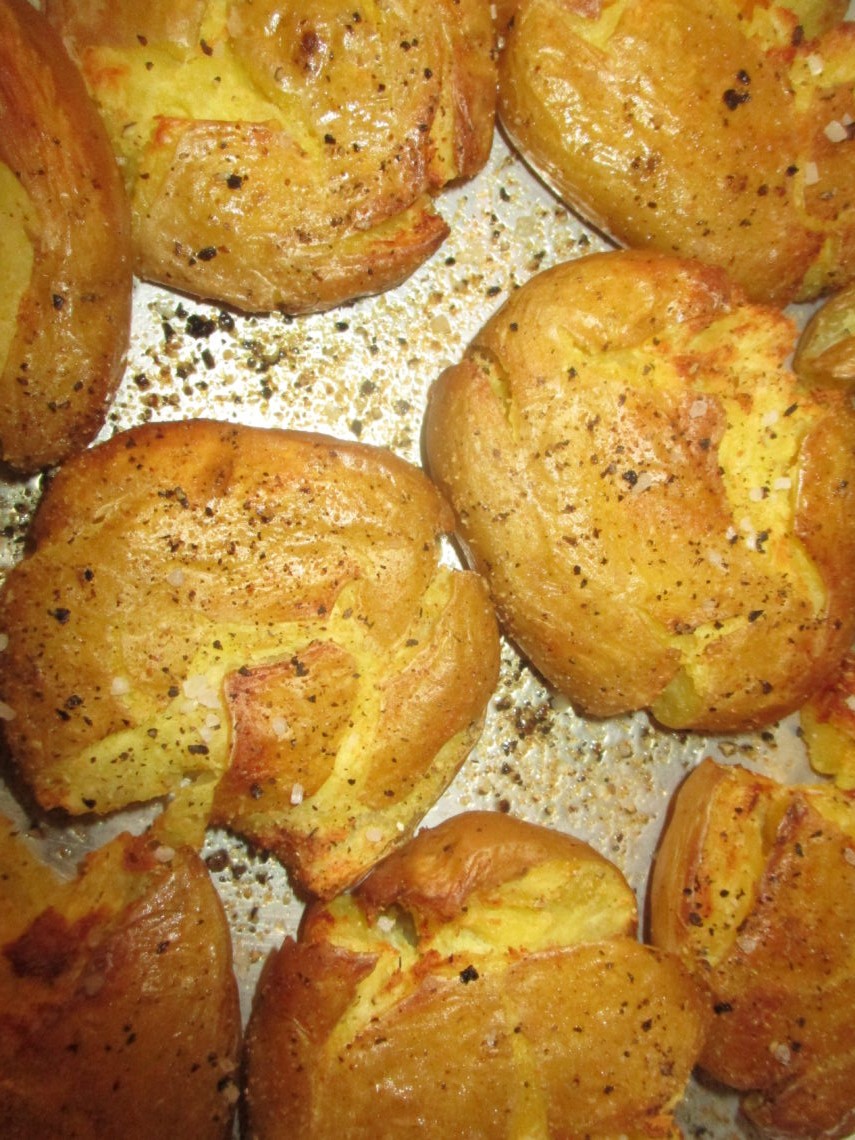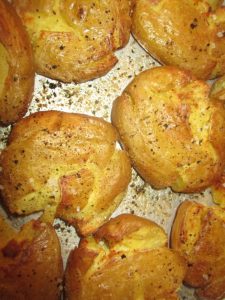 I don't really care for red potatoes, so russets/white potatoes it is for me.
So this information is based on a 10lb bag of white potatoes available at any grocery store. In a 10 lb bag of potatoes, there can be multiple sizes. I cut and measured, and measured and cut to come up with these assessments.

I found 3 different sizes of potatoes in 1- 10lb bag.  Your basic small, medium, and large.  
I promise I cut and shift and push my food in my containers to see for myself what will fit because there is just sometimes I want to leave my potato whole. I encourage you to do the same. Learn how many Y's there are in the size of the potatoes you buy so you can judge how to leave one whole. 
What did my research show me about whole potatoes and the 21 Day Fix?
A lot!! I started by using my Yellow container to help "eyeball" my approximations.
When I cut a small potato in half and filled my container with the cubes I saw that I could have fit more than half of that size in the container. Now I know!
When I used a medium-sized potato, I just popped a container on each end to eyeball it, the small gap between them was just right because it filled 2 Y's cubed perfectly. This is the size I use most for my baked potatoes and count them as 2Y.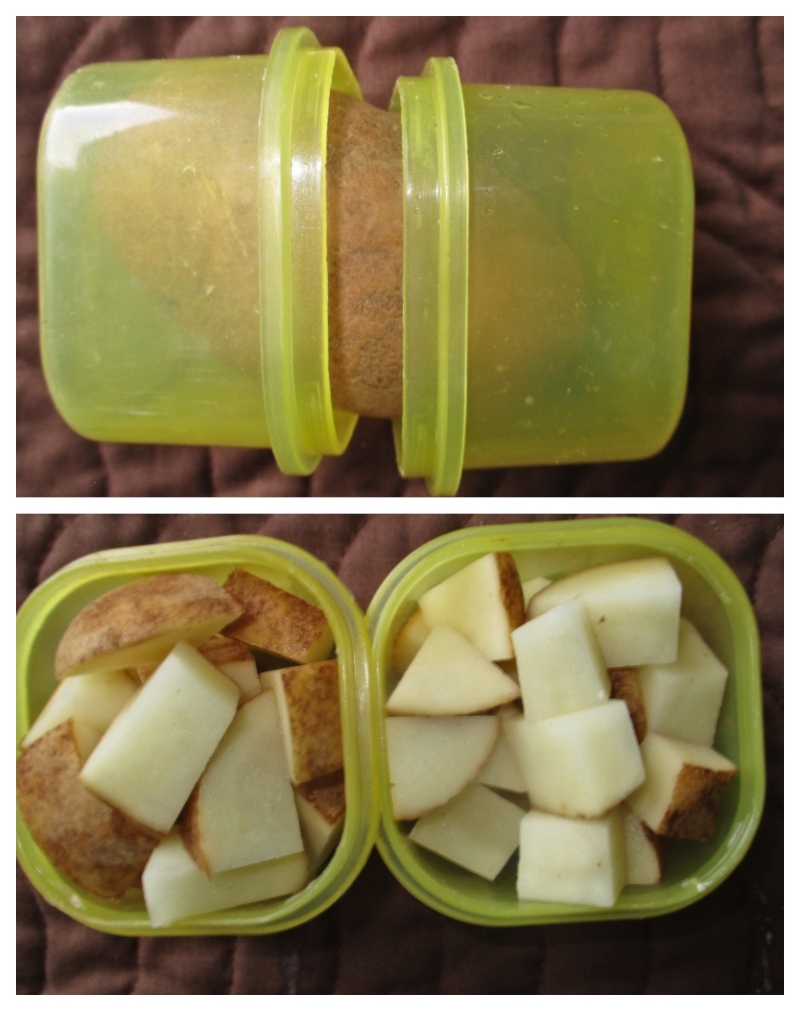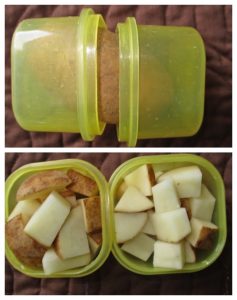 The large potato did not fit even one end in my container. I had guessed that it was about 3Y's worth and I had guessed right.
This size is about the size of a "take-out/restaurant" baked potato in my area.  
Like I said the main reason I did this is so that I can gauge whole potatoes from now on. 
How do I cook and use whole potatoes?
One of my favorite ways to make baked potatoes in the summer is to use my crockpot! For basic baked potatoes: Prick the potatoes with a fork several times, rub potatoes with olive oil, sprinkle with salt, and wrap tightly in foil. Place them into your crockpot, cover, and cook on High for 4 1/2 to 5 hours, or on Low for 7 1/2 to 8 hours until tender.
Or you can just cook them the old fashioned way: Preheat oven to 350o. Prick the potatoes with a fork several times, rub potatoes with olive oil, sprinkle with salt, and wrap tightly in foil. Bake for 45 minutes to an hour until tender. 
How can you dress baked potatoes on the 21 Day Fix?
Any way you want to… as long as you count those containers! 
I stuffed this one full of my steak and shrimp!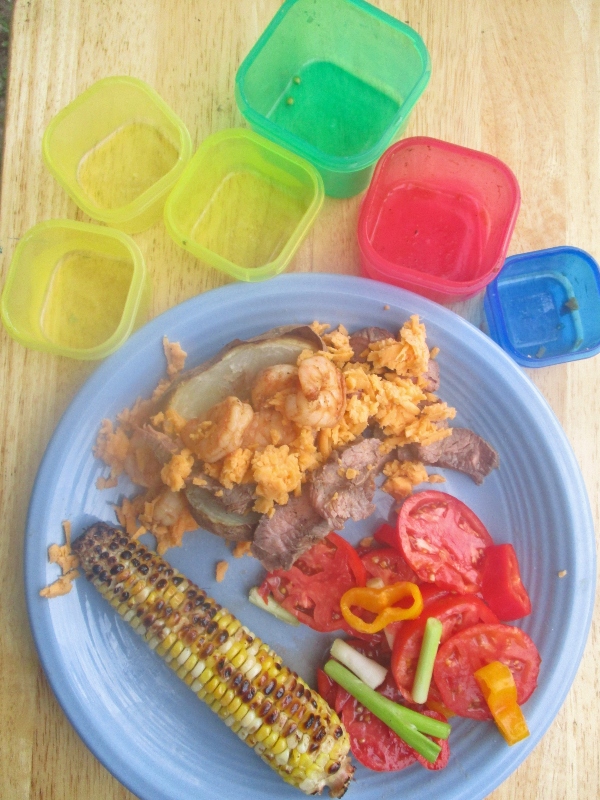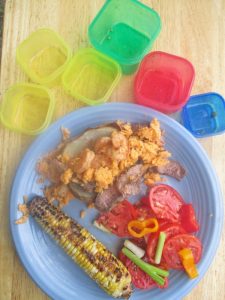 This one has a Red container full of cottage cheese stuffed into it. I added sliced jalapenos and cheddar cheese then slid it under the broiler till it got all gooey! 2Y potato, 1R cottage cheese, 1/2B cheddar cheese.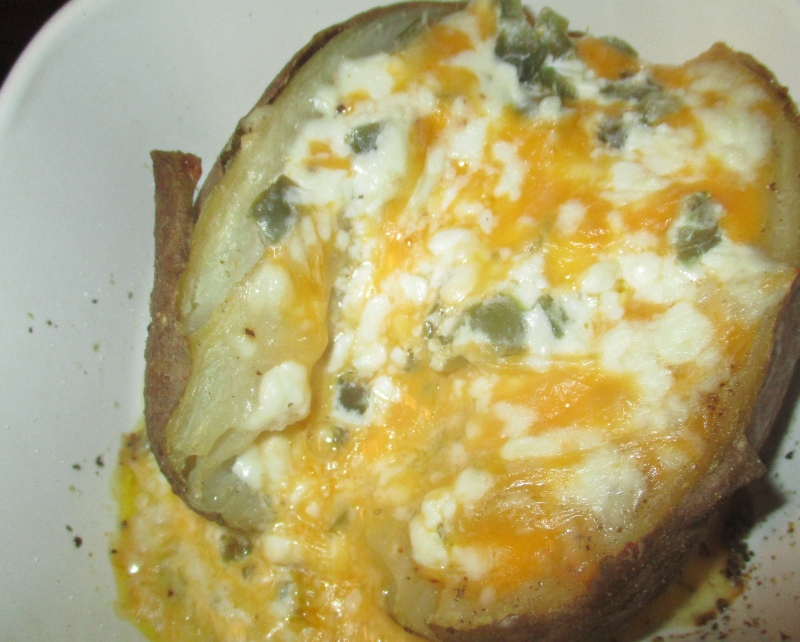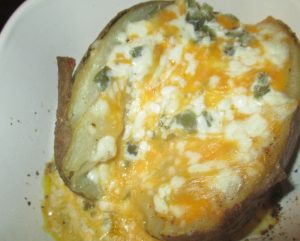 This taco stuffed one was absolutely delish!! 2Y potato, 1B cheese, 1R taco meat, 1O olives, 1/2G grape tomatoes.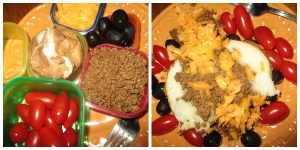 Try a shrimp stuffed one! I have a honey sriracha shrimp recipe that is PERFECT! 2Y potato, 1R shrimp, 1O sriracha sauce.
I hope you see that a stuffed baked potato can be a really great tasting part of a healthy diet! 
If you have any ideas on how to stuff one healthy style be sure to leave me a note.