When I married my Hubby he was stuck in a food rut. Especially in the potato category! This guy could eat french fries every day, yuck. Enter me and boring is NOT in my vocabulary! I have made this dish for years now. I call them Garlic Smashed Potatoes and I finally "FIXED" them!! The 1st time I made these he was "hooked", well these and banana pudding, but that is a whole different story… but now that I have made them healthier I can serve them to him with less guilt.
What type of potatoes do you use for these Garlic Smashed Potatoes?
Here in the south, we get a version of baby potatoes newly dug in the early summer that we call "new potatoes" but they are usually red-skinned potatoes and the skins are just a little too bitter for my taste so I prefer the baby yellow potatoes for this recipe. Fingerling potatoes are cute too cuz they are long and skinny and they look like smashed french fries.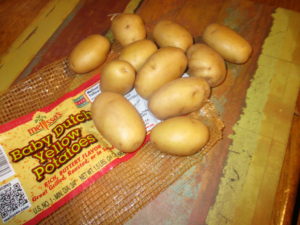 How do you make Garlic Smashed Potatoes?
The first step is to put these little beauties in my Instant Pot and pressure them on "manual" for about 11 min. I tested them at 8 minutes like my 1st batch but these were a little bit bigger potatoes than those, so it took a few extra minutes. I use low sodium chicken broth because I am going to salt the potatoes later in the process. Sometimes I put a crushed clove of garlic into my broth but I didn't have any today so garlic powder to the rescue!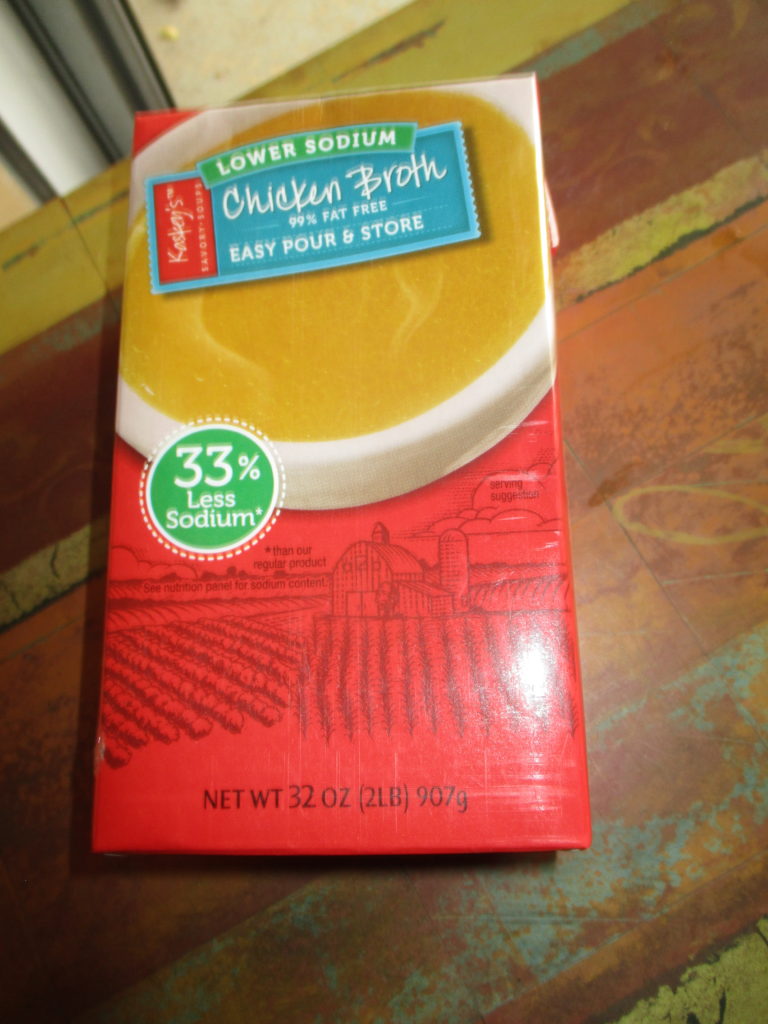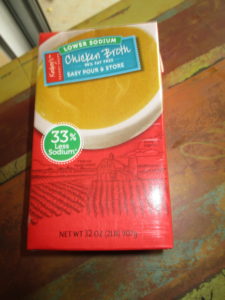 I want the potatoes to soak up a little of that chicken broth for the extra flavor so I did not put the trivet in the bottom of my pot.  I put enough broth into the pot to come up to about 1/2 way up the potatoes.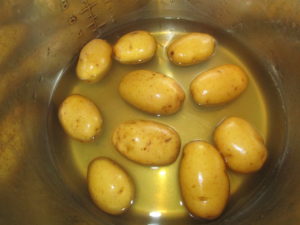 You can do this step on the stovetop too, but then I cover the whole potatoes because in the Instant Pot steam is going to do part of the work. Boiling them will take about 15-20 mins. depending on how big your potatoes are.
You are looking to get them to fork-tender. Test one of them by pressing down on it with the bottom of a glass. It should "pop" open. I filled up the pan that fits into my NuWave Oven that I had sprayed with olive oil. (This is where I made my healthy changes, I used to drown them in butter) I also sprayed the tops of the potatoes so that my salt, pepper, and garlic powder would "stick".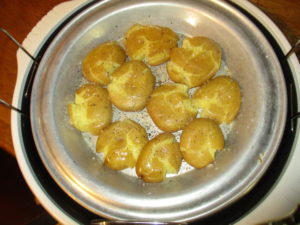 In my NuWave, these only needed about 5 minutes to get the crispy tops on them I wanted. But once again you can do these in your regular oven at 350o for about 10-15 minutes watching for that little bit of browning that makes these irresistible.
Garlic Smashed Potatoes
I have made this dish for years now. I call them Garlic Smashed Potatoes and I finally "FIXED" them!!


Ingredients
1

pound

baby yellow potatoes

1

can

low sodium chicken broth

olive oil spray

salt and pepper

1

teaspoon

garlic powder or 1 clove garlic chopped
Instructions
Instant Pot and Air Fryer Instructions
Put potatoes in IP. Fill with broth till 1/2 way up the potatoes. Add 1 clove of garlic or 1 teaspoon of garlic powder. Process on "Manual" for 10 mins with quick release. Test for tender enough to mash lightly.

Mash each potato gently. Place on a pan or in an air fryer basket in a single layer. Spray tops with olive oil spray and sprinkle with salt and pepper. Air fry on HIGH for 5 minutes or until crispy.
Stovetop and Oven Instructions
Place potatoes in a pan and cover with broth. Add 1 clove garlic or 1 teaspoon garlic powder. Boil 20 minutes or till tender enough to smash lightly.

Place on a sprayed cookie sheet and spray the tops of the potatoes with olive oil spray. Add salt, pepper and more garlic powder to the potatoes. Bake for 15-20 minutes or until crispy.
Ultimate Portion Fix/21 Day Fix Container Counts
Fill your yellow container and put the lid on = 1Y
What can you serve with them?
These were the perfect accompaniment for some grilled pork loin that Hubby grilled.
Hubby, who isn't on any kind of "diet" uses sour cream with his. This time I just used a couple of teaspoons of butter on them. I have topped them with greek yogurt, a guacamole sauce. This cheese sauce would be excellent with them!