Eating healthy doesn't mean I can't eat fun food!! Tacos, surf and turf, pasta, and burgers are all on my menu with just cleaner ingredients. Let's add 21 Day Fix: Air Fryer French Fries to that list!!
One of my "fan favorite" recipes is my Bigger Big Mac in a Bowl. I don't use a bun with that recipe so that frees me up to have some kind of carb with it when I want too. What goes better with a burger than French fries.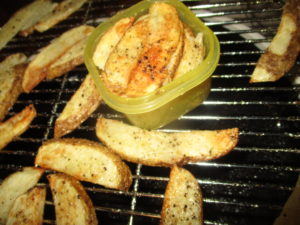 Like I said my lifestyle has me eating healthier and one of the ways I have changed cooking things is by investing in an infrared air fryer. My brand is a NuWave oven and I dearly love it. Unlike most "air fryers" you can see into a NuWave and the size is big enough to cook even a small turkey! https://www.nuwaveoven.com/common/NVJAE04/index.asp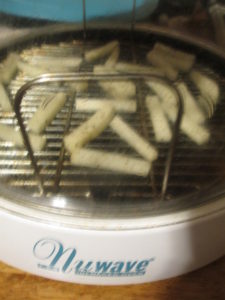 So I started on a quest to make an air fryer french fry worthy of its own post. Did I get an Ore Ida French Fry quality fry using a potato and an air fryer? No. And believe me, I tried…
Why not??
The most simple explanation is that in the factory, the potatoes are blanched in hot water and then fried in vegetable oil. So by the time you cook them at home, you are cooking them for the 3rd time.
Double frying for crispness is common in restaurants, but at home, we are usually in too much of a hurry to take all of the steps to make a potato into a fry. Because these are not your typical "fried" fry we are not going to double fry but we are going to double COOK them because taking that extra step is going to be worth it.
We are going to do the blanch and cool process to partially cook the inside of the potato then completely stop the cooking process and cool off all the starches in the potato again and then oil and air fry them.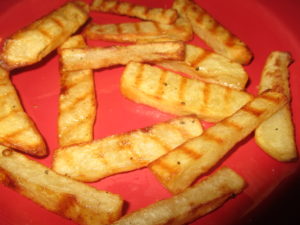 It took me no less than 8 batches of fries to find the perfect french fry… from the soggiest limp mess to the thin burned up variety. I ate them all.
How did I figure it out?
I had to start the process by cutting my fries. Since I measure my food in my Portion Fix containers I chose a potato or 2 about the size of my container. (I have been doing this program so long that only 2 of these slices wouldn't fit into my container. LOL)  Make sure to make all the slices about the same size the size normal french fries are.
If you kind of peel them "square" taking both ends off straight. Stand the peeled potato on its end and make 3 or 4 slices from top to bottom and then carefully lay it on its side (see the 1st picture) and then slice 3 or 4 slices through that side making the sticks.
I added them to a pan of boiling low sodium beef broth and parboil for 4 minutes.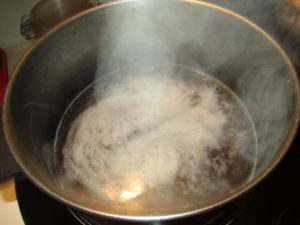 I strained the fries out of the broth carefully on to a clean dish towel-lined plate. (cool broth and save for a different recipe)  I let them come to room temperature and then take them off the towel and put them between 2 double layers of paper towels on the plate and then I put them away in the fridge.
HERE COMES THE HARD PART…
Leave them in the fridge until you are ready to cook them the next day.
I know, I know, I know…I am a busy housewife too, but this is such an important step because of the "science' behind making a crispier fry that I take the time to do it.
Usually, I do these steps when I am cooking supper one night since I am in the kitchen cooking I just do the 1st half with that meal. Then put them away and just take them out of the fridge when I am ready to 'fry" them the 2nd night. Just consider it "prepping" and prepping is necessary sometimes!
The day you are going to serve these 21 Day Fix: Air Fryer French Fries…
Preheating the air fryer is another key to getting a crisper fry, about 5 minutes is good for mine. While it is preheating I gently toss my fries with olive oil being careful not to break them up because they are partially cooked.
I arranged them on my rack for my oven. My NuWave has plenty of room on the rack for a single layer. I am sure the basic air fryer technology is the same… but refer to your "manufacturer's" suggestions for your model and do a single layer if that is what they suggest. You may have to work in batches.
I cooked them 7 minutes on one side, flipped them over and cooked them another 3 minutes, you may have to shake them around in your basket so they will cook more evenly. I could see them in mine and could see exactly the color they were and stopped them at that 10-minute mark. Check yours and see if they are the color you want and adjust your cooking time as needed. You may have to perfect the timing for your model of the fryer.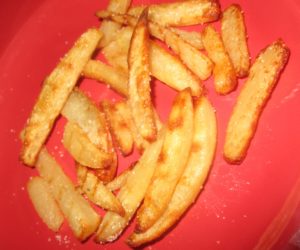 They had just the right amount of crunch!
YUMMY! 21 Day Fix: Air Fryer French Fries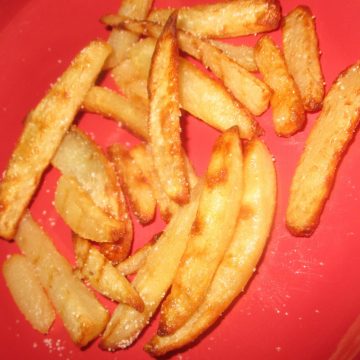 Ultimate Portion Fix/21 Day Fix: Crispy Air Fryer French Fries
Fluffy in the middle and crunchy on the outside french fries from an air fryer!
Equipment
NuWave Oven or air fryer or oven.
Ingredients
2

medium

potatoes,

peeled and cut into fries.

1

can

low sodium beef broth

1

tablespoon + 1 teaspoon

olive oil

salt and pepper, to taste
Instructions
Peel and slice potatoes and boil them in beef broth for 4 minutes. Strain with a slotted spoon to a towel-lined plate until room temperature, then place between 2 layers of paper towels and put away in the refrigerator for about 24 hours.

24 hours later... Preheat air fryer. Toss potatoes with olive oil and place in the fryer in one layer. Cook them for 7 minutes and then turn or toss them and cook for another 3 minutes or until the desired brownness. Quickly salt and pepper to taste and serve hot.

*You can cook these in a regular oven on a foil-lined baking sheet at 400° for 10 minutes, flipping them over ½ way thru.
Ultimate Portion Fix/21 Day Fix Container Counts
When I told you to save the beef broth for a different recipe this is the one I had in mind. POUTINE.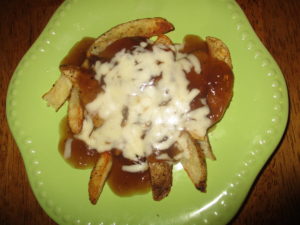 It is just french fries, beef gravy, and cheese curds. A salty gooey plate of goodness that is popular in the northern US and Canada. Here in the south, I have trouble getting cheese curds. So I used shredded white cheddar cheese in their place most of the time.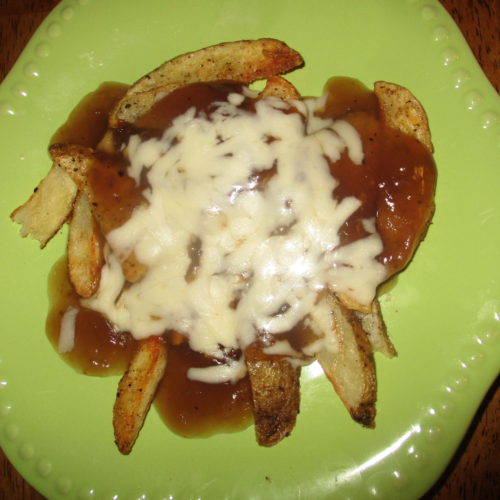 Poutine Gravy
Beef gravy to complete a plate of fries, gravy and cheese goodness!!
Ingredients
1

can

lower-sodium beef broth

1

tablespoon

corn starch

½

teaspoon

worchestire sauce

⅓

cup or less

white cheese curds or shredded white cheddar
Instructions
Mix corn starch and ¼ cup broth. Bring the rest of the broth to a boil. Stir the corn starch mixture one more time and stir into the broth. Boil till thickened. Take off of heat and add worchestire sauce. Serve over hot french fries and top with cheese curds or shredded cheddar cheese.
Ultimate Portion Fix/21 Day Fix Container Counts
1Y and 2 tsp for french fries, 1 cup gravy 1/2R, ½B cheese curds or shredded cheese