Eating all of your containers on the 21 Day Fix is an important topic.
You have decided to lose weight and you have picked the 21 Day Fix to help you achieve that.  You know how much you have to eat so, let's help you figure out how to do just that!
I will be using 21 Day Fix terms in this post "plans", container abbreviations and such. If you need information about the Ultimate Portion Fix/21 Day Fix or any Beachbody product please feel free to contact my friend Genien at this link 
You have ordered your information and in that information, you have done the "math" and come up with your plan….A-B-C-D-E-F. The heavier you are the more containers you have listed to eat.
Plan A only has 4G-2P-4R-2Y-3tsp–and the 1B and 1O that every plan gets. (I know my photos are amateurish but I am learning)
This is about 10 cups of food.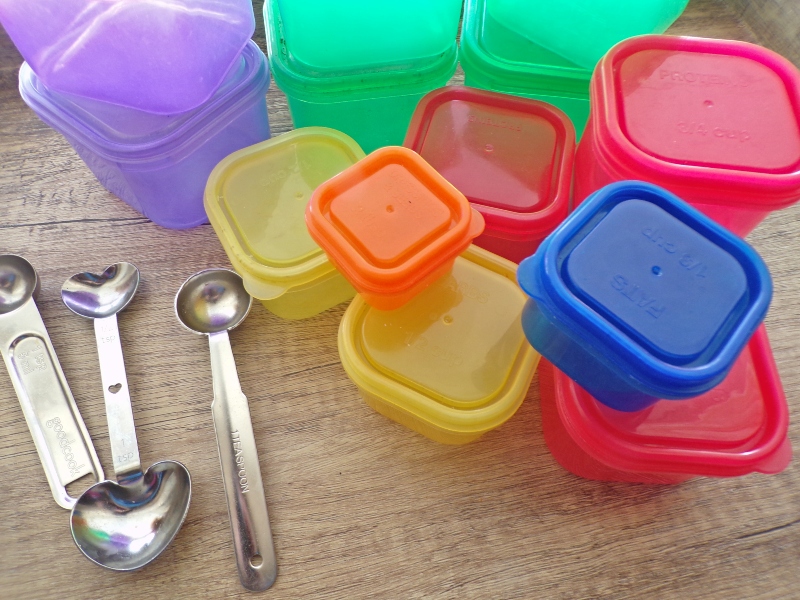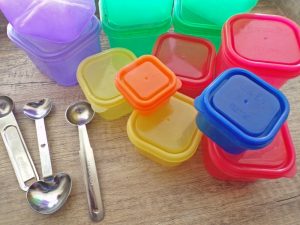 Plan D has 6G-4P-6R-4Y-6tsp and that 1B-1O. Until recently our plans stopped at D anyone who weighed more than that allowed was told do round down and eat in D. It adds up to over 18 cups of food!
With our newest plans goes all the way up to F… but until I lined these containers up the numbers were just that, numbers. Plan F is 8G-5P-7R-5Y-8tsp-1B-1O I had to use lids to represent containers there are so many!
This is about 21 cups of food…21 CUPS!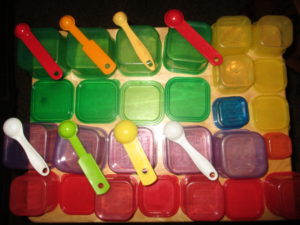 I have been doing this for a couple of years now and this amount shocks me, so I am sure that the people that do the math and come up with these numbers are shocked too.
Why is "eating all your containers " even a question?
We know that we are advised to "eat all of our containers". We also know we have 2 camps of people on the "Fix" the camp that is "always hungry" and the camp that "can't eat all this food" those 2 pictures explain why…
My efforts here are going to concentrate on fitting in all the containers in the higher brackets. If you are in the camp of "I am always hungry" this information might help you!
Now for that camp of "I can't eat all this food!!" One of the main reasons people get confused about this being a "diet" is that they automatically think that they are going to be eating minuscule amounts of food. FALSE… I love sharing this graphic with "newbies" because it tells them that they are NOT alone.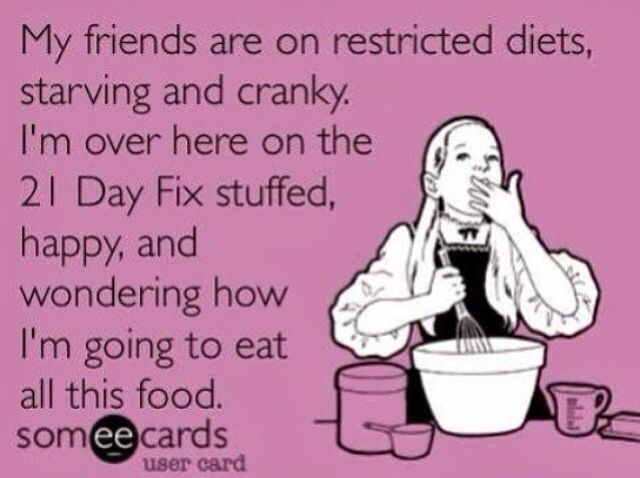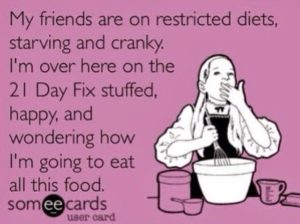 Thinner people assume larger people eat HUGE amounts of food to be as big as they are when in reality they are probably eating many calories in small amounts of food.
I use this example…. it takes 6 cups of broccoli to equal 2 Tablespoons of peanut butter in calories …both have 180 calories but the MASS is so different!!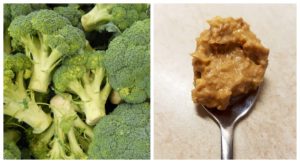 And this is the exact problem with those higher brackets. The bulk. In information and YouTube videos from Autumn, she really does want you eating all of your containers every day. Never leaving your Green or Red off any day. An occasional different color can be left off but not the same one over and over or very often.
What can we do to help us get them all in?
We need to come up with some ways to make sure we get as many as we can. Beachbody has recently added some information to their food lists. The letters IF (Intermittent Fasting) can be found after some foods on the list. These foods are a little "less filling" than the other ones.
If you look closely you notice that the foods with a higher water/liquid/juice content are the least filling. You do not have to use Intermittent Fasting to use this information, less filling is less filling no matter when you eat!
Let's start with the 2 containers that everyone gets that are the same, Blue and Orange. They are both healthy fats. None of these foods has the letters IF after them because none of them are very filling in the amounts you are allowed.
Eating All Your Containers: Orange
The ones on the orange list have a lot more calories than the ones on the blue list, that is why the 2 Tablespoon serving size. Because there are so many veggies to eat in these upper plans my advice is to use your orange container for dressing and sauces.
And then if you like ranch dressing I suggest you don't waste your orange container on it, instead use this recipe and count that ranch dressing as a red container and you can munch away on crunchy veggies and dip any time you need a "crunch" craving.
I make Thousand Island Dressing and use it on my Bigger Big Mac in a Bowlif I use it as a salad dressing at lunch and then want it as a sauce on a wrap that I start counting it with my teaspoons, I count 1Tablespoon of sauce as 2 teaspoons of oil, just to stretch it out. You can do the same thing with an oil and vinegar-based dressing too.
Eating All Your Containers: Blue
Speaking of stretching out…that 1 blue container that every bracket from A-F gets. 1/3 of a cup or 5 Tablespoons when you break it down to that. I OFTEN break it down to tablespoons because I don't do very much dairy at a time. So I might have 2 tablespoons of cheese and 3 tablespoons of avocado on a couple of tacos. Doing it that way I get the best of both worlds! (I mash my avocado and put it in my blue because I want to make sure that I get every single bit I can! )
Again here I am encouraging you to use this container to help you eat your veggies… cheese can help that (see below about our red containers). Nuts maybe not so much but if you are super full and you want to squeeze in a blue container you might want to eat 14 raw peanuts or the others,  just to keep the bulk down even more. I have more information about your Blue container in HERE.
Eating ALL Your Containers: Green
On to those greens I keep talking about. Some people like to "hide" their green containers in something like a smoothie. A big double serving of spinach (IF) or cauliflower rice into a fruit smoothie or protein shake can go a long way into getting them all in. Pick one and try it or a container of each one.
Those are good ideas to get your raw veggies in salads and such, so let's see about cooking some now.
And a great way to get more veggies hidden into foods is to try this taco meat, yes meat…
Some vegetables cook down more than others and we are going to use that to our advantage. Measuring a food "how you eat it" is a general rule for the FIX. But there are times ( like when you have 8 green containers to eat in a day) that measuring food raw and then cooking it down is the best you can do!
The best veggies on our list to do this with are …..
I would for sure measure a loosely packed green of spinach (IF) and cook it down and count it as 1 green! There are more veggies that shrink and soften …  other leafy greens (IF), green peppers (IF), summer squash (IF) included. Use all of those to your advantage.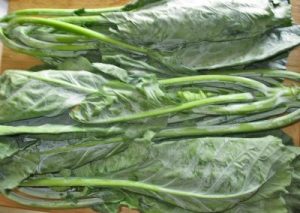 Mushrooms (IF) will usually cook down to half. I can get 2 Green containers from one 8 0z package but they cook down to just 1 Green to eat!
Measure raw, eat cooked.
Egg Roll in a Bowl is a recipe that shrinks cabbage down a lot! Recipe HERE.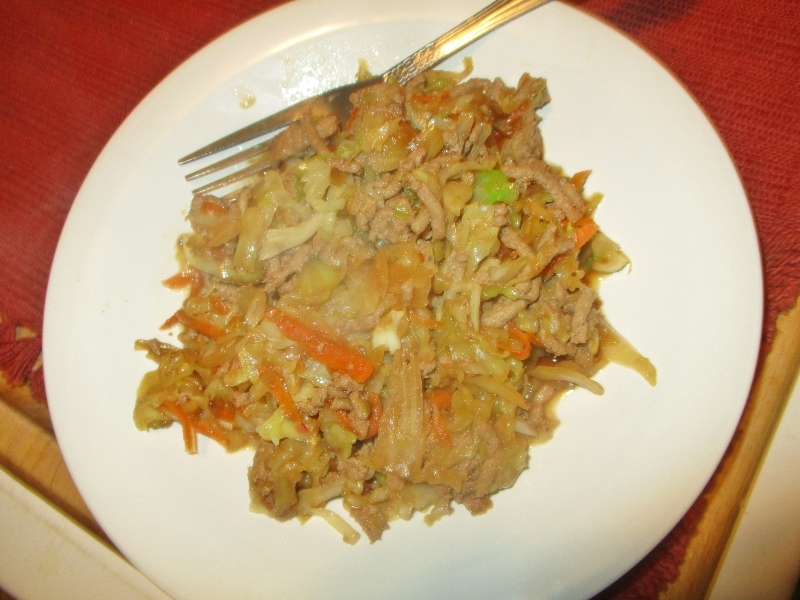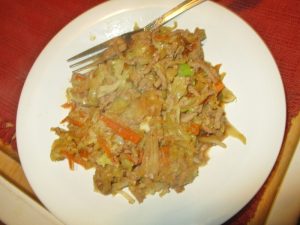 Another veggie that is great for lessening bulk is tomatoes (IF)!
Canned tomatoes especially 1/2 crushed or sauce and 3 1/2 Tablespoons (1/2 a can) of tomato paste all count as 1 full green. I use them as often as I can in recipes. One of the recipes from the 21 Day Fix Fixate Cookbook is "Grandma's Sauce". The Beachbody count for it is 3G for a 1/2 cup serving or 2 tablespoons for 1G. I can not share that recipe here because of copyright laws but you can easily find it on the web now (try Pinterest).
A 1/2 cup of sundried tomatoes is another smaller amount of food you can count as 1G.  I love this chicken with sun-dried tomatoes in it. Recipe HERE.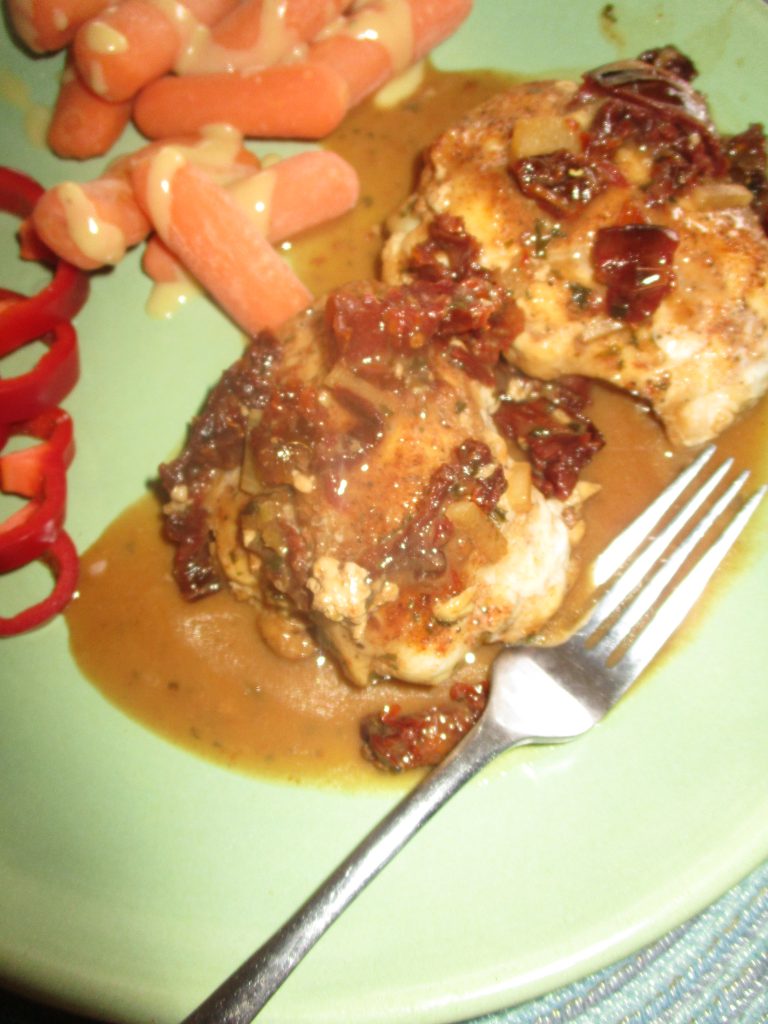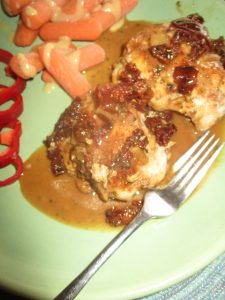 Eating All of Your Containers: Purple
For a purple container, there are a number of things you can use in smaller amounts.  A whole banana is my fastest way to consume 2P.
The watery/juicy foods like all the berries and watermelon are less filling because of that. Combine them with some tangy feta cheese, mint, and jalapeno for a refreshing "less-filling" summer salad.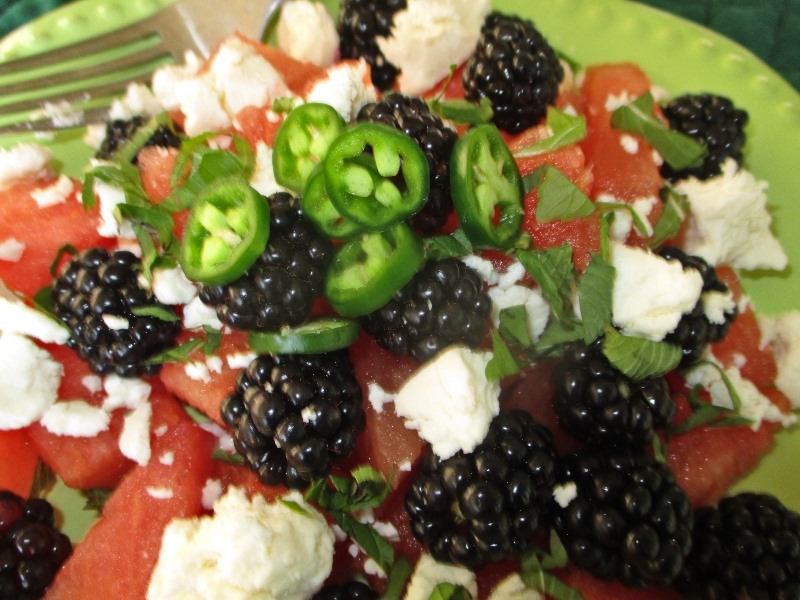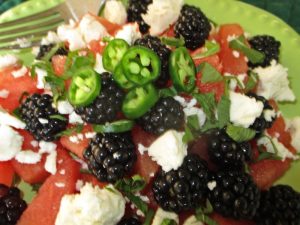 Our list has 1/2 cup of pomegranate seeds counts as 1 purple or 2 small figs both less bulk than a full cup.
Some things you wouldn't think of as "fruit" are on that list, jarred salsa or plain no sugar added marinara sauce, this is really good for people who don't care for fruit that much.
Eating All of Your Containers: Red
With the red container, there are a few tricks like using ricotta and cottage cheese as "cheese" that counts as a red, think pizza or casseroles. It helps us get that creaminess we love.
Regular yogurt (IF) is less filling than the Greek version. Ground meats like turkey (IF) and chicken (IF) are less filling than their whole counterparts. Egg whites (IF) are less filling than 2 whole eggs.
All the Fish (IF) and shellfish (IF) are not as filling as beef or pork would be. I have an entire Shrimp Round-up post HERE.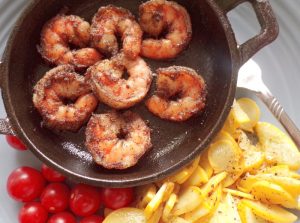 You can always gently pack your meat into your Red instead of packing it so full you have to stand on it to get it to close. I do pack my Reds as full as I can because I know that protein keeps me full longer!!
Eating All Your Containers: Yellow
Here last but not least is that yellow container… that pesky yellow. Most people don't have trouble eating those yellows, but in Brackets E and F you have to eat 5!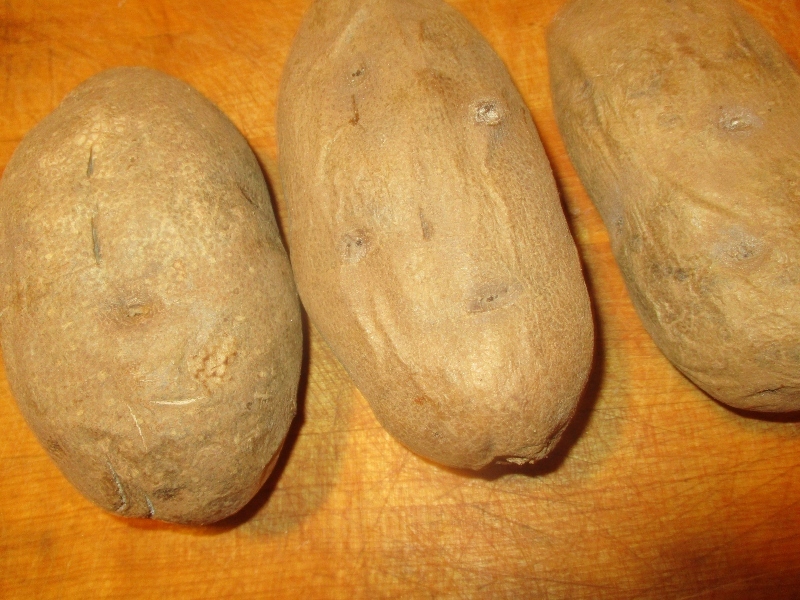 My favorite way to get 2Y in at one meal is to have one WHOLE baked potato (IF). I have some potato information HERE.
A cup of a good clean cereal with a 1 cup/8 ounces of coconut milk beverage is a double yellow too. I have some information about finding cereals HERE. Dairy and non-dairy products are covered in HERE. Granola always measures as 1/4 cup for 1Y, used as a topping for regular yogurt would be a great less filling snack.
Treat swaps help sometimes
While we are on the subject of yellows (and purples), let's consider treat swap ideas. Treat swaps can happen 3 times a week. Meaning 3 times you can swap a yellow or a purple for your day and exchange something for it. I have an entire list of all of them and how to use them in HERE.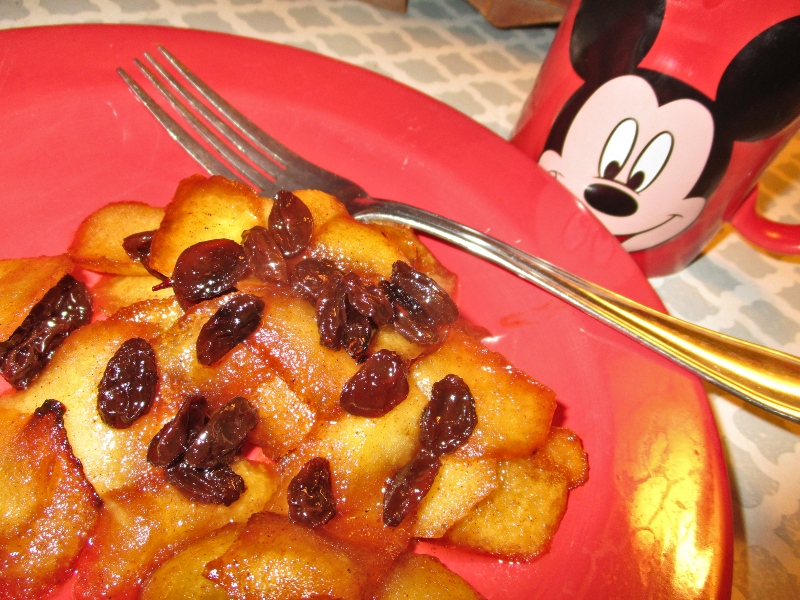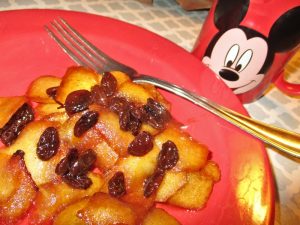 For example, instead of eating a full purple container of grapes one day. You can exchange them for 2 mini boxes of raisins and count them as your purple. That uses up one of your treat swaps for the week. Another "less" filing purple option is fruit juice 4 ounces or 1/2 cup for a purple treat swap.
A 5 0unce glass of wine, YES wine, is a yellow treat swap…. but 5 ounces goes down really fast!
Other things that might help
Sparkling waters with no artificial sweeteners are approved for the Fix, but only 1 per day is recommended.  We need to be filling our stomachs with food and not air bubbles. Also, I try not to drink a big glass of water within an hour of eating a big meal. If I am going to eat lunch at 12 pm… then I only sip water from 11-12, so that I have room for food!
I hope this information helps you reach all of your goals.
If you have any tips or tricks for getting more containers in please leave me a comment.