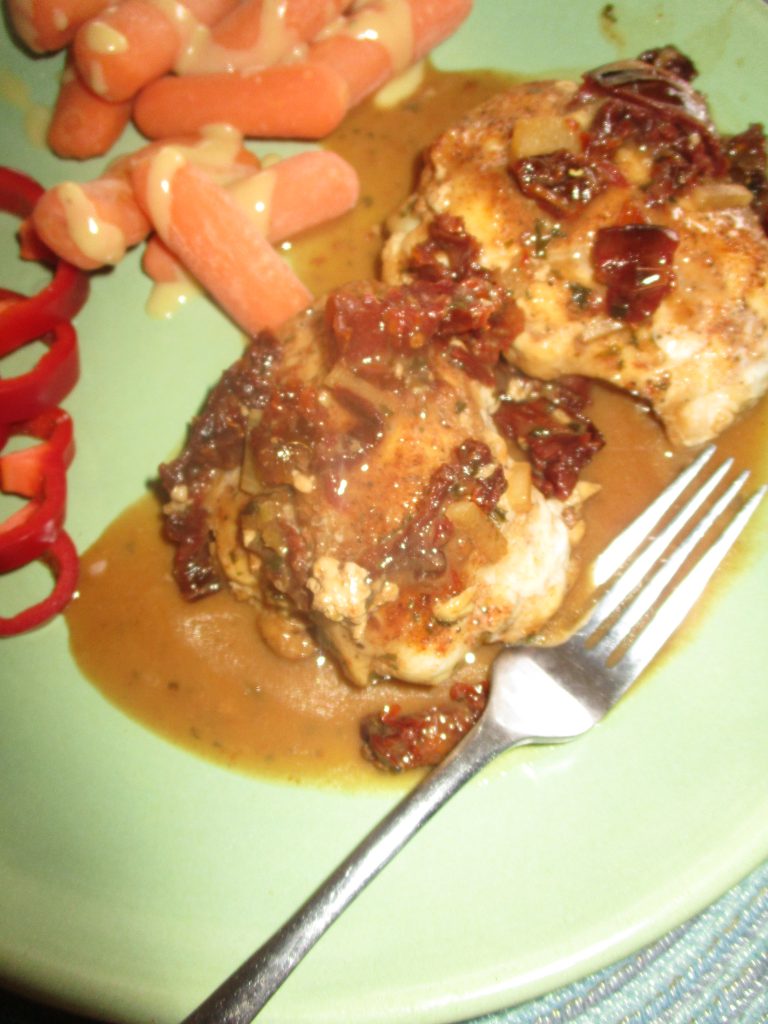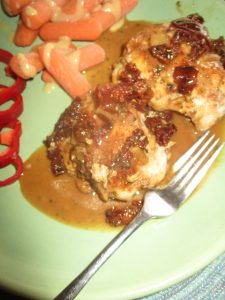 I eat a lot of chicken. Four times a week most weeks, so I need it to taste different pretty often.  Of course, I  can change the flavors of it dramatically with just a change of the spices. Mexican spices, Asian sauces, and even some Cajun flavors make it into my rotation fairly regularly. I have been wanting to create a chicken in a creamy sauce full of fun flavors like garlic and onion. Finally, I settled on making a Creamy Tuscan Garlic Chicken. Doesn't that sound good?
WHAT INGREDIENTS DO YOU NEED FOR TUSCAN FLAVORS?
First, I added sundried tomatoes and garlic to my list. I like dry sundried tomatoes instead of the ones packed in oil and you can NEVER have too much garlic in my opinion!
Next, on to the "creamy" part. I can only handle a little bit of dairy per day so using coconut cream in the place of milk is just about my only option. Butter I can use it in tiny amounts – if you are keeping strictly dairy free then you can use plant butter, I use the Country Crock brand now. Or you can just use olive oil in its place.
Then you have to decide what cut of chicken you want to cook. I used breast pieces this time.  Sometimes if I am going to be eating this as leftovers for a couple of days I will use skinless thighs. They seem to reheat without drying out too much.
LET'S GETS COOKING
Mix the seasonings together and dust the chicken with them. Saute them in a non-stick pan sprayed with olive oil spray and a few teaspoons of butter.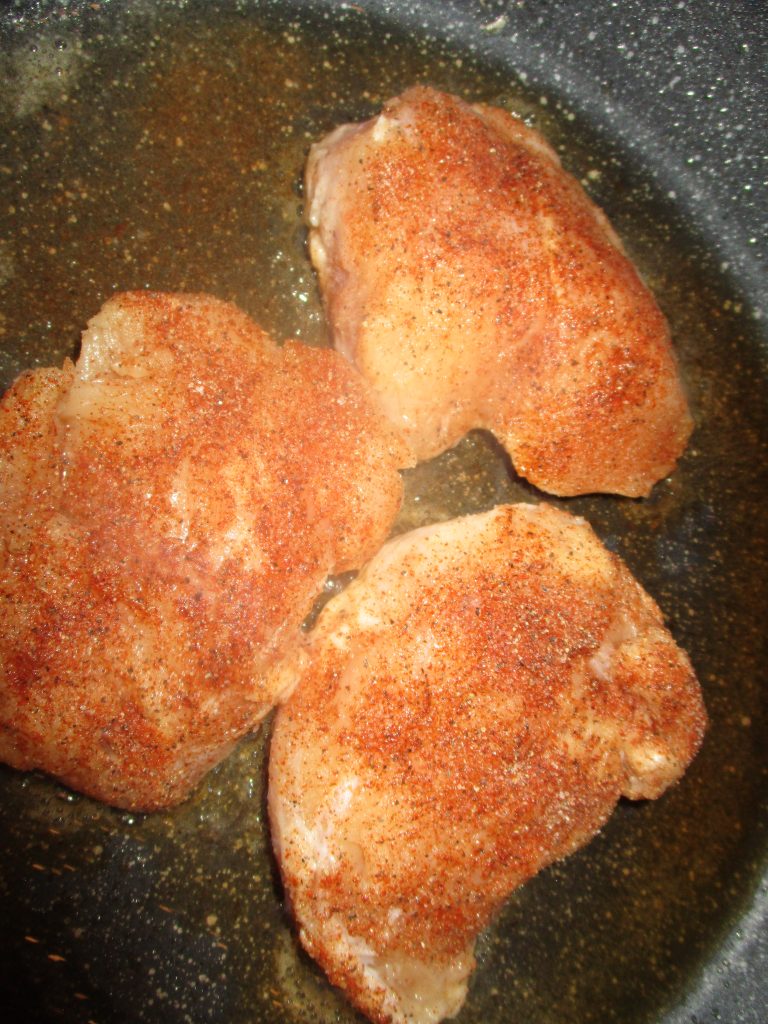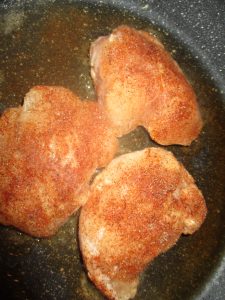 Cook them on medium/medium-high heat, sealing the spices onto the chicken. There is nothing worse than tasteless chicken! I only sear them for a couple of minutes per side.
Take the chicken out of the pan. Add that garlic and onion into the butter and chicken bits cooking them till the onions are clear. Make sure not to brown the garlic or it will turn bitter! Then you add all the sauce ingredients and get it bubbling. Make sure to scrape all the bits and pieces off the bottom of the pan into the sauce for extra flavor!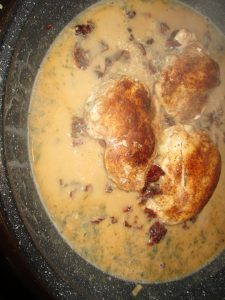 This recipe serves 4 so the container counts are simple. 1 Red of chicken, 1 Blue of coconut cream, 1 teaspoon oil. only about 1/4 of a Green container is in a serving so I usually just don't count it. I do stir spinach into the sauce for a few minutes sometimes, but my hubby doesn't care for it so not very often. But it is a great way to add a Green container to my day though.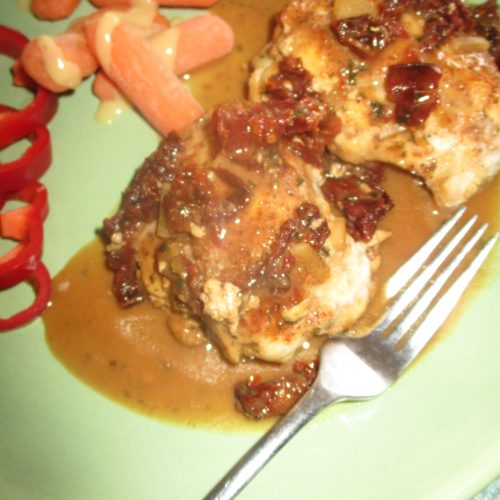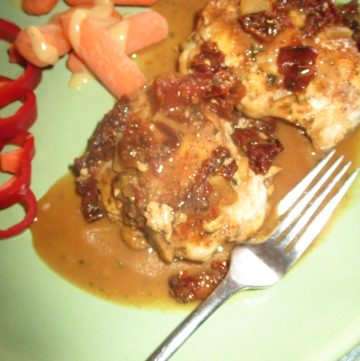 Creamy Tuscan Garlic Chicken - Dairy/Gluten Free
This creamy garlic chicken is studded with sundried tomatoes. Coconut milk keeps it dairy-free.
Ingredients
1½

lbs

boneless skinless chicken breast

or chicken thighs

1

teaspoon

olive oil

1

tablespoon

butter

1

teaspoon

garlic powder

½

teaspoon

paprika

1

teaspoon

Italian seasoning

2

cloves

garlic, minced

½

cup

onion, minced

½

cup

chopped sun-dried tomatoes

1⅓

cup

coconut cream

½

cup

chicken broth

½

teaspoon

salt and pepper
Instructions
Heat butter and oil in a skillet.

Mix the spices together and dust the chicken. Sear on both sides about 2 minutes per side. Set aside on a plate.

To the skillet add onion, minced garlic, and sun-dried tomatoes and cook till garlic is soft.

Add coconut cream and chicken broth stir well. Bring to bubbling. Add the chicken back to the pan and cook about 20 minutes or till done. Turning the chicken over in the sauce a few times.

Salt and pepper to taste.
Ultimate Portion Fix/21 Day Fix Container Counts per serving
1 Red, 1Blue, 1 oil teaspoon
What can you serve with this Creamy Tuscan Garlic Chicken?
I serve this over whole wheat pasta or mashed potatoes. Some tangy vinegared Italian green beans (recipe soon), add a salad and you have a plate full of healthy food!