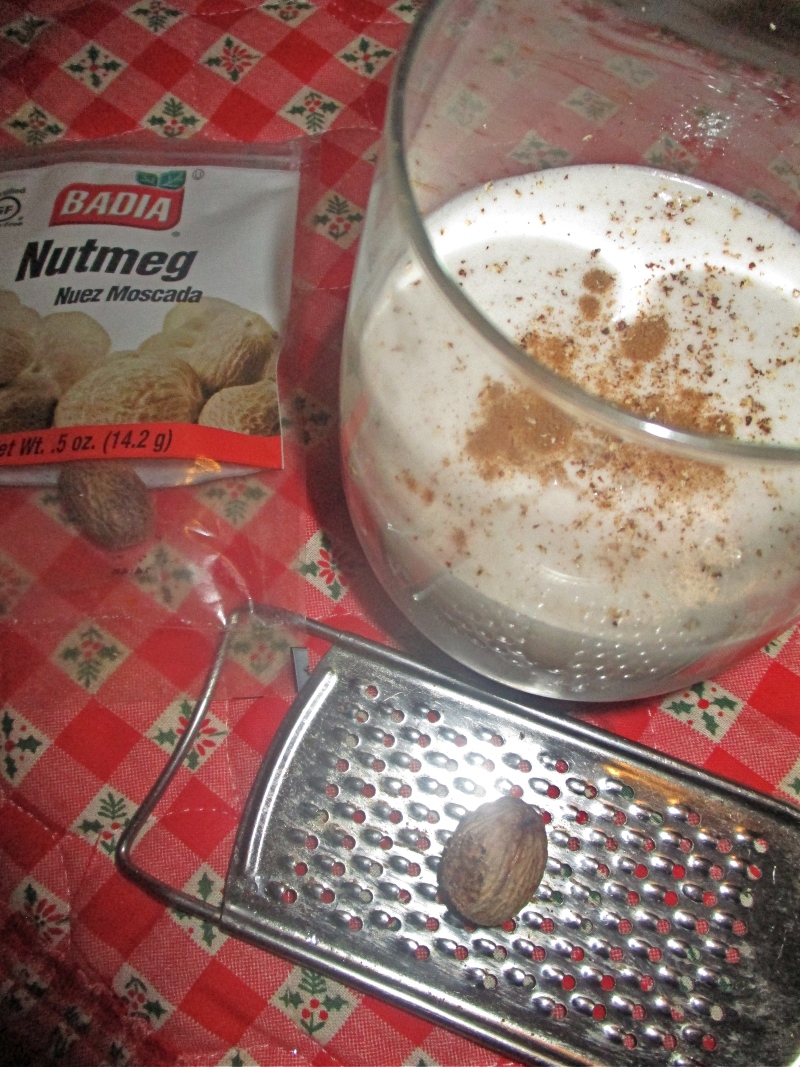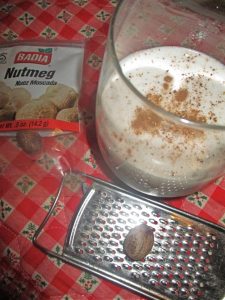 My first Christmas "event" this year is tree decorating. Hubby and I  will turn the TV off, crank up some Christmas music, and of course bring out the snacks!!  My food choices are covered because I have been making tailgate-style snacks for my last few posts and I have all the ingredients for some of our favorites. However, I needed to create some kind of signature drink for the holidays. I love egg nog, but eggs and milk do NOT love me though. So I set out to create a non-dairy, egg-free holiday nog flavored drink.
What spices go into this nog?
The ingredients are simple but the flavor is perfect. Freshly grated nutmeg is the secret to the nog flavor to me! When I don't have any fresh I just use the jarred kind instead. I like a pinch of ground cloves in mine, but it is purely optional.
I also use maple syrup to sweeten mine but you could use honey or agave syrup instead.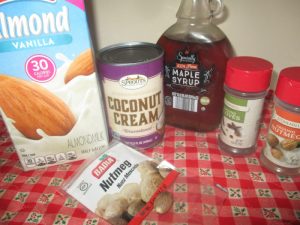 I tried a pumpkin pie spiced version, for the cloves in it, because I had yet to buy some. It was really good too!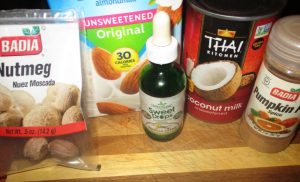 What "milk" do I use for this holiday nog?
Since being "white" dairy-free for a couple of years now, I have learned to love almond milk. Usually, I stick to the original unsweetened version, but for this recipe, I opted for the unsweetened vanilla flavored one. But I have also used original flavored almond milk and used vanilla creme flavored stevia drops instead of the vanilla almond milk. You could even use unflavored milk and a few drops of vanilla extract. Be careful if you use the extract and only add it by the drop
A traditional nog gets its thickness from the eggs and cream so I needed to find a "thick" substitute for this one. Enter canned coconut cream.  Sometimes I will pour a can of coconut milk in a jar overnight and use the "cream" off the top and discard the watery part. With this recipe though I like to use coconut cream straight out of the cabinet. It is super-rich and soft enough to mix in a jar without leaving lumps.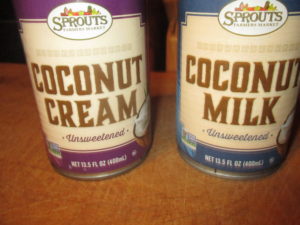 I have been SO happy with this version 🙂  it is how I have used my "blue" container for DAYS now! You can "water" the thickness down and lower your "blue" count to a LARGER serving size 🙂
Add everything to a mason jar and give it ALL  a good SHAKE!!
This is a fantastic non-dairy egg-free holiday NOG. I hope you ENJOY it!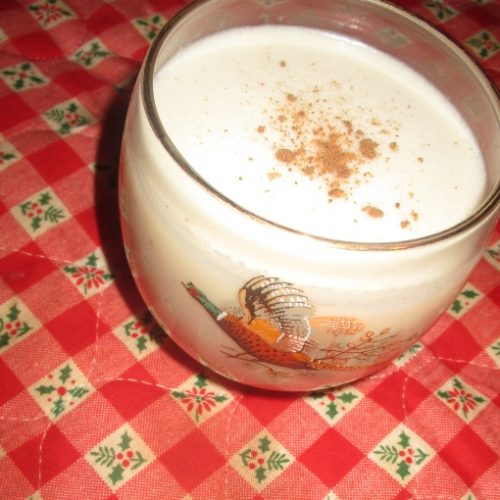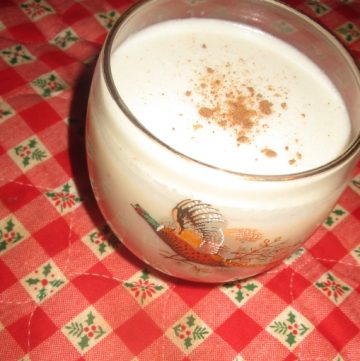 21 Day Fix: Non-dairy, Egg-free Holiday Nog
Serve this non-dairy, egg-free nog flavored drink either warm or cold. Just right for the holidays.
Ingredients
⅓

cup

coconut cream

1-2

teaspoons

maple syrup, to taste

1

cup

unsweetened vanilla almond milk

¼

teaspoon

freshly grated nutmeg and a sprinkle for the top

(fresh really makes a difference)

⅛

teaspoon

pumpkin pie spice or ground cloves
Instructions
Add all ingredients to a jar with a lid. Shake well. Pour in a cup and warm in the microwave to the desired temperature or chill for 1 hour and serve cold.
Ultimate Portion Fix/21 Day Fix Container Counts: 1B, 1teaspoon oil, 1-2teaspoons sweetener
I have some fun party recipes right HERE!!
Find some more tailgating style recipes here 🙂