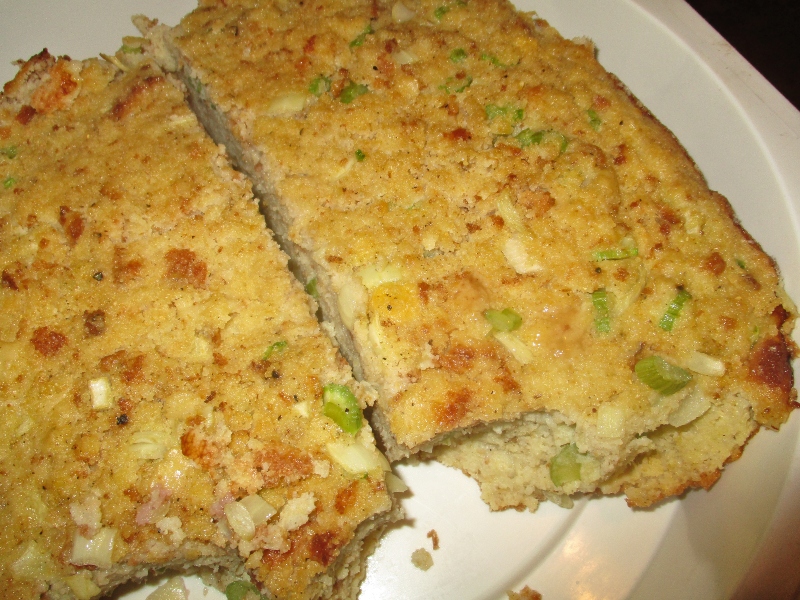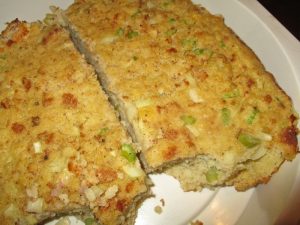 Cornbread dressing is a Southern dish that is served with chicken or turkey. Other parts of the country make "stuffing" but here in Tennessee, it is dressing. Chicken and dressing or Turkey and dressing…all cornbread dressing. This recipe is going to make a 9 X 13 casserole dish full so there is plenty for a family gathering. It freezes wonderfully too!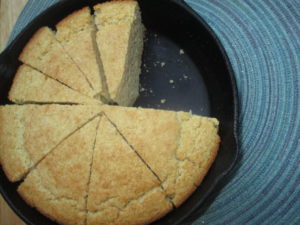 Cornbread dressing starts with the bread! 
I have a recipe for a good old country cornbread made with clean ingredients. It has container counts with it! It makes 8 servings of 1Y and 2 oil teaspoons.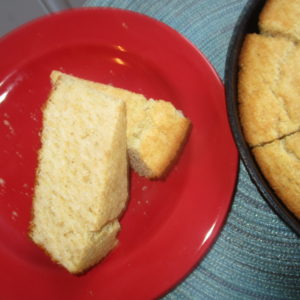 Ultimate Portion Fix/21 Day Fix: Southern Style Cornbread
4 simple ingredients, a hot oven and 30 minutes will give you a crispy pan of cornbread fit for a Southern table!
Ingredients
1¾

cups

self-rising cornmeal

1

large

egg

1¼

cups

2% milk

¼

cup

light tasting olive oil
Instructions
Preheat oven to 450°

Place the castiron skillet in the oven while it is preheating.

Mix all the ingredients in a bowl and mix well.

Take the skillet out of the oven and spray lightly with olive oil spray.

Add mixture to hot skillet and put back in the oven.

Bake for 25-30 minutes or until the top is golden brown.
Hushpuppy Cornbread
Add 1/4 cup chopped onion and 1/4 teaspoon cracked black pepper for "hushpuppy" flavored cornbread. Cook as directed.


Jalapeno Cornbread
Add 1/4 cup fresh jalapeno to the mix for a "hot" version. Cook as directed.


Ultimate Portion Fix/21 Day Fix Container Counts
Notes
You can make these into 8 large muffins-cook for 13-15 minutes (1 per serving), 16 medium muffins-cook for 11-13 minutes (2 per serving) or 24 mini muffins cook for 10-12 minutes (3 per serving). 
I always cook my cornbread ahead of time so that it has time to completely cool. Crumbling it up is easier when it is stone cold. I can cook it early in the week and just put it in the fridge till the day I need it. 
What are the rest of the ingredients?
Toasted bread, onions, celery, eggs, broth, seasonings, and butter. All approved! 
I also toast my whole wheat bread in my toaster too. It needs to be cold and dried out entirely like the cornbread is. I use 1-2 Yellow containers worth of bread. The brand I have right now is 3 slices for 1Y. I have some information in HERE about how to pick an approved bread.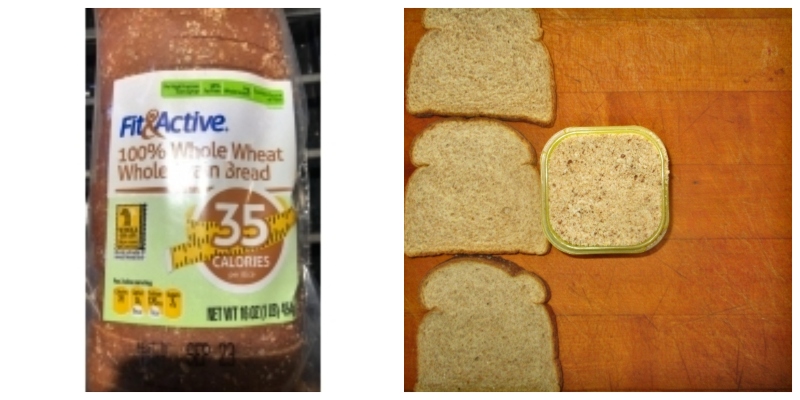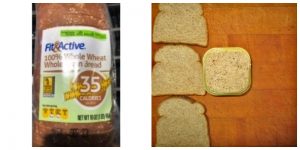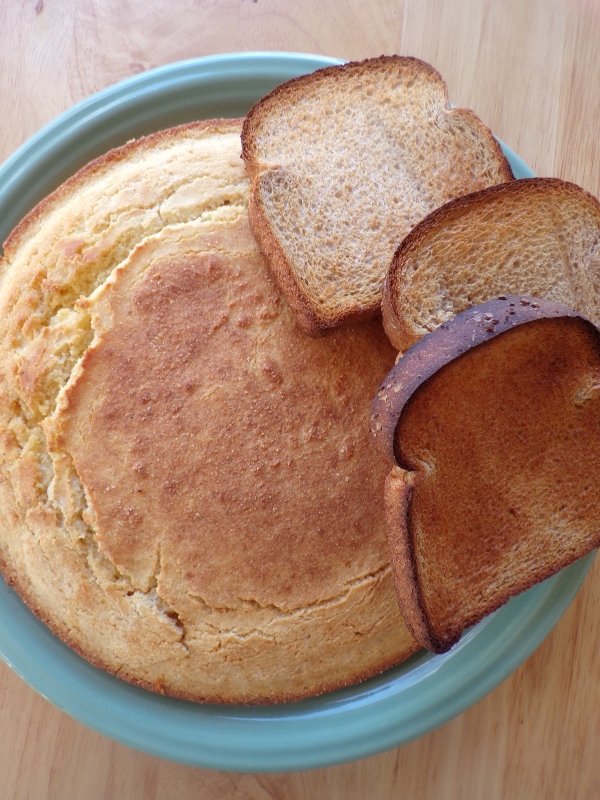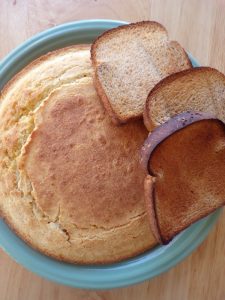 In a large bowl crumble the cornbread and toast into small pieces set aside. You want to leave it in small chunks so that the dressing has some texture to it.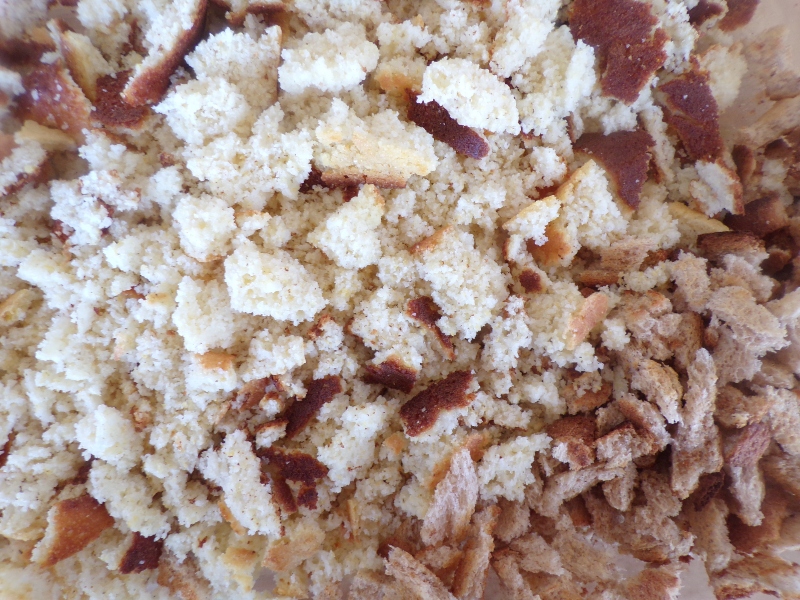 Preheat your oven to 350 degrees. Prepare a 9 X 13 casserole dish with a light spray of olive oil spray.
Dice celery and onion into the same sizes. Right here I do a calorie saving step… I add my onions and celery to a small bowl, add a couple of tablespoons of water, and cover it. Microwaving it for just a couple of minutes till soft. I don't have to use any of my oil teaspoons for this step and can keep them for later in the recipe.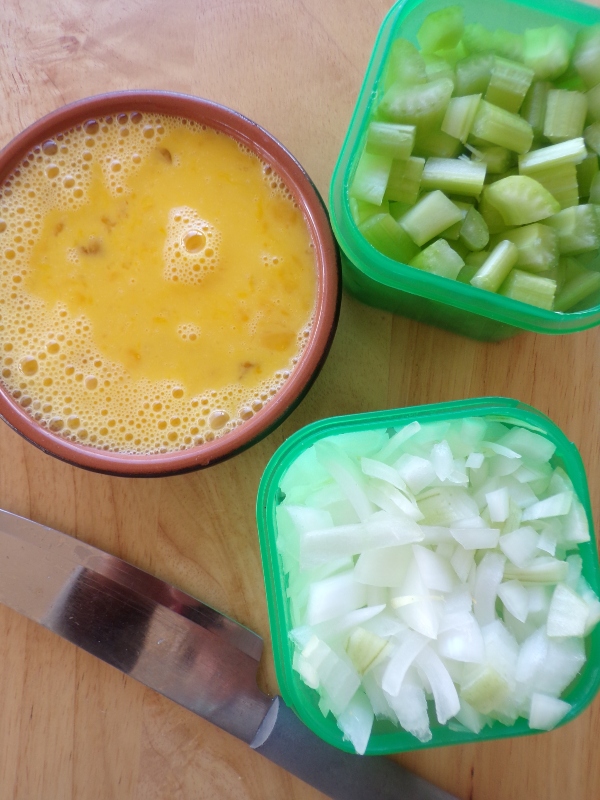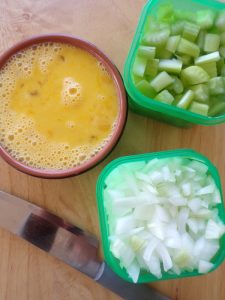 Eggs are what help this dressing to rise. Whisk eggs and add to the cornbread bowl. Stir in 2 cups of cold/room temperature chicken broth. I never use warm broth because it can start to cook my eggs.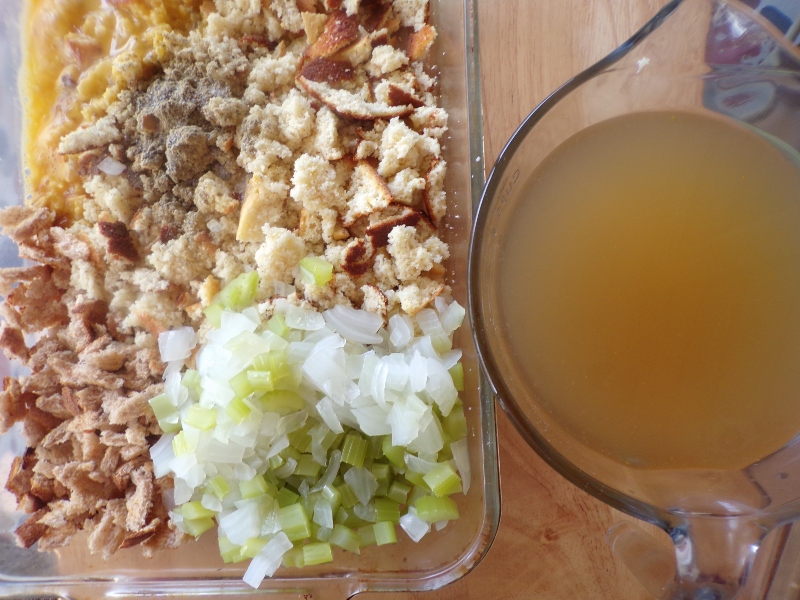 Add seasonings to the bread bowl then add onion mixture and give it a big stir. The mixture should be very soupy so you might have to add more broth if necessary.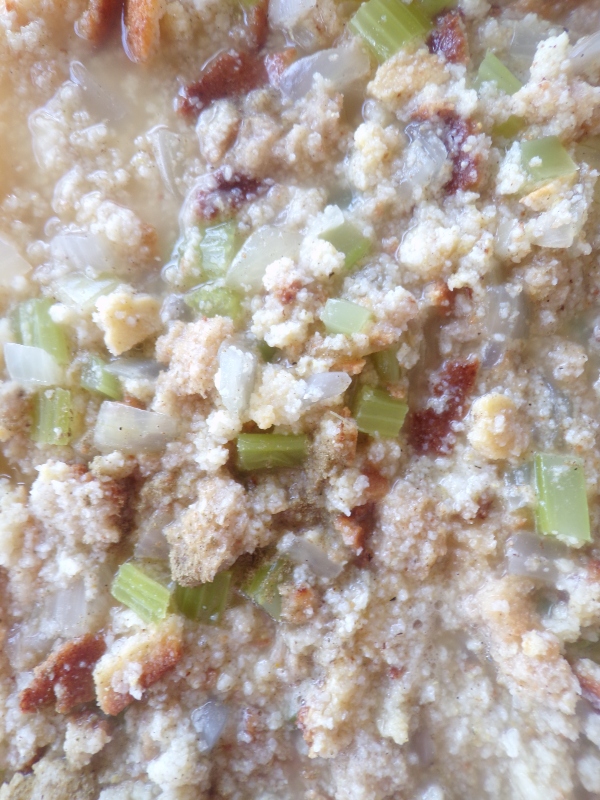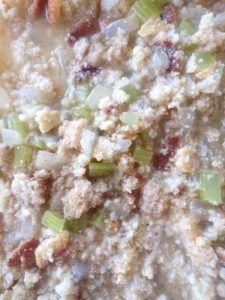 Cooking the dressing
Bake at 350 degrees for 45-60 minutes, or until it is set firmly and it turns light brown on top. You can do the "stick a knife in the center and if it comes out clean it is done" trick to double-check it.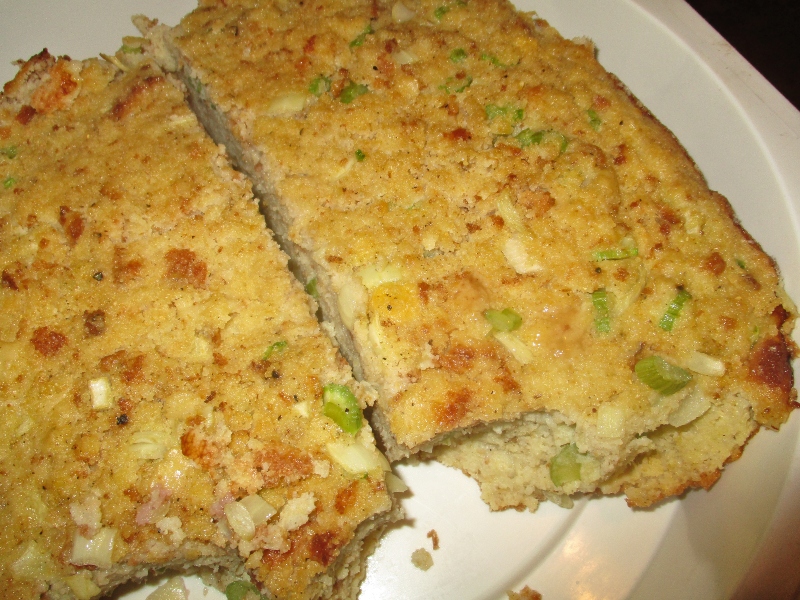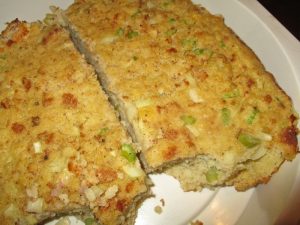 The serving size is 1/9th of the pan. I just cut a tic-tac-toe pattern in the pan and 1 WHOLE square is 1 serving!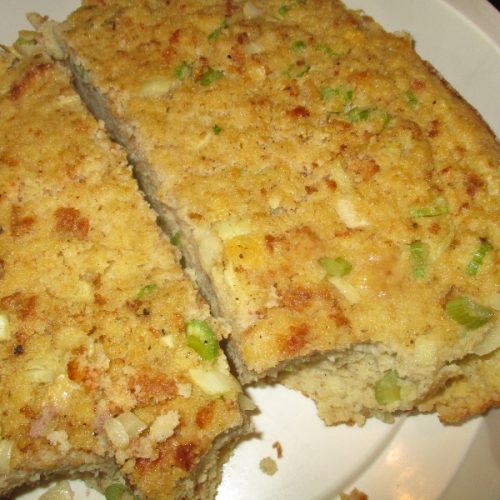 [21 Day Fix} Cornbread Dressing
In the South cornbread dressing is served with chicken or turkey. Other parts of the country have a bread "stuffing" but we love our dressing.
Ingredients
1

recipe

cornbread, cold and crumbled

2-3

slices

toasted whole wheat bread, cold and crumbled

¾

cup

celery, diced

¾

cup

onion, diced

4

large

eggs, beaten

3

tablespoons

+ 1 teaspoons butter, melted

1

teaspoon

rubbed sage

1

tablespoon

poultry seasoning

½

teaspoon

salt and pepper

½

teaspoon

sugar

3-4

cups

cold chicken broth, homemade or low-sodium

2

tablespoons

+ 2teaspoons butter, cut into slivers
Instructions
Preheat oven to 350° Spray a 9x13 casserole dish with olive oil.

In a large bowl crumble the cornbread and toast into small pieces set aside.

Cook celery, onion, and 2 tablespoons water in a covered microwavable bowl. Add to the bread bowl.

Add all the rest of the ingredients. Start with 3 cups of broth and use more to make sure it is really wet. You want to see it "puddle" in places across the top of the mixture.

Pour mix into the greased casserole dish.

Scatter cut-up cold butter across the top of the pan.

Bake for 45-60 minutes or until golden and set firm.
21 Day Fix/Ultimate Portion Fix Container Counts for 1/9th of pan:
1Y, ⅓R, 2 oil teaspoon--not enough G to count
What do I serve with it?
Since we make dressing for cool weather holidays it is often served with a full-out turkey meal. But if we roast a chicken on a Sunday then it can be served with it. It is also common to add diced cooked chicken to the uncooked dressing. That is when we call it "chicken and dressing".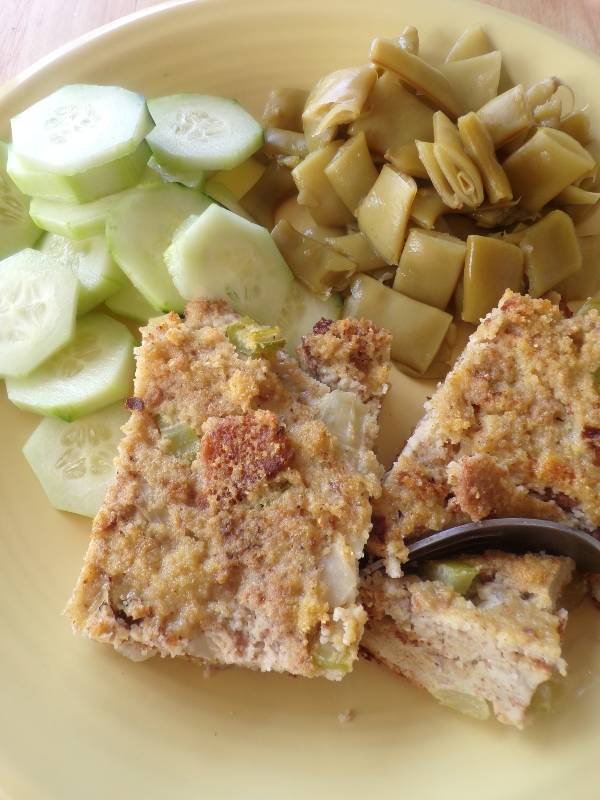 Here are a few turkey and chicken recipe options that would be perfect for this! A Slow-Cooker Turkey Breast with 2 different sauce options. An Instant Pot recipe for Turkey Breast and Potatoes. This Spice-Rubbed Whole Chicken might be just what you need! 
It is often served with cranberry sauce added right on top of it… or maybe it is just mine that is piled on top of. There is a wonderful Fix approved recipe
HERE
.  I love a good coleslaw as a salad option too! I have a great mayonnaise-based one that is a fan favorite! Coleslaw recipe
HERE
.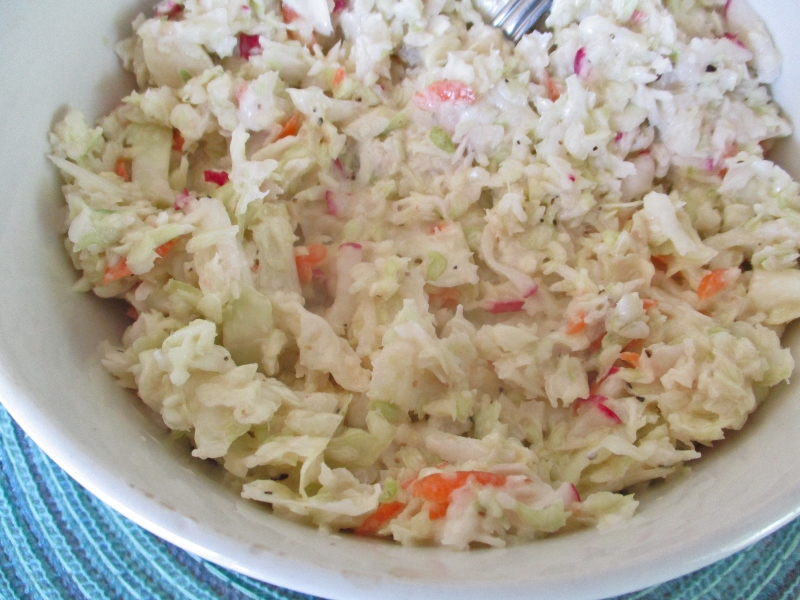 An old-fashioned Three Bean Salad adds some vinegar tartness to the plate as a great compliment! It uses canned beans that can be found in almost any pantry. It is an excellent alternative to that fat-filled green bean casserole that shows up around the holidays too Find the recipe
HERE
.