Ever heard of Hasselback Chicken?? Hasselback Potatoes? If not, you are not alone.
So let me try to explain what Hasselback Chicken is by explaining what Hasselback potatoes are…
Hasselback potatoes are a type of baked potato, where the potatoes are cut about 2/3 through into thin slices and toppings can be added into the slices and/or on top of the potatoes.
Hasselback potatoes were created in 1953 at the restaurant Hasselbacken in Stockholm Sweden.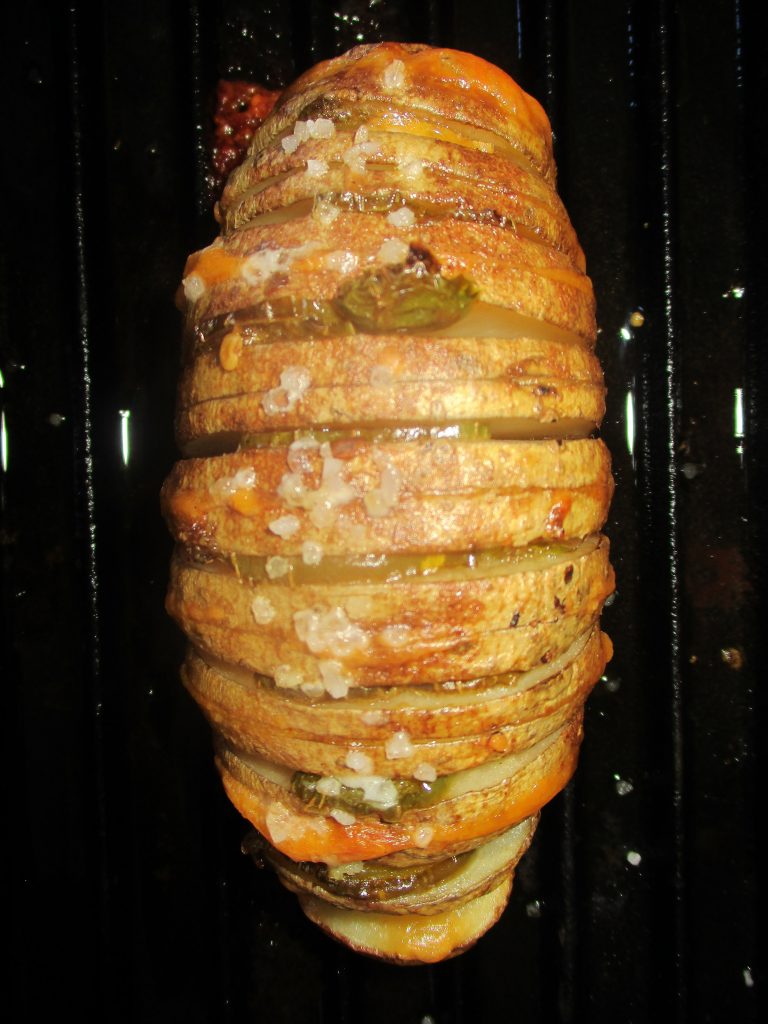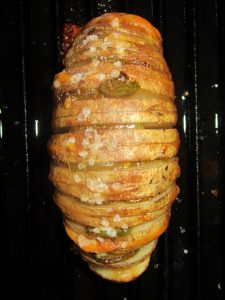 I have fixed them a number of times down through the years. Fixing them for company is fun because they look a little bit fancier than a regular baked potato.
I have a couple of versions of Hasselback potatoes in mind for a future post. When I was searching out ideas for them I happened on a mention of Hasselback Chicken. That same slicing of chicken breasts part of the way thru and then stuffing different ingredients into the slices.
OH MY at the possibilities…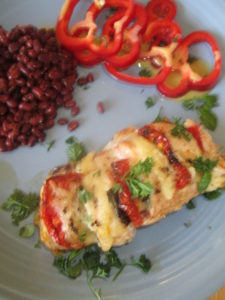 Right here are the end of the summer I have plenty of tomatoes to find something to do with and the last remnants of basil out of my herb garden so I thought a Caprese flavored one sounded pretty good. Mozzarella cheese and a little pesto really did bring those flavors to the table.
Your technique is important
Slicing through the chicken just part of the way is important otherwise you have chicken medallions and not  Hasselback. I generally use skinless split chicken breasts and so there is the rib cage to keep me from cutting all the way thru. If you are using boneless chicken breasts you have to be extra careful but I usually lay 2 knives or chopsticks on each side of the breast and they keep me from going all the way through to the cutting board.
I knew my tomatoes were going to cook down a little so I didn't mind that they stood taller than my chicken. The juice from them kept the chicken nice and moist. It also helped to cook the basil that I had tucked in beside them.
Some mozzarella shredded and stacked on the bare chicken and some salt and pepper rounded out my ingredients. If I don't have any fresh basil on hand, I will put a dab of pesto beside the tomatoes. Sometimes I just go crazy and have some pesto WITH the basil too 🙂 )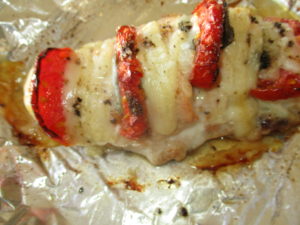 Don't you just love the char the edges of my tomatoes got on them?
I added some simple air fryer instructions. I use a NuWave oven for mine!
Ultimate Portion Fix/21 Day Fix: Caprese Hasselback Chicken
A sliced chicken breast stuffed with goodness!
Ingredients
4

chicken breasts, skinless

16

slices

tomatoes, small

20

leaves

basil, 16 leaves torn in half and a few leaves chopped to garnish with. ** see note

4

teaspoons

olive oil

2/3

cup

mozzarella cheese, shredded

salt and pepper to taste

olive oil spray
Instructions
Preheat oven to 350°. Line a baking dish with aluminum foil and spray with cooking spray.

Cut 4 equally spaced slits ¾ way down through chicken. Add 1 slice of tomato to each slit. Place a ½ basil leaf on either side of the tomato. (see picture)

Drizzle with olive oil. Salt & pepper each breast.

Add shredded mozzarella to the "bare" chicken. (see picture)

Bake for 30 minutes or till chicken breast is done.
Ultimate Portion Fix/21 Day Fix Container Counts- 1R ½G ½B 1teaspoon
AIR FRYER INSTRUCTIONS:
Place chicken breasts in a preheated air fryer for about 20 minutes or until done and browned.
Notes
**If no fresh basil is available, 1 teaspoon basil pesto per breast can be used in its place. I count it as my 1 oil teaspoon and leave the olive oil out of the recipe. 
What can you serve with your chicken?
I love a great fresh veggie salad or just a single veggie like my red bell pepper rounds. The citrus maple mustard dressing I like is this one. The fresh flavors just POP!
Here is a great brown rice and quinoa recipe that goes great with it.
I have a few different recipes for this type of chicken coming ahead!! I can't wait to start testing them out!!