Super Bowl? ANY Bowl????? Need some Game Day food?? I can hook you up!
Being on a diet or eating healthy in general does not have to mean that you have to sacrifice fun-food and flavor!! I have lost 55lbs by eating things like tacos, burgers, chili, spaghetti …….. real food, just "fixed"!
Hubby, Jeff and I don't go anywhere for the "big" game. We just sit home and eat and drink watch commercials and the 1/2 time show. Then eat and drink some more! The best part? We do NOT have to drive home when it's over!!!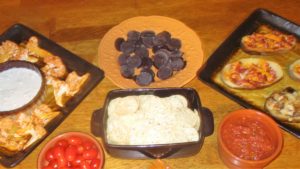 What kind of Game Day food am I making this year?
A big steaming bowl of chili is the main dish for sure!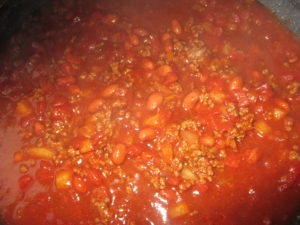 But that is an OLD recipe!  Let's move on to a NEW set of party recipes!
I like to serve a table full of fun appetizer foods. Nibbling all afternoon on goodies is always FUN 🙂
Baked Potato Skins for a win!!
I am going to make 2 versions of them. They are easy to make ahead and then just pop in the oven when you are ready to serve them hot.
Simple enough ingredients baked potatoes, bacon, cheese, onions for 1 version.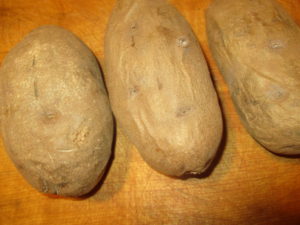 I made basic baked potatoes. 1 hour in a 350-degree oven will do a medium-sized potato. I really like to bake mine the day before and let them cool off and put them in the fridge overnight. This makes them easier to handle, but it "toughens" the skin so that scooping out the inside of the potato has less of a chance breaking through the skin.
I started figuring out the container counts next.
In the name of science, I baked a few extra potatoes so that I could take the scooped out shell and measure them in my Portion Control yellow container.
I cut a couple of the scooped out halves cut them in half. Then I managed to get 3 of those halves in 1Y.  That lets me know what my serving size can be 1 1/2 halves of these for 1Y.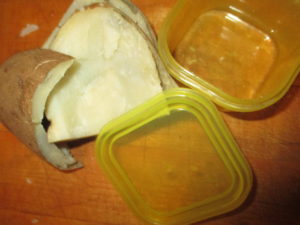 I am not really going to try to write a recipe card for these. You could make ANY type of filling you can think of and as long as you"count" your containers for those ingredients it would be approved!
I made a mixture of  2/3 cups of shredded cheddar cheese, partially cooked turkey bacon slices. Then I chopped up and a few tablespoons of onion, salt, and pepper mixed in. I just divided the mixture between the 3 potato halves I was making of this flavor. Added some butter over the top and baked.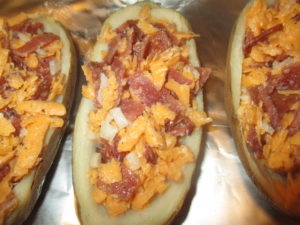 I had another flavor in my mind too…mushroom and swiss!! I sautéed 1 cup of mushrooms with a bit of olive oil until they shrunk by about half. To that, I added 3 tablespoons of shredded swiss cheese with it and stuffed it into my last potato half.
Cooking them
Baked all of them in a 350o oven for about 15 min. or until all melty looking.
In my NuWave Oven, they take about 12 mins. But I can see inside of it so I just take them out when they get the color I love!
I wanted the ability to only eat a 1/2  of  1 potato skin so that I could mix and match them at a time so that is what I counted as a serving size…..my container counts are 1/2 of 1 skin as 1/3Y 1/3B 1/3R  for the cheese and bacon one.
Counts are 1/2 potato as 1/3Y 1/3B 1/2G for the mushroom swiss version. Like I said 3 halves for 1Y is my most important count!
What can you serve with them?
You could top them with some Greek yogurt used as sour cream or add hot sauce or a Fix approved ranch dressing to dip them in. I have a mayo-based Ranch Dip.
My blogging friend Stephanie, has a really good ranch dressing that counts as a red container right here
Make sure to "count" anything you add to them.
Speaking of DIPS?!? They are perfect for any game day!
My other blogging buddy Nancylynn has a really good Enchilada Beef Dip here
An old fashioned 7 Layer Party Dip is always a hit!! Recipe HERE.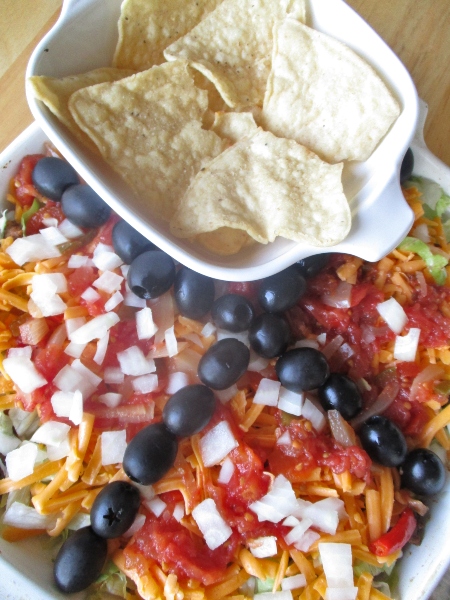 This "crack chicken" dip is a perfect game day food! Recipe HERE.
Any of those would make a fantastic addition to your table!
Now back to the game day food table…..LOL
I love me some Buffalo Chicken Wings….. and the healthy Buffalo Dip above can go a long way toward that craving. But I have fallen in love with some simple Buffalo Cauliflower Bites. I recently found cauliflower for 98 cents a head and wanted to try as many new recipes as I could in a 72 hour period LOL! So I created a basic recipe with some blue cheese dip to go with them!
For the Cauliflower Bites, you only need 4 simple ingredients. Cauliflower, butter (I use butter flavor coconut oil), hot sauce, and sea salt.
So I measured 4 cups of cauliflower florets, 4 teaspoons of melted butter, 4 tablespoons of hot sauce and a sprinkle of sea salt into a large bowl and kept stirring it around and around with a rubber spatula until all of the liquid stuck to the flowers. I turned it all out on a cookie sheet lined with parchment paper sprayed with olive oil spray. Cook them for 10 minutes at 400 degrees then turn over and cook for another 10 minutes or till starting to brown.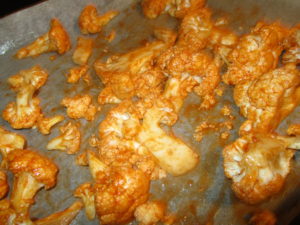 I measure my Green container and count it as 1G and 1teaspoon.
On to the blue cheese dip.
Again I wanted something simple.
One blue container or 1/3 cup of blue cheese with 1/4 cup almond milk added to it. Pulsed it my Nutri Bullet till creamy. Then, I poured 1 more Blue or 1/3cup of blue cheese into it so it would be "chunky". I measure it in my orange container like I would any salad dressing.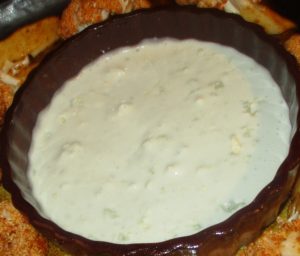 Buffalo Cauliflower Bites w/ Blue Cheese dip
Spicy bites with a tangy sauce for real game day taste!
Ingredients
4

cups

cauliflower florets

4

teaspoons

melted butter

4

tablespoons

Tabasco Sauce

1

tsp

coarse sea salt

olive oil spray
Blue Cheese Dip
⅔

cup

blue cheese crumbles, divided into two ⅓ cup measures

¼

cup

almond milk
Instructions
Put all the ingredients into a large bowl. Stir until all of the liquid is stuck to the flowers.


Place it on a cookie sheet lined with parchment paper sprayed with olive oil spray.

Cook them for 10 minutes at 400 degrees then turn over and cook for another 10 minutes or till starting to brown. 

Blue Cheese Dip
Mix ⅓ cup blue cheese and almond milk in a blender. Blend till smooth. Pour into a bowl and add the other ⅓ cup of cheese. Stir.
21 Day Fix/ Ultimate Portion Fix Container Counts: 1 cup of broccoli = 1G, 1 oil spoon 1/2 the dressing = 1B
I rounded my game day food table out with some simple finger foods too. Olives, salsa and chips, nuts, cherry tomatoes. We don't do very many sweets when we are drinking but I did make some Banana Ice Cream Bonbons from Nancylynn's blog again!
Here is to hoping that your team does whatever it needs to do!!
I am OFF to plan a winter trip to our wine country for an event one of the wineries does, called Gumbo Sunday!
** UPDATE** Gumbo!! 21 Day Fix approved!