Spicy Buffalo Chicken anything gets my attention. So when meatball sliders entered my mind for Super Bowl eats around here, Spicy Buffalo Chicken Meatballs sounded perfect!
There only a couple of recipes using ground chicken or ground turkey that I like. I think I finally figured out why. It is a texture thing. I do not like it scrambled. Like you would do for chilis or sauces. But I don't mind if it stays "bigger", like meatballs, burgers, or meatloaves. This burger is my favorite turkey burger ever.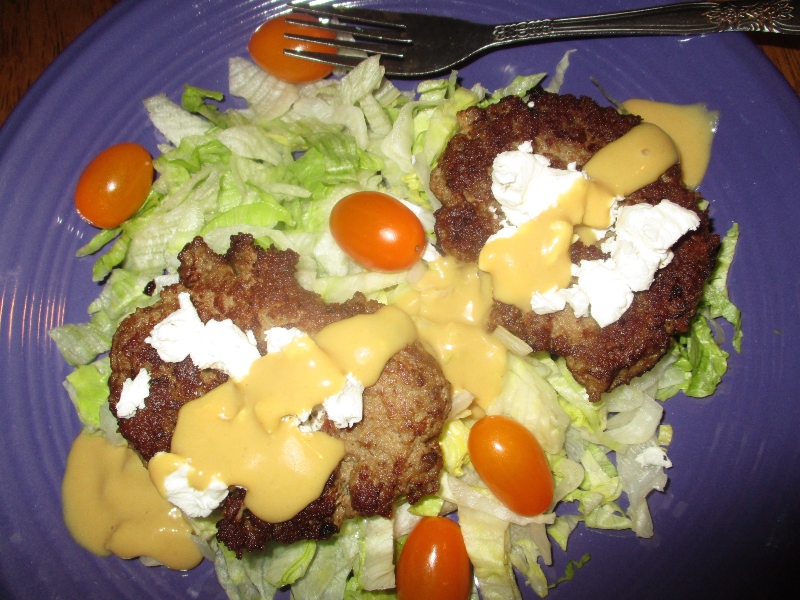 What is different about these Spicy Buffalo Chicken Meatballs?
There are a million recipes out there for meatballs and most of them have a million ingredients! I have found with ground chicken/turkey that you don't have to have any kind of a binder. Often I only use salt, pepper, garlic powder, and ground meat for my spaghetti and meatballs recipe. I give a quick stir of the spices with a fork, then I dip the ball out with a teaspoon and just barely touch it enough to make it round. By not overworking the meat by rolling it around and around you are keeping it a nice light texture. Ground beef can usually stand up to the old "roll them tight" method but ground poultry with just get mushy.
Keeping with the simple approach, I made these with only 2 ingredients. Ground chicken/turkey and Frank's RedHot Sauce. Because how can you have buffalo anything without Frank's!!??!!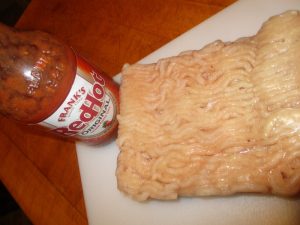 Put them in a 350-degree oven for about 25-30 minutes and they will be ready.  I have also tested them in my air fryer and they took anywhere from 7-10 minutes depending on the size I made them. Giving you time to stir together a bleu cheese dressing to serve with them. I have a recipe that goes with my Buffalo Cauliflower Bites in this post.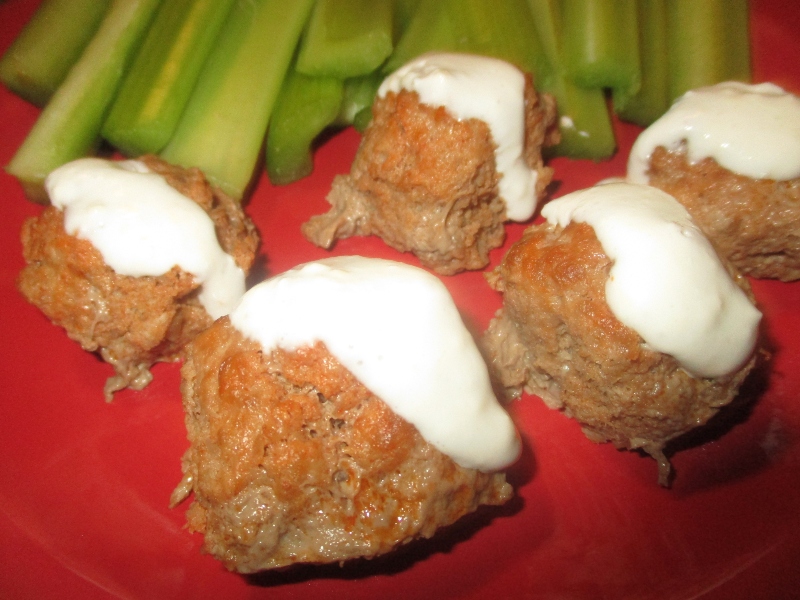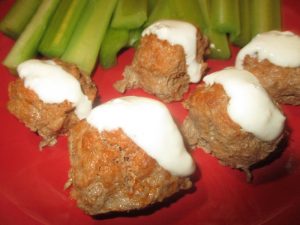 You can really see the RED from the Frank's RedHot Sauce. You can adjust the amount of heat a little bit if you want to. Use a small amount, 1 teaspoon, for mild heat. But you can't add as MUCH as you want to because the meat would be too wet to form balls if you use too much. I advise no more than 1 1/2 tablespoons at the most. You can always serve them along with the hot sauce in case someone wants to "heat them up" even more!
How else can you serve these little meatballs?
I have been on a slider "kick" lately. There are instructions in this post about my French Onion Sliders about how to make whole wheat slider buns.  3 slider buns for 1 yellow container and the meatballs would count for 1/2 of a red container gives me room for 6 sliders if my appetite is big enough! Of course, I have to count anything I serve them with, I put chunks of bleu cheese with these and served a little bleu cheese dressing to dab on them into also. Add the traditional celery sticks to the plate and you have quite a big Game Day plate going!!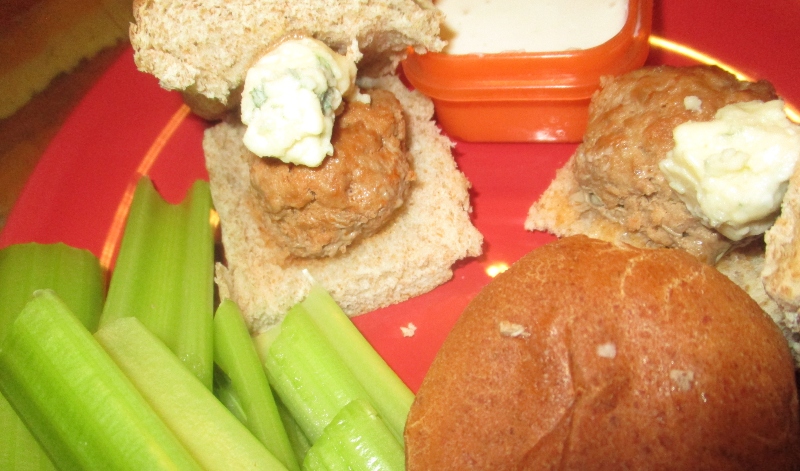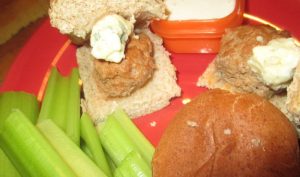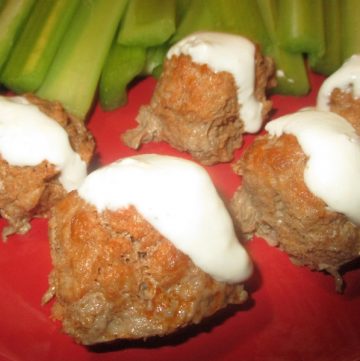 Spicy Buffalo Chicken Meatballs
These spicy little meatballs are perfect as an appetizer or tucked into a slider bun!
Ingredients
1

pound

ground chicken or ground turkey

1

tablespoon

Frank's RedHot Sauce, original

, or to taste
Instructions
Lightly mix ingredients. Use a spoon to get the size meatball you want. I make mine about a Tablespoon size. Lightly smooth it into a rounded ball.

Bake on a cookie sheet sprayed lightly with olive oil spray or on parchment paper. Bake 25-30 minutes depending on the size meatball you make.
21 Day Fix/ Ultimate Portion FixContainer Counts
1R for as many as you can fit in your red container. I average 6 small ones.
Notes
I toss my little meatball from hand to hand when I am making them round, just barely touching them.
You can make these in your air fryier. Place in single layer and bake 7-10 minutes or until firm.
I hope you enjoy them as much as I do!!