We eat corn on the cob all summer long. Our farmer's market starts filling with beautiful golden tasseled ears pretty early around here.  I like a simple butter, salt, and peppered piece of corn like the next person but I like to change things up a little now and then too! SO I decided to make a Corn on the Cob 5  Different Ways post to share a few ways I like it. 
Corn on the Cob and the 21 Day Fix
Corn on the cob is listed on the 21 Day Fix on the Yellow list and simply says "corn on the cob, 1 ear". We do use low sodium canned corn or frozen corn kernels and measure them in our yellow container with the lid on. So when I dug into just how big "1 ear" would have to be to fill it up.
I started with the little average packed corn from the grocery store because I know not everyone has a farmers market to shop at. This is the pack where they clip off both ends and expose a few rows of kernels.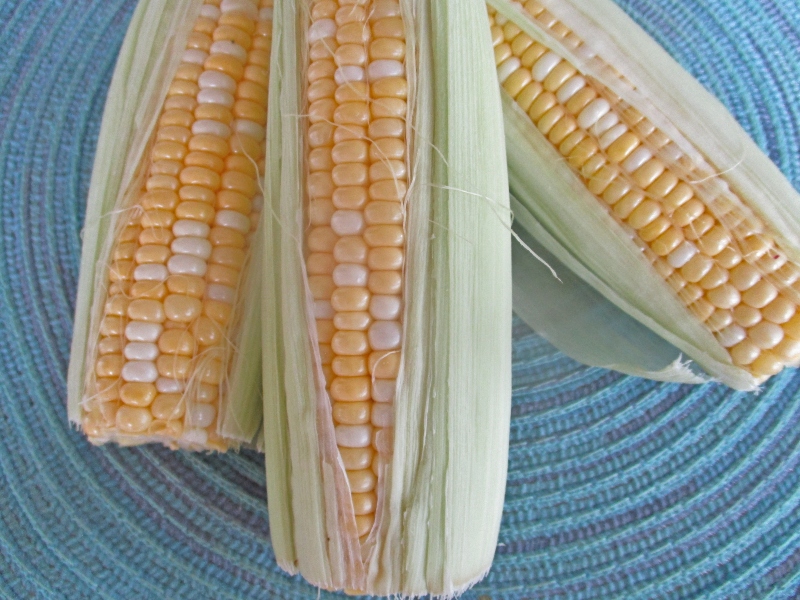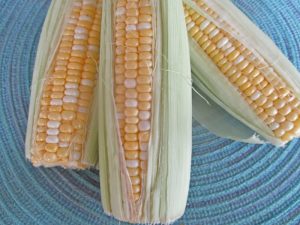 I finished shucking an ear and cut the kernels off the cob. Filled that yellow up with it and realized I could probably fit another 1/2 a cob in there! (and if I was extra hungry I would).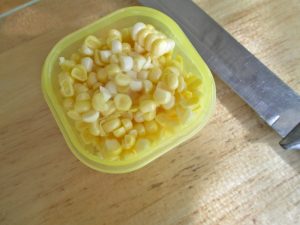 But I decided if I was going to go literally by "1 ear" from the list that close was close enough. I DO try to pick a large piece of corn when I am shopping at the farmers market tho!
Cooking the Corn 
Before we can "dress" corn on the cob 5 ways, we have to cook the corn. There are many ways to accomplish that so I am not going to try to cover ALL the methods, just my 3 favorite ones.
Method #1
One way I like to cook it is in the microwave. I put it in a glass with a lid or saran wrap and a few tablespoons of water. Then microwave it on high for 4-6 minutes. The "average" ears about 4 minutes and the larger ones about 6 minutes. Starting with room temperature corn is important because corn straight from the fridge won't get hot enough to "cook" the corn is kind of keeps a raw taste.   Room temperature will determine how fast it cooks too.  Be careful opening the lid cuz steam will come rushing out on your fingers!
You can use the ears of corn that you can buy in the frozen section of the grocery store too. Just follow the directions on the package and I count 2 of those as 1Y so it makes it easy for me to split a yellow in half like that. 
Method #2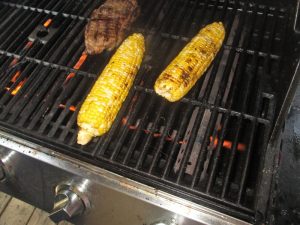 Summer is grilling season around here too so my #1 favorite way to eat corn on the cob is grilled. A quick light spray of olive oil on room temperature cobs and keep turning it on the grill till it gets the color you like. (see how BIG those ears are?!?!) I can't give you a 100% time to grill it. Your grill might get hotter than mine. We average 15-20 minutes usually.  I like to turn grilled corn into my corn salad recipe for an extra layer of flavor. Just a few fresh ingredients mixed well. The recipe is right here!
I stay away from boiling corn because it strips the flavor out of the ears and straight into the water!
Method #3
My Instant Pot!  Add 1 cup of water to the Instant Pot, place a trivet in the Instant Pot. Then place 4 ears of corn on the cob on the trivet. Close the lid and pressure for 1 – 2 minutes then quick release. Open the lid carefully.                      
Let's Top Corn on the Cob 5 Different Ways!
You can use any of the "topping" ideas, no matter how you cook the corn. The 21 Day Fix counts will always contain 1Yellow or 1/2Yellow for the corn. However, you have to count any toppings if they fit a container.         
#1- SALTY MAPLE BUTTER – Butter, maple syrup, maple extract, and sea salt. Sweet and salty goodness. I use as many teaspoons of butter as my containers will allow.  Same with the maple syrup. I like to add a drop or two of maple extract per teaspoon of syrup to amp up the maple flavor a little. Use the coarse sea salt to taste. 
The corn pictured counts as 1 yellow of corn, 1 oil teaspoon of butter, 1 sweetener teaspoon of maple syrup.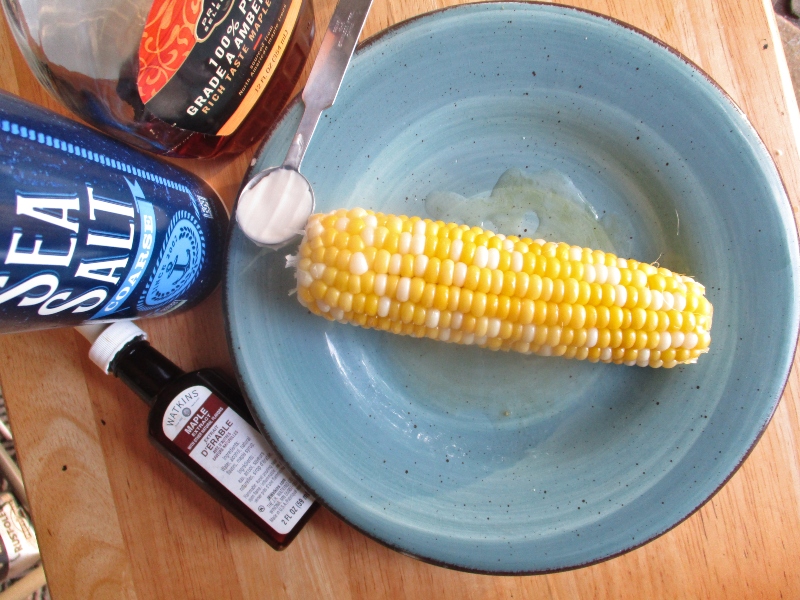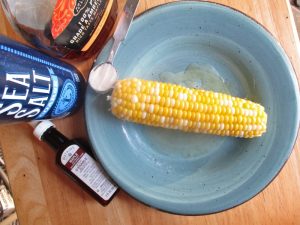 #2- GARLIC, BLACK PEPPER & PARMESAN CHEESE – Garlic powder, salt, cracked black pepper, parmesan cheese, with butter, or olive oil.  I mix the spices to "taste" with a tablespoon of powder/grated parmesan cheese and sprinkle it over the buttered ear. 
The corn pictured counts as 1 yellow of corn, 1 Tablespoon or 1/5th blue of parmesan cheese, 2 oil teaspoons of butter.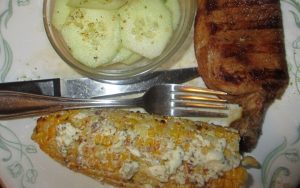 #3-BLEU CHEESE & HOT SAUCE- Butter, bleu cheese crumbles and Frank's Red Hot Sauce. These 3 simple ingredients remind me of wings! I like to serve this one with BBQ chicken and add some extra hot sauce and bleu cheese to it.  I like to use Frank's Red Hot Sauce, but your favorite one would work too. The cheese and hot sauce have plenty of salt in them so I  don't salt this one. I really like these flavors and have a little meatball recipe that uses them too. The recipe is here. 
The corn pictured counts as 1 yellow for the corn, 1 tablespoon or 1/5 Blue container of bleu cheese, 1 oil teaspoon of butter, and 2 teaspoons of hot sauce (free).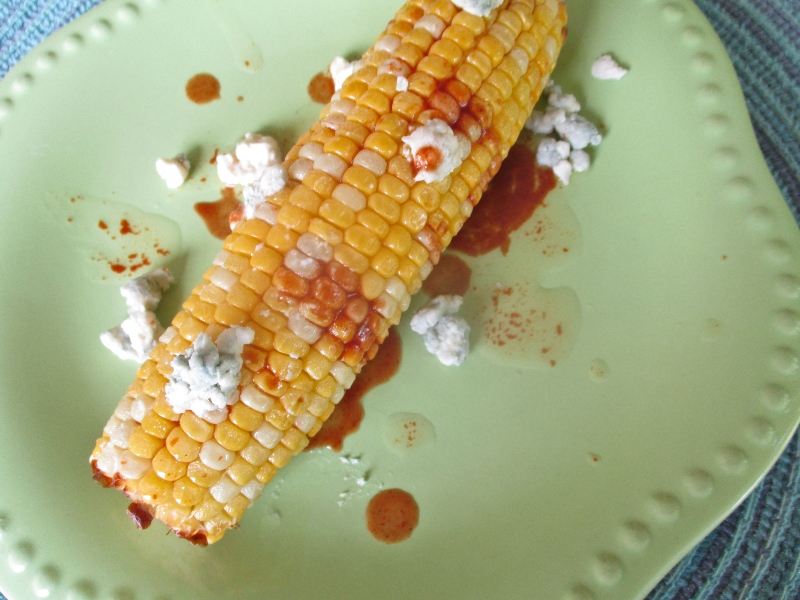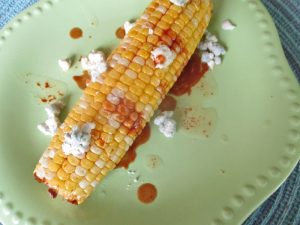 #4- CHILI POWDER AND CUMIN- Butter, sea salt, cracked black pepper, chili powder, and cumin. The southwest flavors of these ingredients go great with other Mexican foods. Unlike Mexican street corn, this one doesn't cheese to have to count. (Check this recipe out for a Mexican Street Corn Salad)  Mix all the spices together and sprinkle liberally over hot buttered corn. Simple as that. 
The corn in this picture counts as 1 Yellow of corn, and 2 oil teaspoons of butter.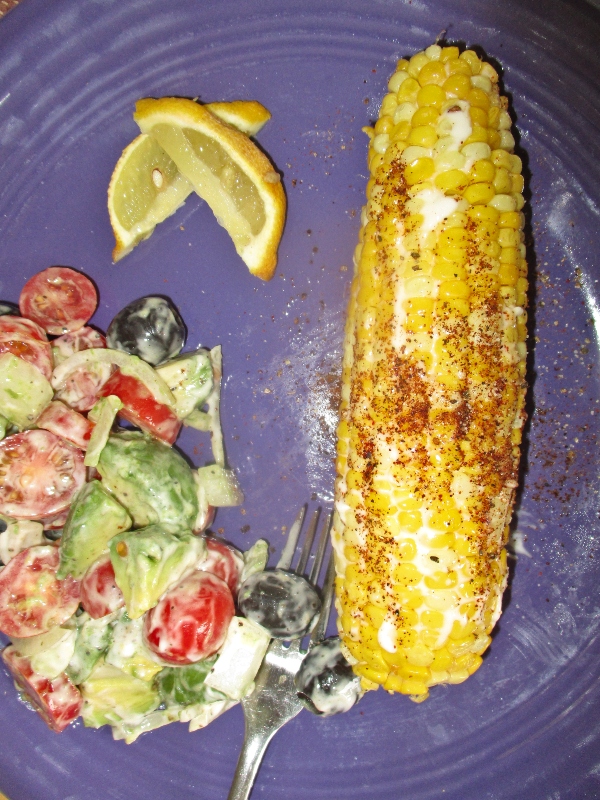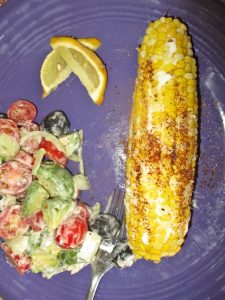 #5- PESTO PARMESAN- Just jarred or homemade pesto and shredded parmesan cheese. The pesto is counted as an oil teaspoon and takes the place of normal butter. I use shredded parmesan instead of the powder/ grated kind because I wanted a little more texture.
The corn in this picture is 1 Y for the corn, 1 oil teaspoon pesto, 1 Tablespoon, or 1/5  blue container of shredded parmesan cheese.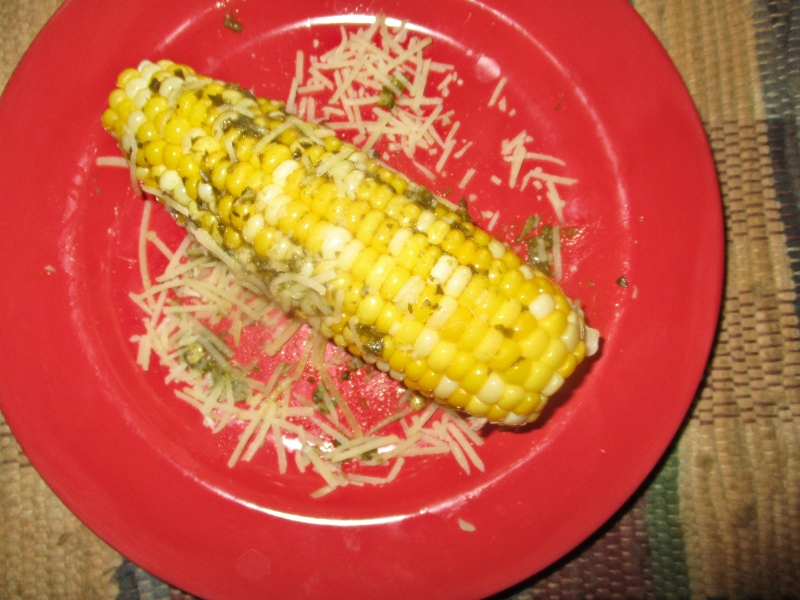 There you have it… Corn on the cob, 5 different ways. I know I will be trying other ways so I will be sure to update this post when I find a great one! 
Please make sure to let me know of any flavorful toppings you enjoy!!!