For me, coffee is LIFE!  That makes the Coffee Bar section of the 21 Day Fix food list important to me too. Sometimes something as simple as how you drink your coffee can change your results, for the good or bad!
Our lists are centered around clean, whole natural ingredients and the coffee bar section is no exception to that. We have some basic information on the food list, there is some "grey area" we can examine closer.
It is the "Coffee Bar Section" on the food lists, but teas are also included.
Let's examine exactly what the coffee bar section says.
Unlimited cinnamon, lemon,
pumpkin spice, and nutmeg
In moderation (max 2x a day):
~1-2 T 1-2% milk
~1-2 T unsweetened non-dairy milk (almond, coconut, soy, etc.)
and~1-2 tsp sugar, honey, molasses, agave syrup
2-5 drops of liquid stevia or 1/2 packet of powdered. (Make sure that stevia is the ONLY ingredient because some of them have artificial sweeteners added to them.)
Up to 4 Tablespoons of milk/clean creamer is free. We can use our containers to use milk for the rest of the day. Most dairy creamers have heavy cream and too much sugar in them, but plant-based ones are usually much cleaner.
And up to 4 teaspoons of sweetener is the max for a whole day. These sweetener teaspoons are totally optional to use or not.
** NOTE: The old 21 Day Fix book/program listed "raw sugar" in the coffee bar section. The new Ultimate Portion Fix just lists "sugar" now. Sugar. Plain white sugar.
IF you choose not to use your 4 sweetener teaspoons in coffee or tea, then you can use them at other times of the day. For example to sweeten some ricotta cheese and eat with fruit, like this one with strawberries.
Are there other things on our food lists that can be used in coffee?
Yes. You can use canned coconut cream or canned coconut milk in your coffee.  They would have to be counted as a Blue container if you do. If I do use one of those, I divide my 1/3 cup-blue container into 5 tablespoons and count them like that. I explain how and why I do that other times too in this post. 
Butter, ghee, and coconut oil can be used by people who like "bullet-proof" coffee. Those would have to be counted by the oil teaspoons.
Flavor extracts are free to use. With vanilla, almond, caramel, toffee, etc. the flavor combination possibilities are endless. Many of the new stevia products have flavored versions too. Be careful to buy only pure stevia products, often they slip artificial sweeteners in with the stevia. Read those labels! The most common additive is erythritol, but there are others. Sweetleaf brand drops are a good clean brand.
Vanilla Creme Sweetleaf Drops are one of my very favorites!! 1 Tablespoon of coconut cream and 4 drops of the vanilla creme is so good!!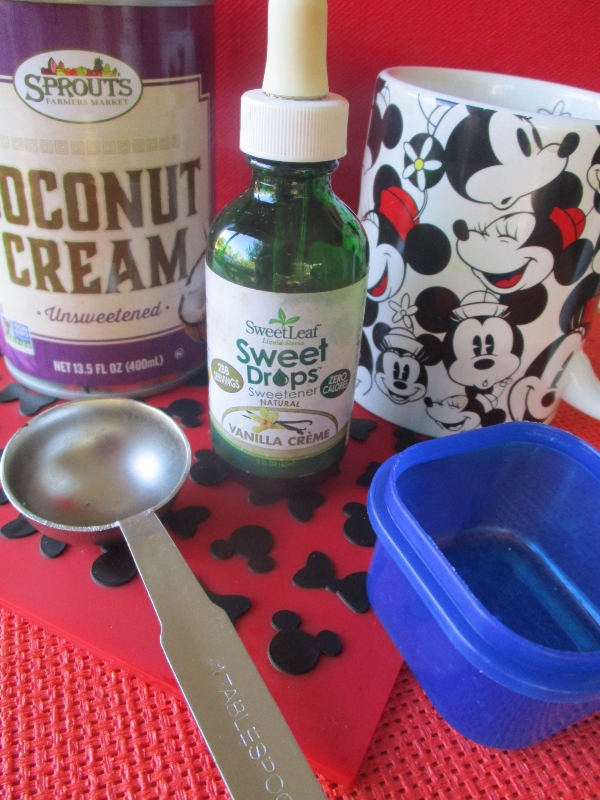 Cocoa powder and cayenne pepper are free too. They are the STARS of this Copycat Starbucks coffee. The recipe is here.
I have a detailed post dedicated to Dairy and Non-dairy products for the 21 Day Fix HERE.
Can we use any "creamers" for our coffee bar section options?
The short answer is, YES. The longer answer is, it has to be made of "approved ingredients", in the right amounts. Ones full of oils and sugars or artificial sweeteners proclaim they are "healthy" when they are not!
There are many different "healthy" coffee creamers in stores now. There is no way for me to cover them ALL in this post. I will try to cover a few of the easiest ones to find.**** RIGHT here I want to say THAT as of this MOMENT in time the information I am putting in here is the most up to date I could find. If some company changes some ingredient list without letting anyone know it could be wrong. PLEASE read your labels.***
There are 2 different kinds of healthy creamers on the shelves now. Unsweetened and sweetened.
First, let's examine the unsweetened ones.
I prefer to use the unsweetened ones and add the exact amount of what sweetener I want to them.
For example, I love the NutPods brand. I use the 1T serving size just like I would a milk only product.
But what I REALLY love about NutPods are the flavored ones!! They have so many flavors to choose from and I have never seen an unapproved one. A few drops of stevia in the hazelnut flavored one is really good.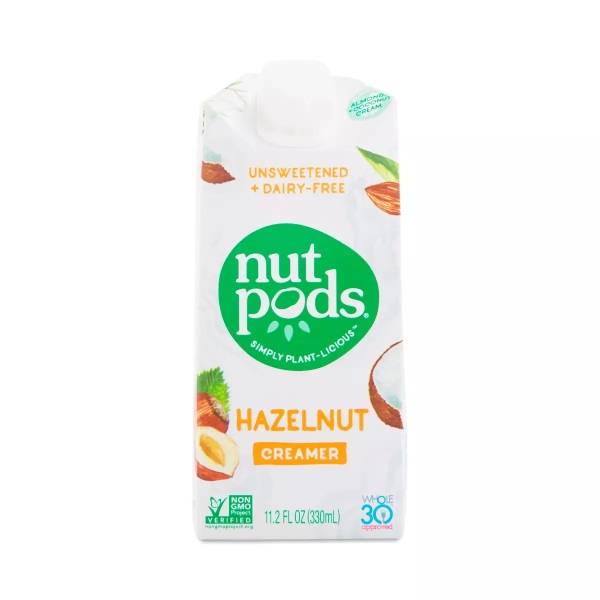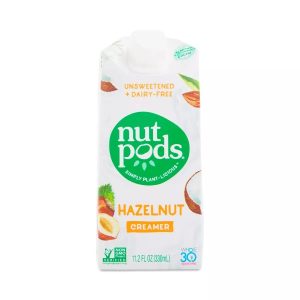 Another brand that doesn't add any sugars is the Califia Farms brand. Again, watch for the words added sugar on any labels.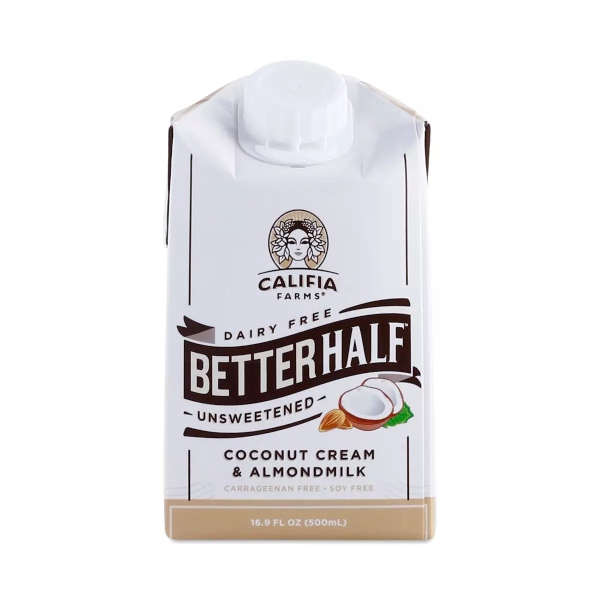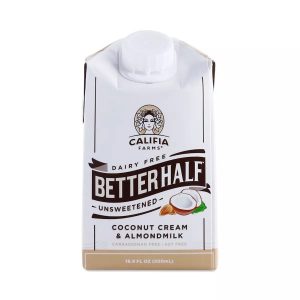 Don't get fooled by creamers that say "sugar-free" they are usually filled with artificial sweeteners.
Now let's talk for a minute about the "sweetened" creamers.
First, let's establish just how many grams of sugar makeup 1 teaspoon. There are 4 grams of sugar in 1 teaspoon.
With that knowledge, we can examine the sweetened creamers and determine how many sweetener teaspoons you would need to count if you use one of them.
I  "round" and "half" my numbers a little bit. With 1 gram of sugar, I round down to zero, just not enough to count. 2 grams I would count as 1/2 teaspoon.  But 3 grams I round up to 4 grams or 1 teaspoon of sweetener.  If I used one with 6 grams, I count 1 1/2 teaspoons of sweetener. Never go over 8 grams or 2 teaspoons in one serving (I have never used any that high though.) Cane sugar is the most commonly used sugar as far as I have seen.
For example, SoDelicous Brand has cane sugar in the ingredients panel, but in the nutrition panel, it says <less than 1g. Or less than 1/4 of 1 teaspoon per serving. There is no reason to try to count something that small for 1 serving, but if I were to use 4Tablespoons that would add up to close to 4grams and I would count 1teaspoon of sweetener for all 4T.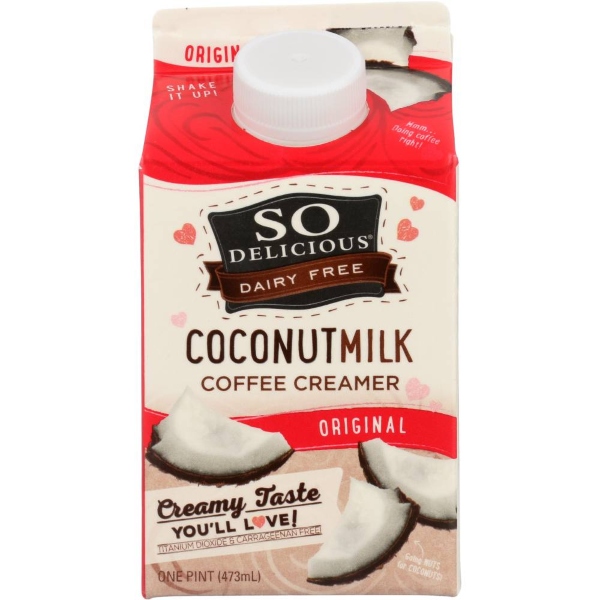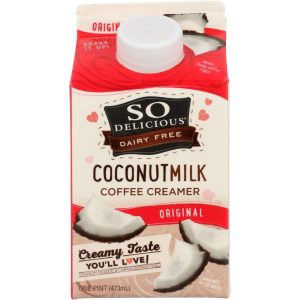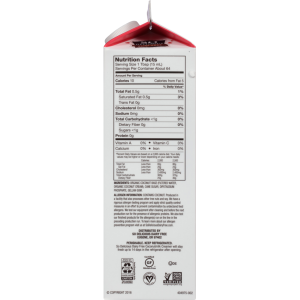 Because I want you to learn how to read your labels, I am only going to share one example of a clean creamer with enough sugar to count1 teaspoon of sweetener per serving.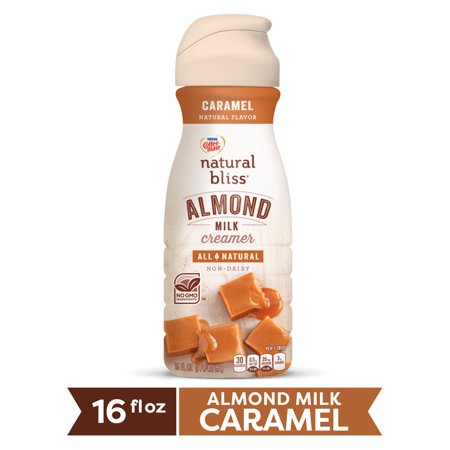 The Natural Bliss Almond Milk Creamers have good clean ingredients but the added sugar is all the way up to 5grams. That is just over 1 teaspoon so that is how I would count that one… 1 teaspoon of sweetener per serving of creamer.
What artificial sweeteners should you avoid on labels?
Doing a quick check for any of these ingredients will almost always answer whether or not something is "approved".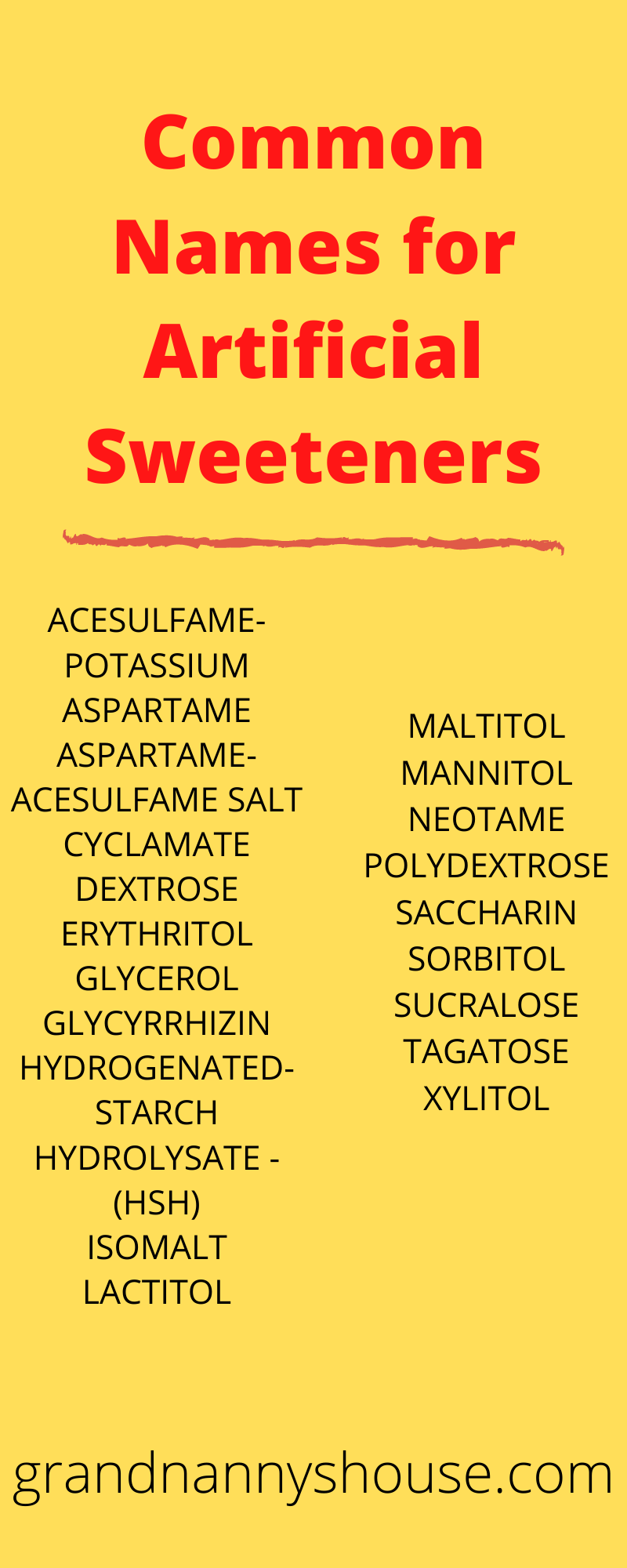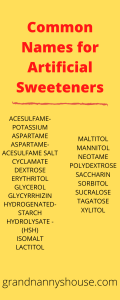 I hope this helps some of you who struggle with how to "Fix" that coffee! Maybe bringing one more thing in line with clean eating will be just the thing you need to steamroll toward your goals!!