These days we are all looking for a good bargain at the grocery store! That's why I shop at Aldi as often as I can. Aldi is one of the fastest-growing grocery store chains in America because of its amazing prices. They keep their prices low by doing a few things like making you bag your own groceries and they charge you for bags if you don't bring your own! They make you return your cart by charging you a quarter when you take one. (Trust me and take a quarter). Since you are reading this I assume that you too must follow the 21 Day Fix so you might ask "what to buy at Aldi for the 21 Day Fix?" 
Where to start with what to buy at Aldi…
My favorite Aldi to shop at forces me to shop for fruits and veggies 1st, but some of them start you thru the bread/cracker/nut items. Whichever way let's get started!  On this day in June 2021, I found these kinds of deals. 
Honey mangos were .69 and regular ones were .59 each!!  Ninety-nine-cent pineapples were perfect 3 days after I bought them.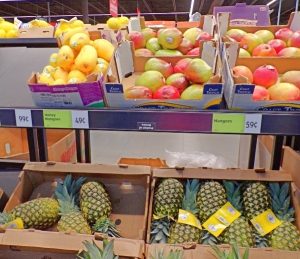 Mushrooms for .99 a container was a perfect fit for my favorite Chicken Marsala recipe!! Recipe HERE.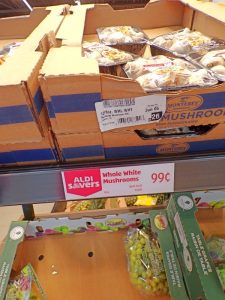 Every week the produce assortments vary. I make sure to inspect the produce thoroughly … bruised, shriveled, and old produce is evident usually. I have rarely come home with "bad" produce because of my inspection process.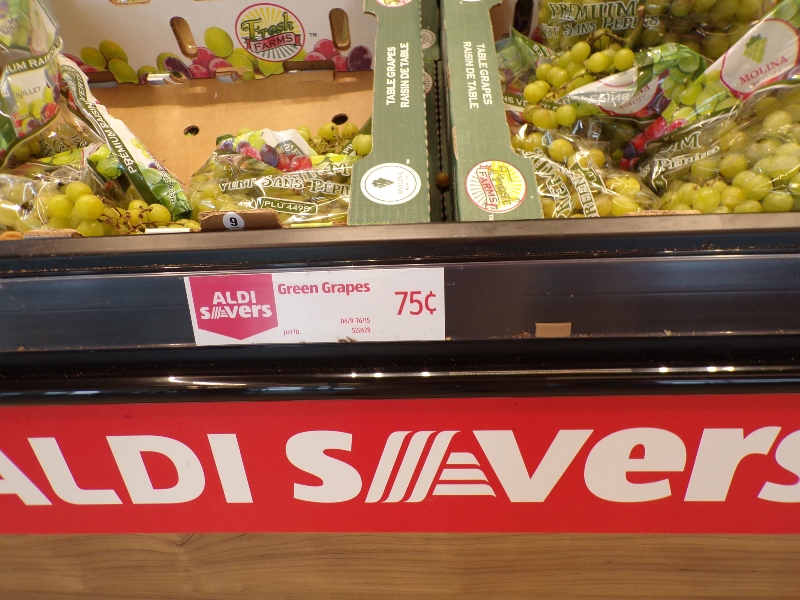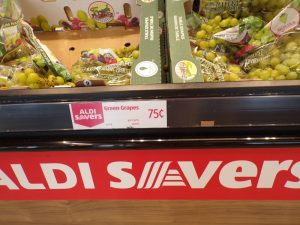 When I find perfect grapes at this price I buy more than I usually do because I like to stick some in the freezer. Frozen grapes are a cold sweet treat!
They have an organic section clearly marked if you prefer organic. The inventory changes all the time, so you will have to find your deals!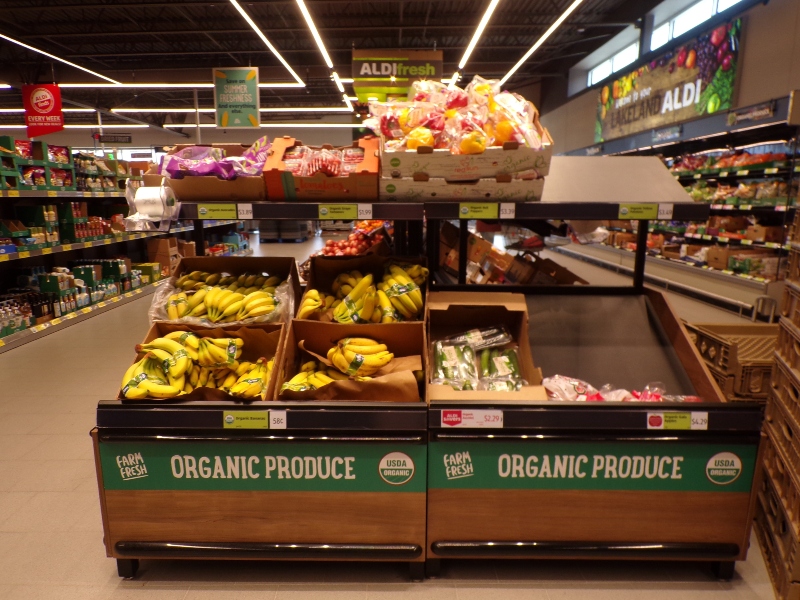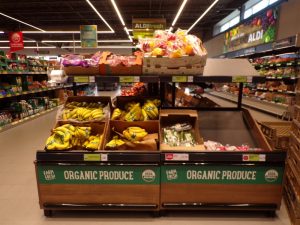 What to buy for your Yellow container
Bread/wraps/sandwich thins/pita/crackers that are good to use for our Yellow are always in abundance at Aldi.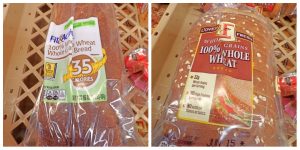 One of my favorite finds is always the whole wheat Fit and Active brand bread that is 35 calories per slice. In 21 Day Fix language that is 3 slices for 1Y!! This is the information I use to come to that container count HERE. Their version of sandwich thins are really good and count 1 for 1Y too! They have a version of "Dave's Killer Bread". There are different ones at different times but so much cheaper!!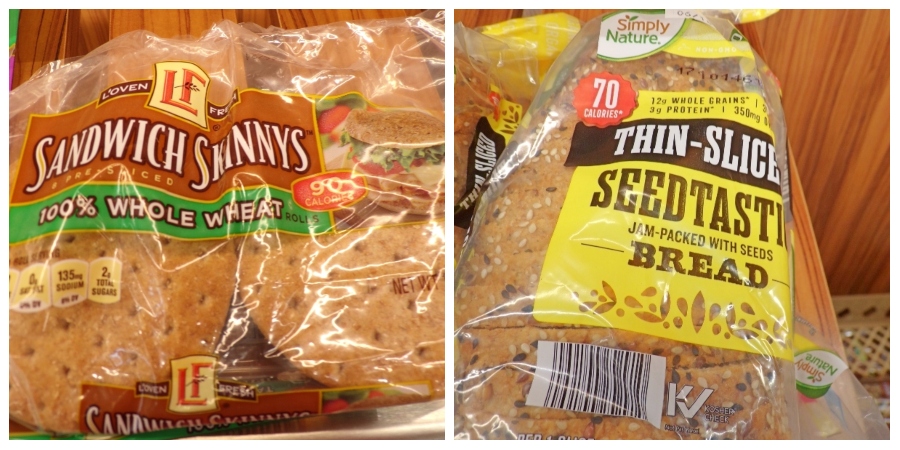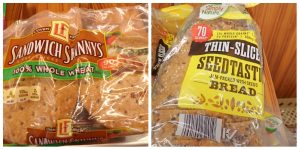 There are even gluten-free options! Their LIVE FREE brand can be found all over the store.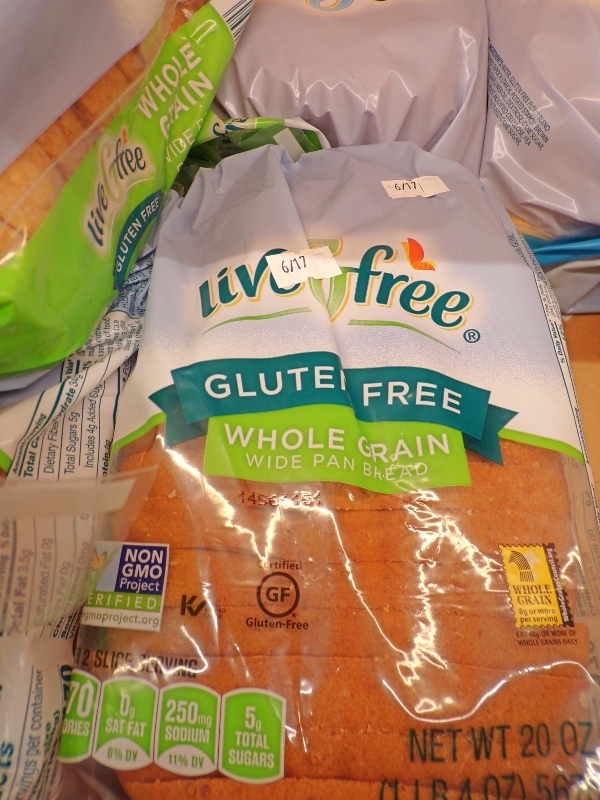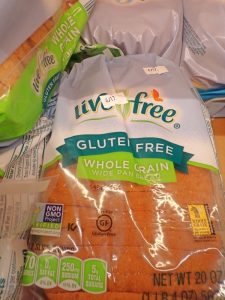 Non-bread Yellows are everywhere too. Light popcorn, rice cakes, cereal, oats all at great prices!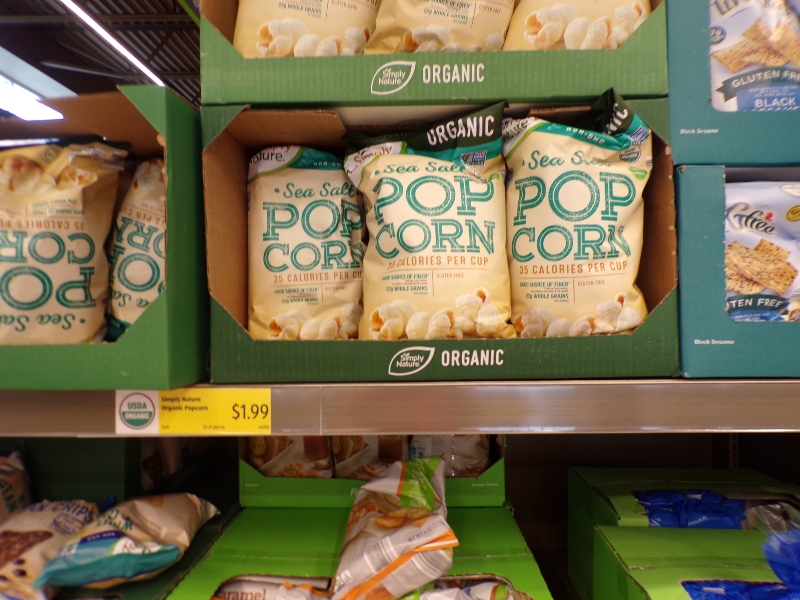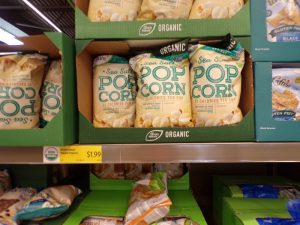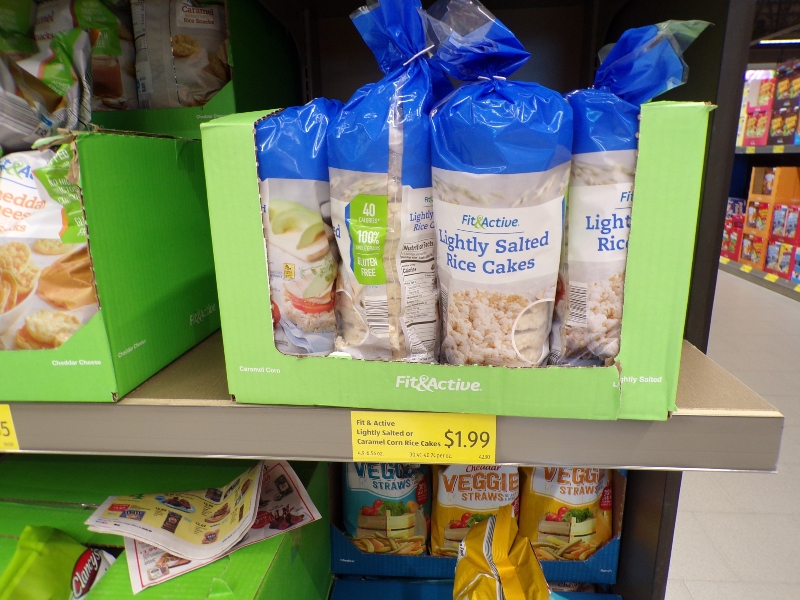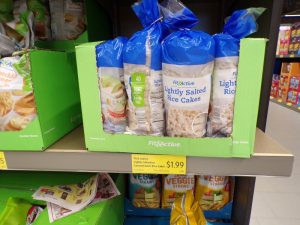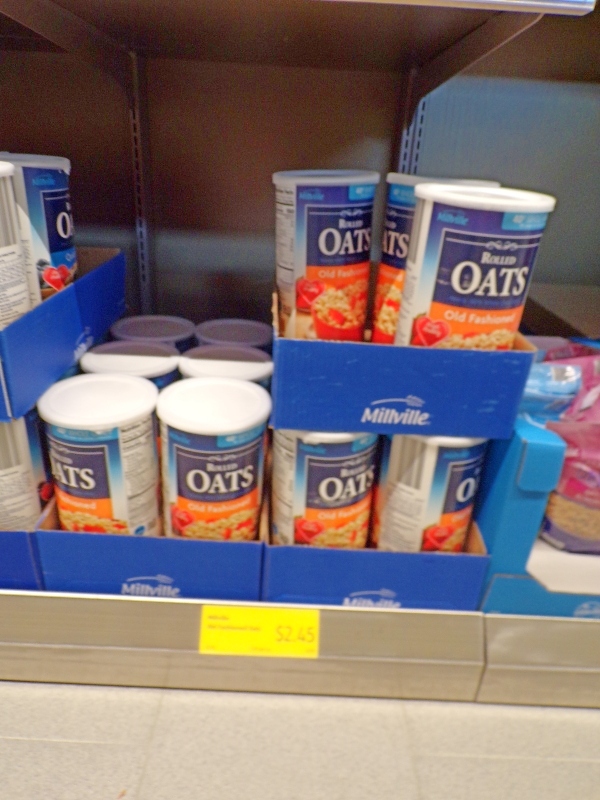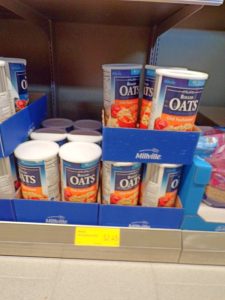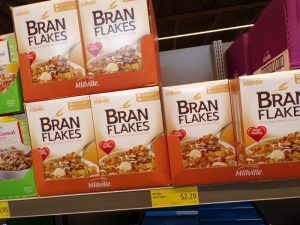 Whole grain kinds of pasta and gluten-free options are easy to find!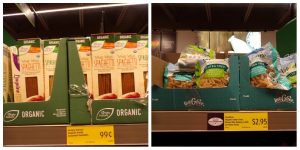 What does the dairy department have?
One of my favorite sections at Aldi is the dairy department. All the CHEESE!! 
The goat cheese logs are a favorite of mine!! There I talk more about how different cheese counts for the Fix. That information is HERE.
Block cheese is usually cheaper than most stores' sales prices.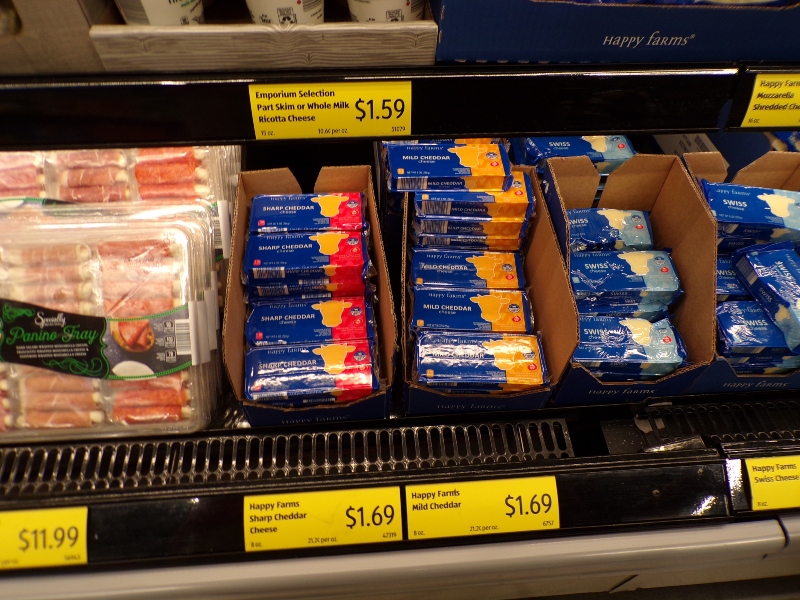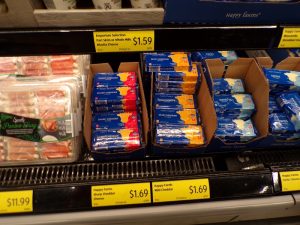 What to buy at Aldi for your Red container
I have seen eggs as low as 33 cents a dozen before but this price is better than my local store has.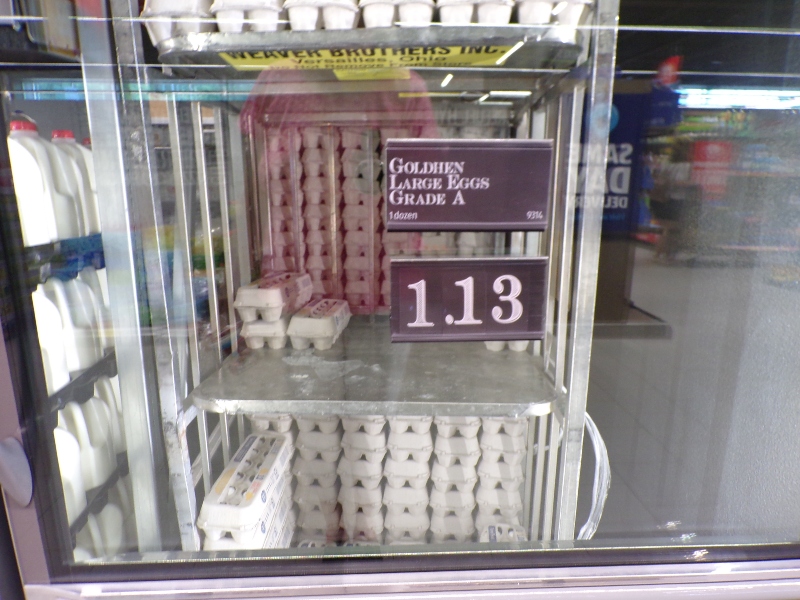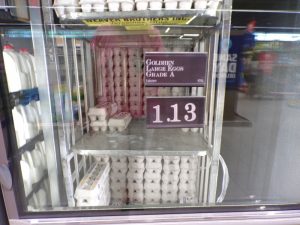 Cottage cheese is also a great budget-friendly Red option!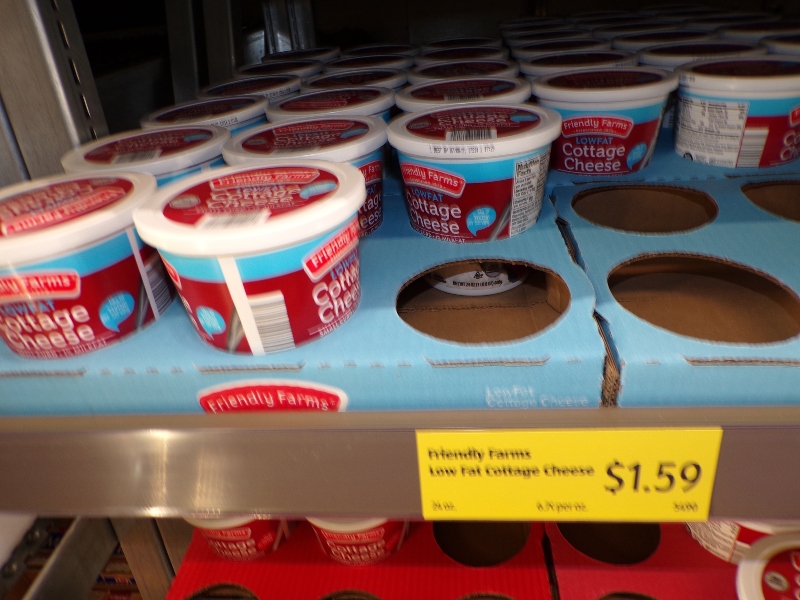 They have a very clean meat brand called Never Any… never any antibiotics or preservatives. There are clean chicken sausages in all kinds of flavors.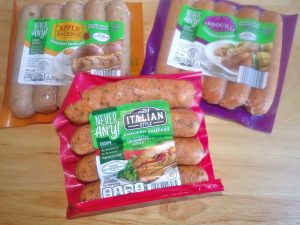 Other Never Any products include thick-sliced ham, lunchmeat and even fresh meat options like whole chickens.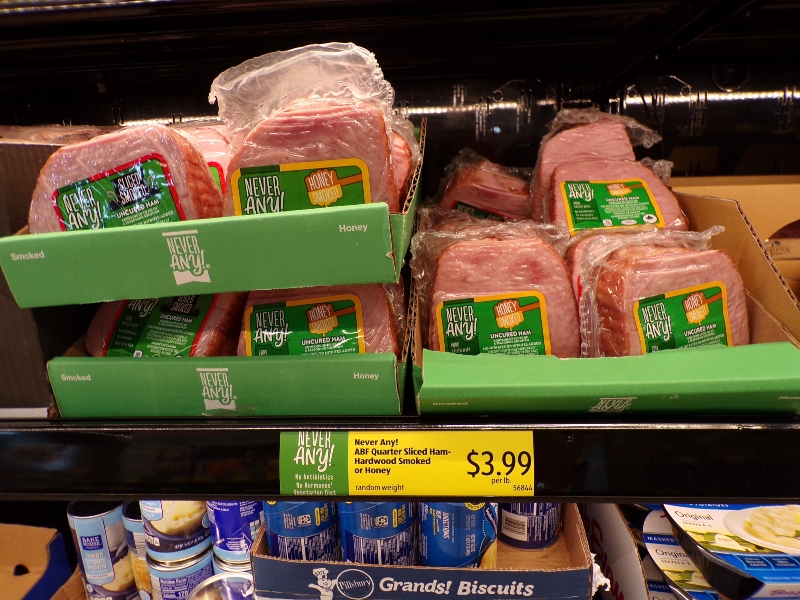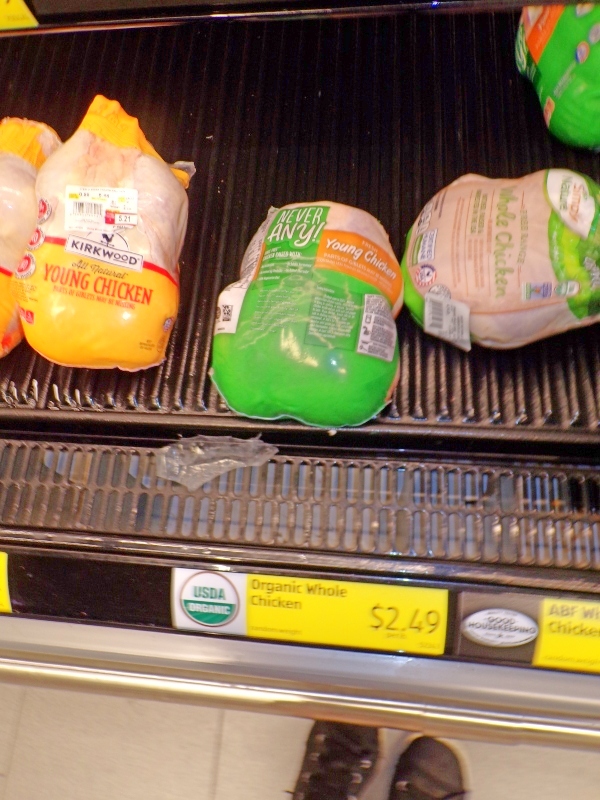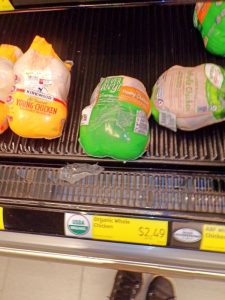 Cans, bottles, and jars
My regular staples always include cans, bottles, and jars. Aldi doesn't disappoint in that department either. Honey, maple syrup, and olive oil make it into my cart on a regular basis.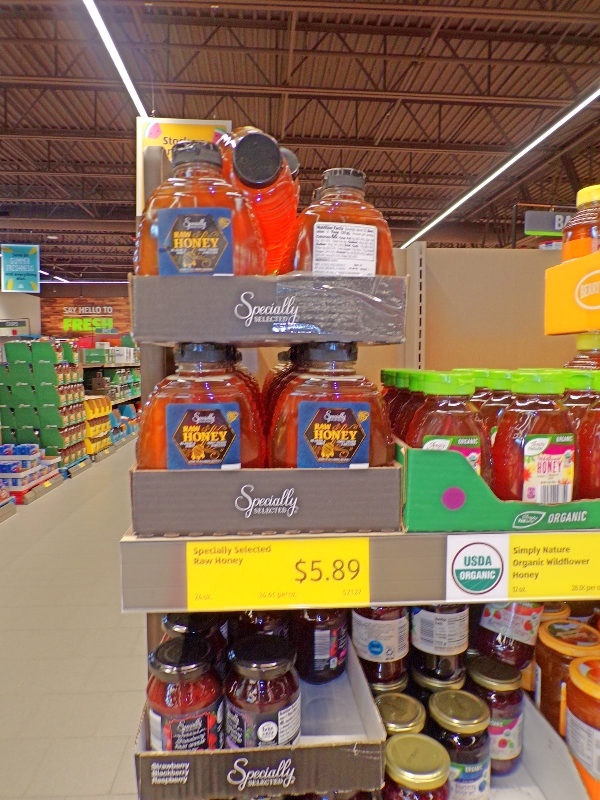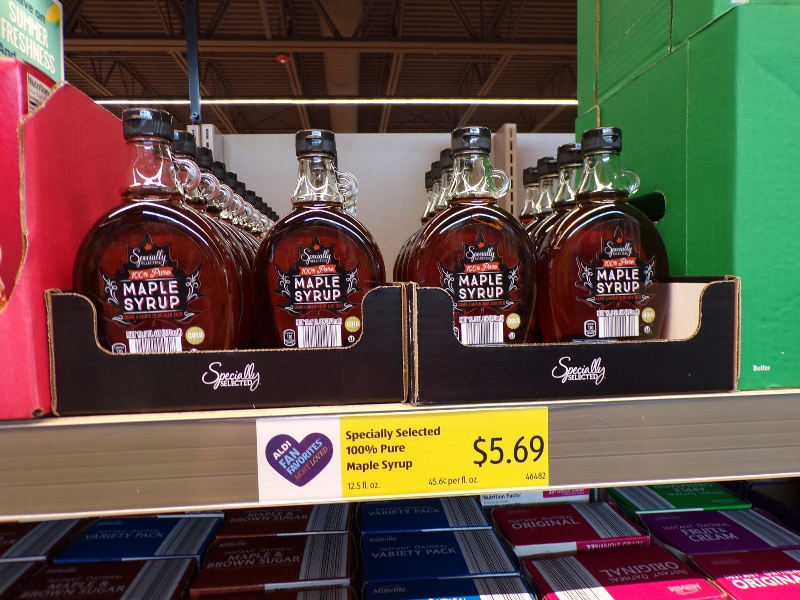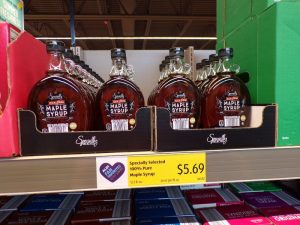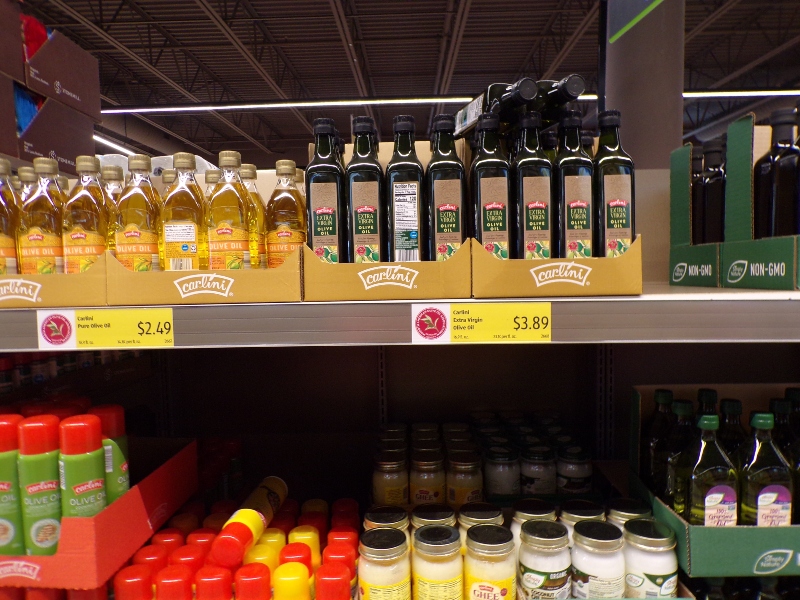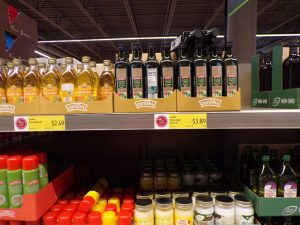 My other house favorites include things like pasta sauce, apple sauce, canned fruit.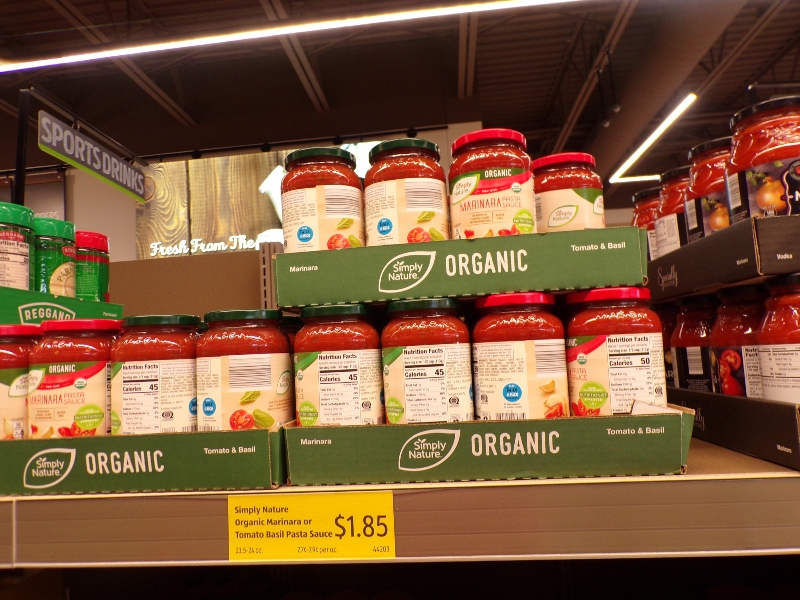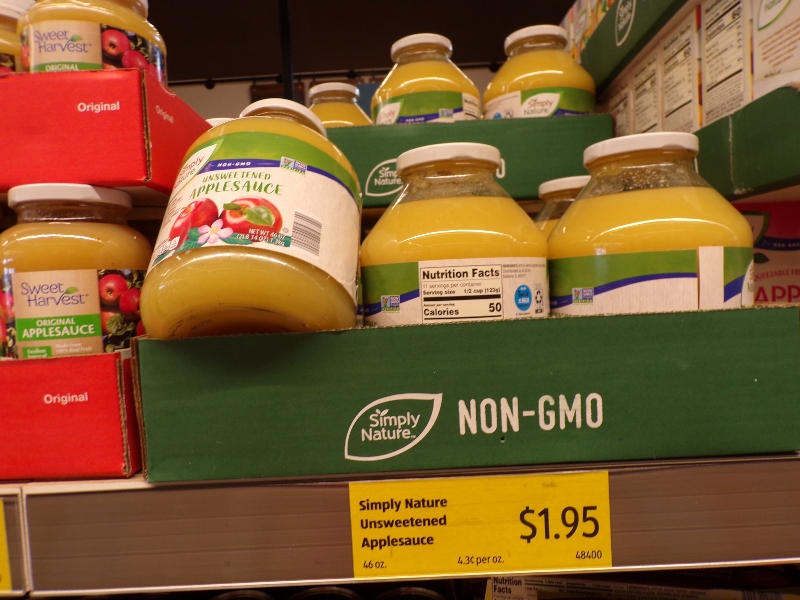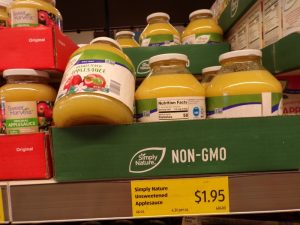 The Fit and Active brand show up on the shelves too. Beans, broth, rice… you still have to read your labels and reject anything unapproved. I like the reduced-sodium products because they can be harder to find in the name-brand isles. Sodium numbers and how important they are can be found HERE.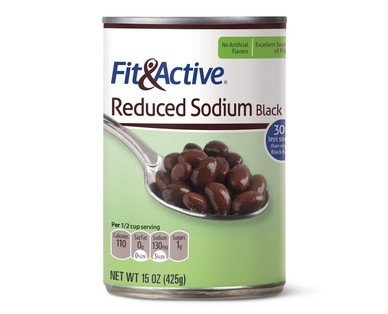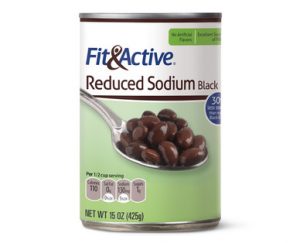 Check out the frozen section also…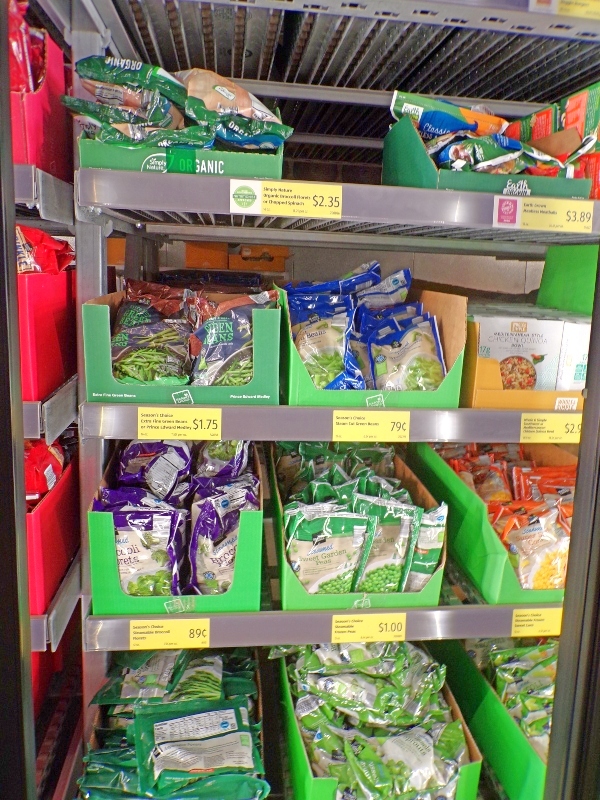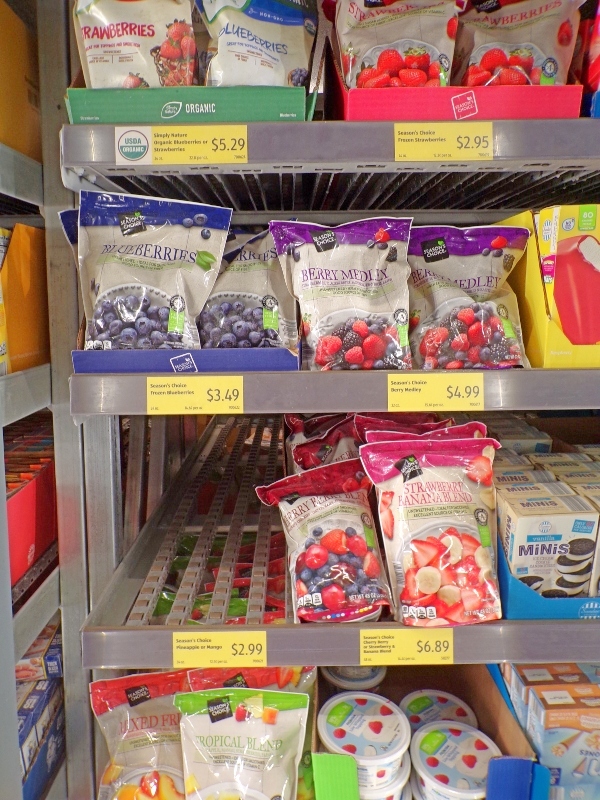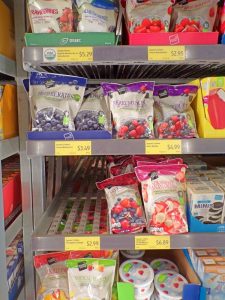 Frozen veggies and fruit are in abundance and again budget-friendly (so make sure to bring a cooler). I love the fact I don't have to worry about things like berries going bad before I can eat them.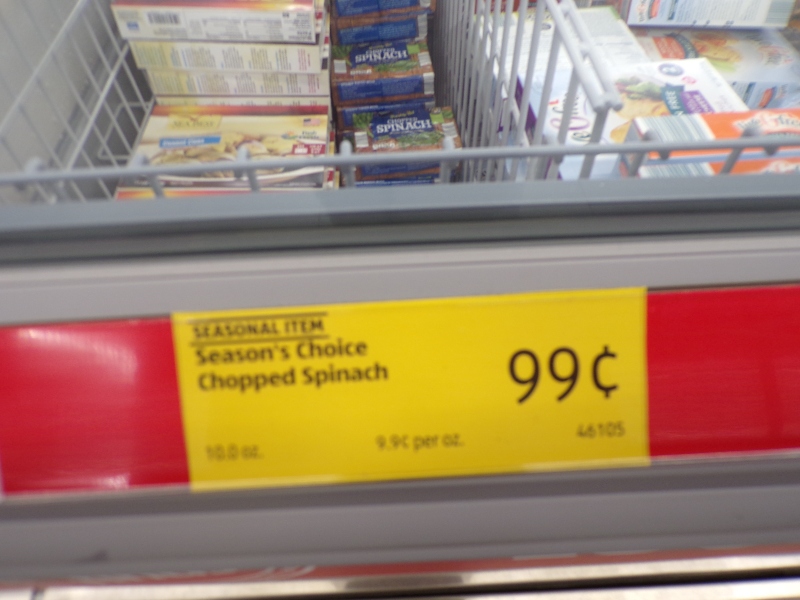 Getting 2 Green containers for .99 is always a bargain. I have more budget-friendly ideas HERE.
There are plenty of frozen meat options, just too many to picture them all. This is one that I buy because I use so much of it.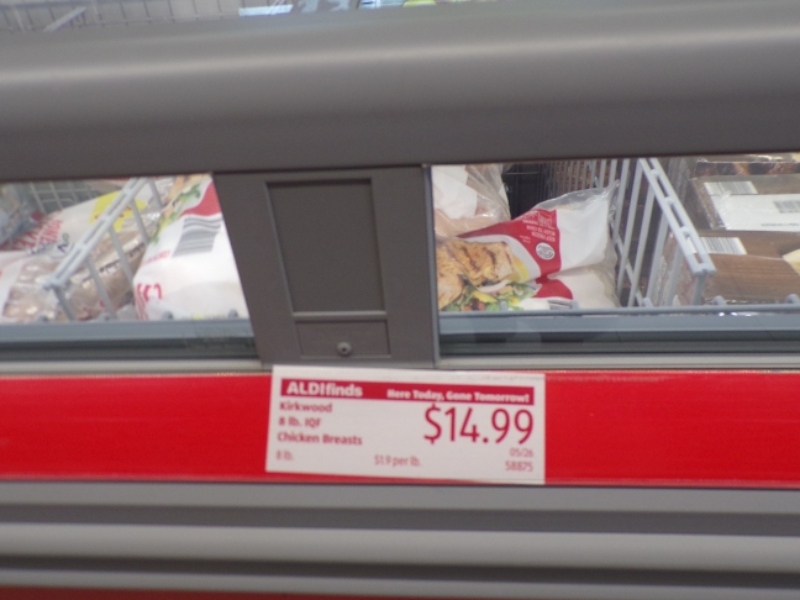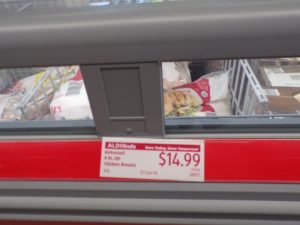 8lbs of chicken breast for $15 = $1.87 per pound, that is a great price for my area. 
There are also many vegan/meatless options available in the frozen department. I will have to update my Veggie Burgers and the Fix with some of their options. I have that information HERE.