One of my favorite meals ever is meatloaf. And one of my favorite side dishes with meal loaf is mashed potatoes. Remembering that my mom used to make a Mashed Potato Topped Meatloaf, I decided it was time I put my efforts into re-making it.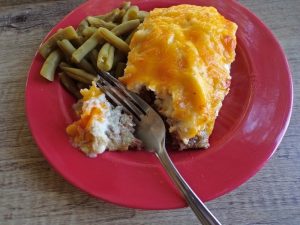 My version has a beautiful golden layer of cheese over the top of the potatoes… yummy! I kept my Portion Control container counts simple. The counts are 1R. 1Y, 1B per serving, if you add a veggie side you get a well-rounded meal. 
What ingredients go into Mashed Potato Topped Meatloaf? 
The first of the ingredients are for the meatloaf part. It is just a simple meatloaf.
extra-lean ground beef
bread crumbs
egg
chopped onion
chopped bell pepper
spices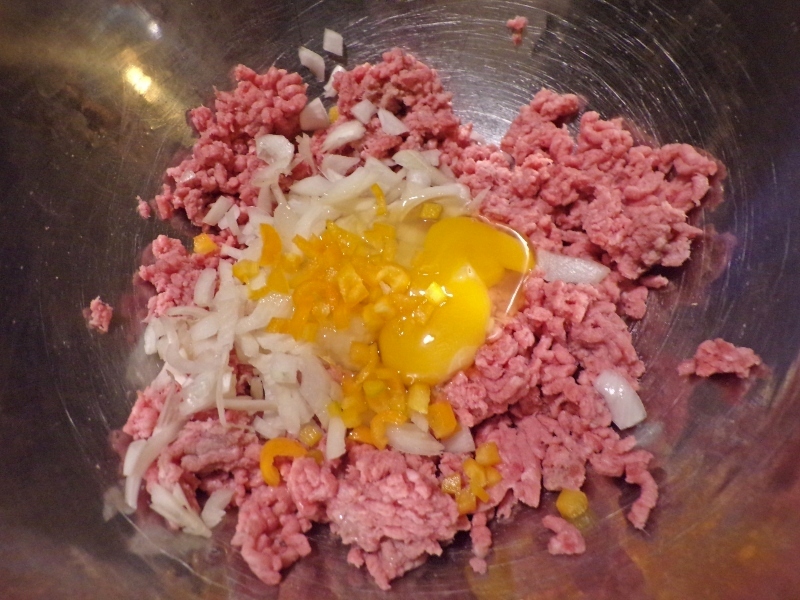 Mix it well but try not to over-mix it or over-form it because that is what makes a "tough" loaf. 
One pound will yield 3 loaves that equal 1 Red container each. I like to use my single-serve-sized cast iron pans for this recipe. They are perfect for it because they can go under the broiler when you get to the cheese layer.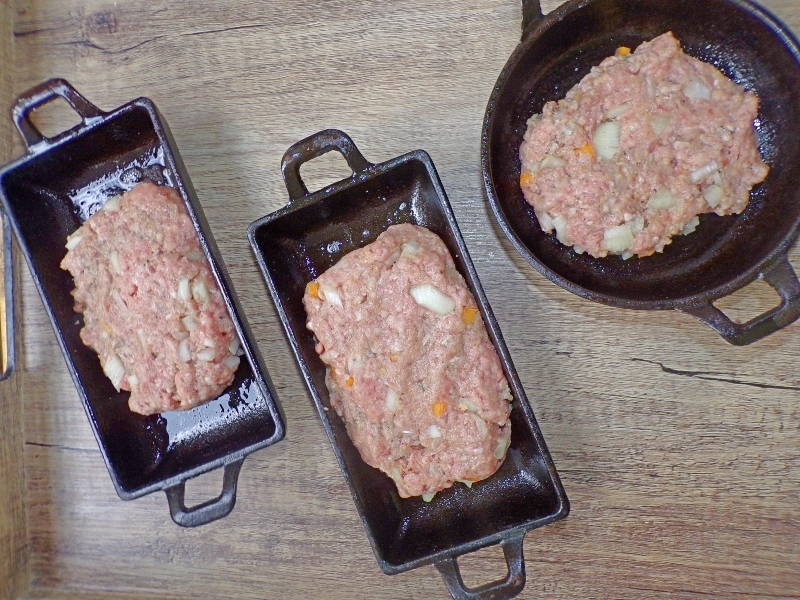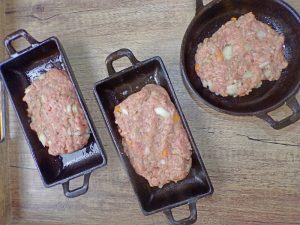 The next layers for this Mashed Potato Topped Meatloaf
The next layer of mashed potatoes is easy to make ahead of time. 
Peel and slice potatoes. Cover them with broth in a medium pan. Boil 10-15 minutes or until fork-tender. Drain, keeping a little of the broth. Add butter and 2 tablespoons of broth and 1 tablespoon of milk at a time as you mash them. Salt and pepper to taste.
You could certainly use leftover mashed potatoes to top the meatloaf with because I am almost certain that is exactly what my mother used to do!
I like shredded sharp cheddar cheese to top mine with. Any cheese that is your favorite would be fine. I might try sliced Swiss over it soon. Find out how to count cheese slices on the Portion Fix/21 Day Fix HERE. 
Just layer 1/2 cup of mashed potatoes on top of the formed meatloaf.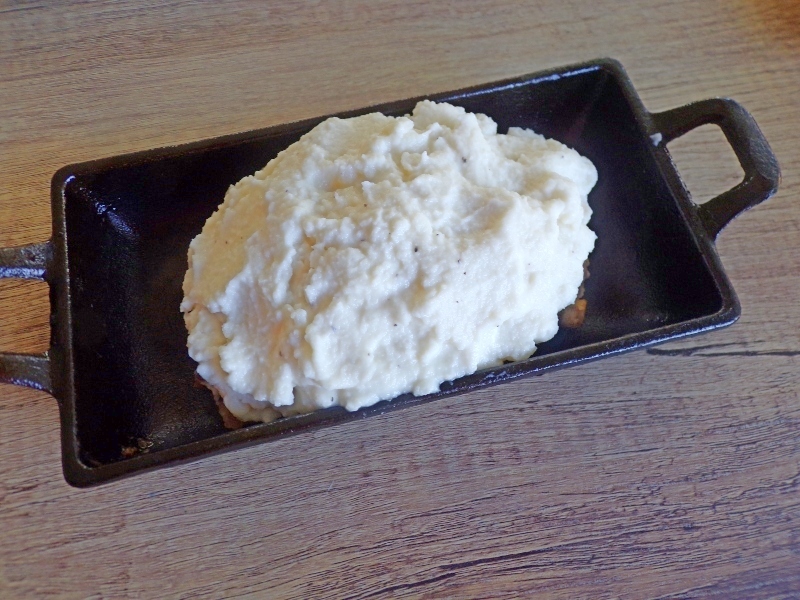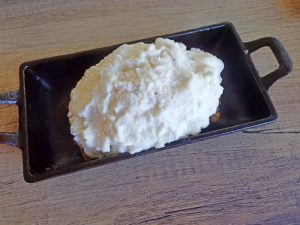 You can vary the amount of cheese you use to top it with. 1 full Blue container or 1/2 Blue, whatever you want. I generally use 1Blue.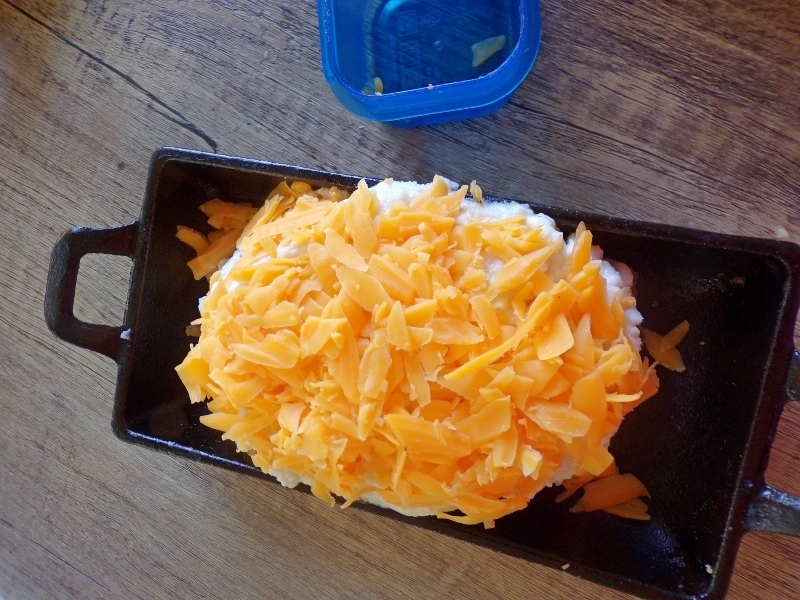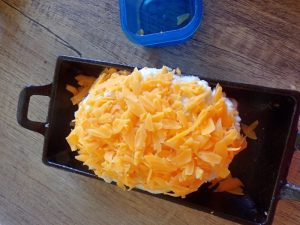 Cooking the meatloaf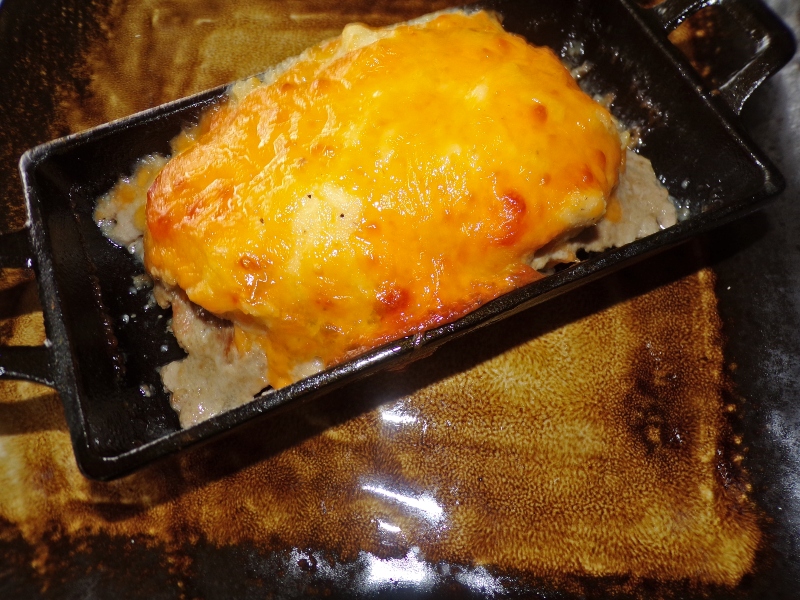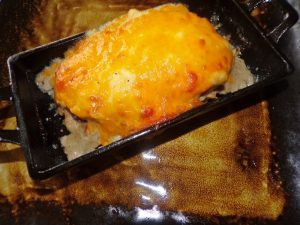 Because I am making 3 mini meatloaves instead of 1 big one, they won't have to cook as long. Bake for 25-30 minutes. You certainly could make 1 large loaf, and just add 5-10 minutes.  If you put them in a broiler-safe pan, you could slide them under the broiler for a few minutes to get a pretty brown crust on that cheese! 
You could cook these in your air fryer. If you make 3 mini loaves they will need to cook 20-25 minutes depending on your model. 
Mashed Potato Topped Meatloaf
Mashed Potato Topped Meatloaf is an old-fashioned favorite of mine! A big layer of cheese tops it all off perfectly!
Ingredients
1

pound

extra-lean ground beef

1

large

egg

¼

cup

onion, diced

¼

cup

bell pepper, diced

1

teaspoon

garlic powder

2

tablespoons

whole-wheat breadcrumbs

¼

teaspoon

salt and pepper

1½

cups

mashed potatoes ** see notes

1

cup

cheddar cheese, shredded
Instructions
Mix ground beef, egg, onions, peppers, breadcrumbs, and spices together lightly.

Form 3 small meatloaves and place them into pans.

Add ½ cup of mashed potatoes on the top of each meatloaf.

Add ⅓ cup of shredded cheddar cheese on top of the mashed potatoes.
Container Counts for 21 Day Fix/ Portion Fix for 1 loaf: 1R, 1Y, 1B
Notes
** SEE MASHED POTATO RECIPE HERE.
What do I like to eat with these? 
Basically, I add a couple of Green containers so that I get a good rounded out meal on my plate. 
This Maple Cider Holiday Salad has a tart taste that goes great with the mild tastes of the meatloaves. Recipe HERE.
This Classic Carrot Salad is another old-fashioned recipe I used to eat as a kid. So I LOVE to make it and have a plateful of classic flavors. Recipe HERE.