This Mushroom Chicken with Brown Sauce is as good as any Chinese takeout! A tenderizing trick with the chicken is the key to the perfect texture.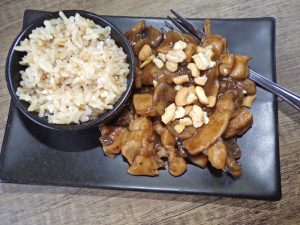 How do you tenderize the chicken for this Mushroom Chicken with Brown Sauce?
In Chinese restaurants when you get their stir-fry or "sauced" dishes the meat is always SO tender. They use a technique called "velveting". There are various recipes to marinate the chicken as you velvet it, but I will stick with the most straightforward way.  My suggestion is to assemble all your ingredients and do all of your veggie prepping right before you are ready to work on your chicken. 
Let's start with the chicken itself. I use chicken breast tenders or skinless boneless chicken thighs when I make this dish and love it both ways.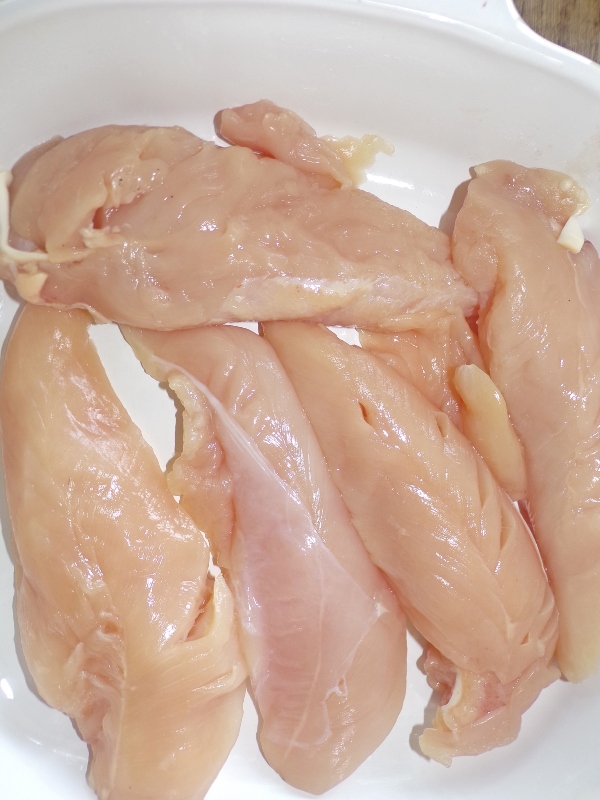 Cut the chicken into the size you want. With the breasts, I cut them long and skinny, and with the thighs, I cut them kind of chunky.  The secret ingredient??
CORNSTARCH!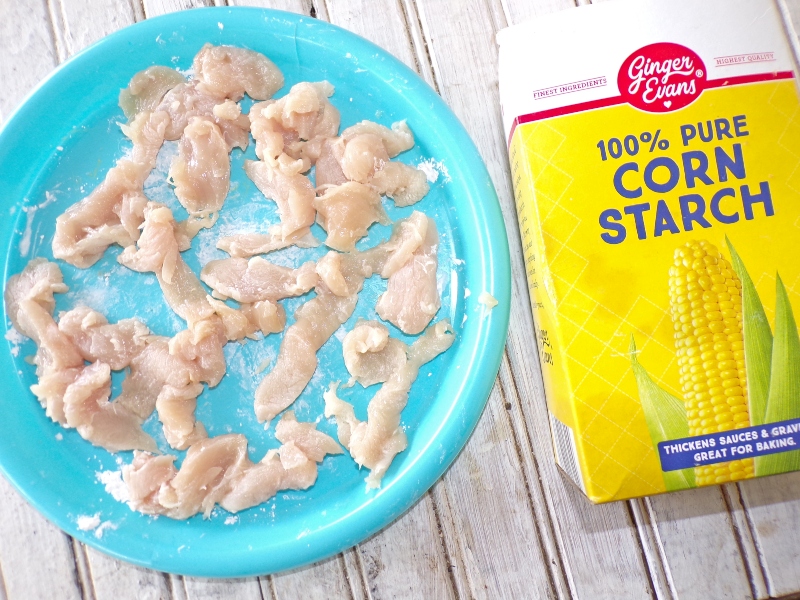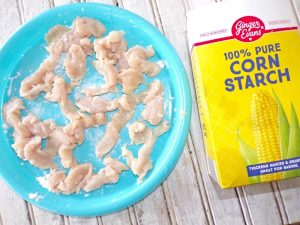 You are going to sprinkle it on and work it around to make sure it is all the way coated. Let it marinate for 10-12 minutes. The thinner the chicken is cut, the less time it will need to marinate.  I use a colander and rinse till the water runs clear (don't forget to stir the veggies). Dry the chicken off very well on paper towels.
A quick stir-fry of the chicken and veggies is all you need before you add the sauce.
Time to add some flavor!
Now we are going to make a brown sauce. Just like with ANY sauce, there are different versions out there. This is my favorite way, but you can adjust the flavors to suit your tastes a little and not compromise the flavor much. 
Because I want to add these ingredients quickly, I am going to just measure them into a single bowl. All the ingredients are readily available in most kitchens. The exception might be the oyster sauce. I keep it but if you had to leave it out the flavor of the entire dish wouldn't change much. Sometimes I use teriyaki sauce in place of it and if I do that I omit the teaspoon of sugar.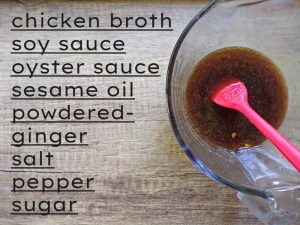 A little bit of cornstarch mixed with water will thicken the sauce just a little and then you will be ready to eat!
Mushroom Chicken with Brown Sauce (Portion Fix/21 Day Fix)
Ingredients
Velveting the Chicken
2

teaspoons

cornstarch

1

pound

chicken, sliced into bite-sized pieces
Mushrooms, Onions, Chicken
2

teaspoons

olive oil

chicken, rinsed and dried well

2

cups

sliced mushrooms

2

cups

sliced onions,
Brown Sauce
¾

cup

chicken broth

3

Tablespoons

soy sauce

2

teaspoons

garlic powder

1

teaspoon

oyster sauce

2

teaspoons

sesame oil

1

teaspoon

sugar

½

teaspoon

powdered ginger

½

teaspoon

pepper
Thickener
2

teaspoons

each, cornstarch and water mixed
Instructions
Velveting the Chicken
Cut chicken into bite-sized slices.

Add cornstarch to chicken and massage into all pieces.

Let it marinate for 10-12 minutes. Then rinse the chicken in a colander until the water runs clear. Dry the chicken off with layers of paper towels. Get as much moisture out of it as you can.
Mushrooms, Onions, Chicken
Quickly sear the chicken in olive oil for 1 minute. Turn the heat down and put a lid on the pan and simmer for 5 minutes.

Turn the heat back up under the chicken, then add the mushrooms and onions. cook them for 5 more minutes or till the chicken is no longer pink at all.
Brown sauce
Quickly add all the sauce ingredients to the pan and stir well. Cook for 2 minutes.
Thickener
Mix cornstarch and water and add to the pan. Cook till thickened.
Portion Fix/21 Day Fix Container Counts for a serving of 1 ½ cups: 1R, 1G,1 oil teaspoon
Garnishes and side dishes for this Mushroom Chicken with Brown Sauce
I use a variety of different garnishes for this dish depending on my mood. Sometimes it is cashews or peanuts. Other times chives or parsley. Make sure to count any nuts you might add as a garnish, they count as a Blue container. I have more information about how to count them HERE.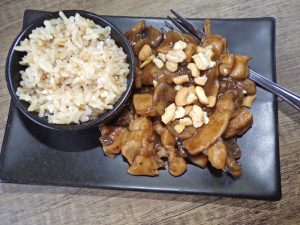 Brown rice is my usual accompaniment to this meal but I have used whole wheat noodles too. I am going to try bean sprouts with it one of these days.
This is a wonderful little salad that pairs well with Asian dishes. Carrot Coconut Ribbon Salad recipe HERE.
I like to make a meatless version of my Egg Roll in a Bowl as a veggie-heavy side dish too. Recipe HERE.