These Spicy Asian Cabbage Rolls give the classic favorite a fun twist. You can adjust how much spice you add, making it family-friendly! I have a regular cabbage roll recipe HERE 
What ingredients go into Spicy Asian Cabbage Rolls?
The cabbage I use for these is a basic Chinese cabbage. The long leaves are sturdy enough to hold all the filling I am going to stuff them with.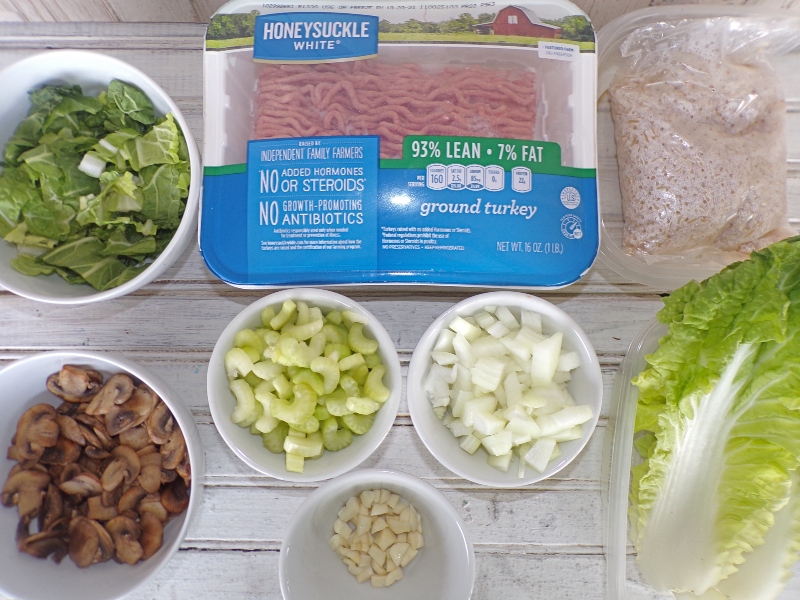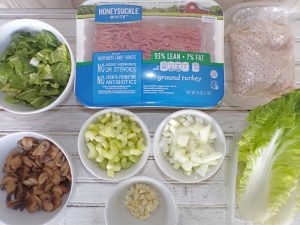 Most cabbage rolls use a meat and rice mixture for the inside. I chose ground turkey and brown rice for these but you could use lean ground beef if you wanted. I use boil-in-bag brown rice most of the time. It is easy to count container-wise because one bag has about 3 Yellow containers. But you can certainly cook it from scratch. Here are some instructions on cooking it in an Instant Pot.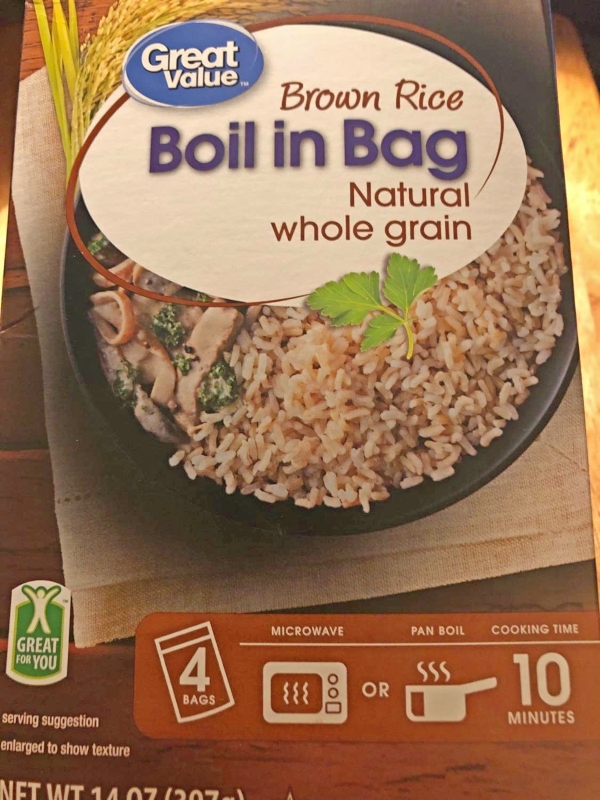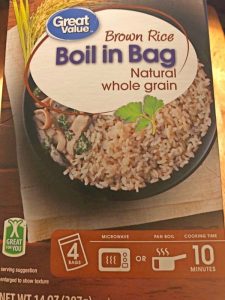 I also add a bunch of cooked veggies to my rice and meat mixture because I am all about adding extra veggies to everything I cook!! Shredded cabbage, chopped mushrooms, diced celery, diced onions, and minced garlic are the veggies I like.  Various spices like garlic powder, salt, pepper, and onion powder.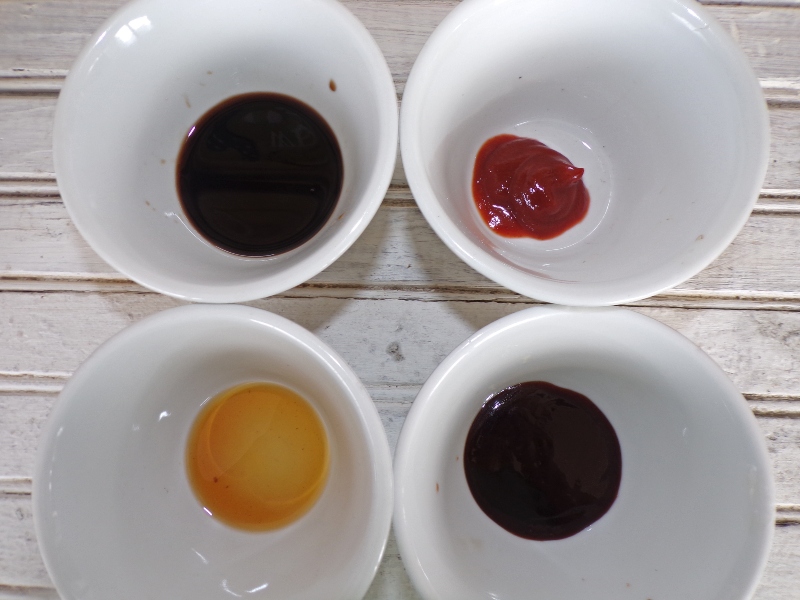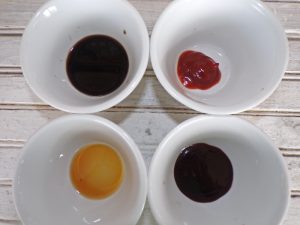 Chicken broth and tomato paste mixed with a few "spices/sauces/vinegar" make an easy sauce for these Spicy Asian Cabbage Rolls. 
How to assemble these cabbage rolls
I always start with prepping my cabbage leaves so they have time to cool off while I cook everything else. To prep them you have to cut the hardest part of the stem out of the leaf. After that, you have to dip them into a pan of boiling water for just a few seconds to make them pliable because you are going to need to fold them over.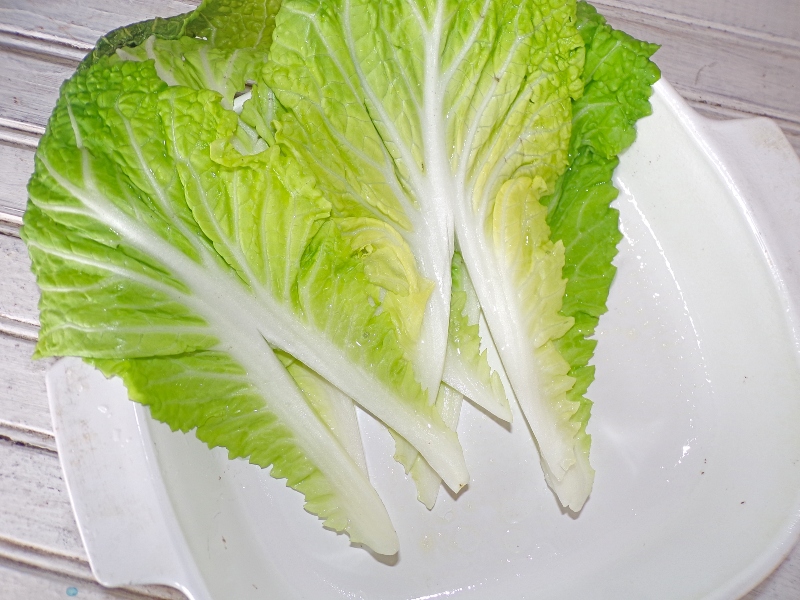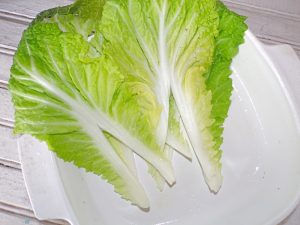 While my cabbage leaves are cooling off, I add all the rest of the veggie ingredients and wilt them down, and then set them aside. In the same skillet scramble the ground meat till no longer pink, drain off the grease, and add the cooked veggies back into the skillet.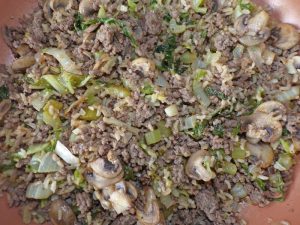 I know the name says "rolls" but with these cabbage leaves, it is more like "folds". I just fill the middle and fold them over. If I have any of the stuffing mixture left over I usually just tuck it in around the leaves. It makes it easier to assign containers if I use it all.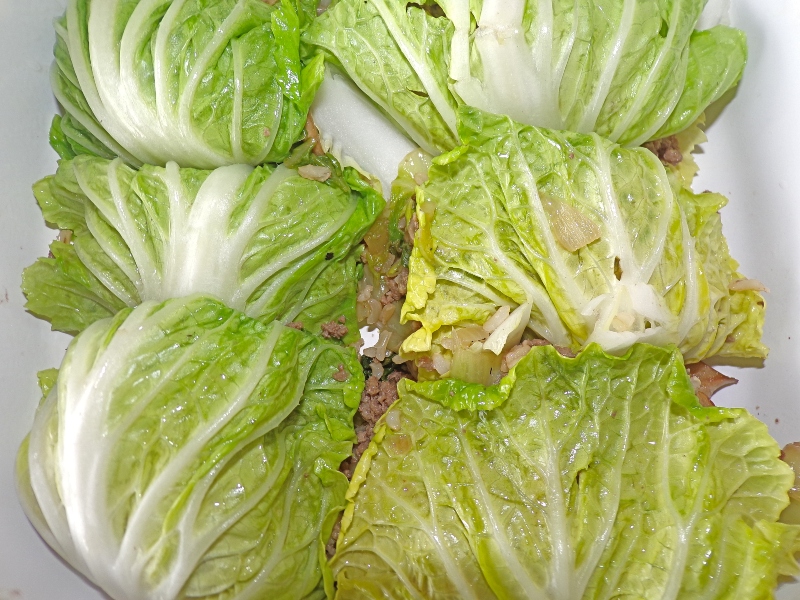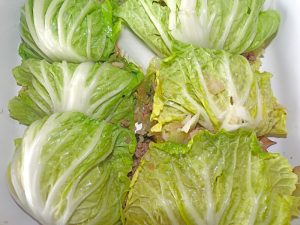 Just pour the sauce over the whole thing and pop it in the oven. Since all the ingredients are cooked already all you are going to do is cook it till it is all bubbly, about 20 minutes should do it.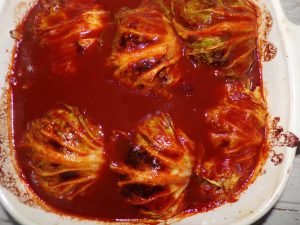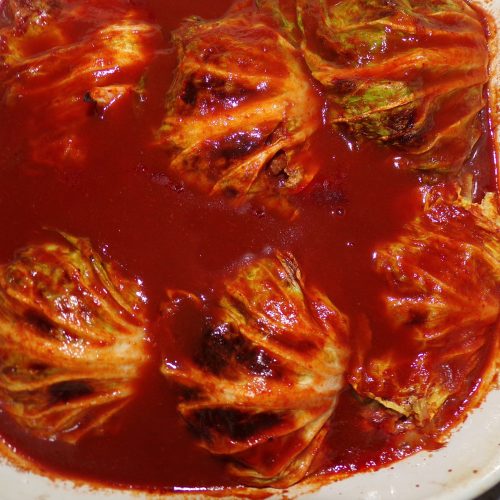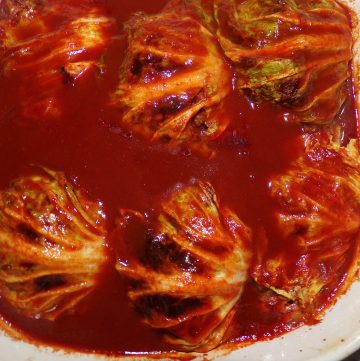 Spicy Asian Cabbage Rolls (Portion Fix/21 Day Fix)
These Spicy Asian Cabbage Rolls give the classic favorite a fun twist. You can adjust how much spice you add, making it family-friendly!
Ingredients
Spicy Asian Sauce
1

can

low sodium chicken broth

1

can

tomato paste

1

tablespoon

unseasoned rice vinegar

1/4

cup

low sodium soy sauce

2

tablespoons

hoisen sauce

2

tablespoons

brown sugar

2

cloves

garlic, minced

2

teaspoons

onion powder

2

teaspoons

powdered ginger

2

tablespoons

cornstarch mixed with 2 tablespoons of water
Cabbage Rolls
1

head

Asian cabbage

olive oil cooking spray

1

tablespoons

olive oil

1

cup

asian cabbage, chopped

1

cup

celery, minced

1

cup

onion, minced

1

cup

cooked mushrooms, chopped - fresh or canned

1

pound

ground meat, turkey/chicken/beef

1 ½

cup

cooked brown rice
Instructions
Spicy Asian Sauce
Mix all the sauce ingredients into a saucepan EXCEPT the cornstarch and water mixture. Boil for 3 minutes.

Add the cornstarch and water mix and cook till thickened. Pour over Asian cabbage rolls.
Cabbage Rolls
Detach 6 outer leaves from the Asian Cabbage. Trim the stems and blanch each leaf in boiling water for less than 30 seconds. Set aside to stuff.

Cook celery, garlic, and onions till translucent. Set aside, then cook the ground meat in the same pan. Drain grease off meat.

Add cooked brown rice and veggies to the meat and mix well.

Divide mixture into all 6 blanched cabbage leaves. Fold them over and place them in an olive oil sprayed casserole dish.

Pour sauce over the cabbage rolls. Cook for 20 minutes in a 350° or until bubbly.
Container count for Portion Fix/21 Day Fix for 1 cabbage roll and extra sauce: 3 Green, ½ Red, ½ Yellow