I really love Asian flavors. This Asian Spaghetti Squash with Shrimp can satisfy my cravings for those flavors at home.
In learning a new way of eating, I have had to learn about new foods. Case in point: The Spaghetti Squash. I had never heard of it… or if I had heard the name I had no idea what it was. Buying one was daunting. As you can see in my picture I wanted one that would fit in my Instant Pot. (I use my Instant Pot for much faster prepping times for things like this the most.)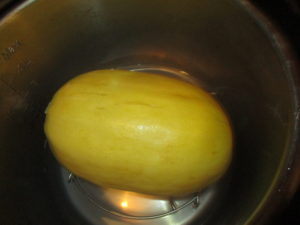 1 whole spaghetti squash no longer than 8″ long at room temperature, punctured with a knife a few times and add 1 cup of water to your pot and set it on manual for 10 mins. and let it natural release.
We have this super-duper grabber that my Hubby thinks he bought to pick up big chunks of meat on his smoker… little did he know that it is a perfect squash picker-upper too!
When it is cool enough to handle I cut it into rounds. Each of the rounds will have its own clump of seeds that need to be taken out of it and discarded.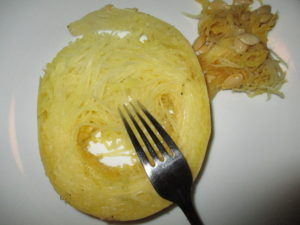 When you cut it and shred it this way you end up with longer more pasta-like strands and the peeling will just pull away.  They pile up quite nicely on a plate just waiting for whatever flavor you want to pair them with.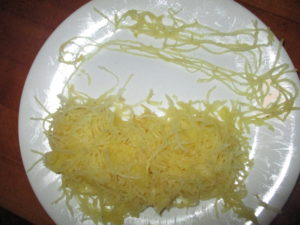 How to make Asian Spaghetti Squash with Shrimp
One of my favorite ways to fix them is with Asian flavors in the style of a lo mien of sorts. The veggies vary from batch to batch because I use anything I have on hand. I have used celery, broccoli, peppers, zucchini, onion,  and carrots just to name a few! Just stir-fried in a skillet sprayed with olive oil spray and a tsp of olive oil if it needs it and after they have softened I add my squash strands. I usually only fix this a small batch at a time for lunch so I only use 1 cup of squash and 1 cup of mixed veggies at a time. You can add some heat by adding red pepper chili flakes or sriracha.
I love it as a side dish for an Asian flavored dish like this tilapia recipe HERE.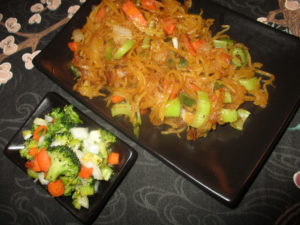 Today I am making shrimp to top it, but pork or chicken would be great too!
The Recipe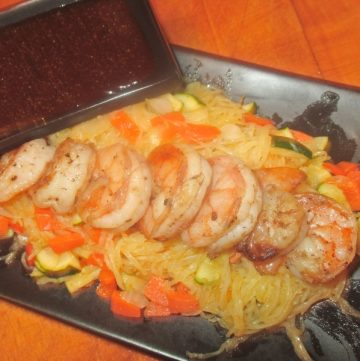 Asian Spaghetti Squash with Shrimp
Take-out flavors you can make at home star in this veggie filled mock noodle dish!
Ingredients
COOK YOUR SPAGHETTI SQUASH 1ST
2

cups

spaghetti squash, cooked and shredded,

**see instructions in the post above
Stirfry Sauce
2

tablespoons

low sodium soy sauce

2

tablespoons

low sodium chicken broth

1

teaspoon

honey

¼

teaspoon

sesame oil

¼

teaspoon

rice vinegar

⅛

teaspoon

ground ginger

¼

teaspoon

garlic powder

cracked black pepper, to taste

**optional red pepper flakes or sriracha
Stirfry
2

teaspoons

olive oil

2

cups

diced mixed veggies,

** for example carrots, celery, onion, cabbage, broccoli
Thickener
2

teaspoons

water

1

teaspoon

corn starch
Shrimp
olive oil spray

1½

cups

raw shrimp, thawed and peeled
Instructions
PREP YOUR SPAGHETTI SQUASH 1ST
Stirfry Sauce
Mix all ingredients in a small bowl and set aside to use later.
Stirfry
Add oil to the skillet and get it hot. Add diced veggies and stirfry till almost soft. Add stirfry sauce cook for 1 or 2 more minutes.
Thickener
Mix 2 teaspoons water and 1 teaspoon cornstarch and add to the stirfry. Stir till thickened ( 30 seconds or so). Mix with warm cooked spaghetti squash.
Shrimp
Wipe your skillet out, spray with olive oil spray, and heat. Add shrimp and saute till almost done or light pink. Add 1 teaspoon of low sodium soy sauce and cook till shrimp are done. Place shrimp on top of the squash mixture.
21 Day Fix Container Counts per 1/2 recipe: 2G, 1R, 1 oil spoon
Notes
If you like spicy flavors you can add red pepper flakes or sriracha to the sauce.
When I am measuring this out for my containers on the 21 Day Fix I measure 1G of spaghetti squash and 1G of mixed veggies. The sauce is basically "free" because there is not enough oil or honey to count (sometimes I double the sauce). Then I add 1R of a protein if I am using it. Sometimes I like to add some spicy mayo to it. I have a recipe for one HERE in this Sushi Salad recipe.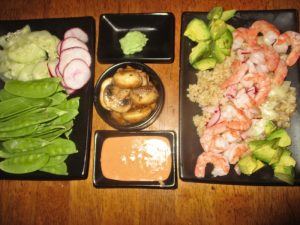 You can also top it with a good clean spaghetti sauce or make taco meat filling "boat" style. The possibilities are endless! Check out this recipe for lasagna made with it HERE.
I am going to be able to get my hands on quite a few this summer garden season. So I am going to be working a few more recipes into my meal rotation!