Picnics and vinegar slaw… what an odd topic! But now that spring is officially here Hubby and I have started getting out of the house and going on hikes. I know if hikes are involved, a picnic can't be far behind. One of the parks we like to spend time in is about 10 miles from our house, Chickasaw State Park. Beautiful spring flowers are springing up everywhere! The woods are full of dogwood and redbud trees in bloom. There is a sea of green breaking out in all the trees (and waves of pollen are following…)
The state has drained most of the water out of the lake so that they can rebuild the bridge across it. All of us in this area walked that old bridge. Maybe even carved our names on it, but it was leaning so bad to one side they had closed it for the last 2 years. They are rebuilding many of the older buildings and fences thru the whole park.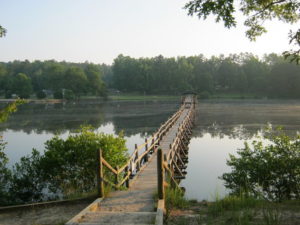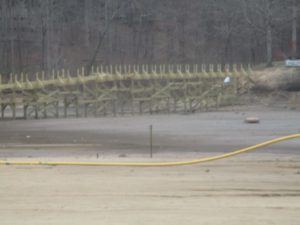 This lake is one of our favorite summer swimming holes. Exposed like this, it looked odd, but I was happy to see that it was cleaner than I imagined it being!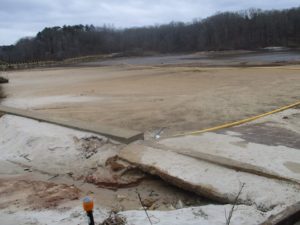 Making plans
We started talking about going hiking to see the progress on the new bridge crossing the lake. Hubby asked, "What ya gonna fix for our picnic?" He knows me so well!!  Pressed roast beef or ham and turkey sandwiches on whole wheat rolls. Steaming bowls of soup from my Thermos. (Here is a great tomato soup recipe!!)  And crunch crunchy vinegar slaw as a salad (recipe below) Ending with a fruit salad. It was all "approved" 21 Day Fix foods for the menu. So I set about locating a picnic basket from my collection that was just perfect for the job! I got my wide-mouthed Thermos out of the cabinet and started making lunch!
I made 3 sandwiches for the 2 of us … roast beef and turkey with smoked white cheddar, ham and sharp cheddar, different mustards and some horseradish for lots of flavors.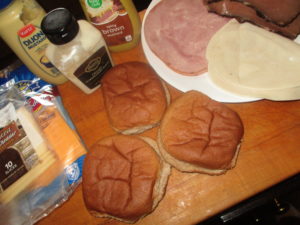 A stack of iron skillets did the pressing for me! There is something about a SMASHED sandwich that feels fancy!
This post is about picnics and slaw so…
On to that Crunchy Vinegar Slaw.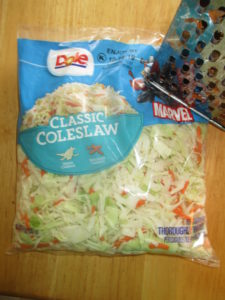 I really didn't want to spend a bunch of time in the kitchen with this recipe so I grabbed a bag of coleslaw mix.
Then I ran a knife through it and then grated some onion into it. I dumped all my dressing ingredients into a jar and shook it up really good. Mixed it all together and packed it into a mason jar. Because it doesn't have any mayonnaise to get "hot", it is a great dish for a picnic!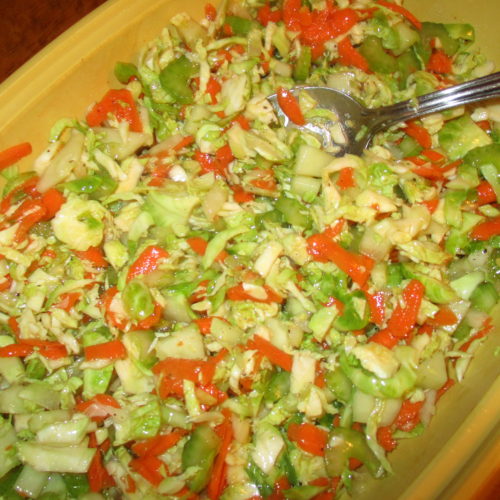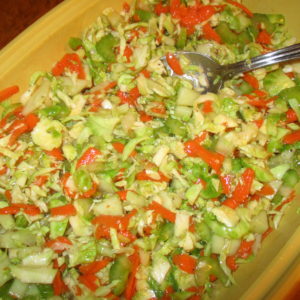 Ultimate Portion Fix/21 Day Fix: Crunchy Vinegar Slaw
A tangy oil and vinegar dressing over crunch cabbage is a great side dish for any meal!
Ingredients
2

cups

shredded coleslaw mix

or 2 cups shredded cabbage and carrots

2

tablespoons

onion, minced

2

tablespoons

apple cider vinegar

2

tablespoons

extra light tasting olive oil

2

teaspoons

honey

¼

teaspoon

celery seed

¼

teaspoon

each salt and pepper
Instructions
Mix all ingredients in a bowl and stir well.

Cover and refrigerate for at least 1 hour.
Ultimate Portion Fix/21 Day Fix Container Counts- 1G 1Orange
I recently created a recipe for a Creamy Mayo Coleslaw too!!
Have a Happy Picnic!!