Going to Orlando is a big vacation for us. We do long weekends or day trips most summers but occasionally we get 2 weeks away from home and when we do Orlando is our FAVORITE destination. Join us on our Orlando Family Fun Vacation!
The Flower and Garden Festival was going on in Disney World at Epcot and we needed a real break so we took a full 12 days this year! And did we ever have FUN!!
Mini-golf Fun!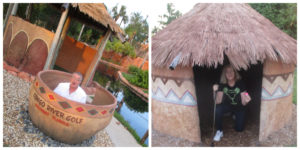 One of our favorite things to do on an Orlando Family Fun Vacation is to play mini-golf. Putt-Putt is fun for everyone. We play a "Hole in One" version of the rules. We take however many shots at a "hole in one" as par on the hole. If par is 3 we take 3 shots at a hole in one. Whoever gets the most in a day's play gets to pick where we go for supper that night. If we happen to be tied by the 18th hole then on that hole we just play normal and count our strokes for that one, as a tiebreaker.  We have walked away with  4-5 holes in one each and our son won a $50 bill with us one time. This time we started our 1st day in Kissimmee with a relaxing game. It was the exact thing we needed after a 2-day car trip!! Darn it, I did not get to pick supper tho he won 3 – 2!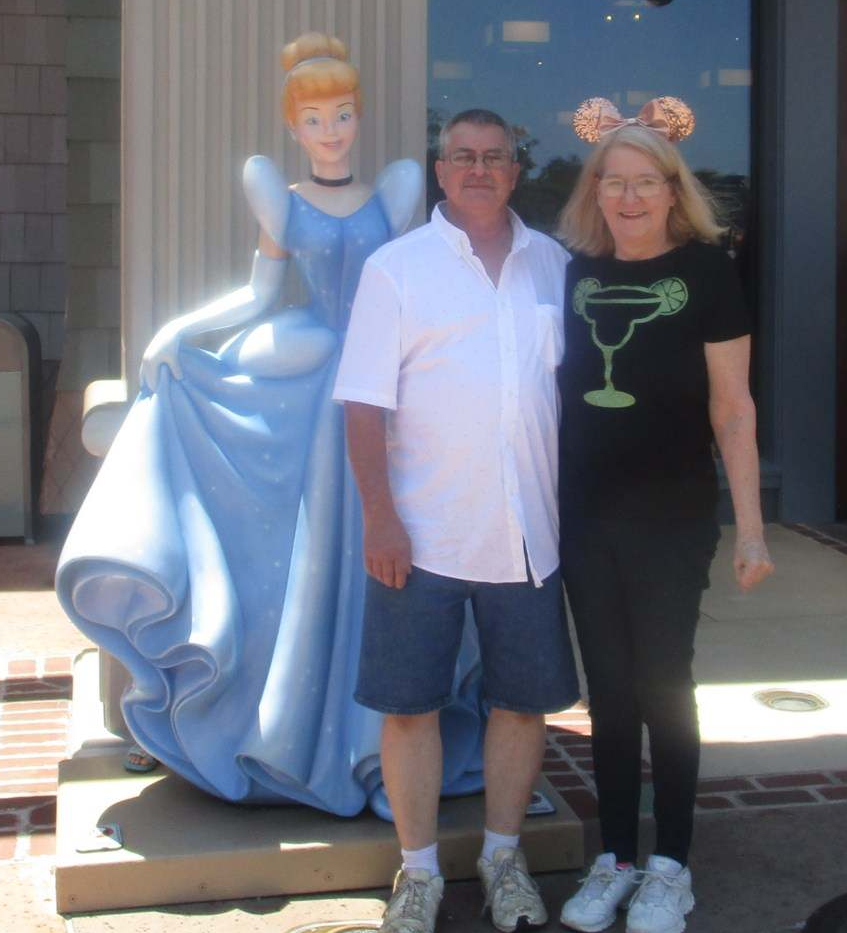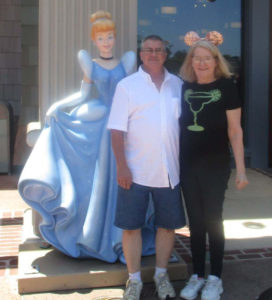 We are both huge Disney fans. Hubby has been 30+ times since he was a teenager. I was raised on the West Coast and went to Disneyland as a child. Hubby took me to the World for the first time 14 years ago and we have been together a total of 6 times now! Even once for our honeymoon!
We planned this trip for 5 months. Saving our money and planning what things we wanted to do and places we wanted to EAT…LOL.
My "Rose Gold" Orlando Family Vacation Fun!!
During my extensive research, I came across the information that Rose Gold Minnie Mouse Ears were like a mirage. You can see them on people's heads but you will almost never see any for sale.
On our trip to Disney Springs that 1st day to eat at the Earl of Sandwich (that is a whole other post).  I wanted to go in the HUGE Disney Store to get my 1st Disney fix of the trip. I happened to step in the door where "ears" were everywhere and a nice Disney Team Member asked if she could help me. So, just on a whim, I asked if there happened to be any rose gold ears in the store? She said the had just gotten a shipment in and if there were any LEFT they would be across the way! OMG I rushed over to the rack she had pointed at and to my disappointment there were none.
BOOHOO
I was about to walk away when another Team Member walked up and hung up a pink pair but was HOLDING a rose gold one!!!! She asked if she could help me and I told her that I was looking for "those" and pointed at the ones in her hand. She said "Do you really want these?" and smiled the biggest smile!! I nodded dumbfounded and she handed them to me!!!!! I hugged her and told her she had brought a tear to my eye. Before I got to the counter to pay 3 women stopped me and asked where I got them. The cashier asked me where I got them because she had just put down a tablet with store inventory looking for some for the previous customer.
Everywhere I went for the next week I had strangers walk up and ask where I found them. Needless to say, I am one happy chick.I may have been wearing them around the house since I got back because I am not sure people at my Walmart would ignore them like the people in Orlando do LOLOL
On with our Orlando Family Fun Vacation!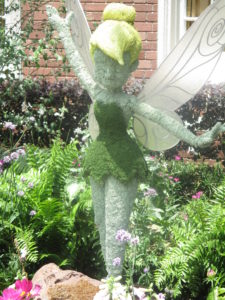 The Flower and Garden Festival was in full swing at Epcot. The topiaries where beautiful! In true Disney form, every flower bed was dazzling. In my "featured photo" at the top of this post, the horseshoe of flowers around the pond was amazing! Everywhere you looked there was real beauty and FOOD. That is my next post tho because I am going to have to dedicate some more time to our Disney dream vacation!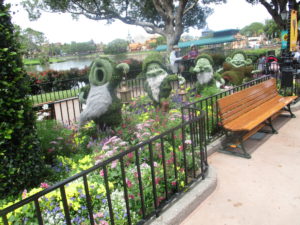 Snow White was adorable….all the dwarfs following along behind …..such a fun sight!! We had such perfect weather for the most part. The week ended on a wet note but not this day.
Walking for hours looking at such beauty made us hungry! Join me for the next installment of my story……some of the FOOD we enjoyed. Until then safe travel friends!