While on vacation in Orlando this year we got tired of running around. We love Disney World but we are older now and 8 days of fun really took its toll on us…..and my eating my plan. We left Orlando on a Thursday and headed for the only dry beach in Florida that weekend. Panama City Beach and my favorite shrimp tacos. I called it a "vacation from our vacation" LOL. Perfect Florida fun!
We have stayed at the same little rusty motel for the past few years LOL. I came to realize years ago that rusty and the ocean go hand in hand. I am always on a budget and it fits my budget! The most important part of our stay is the fact we stay beachside. I can get up in the morning and in a few steps, be drinking my coffee watching the sun come up to the roar of the ocean!
I never tire of watching the waves lap the sand. Early morning exploring can show you things that washed up during the high tide of the night. Like this JELLYFISH I found…eeeeek !!!! It was the size of a dinner plate!! I am glad I didn't meet up with that in the ocean!! We went on a dolphin cruise last year and saw some jellyfish the size of car hoods!! They were terrifyingly beautiful!!  If you have ever been stung by one you know the terrifying part I am talking about!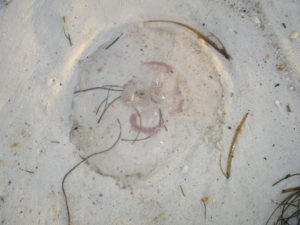 I have vacationed in the area for decades now and am always amazed during my morning walks. One time I came across some sand sculptures made by a 12-year-old the day before……..there were 6 of them. Each one of them AMAZING. I was about a mile from my motel room and without my camera that day…..drat!
How was the weather?
This trip the weather was cloudy and windy, but PERFECT. The temperatures on that mid-May weekend were wonderful. The ocean was a little "busy" for me because I like the beach but not the ocean unless it is perfect!  We had a red flag the day we got there and a double red flag the day we left.  The beach patrol helicopter was flying back and forth all day.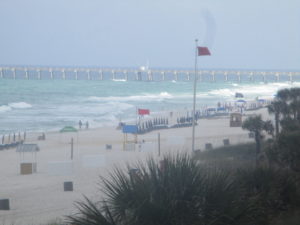 Another fun thing to do is to go exploring on the beach at night. Flashlights are a must to help you find crabs and seeing other crawling things 🙂 I even found a cat one night… just chilling out watching the ocean.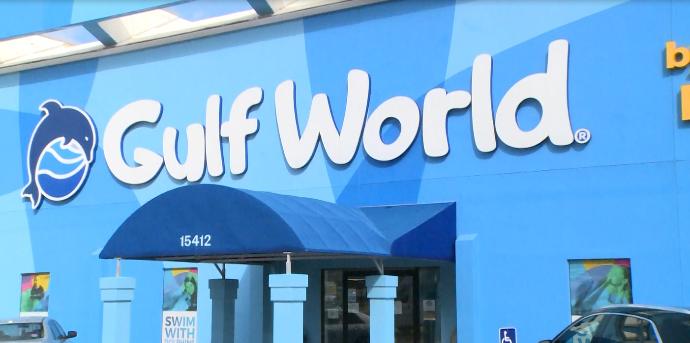 If you want to get up close and personal with wildlife then Gulf World is the place to head! Gulfworld LINK.  I enjoy myself every time I go! Just feet from you is everything from sea turtles to sharks! They have dolphin and bird shows too!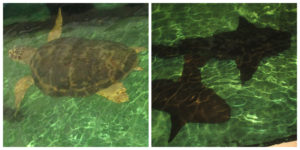 Now to one of my favorite things included in Florida fun. EATING!
After a long day of putt-putt golf and souvenir shopping, the next thing to do is go to eat of course! Now we have our favorite places like Thomas' Donuts or Mike's Oyster Bar. This time while I was researching our trip I came across a newer establishment I wanted to try. Finn's Island Style Grub 


Fish tacos are what I was angling for and it did not disappoint. Big, bold flavors… spicy fresh sauces mixed with cool creamy ones all in one taco! My pictures were crappy so I borrowed this one from their Facebook page!
I came home and made a version of a shrimp taco that was really good but not exactly what I was trying for. So off to the kitchen I went and came up with this simple but delish recipe!  Hubby doesn't care for Mexican food so I just made this a single serving recipe, that I will fix for my lunch so that I don't have to find something different to fix for him 🙂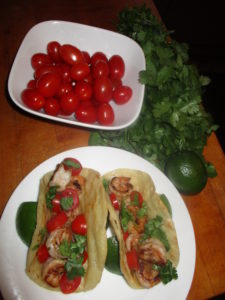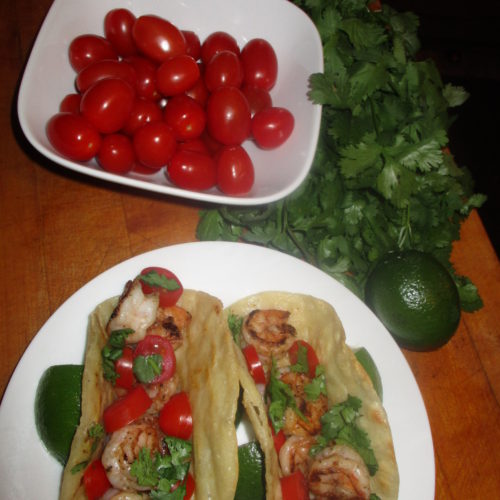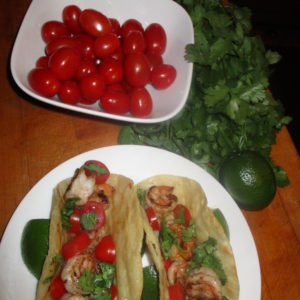 Ultimate Portion Fix/21 Day Fix: Shrimp Tacos
Beach-inspired tacos at home!!
Ingredients
24

large

shrimp shelled and grilled *see note

24

halves

grape tomatoes, marinated in onion juice and garlic powder

4

corn tortillas, fried **see note

2

teaspoons

chopped cilantro

2

wedges

lime
Instructions
Fill each tortilla shell with 6 shrimp and 6 tomatoes.

Top with cilantro and a squeeze of lime.
Ultimate Portion Fix/21 Day Fix Container Count- 1Y 2R ½G for 2 tacos
Notes
* I just use salt, pepper, cumin, chili powder and 1 tsp of olive oil on the shrimp and grill for 4 minutes on each side. You could just stirfry them in a skillet on the stove too.
**Here is the recipe for the crispy corn tortillas. 
My Honey Sriacha Shrimp are really good in shrimp tacos too!!
I hope I have encouraged you to go and have some Florida fun for yourself!!!
ENJOY!