Our garden is pushing out an abundance of yellow straight necked squash right now. So it is time for one of my favorite squash recipes ever a Summer Squash Casserole. Buttery and cheesy goodness baked to perfection.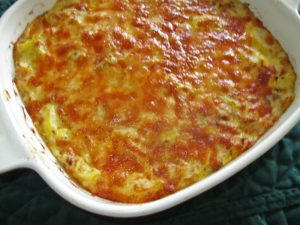 What varieties of squash are there?
There are 2 basic categories of edible squash. Winter squash and summer squash.
Winter squash stays on the vine the longest and most of them have tough skin because of it. Pumpkin, butternut, spaghetti squash, and acorn squash all have a skin you wouldn't want to eat.
Summer squash is picked earlier in the growing season. They are tender skinned and softer fleshed than their winter cousins. You can eat the skin on most of them. 
Popular types of summer squash
Here in the Mid-South our gardens and our farmer's markets are brimming with squash.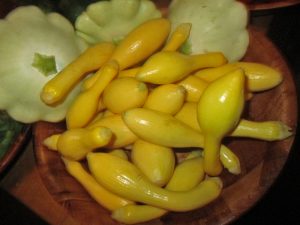 Baby yellow crookneck squash and pattypan or scalloped squash are two of my favorite summer squash to grow. I just sautee those babies in a little butter till they get some color on them. Then I add a few tablespoons of water or broth in the pan turn the stove down and put a lid on till the squash is tender.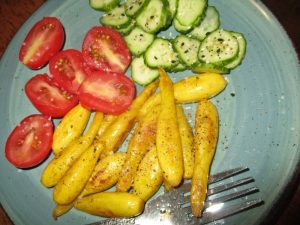 There is a squash grown around here called a zephyr squash. Old-timers call them "zipper squash" sometimes. You can use them just like any other summer squash. I think they a cute little bi-colored squash.


Yellow straight neck squash is usually picked when it is a little larger than crookneck. I like to get them and some smooth green zucchini about the same size and use them together.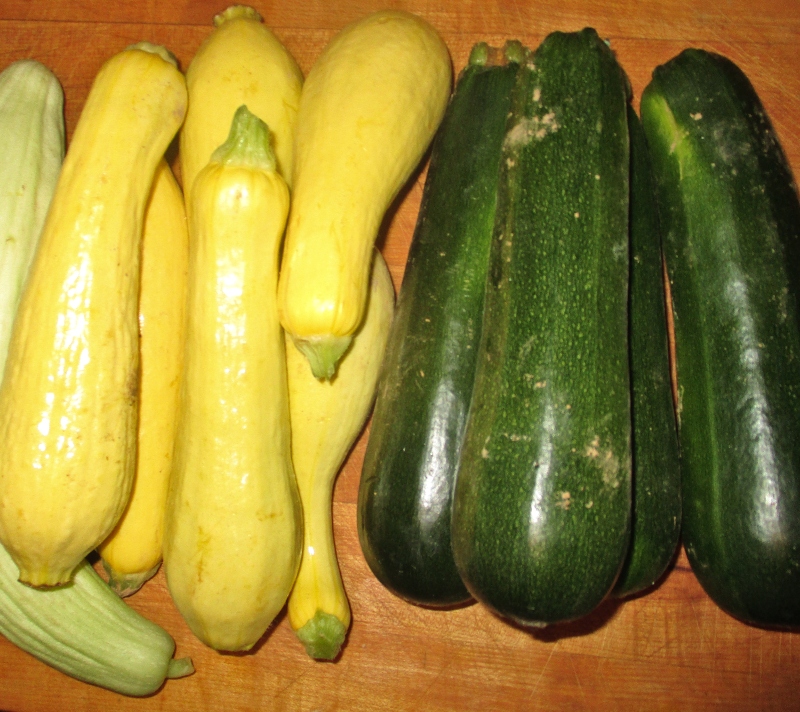 This ratatouille style bake is a favorite of mine. Sliced squash and onions with plenty of 21 Day Fix approved jarred pasta sauce. I have some suggestions for some in this post.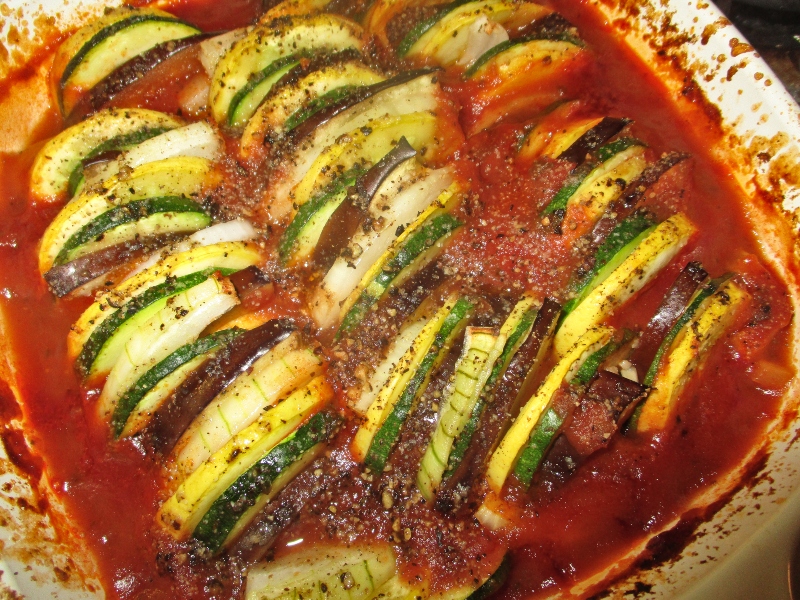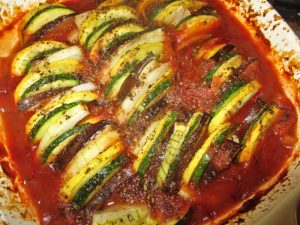 I bake it for about 30-40 minutes at 350o or till the squash is tender. You could add cheese to the top if you wanted.
Now for the Summer Squash Casserole
I am going to use some beautiful straight necks for this casserole. 5 decent sized squash yielded the 4 cups I wanted to cook.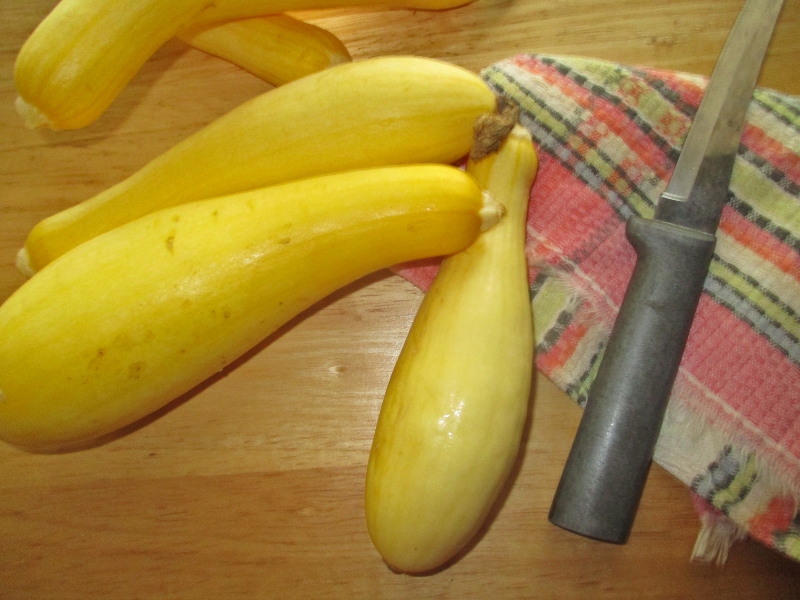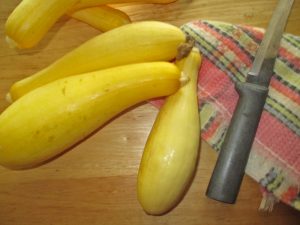 I slice them at about 1/2′ thick. If you slice them too thin they just turn to mush and if you slice them too thick they are just clumpy.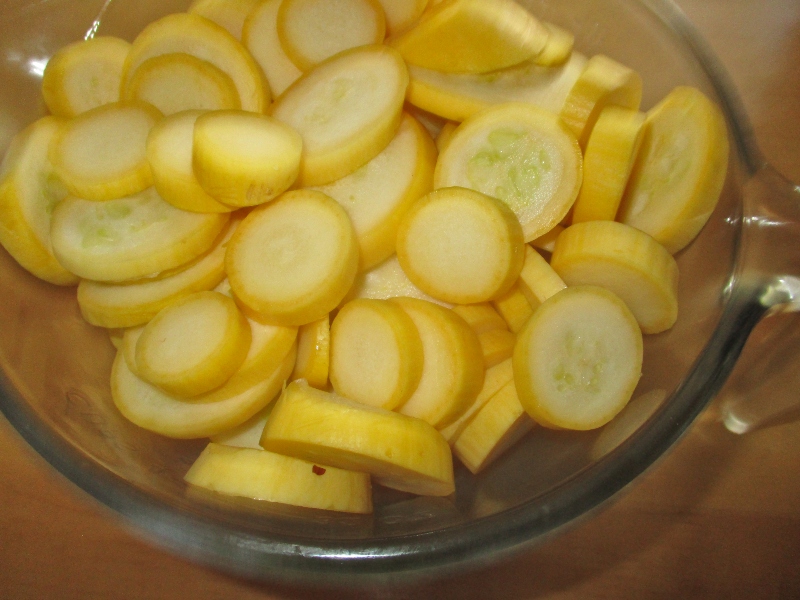 Boiling them for about 10-12 minutes is all you need to do. Remember we are making a casserole so they are going to finish cooking in the oven. I don't even season them because I am going to do that in the casserole too. 
You must drain these squash very well. They are going to make plenty of their own liquid after they have been cooked.  Then I chop them up while they are still in the strainer and let them drain some more. I shake them and jiggle them and gently mash them down with the back of a big spoon and let them drain some more.  Did I mention to drain them very well…?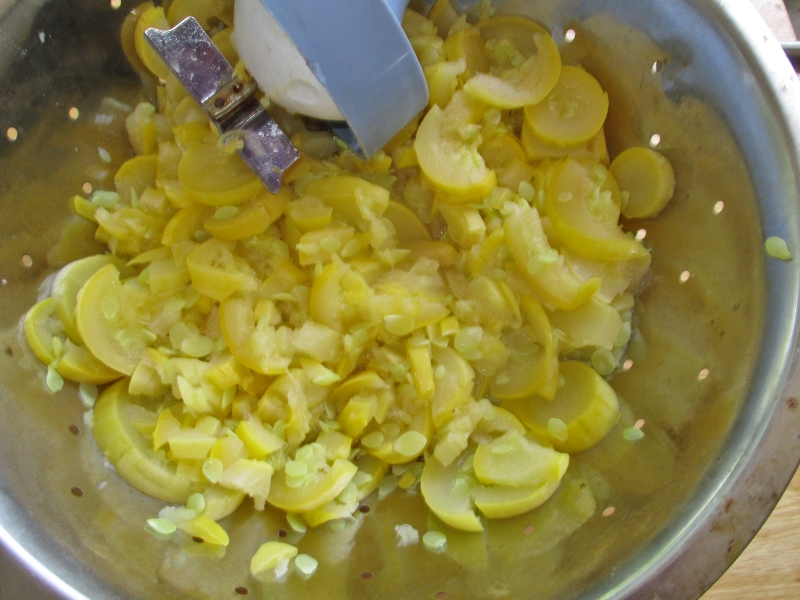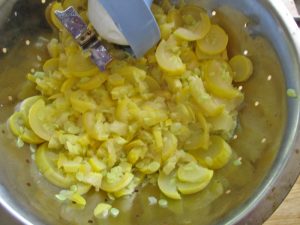 I set them in the sink for the time it takes me to assemble the rest of my ingredients.
What are the other ingredients?
Spray a casserole dish, divide the cheese in half, with a little butter, eggs, salt, pepper, and flour is all you need.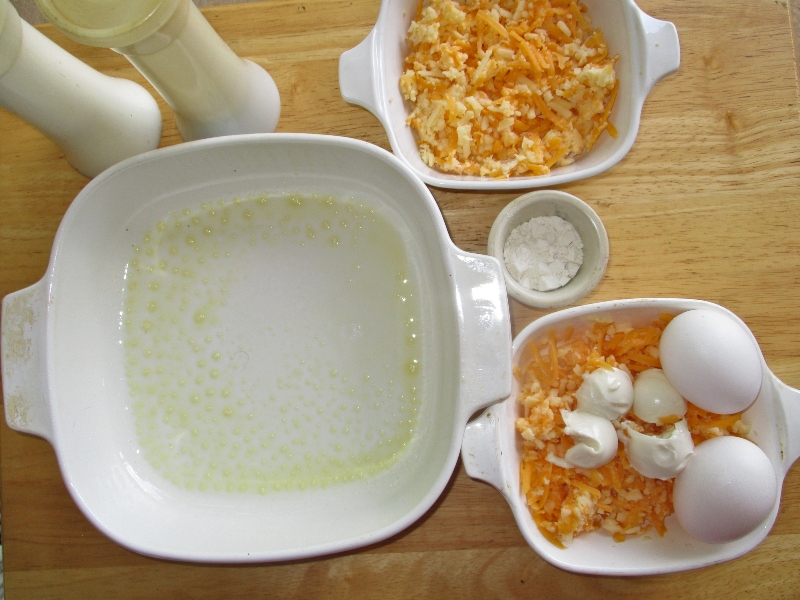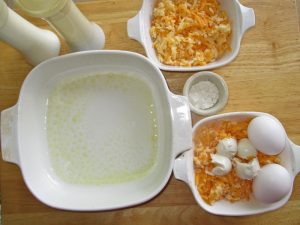 Mix everything together except 1/2 the cheese, save that for the top. Bake it for about 40 minutes or till you get that cheese the color you like best.
Sometimes I even mix zucchini and yellow together when I don't have enough of one or the other. 
Every batch of squash will cook down to different amounts because of different water content. That makes it hard to put an "amount" for a serving. Just divide the pan in ¼'s and serve yourself that for 1G, 1B, 1/2R, 1 oil spoon.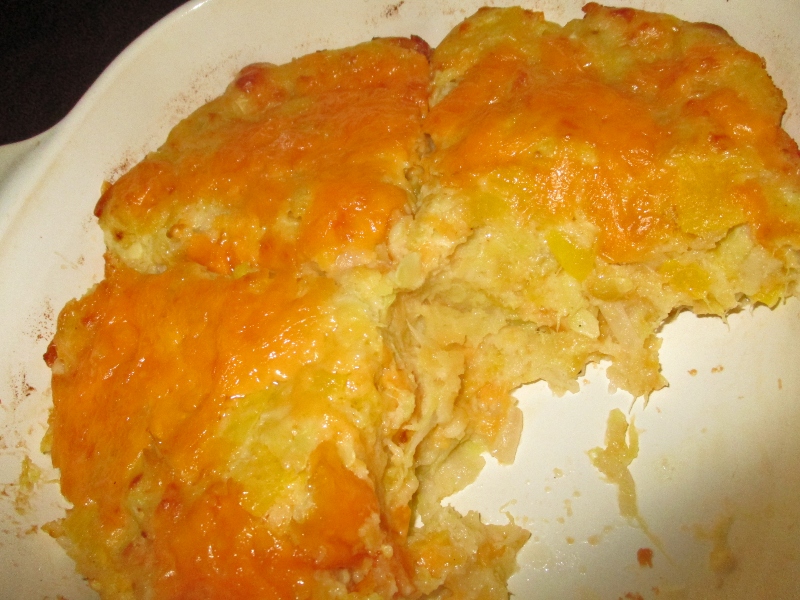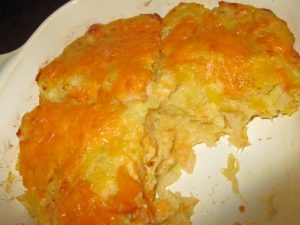 I like to prep this dish ahead. Using the oven when it is cooler in the morning. It microwaves beautifully so I plan it for lunches during the week too.
Ingredients
4

cups

sliced summer squash, cooked-drained-mashed---

yellow squash and/or zucchini or a mix of them

olive oil spray

2

Tablespoons

onion, minced

2

eggs

4

teaspoons

butter

1⅓

cups

cheddar cheese, shredded--

Divided in half, 2/3 cups each.

1

Tablespoon

gluten-free 1-for-1 or whole wheat flour

1

teaspoon

salt

½

teaspoon

pepper
Instructions
Slice squash. Cover with water and boil 10-12 minutes. Drain. Mash while in the strainer

Preheat oven to 350°. Spray 2-3 quart casserole dish with olive oil spray.

Add squash back to the pan and stir in all the ingredients except ⅔ cup of cheese. Then pour the mix into the casserole dish and add ⅔ cup cheese evenly over the top.

Bake 30-35 minutes or until cheese is all melty and starting to brown a little.
21 Day Fix Container Counts for 1/4 of the pan-- 1G, 1B, ¼R, 1 oil teaspoon
Every batch of squash will cook down to different amounts because of different water content in them. That makes it hard to put an "amount" for a serving. Just divide the pan in ¼'s
What do I serve Summer Squash Casserole with?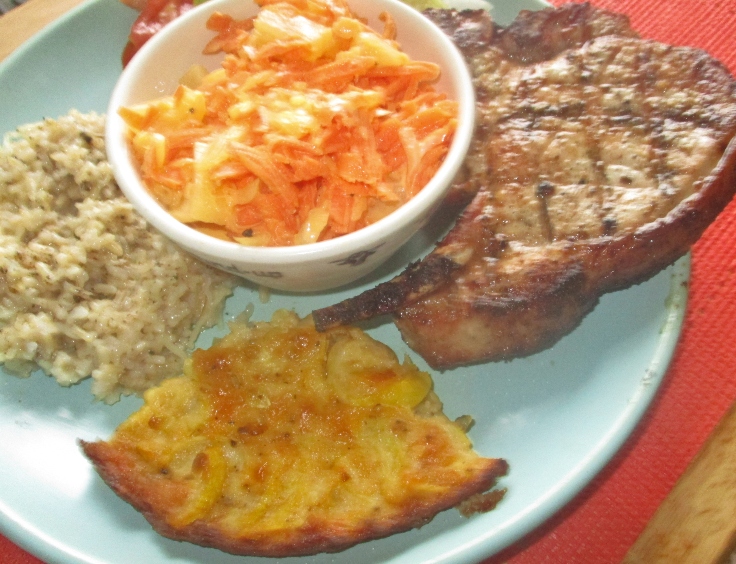 I like to serve it in the summer on days that we grill. Because I make it in the mornings it means I don't have to heat my kitchen up at all in the evening. Just microwave it along with a microwaved rice or potato dish. Serve a cold salad/slaw alongside. Like this Carrot-Apple Salad.
Maybe a cool coleslaw with some creamy mayonnaise dressing! Like this one.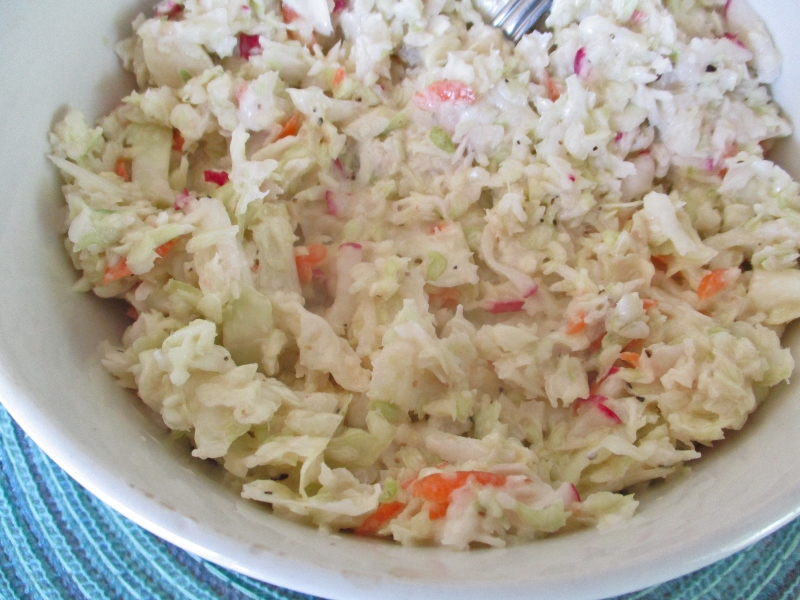 Let me know if you enjoyed it!!