Why did I decide to make some Air Fryer Fried Green Tomatoes? Well, it is the end of the growing season for our garden. At the end of the garden season, we always seem to have green tomatoes left on the vine. There won't be enough sunlight to finish ripening them on the vine, unfortunately. There are a few ways to use them green, like turning them into relish or pickles. But my favorite way is to fry them! I am trying to eat better now and realized I wanted to revamp my fried green tomatoes recipe.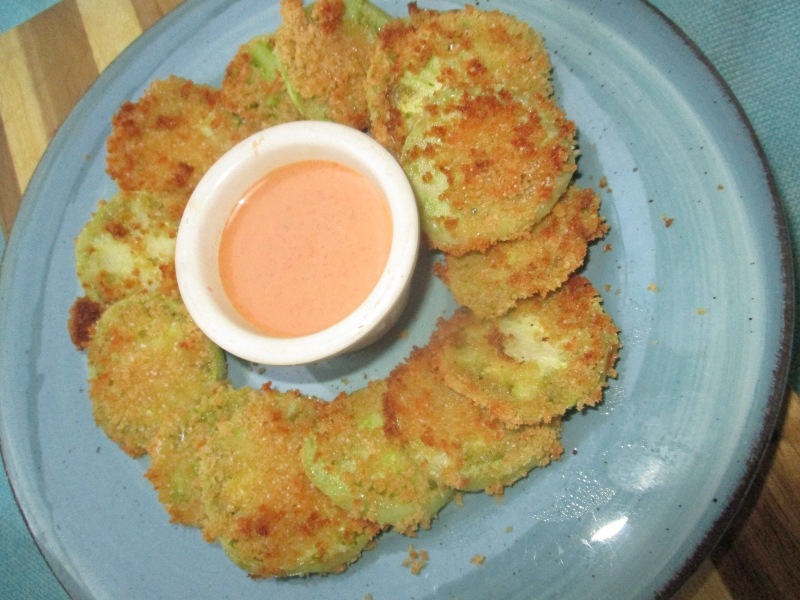 I love to serve them with my Mississippi Comeback Sauce. Recipe HERE. It is made from simple ingredients that you probably have on hand.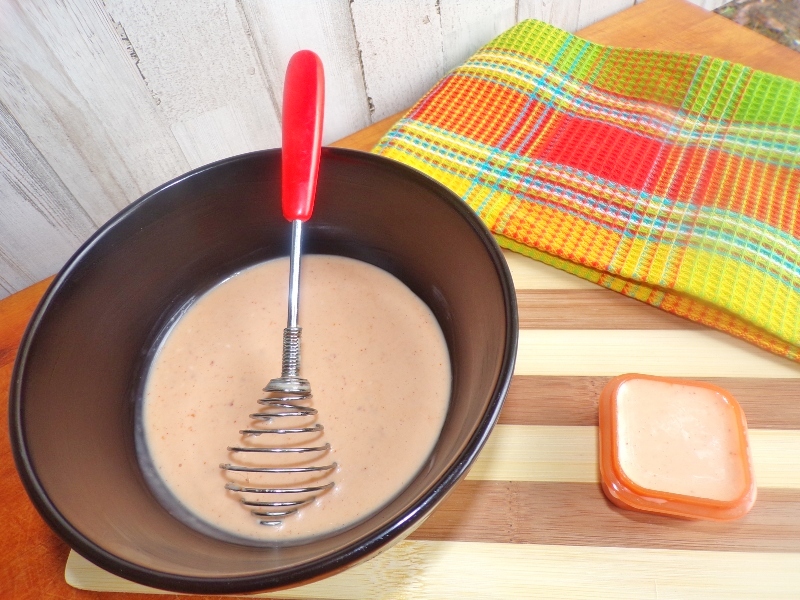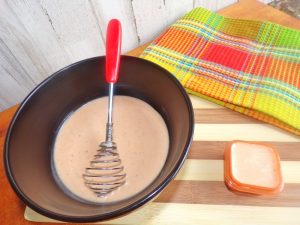 Never had a fried green tomato?
Fried green tomatoes are so popular here in the South that they are served as an appetizer in many restaurants! If you have never had the opportunity to try a fried green tomato, you don't know what you are missing!
As with anything "green"/unripe, there is a tartness to them. There are breeds of tomatoes that are green when they are ripe and you can fry those. The most commonly used around here are unripe tomatoes.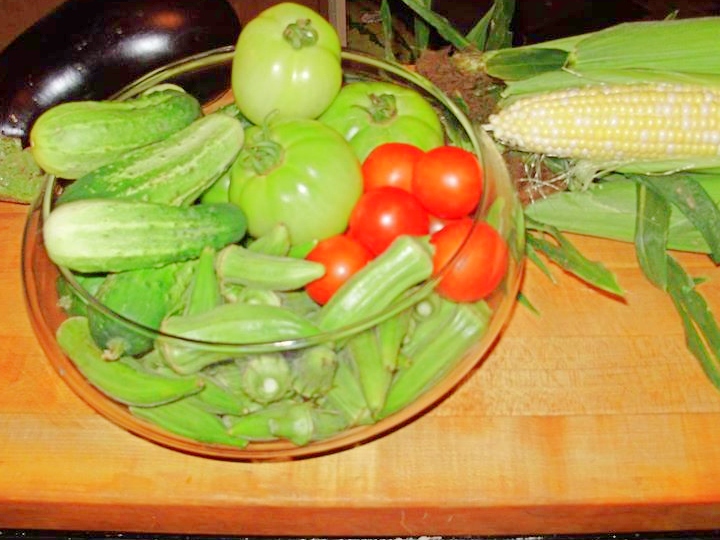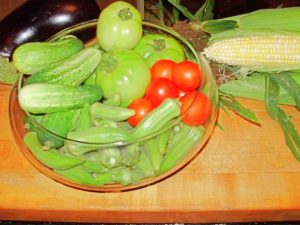 We grow our own tomatoes so snagging a couple to fry is no problem. But if we didn't have our own we could buy some at the farmers market. Even our grocery stores will have them in the summer.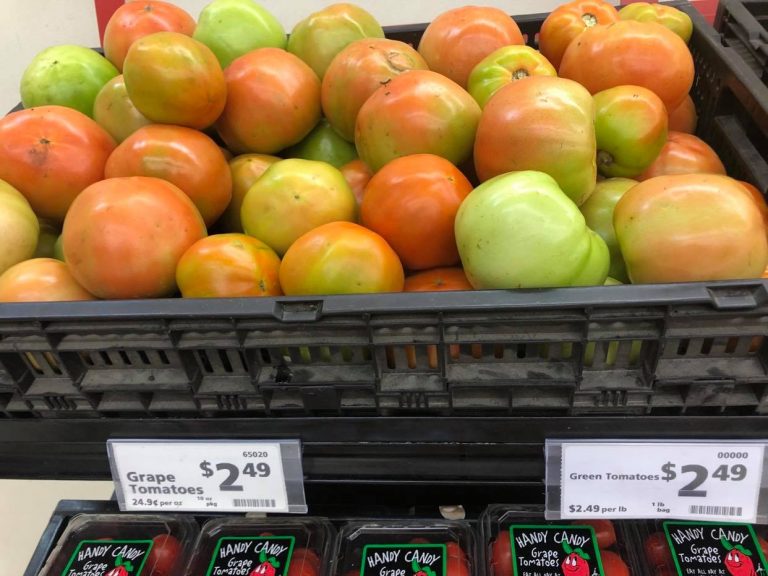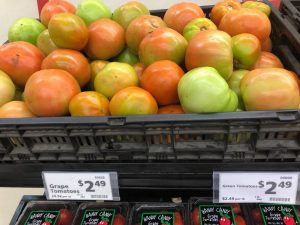 I like to choose tomatoes that have just a tinge of pink starting on them. To me, they are just a little more tart! 
How to get started making Air Fryer Fried Green Tomatoes
After picking your green tomatoes, it is time to start prepping them. You want uniform slices for something like this so that all the pieces will get done at the same time. I use my mandolin to achieve those uniform slices but you can certainly use a knife.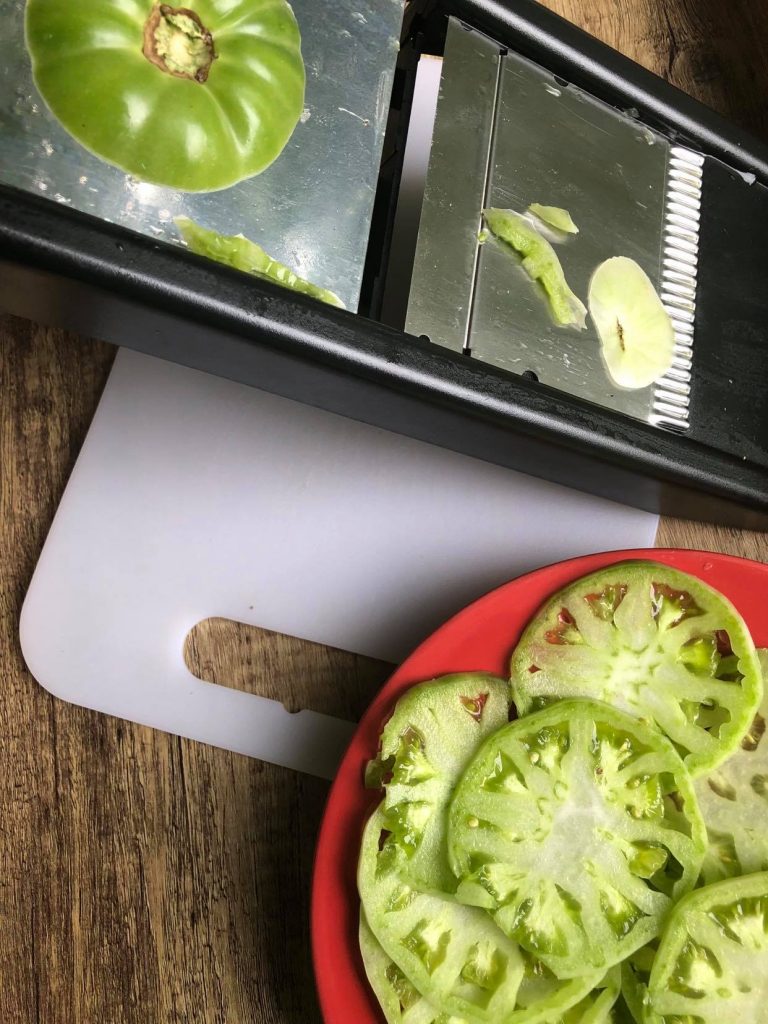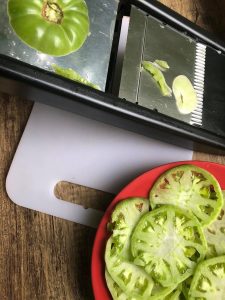 I like to slice them to about 1/4 to 1/2 inch thick/thin. They seem to get crisper the thinner they are. 
Using a 3 bowl breading station is the best way to get an even coating on all the slices. Arrange the bowls: 1. cornstarch, 2. egg, and 3. whole wheat panko mixed with cornmeal.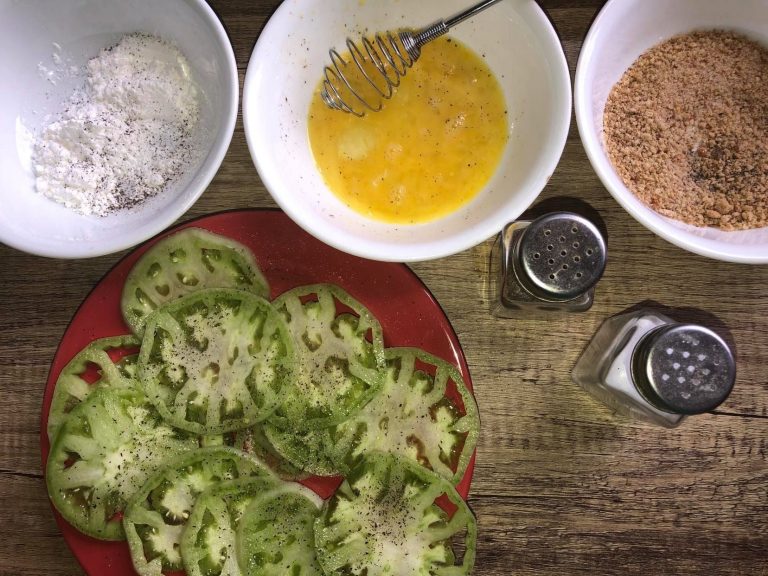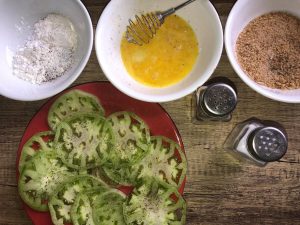 Place the breaded tomatoes on a plate and spray with olive oil spray. We are going to count oil teaspoons with this recipe so spray liberally.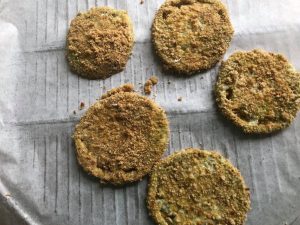 I use parchment paper in my NuWave Oven Air Fryer and if you can use it in your air fryer I would suggest using it. The finished product is a little crisper when I use it.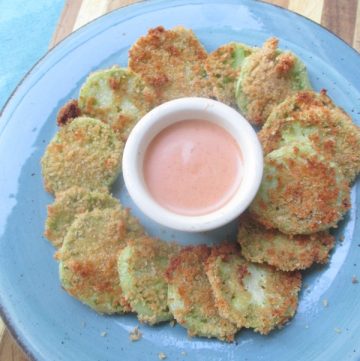 Air Fryer Fried Green Tomatoes
Ingredients
2

med

green tomatoes

olive oil spray

3

tablespoons

cornstarch

1

large

egg, beaten

¼

cup

cornmeal

¼

cup

whole-wheat panko bread crumbs
Instructions
Cut tomatoes into 1/4-inch slices. Dry with paper towels.

Set up 3 bowls with cornstarch, beaten egg, and cornmeal w/panko mixed.

Dip each slice 1st in cornstarch, tapping off any excess.

Dip next in beaten egg, letting the excess drip off.

Lastly, press each slice into the bread crumb mixture. Laying them all on a plate or a tray.

Spray the tops liberally with olive oil spray. Salt and pepper each slice. Let sit for 5 minutes.

While the slices are resting, preheat the air fryer. Spray the basket/rack well and prep your parchment paper if using.

Load a single layer of slices into the air fryer oiled side up. Cook 5 minutes.

Flip slices over and spray this side very well with olive oil. Cook another 3-5 minutes till golden brown.

Serve hot with sauce of your choice.
Portion Fix/ 21 Day Fix Container Counts for 1 med tomato: 1G, 1Y, 2 oil teaspoons
Notes
** OVEN BAKED OPTION: Preheat oven to 400. Prep tomatoes as instructed. Place tomatoes on parchment lined cookie sheet. Bake for 5 minutes, flip tomatoes, spray the tops of them and bake another 5 minutes or until golden brown. 
What can you serve with these Air Fryer Fried Green Tomatoes?
Since these are straight-up country food, I serve them with other simple country foods!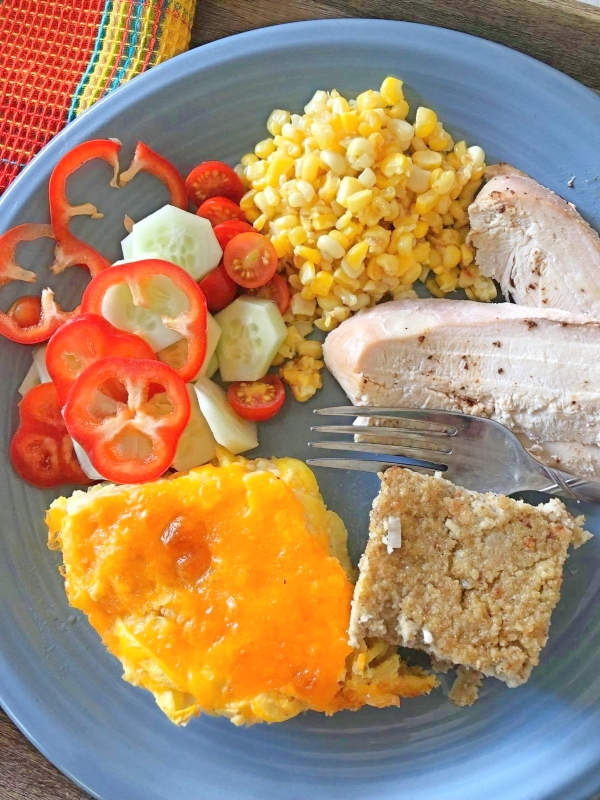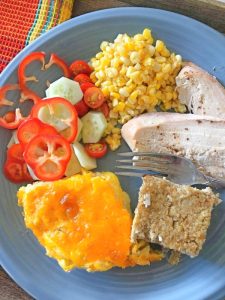 A cheese squash casserole is perfect! Recipe HERE. Make a beautifully roasted chicken as a protein and you have a whole meal!! Recipe for chicken HERE.
Whatever you decide to serve with them I hope you enjoy them!!!