Pizza Noodle Soup?!?! Yep! Just in time for Fall weather!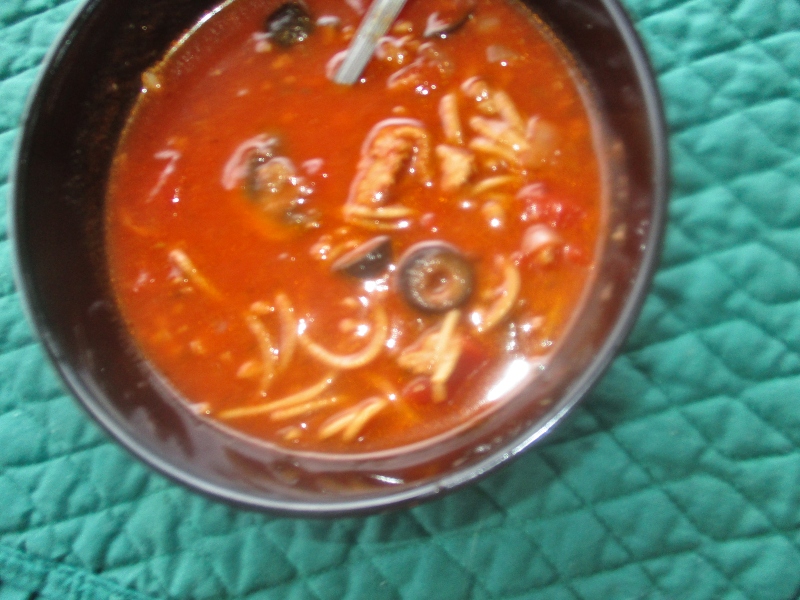 I have been playing with pizza flavors…my Giant Meat-za-balls is an example of that. All the flavors of pizza in a giant meatball is wonderful!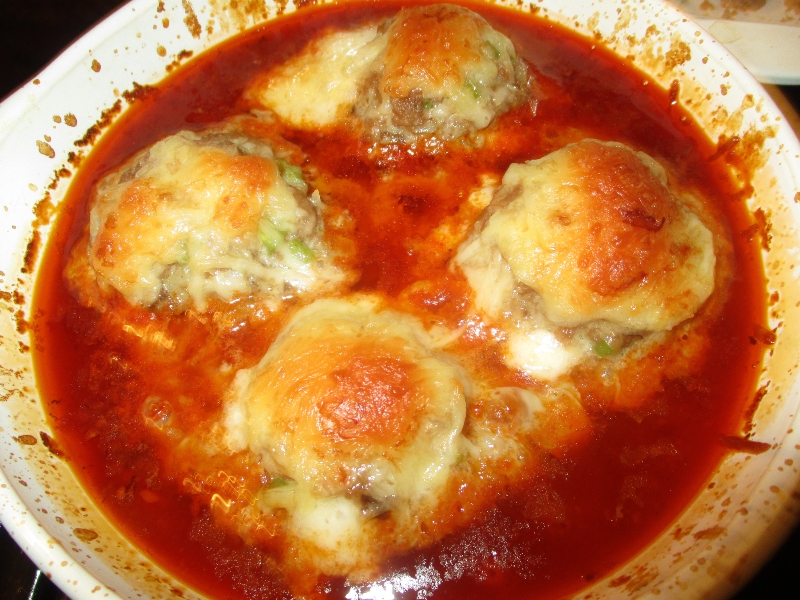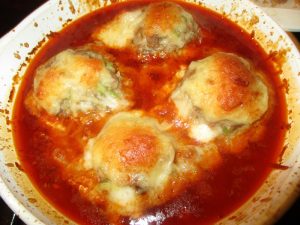 Sometimes I make pizzas on my favorite pita bread. I can get 2 pitas for 1 Yellow container. I tell you how in this post about Bread Products and the 21 Day Fix.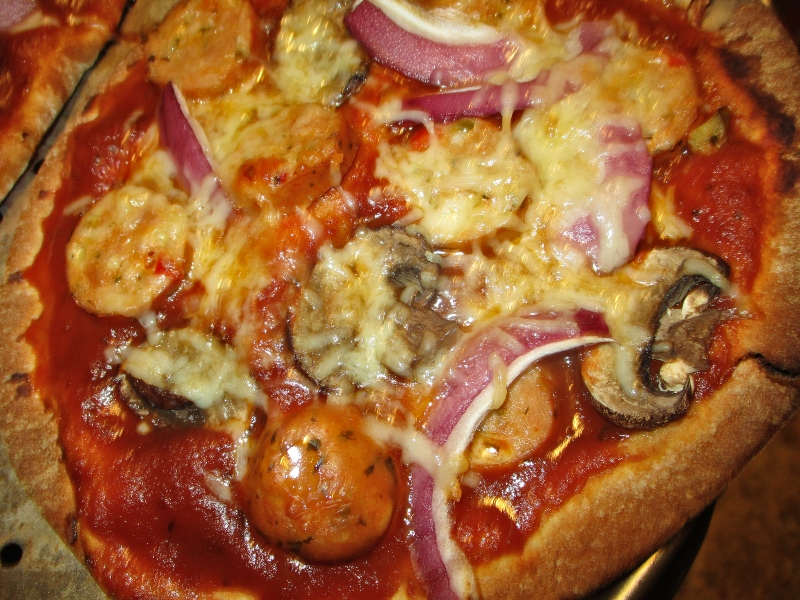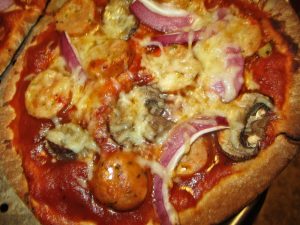 You might enjoy a BBQ Chicken Pizza for a different flavor! The BBQ Sauce in that recipe is delicious!  Or maybe you are in the mood for a 3 Cheese Pizza, this one is great too!!
But on to Pizza Noodle Soup ingredients
It can take me 3 times of making a recipe to get it to perfection. So while I was perfecting my Meat-Za-Ball recipe, I have had plenty of pizza ingredients around. But a girl can only eat so many meatballs… and it is still soup weather. So Pizza Noodle Soup was born. Some of the main players are pizza sauce( I give some advice about finding "approved" pizza sauce in this post), and all of the veggies you might like ON a pizza. Mushrooms, onions, olives, bell peppers were all included!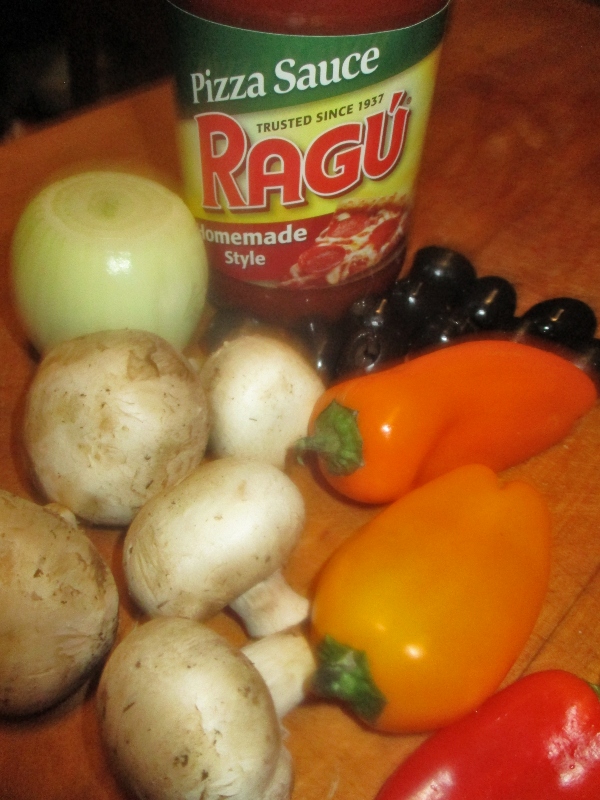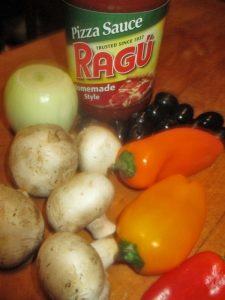 A couple of more cans of tomato products need to join these ingredients. Both of them low sodium- no salt added versions.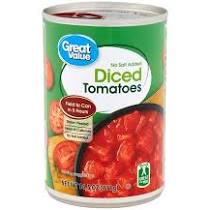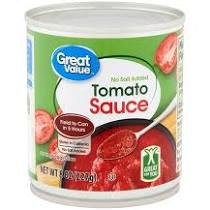 And some low sodium beef broth too.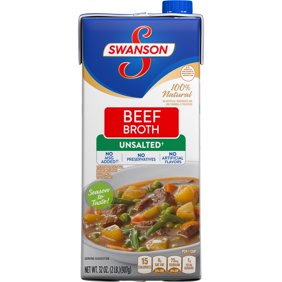 What kind of meat do I use?
I use ground turkey/chicken that has been spiced to taste like "pepperoni" for the soup. The meat mixture is good and going to be the star of a few of my recipes in the future.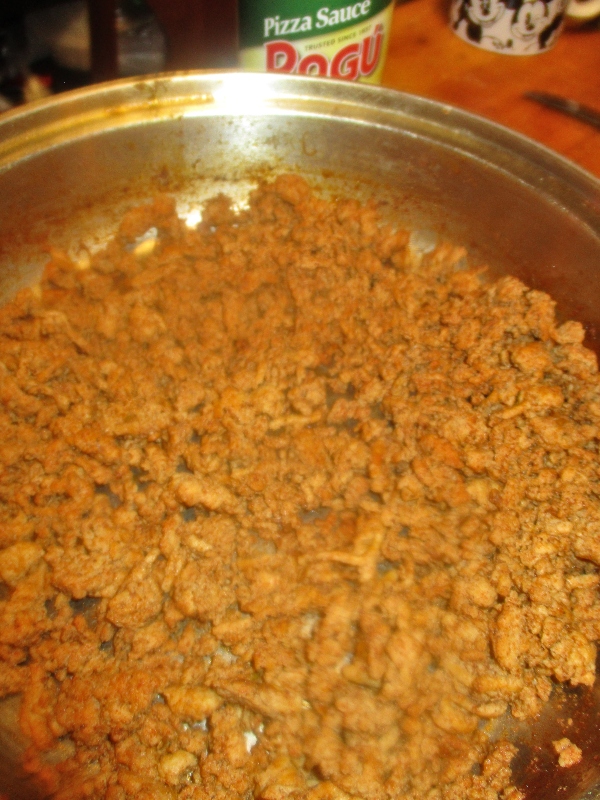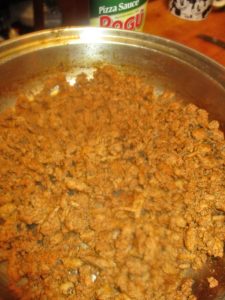 Sometimes if I have any Italian flavored chicken sausage, I will add a couple of those too. I never add more than 2 for the whole pan though because of the sodium that is in them. I like to use the Never Any brand at Aldi's. You can learn about the sodium numbers here.
I use 3 Red containers of the meat mixture and 2 sausages for a total of 4R or all 4 Red containers of the meat mixture when I don't use sausages.
The last of the main ingredients are the "noodles". The noodles 100% optional because the soup is great with or without them. I just plan for them because I like them in this soup. You can use whole wheat noodles like these or gluten-free ones. I  boil my noodles ahead of time because I make a big batch of yellow for the "week" and plan my meals around them. (I suppose you could add dry noodles in near the end of your cooking time. But I don't have a way to "measure" them. They swell up some and I want an EXACT count for my containers. So I just precook them)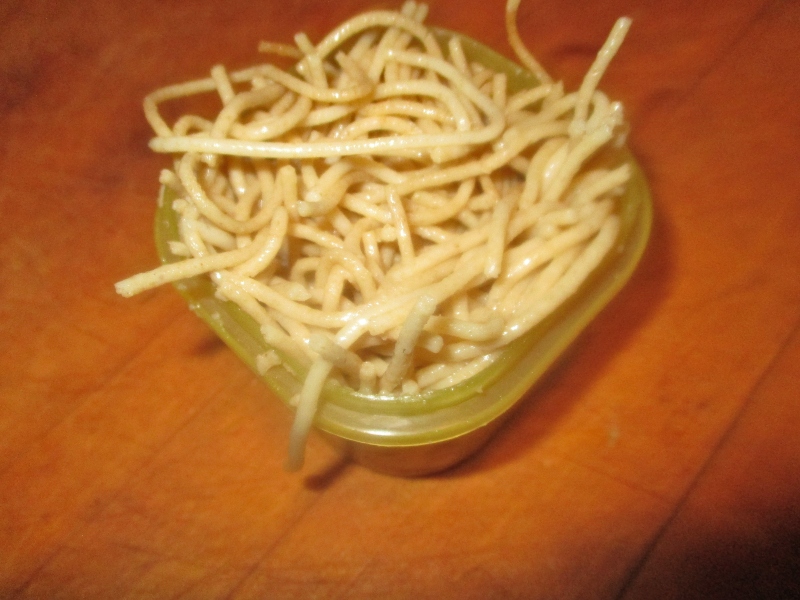 Let's start by making "faux" pepperoni flavored meat.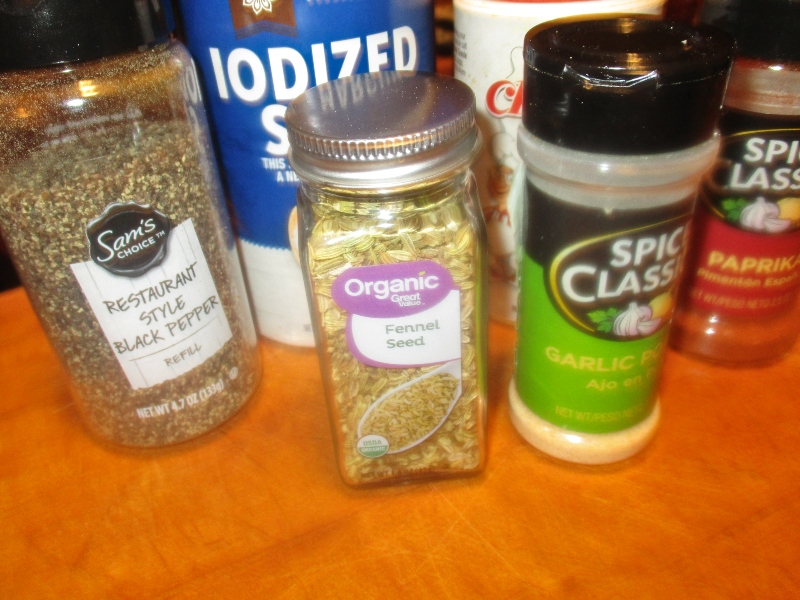 Fennel seed was the only extra spice I had to buy for this recipe but since I will be using it pretty often I didn't mind at all. Just the basic salt, pepper, garlic powder, paprika, and cayenne pepper are the other ones needed.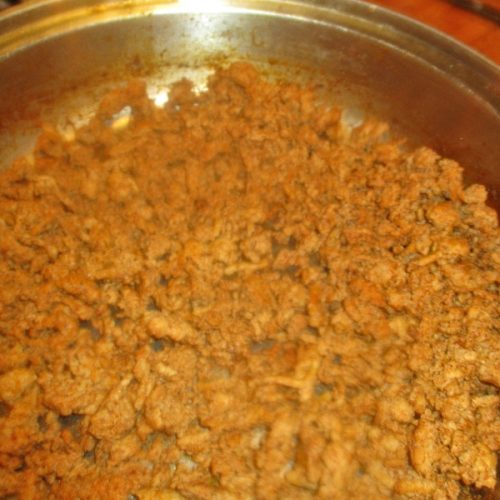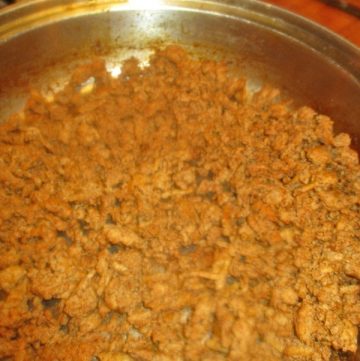 Pepperoni Crumbles
Pepperoni spices make this meat mix perfect for pizza flavors!
Ingredients
1

pound

ground meat- beef, chicken, turkey

olive oil spray

¼

teaspoon

salt

½

teaspoon

pepper

1

tablespoon

paprika

1½

teaspoons

garlic powder

1

pinch

cayenne pepper

1½

teaspoons

crushed fennel seeds

⅔

cup

water
Instructions
Brown ground meat in skillet sprayed with olive oil spray. Drain.

Add all spices and water to the skillet. Cook on low for about 15 minutes or till the water is evaporated.
Now for the Pizza Noodle Soup recipe!
I start by assembling all the ingredients. Dicing the diced and opening cans and jars. Meat and noodles measured out. A 6-quart pan ought to hold it all. Start by cooking the veggies down just a little bit in the pan sprayed with olive oil spray or I like to put a few tablespoons of water or broth in the pan and put a lid on for a few minutes and let them sweat down. Then just add ALL the rest of the ingredients to the pot.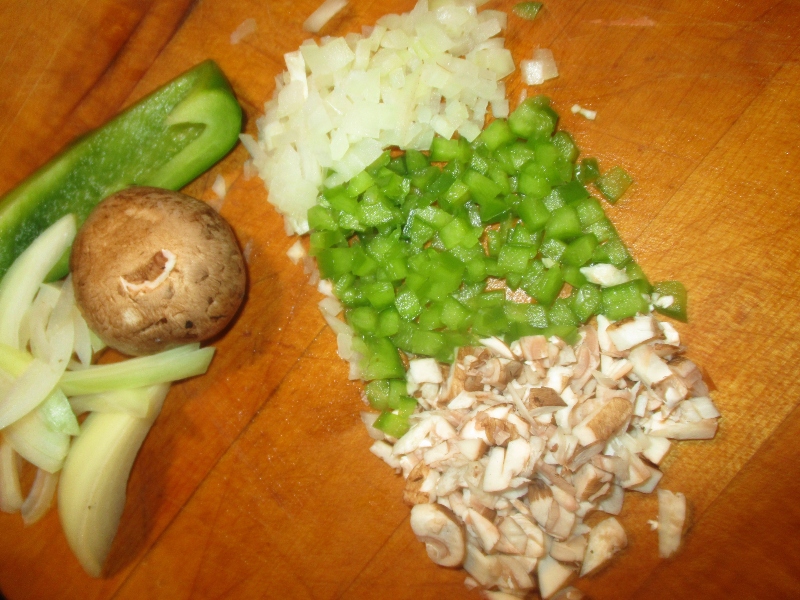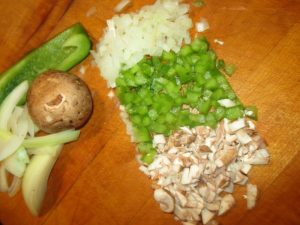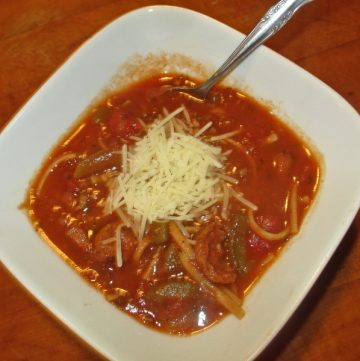 Pizza Noodle Soup
All the flavors of pizza in a chunky noodle soup!
Ingredients
1

cup

diced onion

1¼

cups

diced bell pepper

1¼

cups

diced mushrooms

¼

cup

water or broth

3

Red containers of "faux pepperoni" ground meat

*** see recipe above***

2

links

Italian flavored chicken sausage links

*** example: Aldis Never Any brand***

1

can

low sodium diced tomatoes

3

cups

low sodium beef broth

30

medium

black olives

1

small jar

pizza sauce

1

teaspoon

dry basil

1

teaspoon

dry oregano

1

teaspoon

dried chives

1½

cups

cooked whole wheat noodles

***or gluten free***
Instructions
Add onions, mushrooms, peppers and water to a large pan . Cook on medium till the veggies are soft.

Add all the rest of the ingredients to the pan, except the noodles. Simmer for 20 minutes. Add the cooked noodles in and simmer 10 more minutes.
21 Day Fix/ Ultimate Portion Fix Container Counts
1Green, 2/3Red, 1/2Yellow, 1/2Orange
Notes
*** You can mix and match the protein if you want. Ground meat and sausages, or just ground meat. I would NOT use just sausage because of the sodium content.***
***You can use uncooked pasta and add it in about 15 minutes before it is done. Check pasta for doneness before turning off heat***
You can add parmesan cheese to the top if you want! I just use a tablespoon and that is just 1/5 of a blue container. I have even sprinkled red pepper flakes on my bowl too cuz I love it on my pizza!