This Folded Pizza Quesadilla is easy to customize for the whole family. Everyone can make their own! Portion Fix container counts included.
A popular TikTok video of a quad folded quesadilla went viral a few months ago. So I finally decided to make a Portion Fix/21 Day Fix version of the cool trick! 
What is the cool "trick"?
We have all had a normal quesadilla with cheese and/or other ingredients layered in a folded tortilla and fried till gooey. I make them often!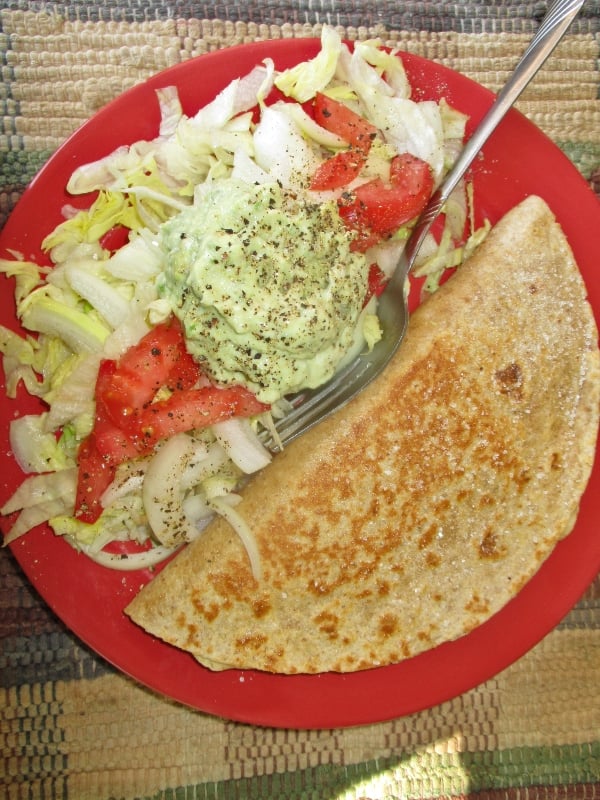 But this one isn't merely folded in half, instead, it is folded in fourths.
It all starts with the tortilla.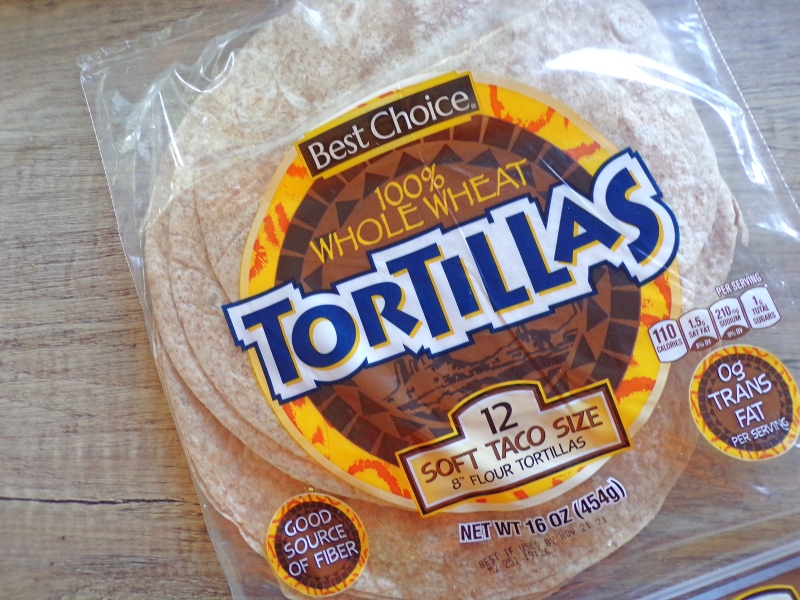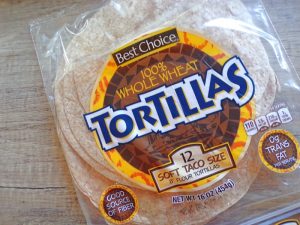 Whole wheat or gluten-free would both work. I have some information about how to find a good clean brand HERE.
After that, it is just one cut… straight to about the center of the tortilla. I have folded it to show you what we are doing.
After the cut, the fist fold is going to be up.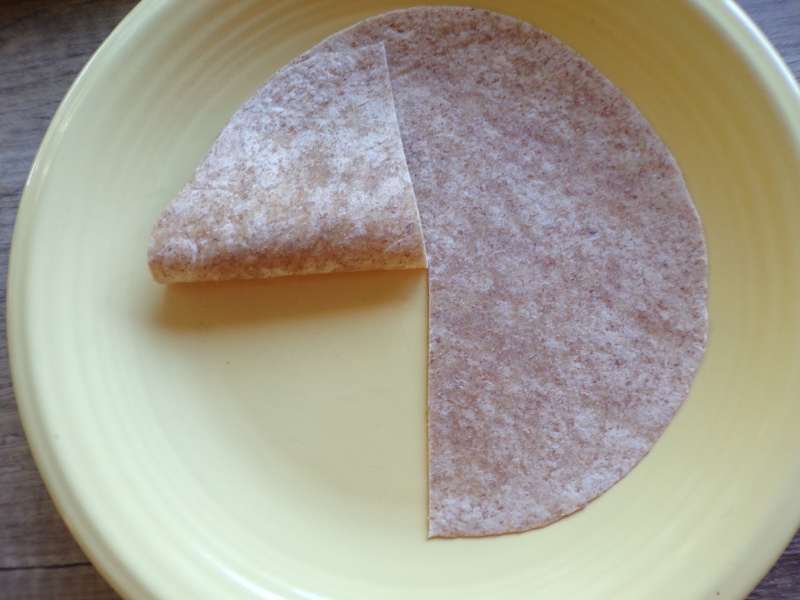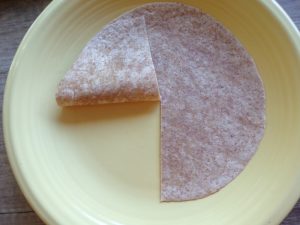 That will make the second one OVER.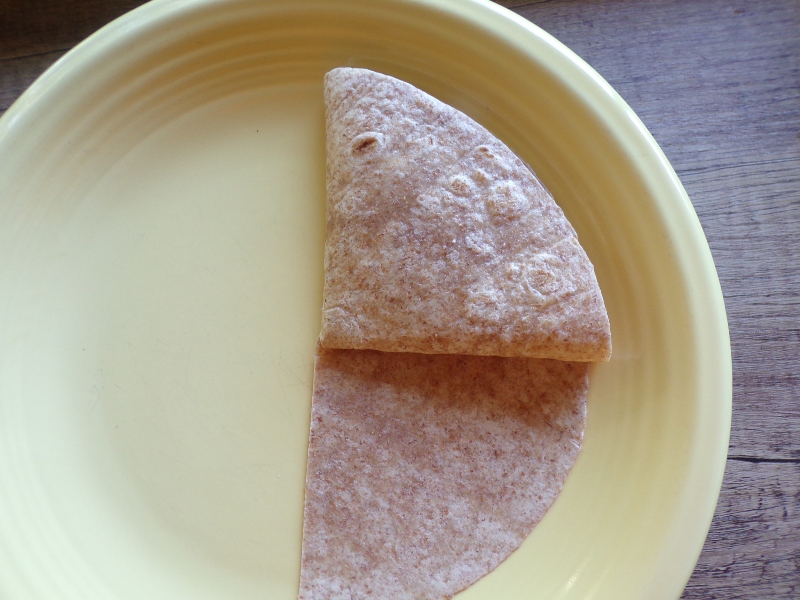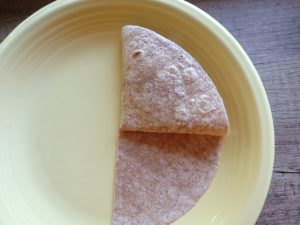 And the last fold will be DOWN.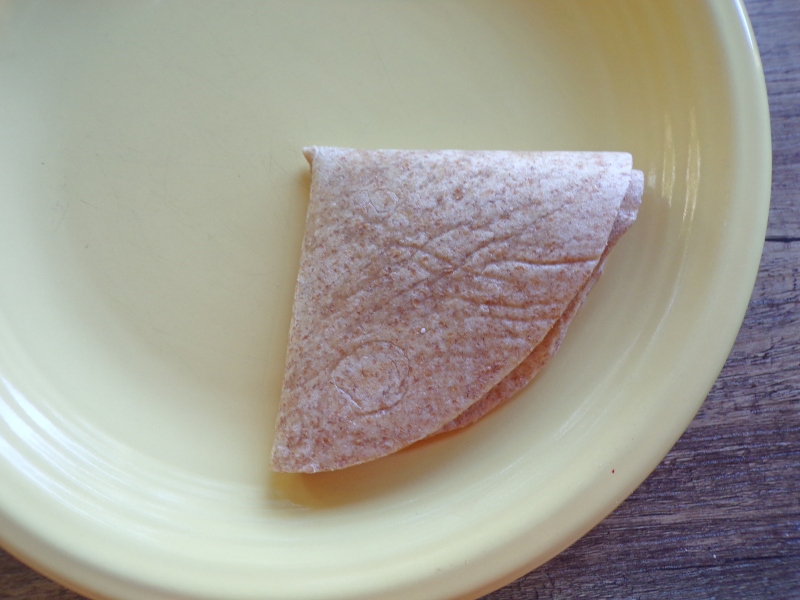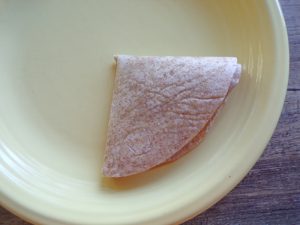 Taking it to 1/4th of its size, with layers. 
This tortilla counts as 1 Yellow container.
What kind of ingredients Folded Pizza Quesadilla?
What are some of the rest of the ingredients to make this dish pizza-flavored? This is my list of usual ingredients! If you are into something like pineapple and sardines you might have your own list!!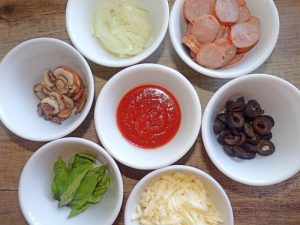 Italian flavored chicken sausage, 1/2 link, 1/2 Red container
sliced black olives, 5, 1/2 Orange container
mozzarella cheese, 1Blue container
fresh basil
fresh, cooked or drained, canned mushrooms 1/4 cup, 1/4 Green container
onions, cooked, 1/4 cup 1/4 Green container
pizza sauce, 1/2 cup, 1/2 Green container
Every ingredient has to be at room temperature or above for the quesadilla to be hot all the way thru. 
For the purpose of this post, I am only making 1 quesadilla but you could certainly increase the amounts of the ingredients. I portioned out each of my ingredients into Portion Fix sizes that I could keep up with.
For example, I filled my Blue container with shredded mozzarella cheese and used it to make my pizza. If I had any cheese left in my container I could have it with another meal or my personal favorite is to put it on top of the quesadilla and broil it for a few seconds! The same for all the rest of the ingredients, figure out how much of what you used. 
After I portioned out my mushrooms and onions I added a little water and covered them tightly. I microwaved them for about 45 seconds to 1 minute to let them lose their "water". Then I patted them dry and they were ready to use. They won't water down the whole pizza if you do this step.
It is important that all of the ingredients be "warm" at the very least room temperature. EXCEPT for the cheese… the colder the better with it! 
Let's start building a quesadilla!
We have made the slit to the middle of the tortilla like above. Now we are going to start loading it up. The first thing I do is add my pizza sauce. I use a couple of different ones. I have some information about tomato products in HERE.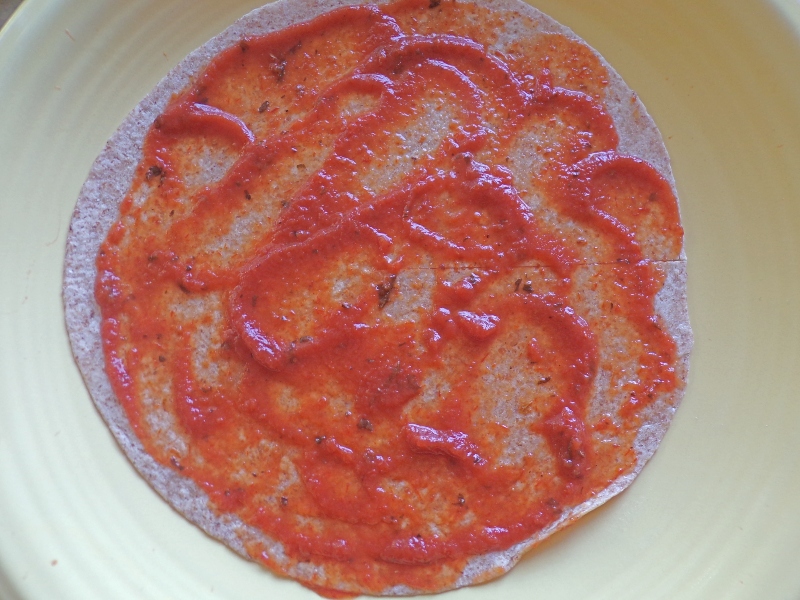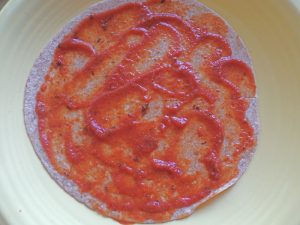 If you have ever seen them make a pizza you know that the sauce layer isn't very thick. Remember too that this is 4 layers of sauce when you look at it folded so don't overload it.
Now comes the fun part!! You have 4 different spaces to fill full of good stuff! And it is your choice… this was mine.
REMEMBER everything except the cheese is room temperature or above.
If my sausage is cold I go ahead and heat it a little in the microwave. The mushrooms and onions might be still warm.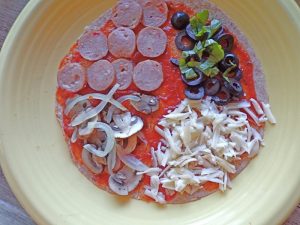 I tried loading them a couple of different ways and this one was the best way.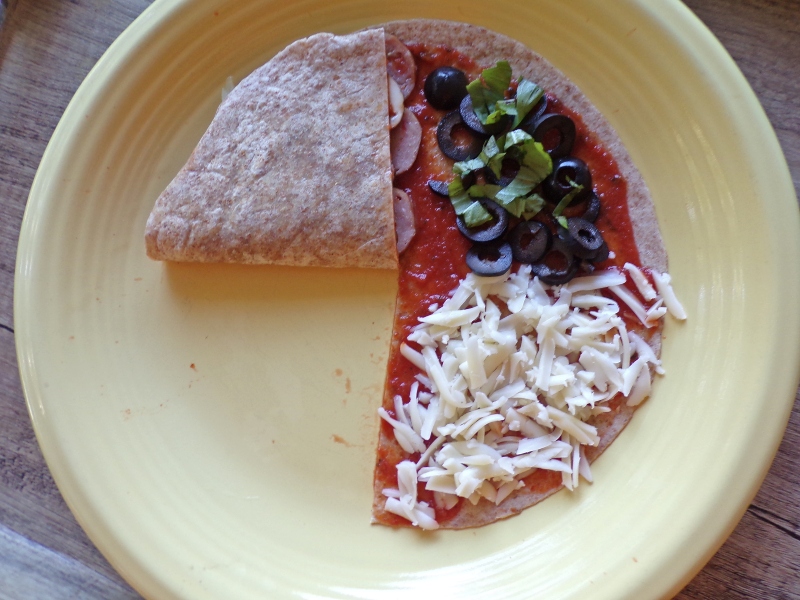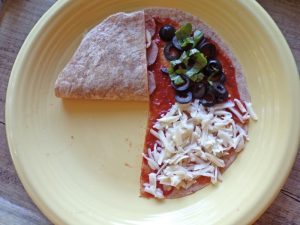 Fold the mushroom and onions UP over the sausage. Tuck any loose parts in the edges. Then fold those 2 sides OVER on the olives and basil. If you put your fingers at the cut edge, between the sausage and the olives, you can get a tight tuck.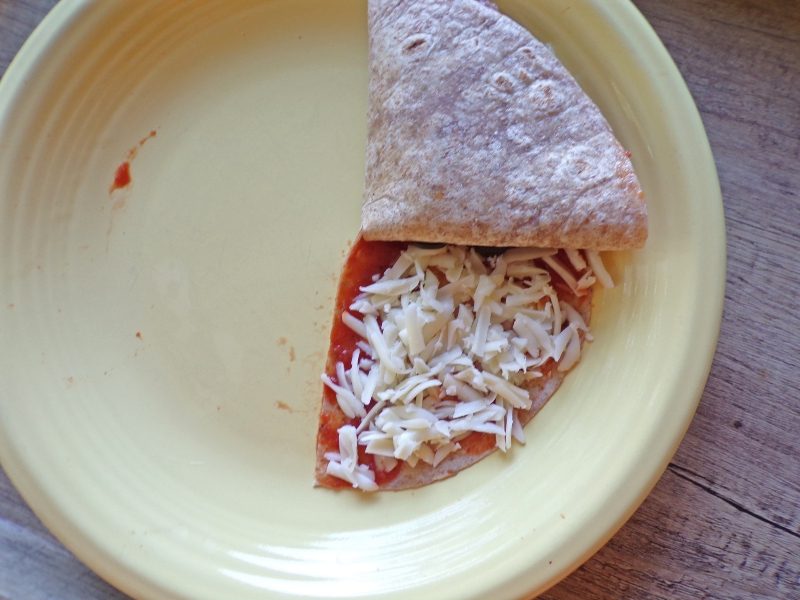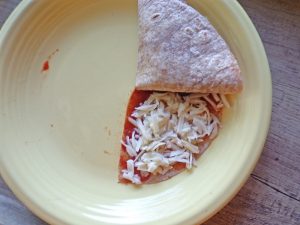 Finally the last fold, DOWN onto the cheese. Again tuck where it folds really tight, so all of the edges are as even you can get them.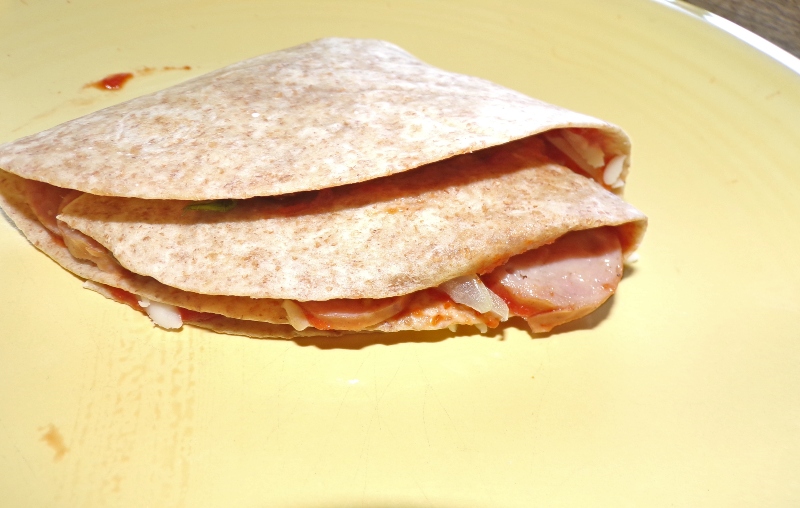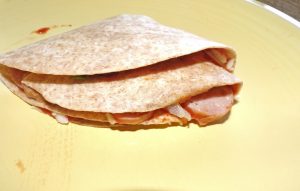 At this point, you can pick up the whole thing and finish tucking in all the ingredients. I like to tuck some of that extra cheese in between the different layers. But be careful not to fill it TOO full because some of the cheese is going to melt out. 
But I just scoop it up and serve it with the quesadilla because… cheese!
How do I cook the Folded Pizza Quesadilla?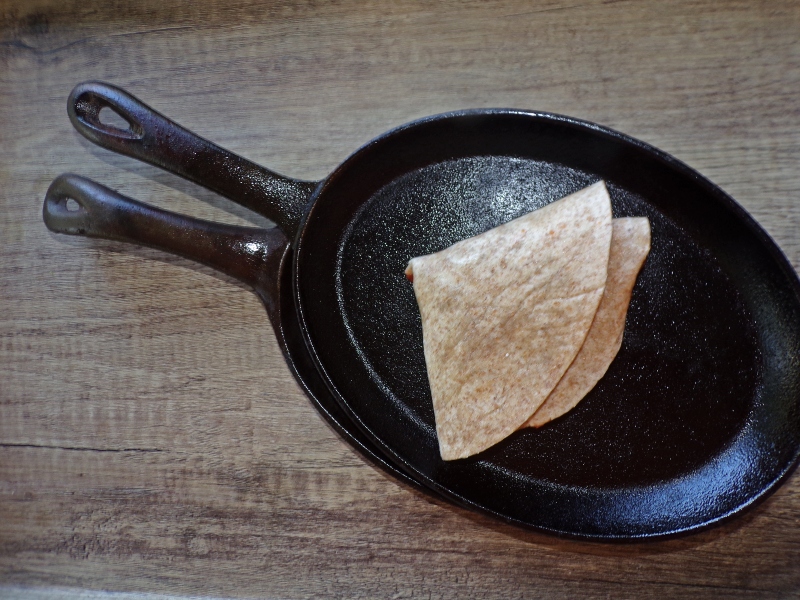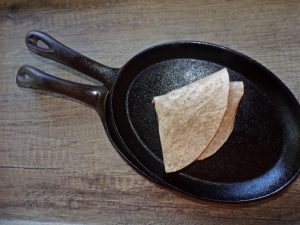 I use a 2 pan method of cooking these. These are 2 fajita pans made of cast iron. I get both pans hot and then put one pan on top of the quesadilla, to help flatten it down and get all the layers hot.
You could also cook this in a panini press or even in your air fryer! Cooking it till you see the layers melting into each other.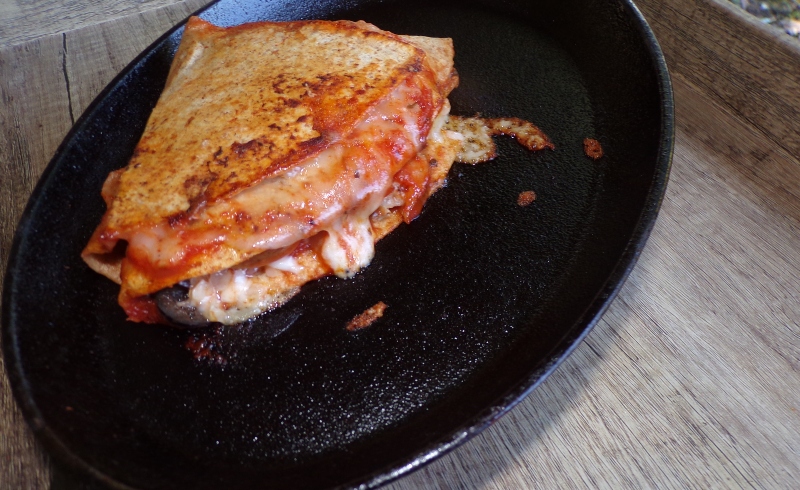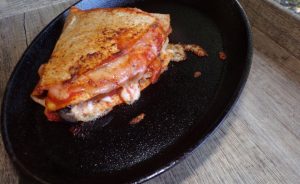 I kind of cook it like a grilled cheese. Getting one side of it the color I want and then flipping it over and doing the same to that side. Some of the cheese melted out of the quesadilla but I just put it on my plate! I love to dip it into some extra pizza sauce sometimes.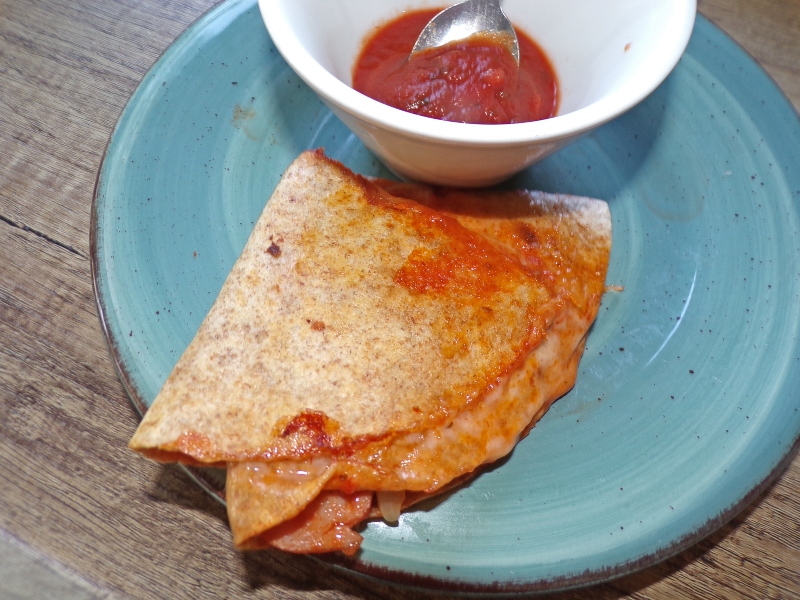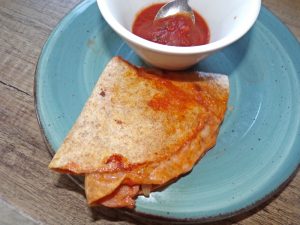 The Container Counts for the Folded Pizza Quesadilla I made are: 1Y, 1/2R 1G, 1/2B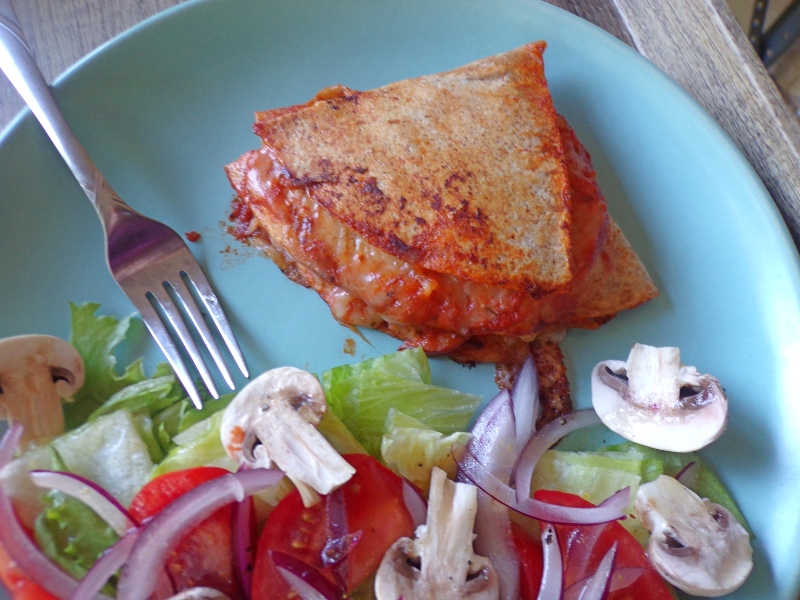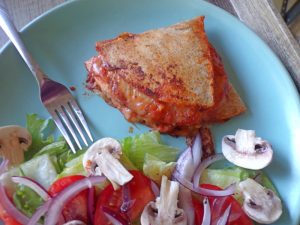 I often add a side salad to make it a complete meal. A tangy vinegarette makes it a real Italian-style meal! There is a great recipe for a version of Olive Garden's Salad Dressing HERE.
Find the ingredients that suit your taste and change it up any way you want to. I make Pepperoni crumbles and do a simple double pepperoni double cheese version that my hubby LOVES. Pepperoni Crumbles recipe HERE.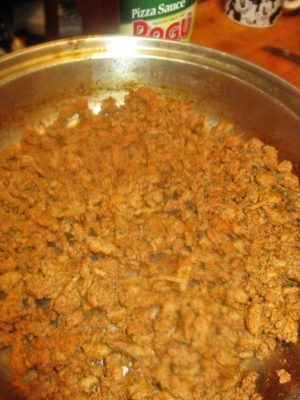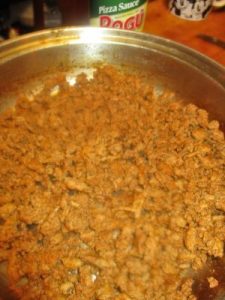 Am I going to include a recipe card for this post? No, not this time. This is more of a technique. The actual recipe depends on the ingredients you use.