Shrimp in any form is a favorite of mine. Anything I can make with chicken, I WILL eventually try to make with shrimp  🙂 And that is exactly how this recipe came about. I was working on a creamy, white enchilada sauce recipe. So when I had a version of it I liked, I wanted to create an actual creamy shrimp enchilada. Hubby found shrimp on sale for $4.77 per pound the other day and bought me 4 lbs! Needless to say, I have been enjoying a few extra shrimp in my meal planning ever since!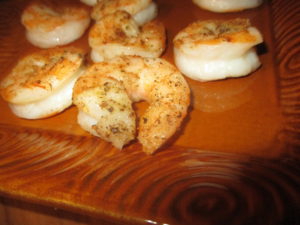 A tip I will tell you is that I undercook my shrimp just a bit because they are going to finish cooking in the oven. Cook them just long enough for the spices to stick to them.
Where do Creamy Shrimp Enchiladas get their creaminess from?
I decided to make this a dairy-free sauce. Altho I can tolerate a little bit of dairy/cheese most of the time I try to avoid it. I use coconut cream to give this sauce its creaminess.
Most brands of coconut cream have ZERO flavors of coconut, but make sure you find a brand you like before you start. ( one batch of coconut flavored sauce taught me!!)  If I use coconut milk in the can, I put it in the fridge overnight and then the next day open that can very carefully open it and scoop out the cream, and measure that in my blue container. These are the 2 I buy at Sprouts, but there are other brands available.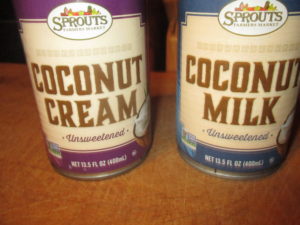 Does this version of creamy shrimp enchiladas taste the same as the "unhealthy" version?
This sauce doesn't have the "tang" that a traditional white enchilada sauce has because I am using coconut cream instead of sour cream. If you can use dairy, then you can use plain Greek yogurt in the place of the coconut cream but I would add it in at the very end, after you have taken it off the heat, to keep it from curdling. Because this will change the sauce from having a "blue" in it to having a "red" instead, make sure to adjust your container counts. Again if you can use dairy,  you can add Monterey Jack or even pepper jack cheese to the top, adding that blue container back to the counts.
I made a simple white sauce with extra light olive oil, flour, and chicken broth. Added a few other ingredients to get its flavor just right, a couple of cans of chopped chilies and some jalapeno "juice" bring their own flavors to the mix.  1 can of low sodium chicken broth is about 2 1/2 cups. After you add the rest of the ingredients to the sauce you end up with 3 cups of it. You will use 1 cup per"single-serving". I used 2 cups this day because I made my Hubby his own pan. Ending up using the other cup of sauce on some grilled chicken breast served over a hot baked potato and it was GREAT!!
If I were going to make a 9 X 13 pan, I would use the whole SAUCE recipe. I have not tried freezing it yet, gravy tends to separate in the freezer most of the time.
Can you adjust this creamy shrimp enchilada recipe for someone who can't eat seafood?
Because my Hubby won't eat shrimp any way except "hot with butter", I made another small pan "stack" style with cooked chicken and cheese just for him. That way he could tell at a glance which ones were his.  Baked that one in my small springform pan so I could just peel away the edges and serve it.  I also added a few pickled jalapenos to his for a little added heat.
How did I determine my serving size?
Like I said I only made this in a single serving for me and one for him.  I based my serving size on the calorie count of the corn tortillas I used. I aim for about 100 calories for 1 Y/carb and this particular brand was 35 calories per tortilla, so I had 3 for 1Y/carb. But if your brand is about 100 calories for 2, adjust how much shrimp you roll in them.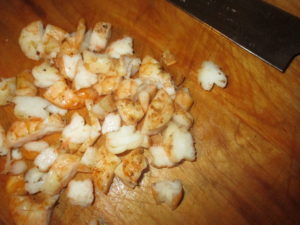 I rough chopped my shrimp and filled my red container for 1R/protein (3/4 of a cup) in my serving then I divide it into 3 portions.
I dip my tortilla into and back out of my warm sauce. This will soften it enough to stuff and roll. Add one portion of shrimp to 1 tortilla. Sometimes I add a little salsa verde to the shrimp just to punch up the flavor and then just rolled it and added it to a casserole dish sprayed with olive oil spray and about a 1/4 cup of the sauce on the bottom.
You have to work pretty fast and gently so the tortilla doesn't tear apart on you.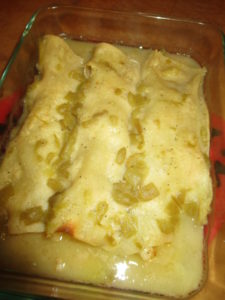 Lastly, I use 3/4 cup of sauce to top it.
Bake it at 400 till as brown as you want it but about 15 minutes has everything bubbling.
Be careful serving these!
These enchiladas are very soft. The cheese helps hold the tortillas together, without it they tend to be hard to serve because they tear some. I try to get a spatula under all 3 at one time and lift them to my plate.
After I plated them there was some of the sauce left in the pan. I just poured it over the plate! (If I don't use the extra sauce, I only count 2 oil teaspoons instead of 3. )
I topped mine with black olives, red onions, and jalapenos.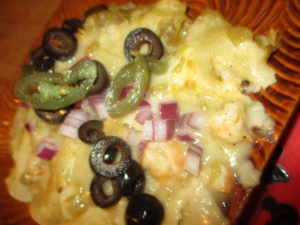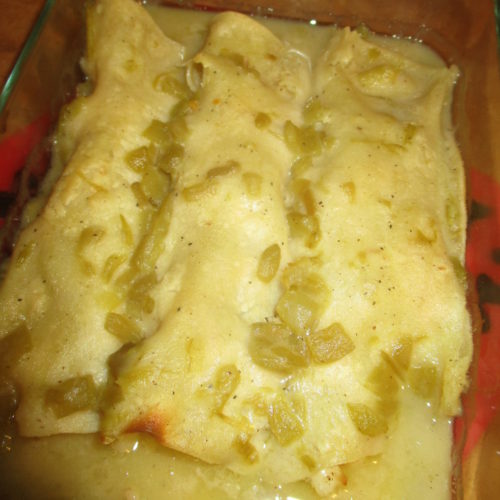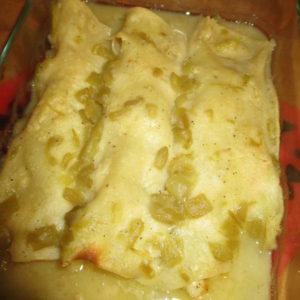 Ultimate Portion Fix/21 Day Fix: Creamy Shrimp Enchiladas
A mildly flavored dairy-free white sauce covering shrimp filled corn tortillas. YUM!
Equipment
a single-serve casserole dish
Ingredients
Creamy White Enchilada Sauce
3

tablespoons

extra light tasting olive oil

3

tablespoons

whole wheat flour

salt and pepper to taste

1

can

low sodium chicken broth

2

cans

mild chopped chilies

⅓

cup

coconut cream

2

tablespoons

juice from pickled jalapenos

or jalapeno hot sauce

1

teaspoon

garlic powder

1/2

teaspoon

onion powder

½

teaspoon

cumin
Shrimp
1½

cup

shrimp

olive oil spray

salt, pepper and chili powder to taste
Assemble Enchiladas
6

corn tortillas

6

tablespoons

salsa verde
Instructions
Creamy White Enchilada Sauce
In a small saucepan, heat olive oil over medium heat. Whisk in the flour, salt, and pepper and cook stirring continually for 2 minutes. Gradually whisk in the chicken broth till smooth. Bring to a boil; cook and stir for 3-5 minutes or until thickened. Add chilies, coconut cream, jalapeno juice, and all the spices. Stir, cook another few minutes, making sure to get it thick and then set aside.


Shrimp
Spray shrimp with olive oil spray and add salt, pepper, and chili powder to them and cook in a hot skillet about 1 minute on each side. Just long enough for the spices to sear on the outside a bit. Chop roughly and set aside.
Assembling Enchiladas
Spray 2 single-serve casserole dishes with olive oil spray. Add ¼ cup sauce to the bottom of each.

Working with a plate to assemble them on, dip a tortilla into the warm enchilada sauce. Place it on the plate, add 1/3 - 1/2 of the shrimp on one side of the dipped tortilla. Add 1T of salsa verde over the shrimp and then roll it over and over and place seam side down in casserole dish. Line all 3/2 tortillas up and add 3/4 cup of sauce over the assembled tortillas in each pan (If you are adding cheese, you can add it on top of the sauce. )

Bake at 400° for about 20 minutes or till bubbly.

* top with extra sauce from pan when served.
Ultimate Portion Fix/21 Day Fix Container Counts
Notes
You can top these with extra toppings like fresh onion, olives, greek yogurt. Just make sure to include them in your container counts. 
The sauce recipe makes 3 cups. If you make 2 servings you will have 1 cup of the sauce left
I hope you enjoy these as much as I do!!
What can you serve these creamy shrimp enchiladas with?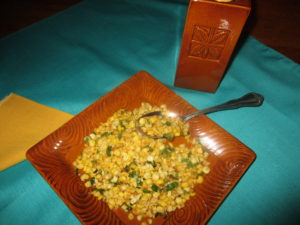 I love this little corn salad with its own spiciness!
This cauliflower rice is a perfect NO Yellow side dish.