This Creamy Maple Mustard Dressing was inspired by a road trip to Rockford, IL. I LOVE creamy dressings!! This one has the sweet-tart flavors I like best.
But onto our road trip…
We love to travel, but that is not new. Sometimes it is vacation days filled with fun and sun. Other times we just go to visit family in different parts of the country. We took a long weekend a couple of weekends ago and we did just that. We went to Rockford, IL to visit our son Tyler and his girlfriend, Abby. They have just recently bought their first home and we went to see it for the 1st time!
Our trip started
It is a 10-hour drive from here in Tennessee to Rockford. We travel through Missouri's bootheel to St. Louis and cross into Illinois there. We crisscross the Mississippi River a few times in the days' travels.  This part of the country is in the heart of the old Route 66 Highway.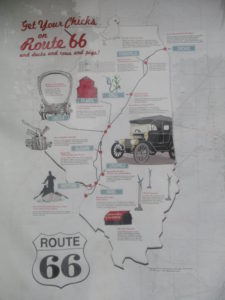 One of the rest areas on the Interstate commemorates the Route 66 era. Funk's Maple Grove was along the route, where people would stop and picnic on their travels.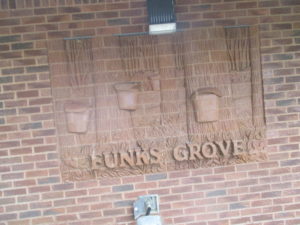 They had some cute metal sculptures depicting the picnicking. That is one of our favorite things to do… I have an entire post about just that subject.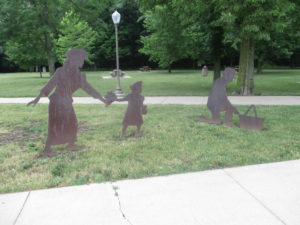 The Creamy Maple Mustard Dressing inspired by this trip
In honor of the maple history of the area, I decided I needed to find a good maple syrup salad dressing to go on a full-flavored salad.
For my 21 Day Fix followers, it was full of chicken, feta cheese, raisins, apple, and walnuts …. how much of each ingredient is totally up to you and your containers for the day. (or any salad of your choice).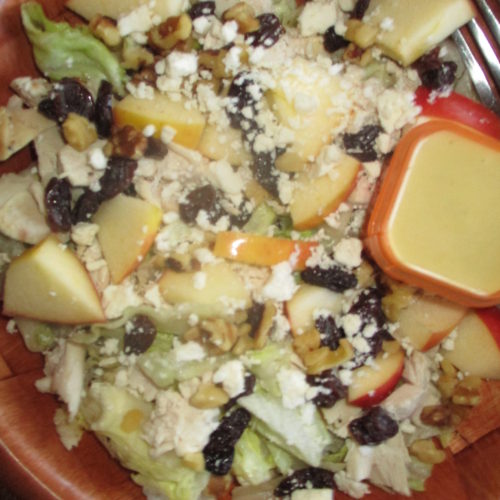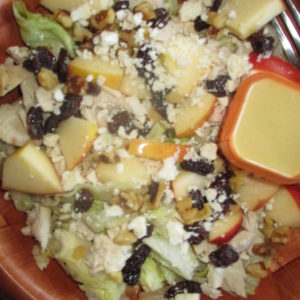 Ultimate Portion Fix/21 Day Fix: Creamy Maple Mustard Dressing
This is a sweet and sassy dressing, perfect for a crunchy fruit-filled salad or even for a chicken dipping sauce!
Ingredients
¼

cup

mayonnaise

¼

cup

dijon mustard

3

tablespoons

maple syrup

1

tablespoon

apple cider vinegar

2

tablespoons

extra light tasting olive oil

½

teaspoon

kosher salt

¼

teaspoon

cracked black pepper
Instructions
Put all ingredients in a jar with a lid. Shake well. Chill.
Ultimate Portion Fix/21 Day Fix Container Counts = 1 Orange container
What can you serve with this Creamy Maple Mustard Dressing?
It is not just for salads!!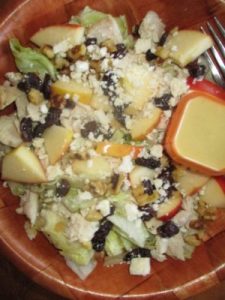 I have even been known to use this Creamy Maple Mustard Dressing as a sauce for dipping chicken into, yum!!
These Crunchy Chicken Tenders are perfect for it. Recipe HERE.
NOW, on with our long weekend…
We even stumbled on a place that reminded me of my childhood travels along Interstate 40 which crosses the old Route 66 highway often. Climbing out of our station wagon to romp across a hot parking lot to play on hot concrete "toys" will forever be burned in my mind (and my feet, LOL)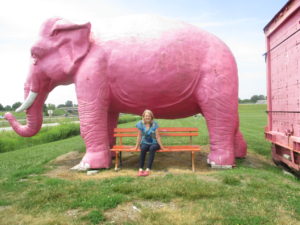 We arrived!
Once we got to Rockford we started having some real fun though! Started out with a game of mini-golf…cuz mini-golf!! At Vacano Falls HERE. A fun little course with plenty of laughs to be had! There were 4 of us playing. It was a little hot for Illinois but that just made a cold beer go down a little better that afternoon!
But the reason we went THIS weekend was for a certain event…
The World Famous Trailer Races!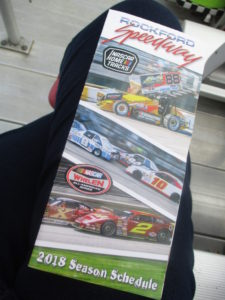 Anything you can strap on a trailer or just a trailer itself demolition derby, last man standing racing……..it made for some hilarious moments. From the very first when a guy hauling a boat lost it while getting onto the track and the next guy coming out just pushed the boat out onto the track with his truck! All the way till the end when a couple of drivers hooked together and they couldn't separate and they let the fans choose the winner. I just bet it took them a week to clean up the mess…… if you are ever in the area here is the info for the track
Our long weekend was SO fun!!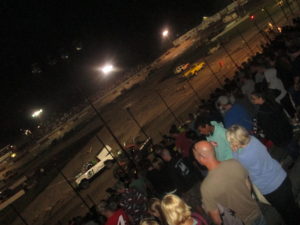 Nighttime didn't lend itself to very many good pictures. Well, that and all the trips to the concession stand. They had some AMAZING junk food, with a few healthy options sprinkled in, so I was able to eat some good stuff and have just a few bites of Hubby's junky stuff LOL After all it is all about balance, right?!?
I hope we get to visit the area again this fall when the leaves are at their peak and spend a long weekend doing fun fall things! We love to travel when the weather cools off.