Beautiful afternoons here in West Tennessee mean we are probably going to grill. When I plan the menu there are plenty of healthy options…but when Hubby gets his hands on it, he piles if full of that "other stuff" LOL My featured photo proves that……. healthy chicken breasts surround by all that "meat"!
Healthy eating doesn't have to be boring
I am going to focus more on the good stuff in this post because I want to prove that eating clean doesn't have to mean eating BORING! Often I fill the grill up one day with a variety of things so that I can use them later that week in healthy ways, like this beautiful salad! I call it Shrimp Primavera Salad, lots of fresh veggies and a good squeeze of roasted lemon juice and garlic olive oil for a dressing!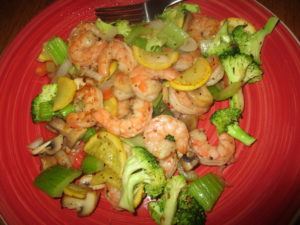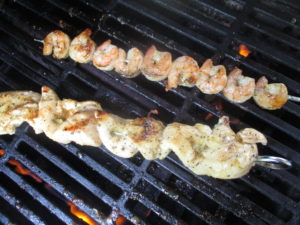 Keeping my marinades simple or just using salt and pepper allow me to "flavor" my end product… but sometimes I want that extra layer of flavor ….for the chicken skewer I used lemon pepper seasoning and then made a lemon pepper chicken salad with a little greek yogurt and mayo as dressing and some celery and onion for crunch and served on whole wheat rolls. It was delish!! Grilled Shrimp Tacos are another favorite way to eat "better" than I used to.
What else do we grill??
One of my favorite things to grill is veggies. I use them in everything from warm marinated salads to pasta dishes … and mini peppers and jalapenos almost always make the cut!  Some sliced zucchini and corn make for good grill mates.  Finding low salt options is always a challenge but I have added some Flavor God Spices to my spice cabinet!   https://flavorgod.com/?coupon=TERESACATWZD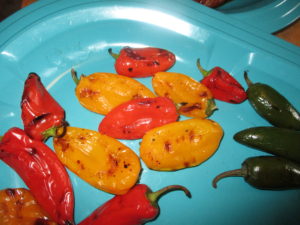 And grilled corn is awesome too!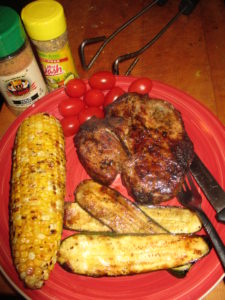 Losing weight has prompted me to find better recipes with cleaner ingredients. Hubby has even lost a little weight because I have just been cooking differently.
One of the things I do is make my own marinades now. Store bought ones are so filled with sodium and chemicals. Knowing what is in it really makes a difference to me now! I was trying to make a salad dressing one day and it ended up being more like a marinade so that I what I started calling it, Roasted Garlic Marinade.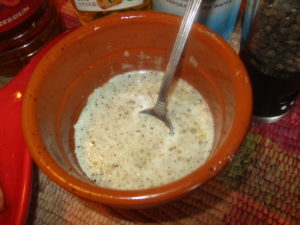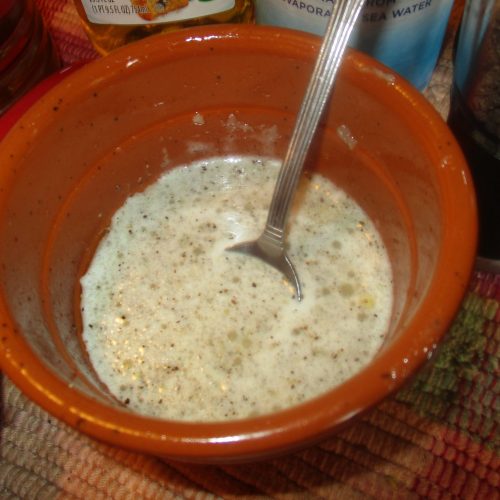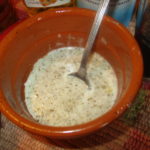 Print Recipe
21 Day Fix Roasted Garlic Marinade
The strong flavor of garlic is mellowed in this marinade, great on chicken, pork and beef.
Ingredients
1

head

garlic

2

tablespoons

olive oil

1

tablespoon

water

2

tablespoons

apple cider vinegar

1-2

tablespoons

honey

½

teaspoon

salt

¼

teaspoon

cracked pepper

¼

teaspoon

spicy brown mustard
Instructions
Cut the top off the head of garlic put in microwave safe bowl and pour olive oil over it. Salt and pepper it. Add water to the bowl and microwave covered tightly for 4 minutes or until soft.

Mix cooled off, mashed roasted garlic and it's oil with the rest of the ingredients in a mason jar and give all a good shake.
I roast garlic in the oven or the microwave depending on my schedule. This time I microwaved it because I was just using it as the base of this recipe.
If I am going to bake it I cover it with olive oil, salt, and pepper. Wrap it in tinfoil. And bake it at 400 degrees for 30-35 minutes or till soft. You can grill it too.
What have I used this Roasted Garlic Marinade on?
I used it on this roasted asparagus and it gave it a real garlicky tang. Served it along the side of some smoked chicken that Hubby made for Memorial Day.
A couple of tablespoons added to a baggie full of chicken breast squished all around and let marinate for 4 hours (or even 1) is FANTASTIC on the grill.
A really good side dish to serve along this would be one of my recipes. My corn salad is delish by itself or is awesome across a tossed salad. Check it out over here.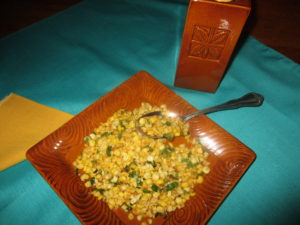 GOOD TIMES, GOOD FOOD… SEE YOU NEXT TIME!